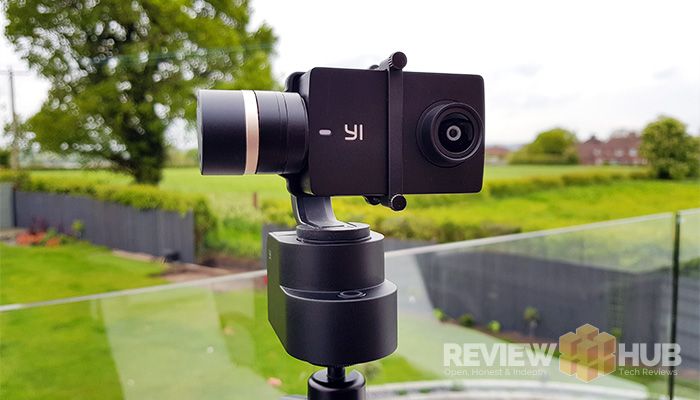 Smooth footage is only a Yi Gimbal handhold away…
After buying an action cam for my travels last year, I was so excited to capture all the beautiful Thai scenes to show my family and friends at home. So you can imagine how upset I was when most of it was so shaky it was unusable.
After making a lot of people motion sick with my jerky footage, I invested in a Zhiyun gimbal and couldn't believe the difference.
So it's safe to say I was really excited when Yi contacted me to try out their Yi Handheld Gimbal and Yi Discovery 4K Action Cam.
The Yi Handheld Gimbal is super easy to use, and will turn your footage from a nausea inducing mess to a silky smooth masterpiece. In fact, it's simple to use you don't need any experience whatsoever.
I've been using the gimbal for a month now, and in this review, I'll be focusing on Stabilization, Design & Build Quality, Features, Battery Life and Compatibility.
Check out this week's hottest Yi Handheld Gimbal deals…

Pros
Easy To Use
Creates Smooth Footage
1 Button Simplicity
Premium Build Quality
Great Battery Life
Cons
Mount is Camera Specific
Little Heavy on a Selfie Stick
No WiFi or App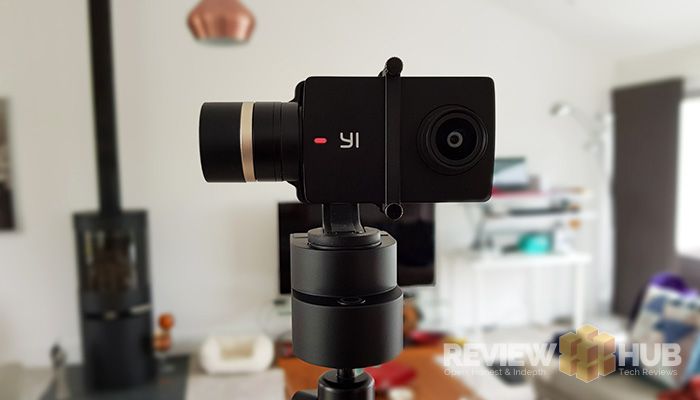 How well does the Yi Handheld Gimbal Stabilize Video?
The number one reason to buy a gimbal is to create smooth footage, so with that in mind lets answer that very important question first!
The Yi Handheld Gimbal does an excellent job of stabilizing footage, but don't take my word for it, check out my sample footage video below.
I tested the Yi gimbal out with the Yi Discovery 4K Action Camera on a range of activities including running, on my Xiaomi Scooter and walking around. The gimbal handled all of these activities well. Especially considering we were using a £45 action camera with it.
Design & Build Quality
The first thing you'll notice when unboxing the Yi Handheld Gimbal is its unusual shape and design. It uses a universal 1/4″ thread meaning it is compatible with lots of different mounts and tripods. So if you're looking to switch it up with lots of accessories, it's perfect.
The body is made from metal which gives it a solid feel and adds to its durability. Although the metal does make it heavier than other gimbals, it feels like it could survive a few knocks.
Also, the matte black finish and silver bands around the tilt axis, add a sleek monochrome touch, making the gimbal feel very premium.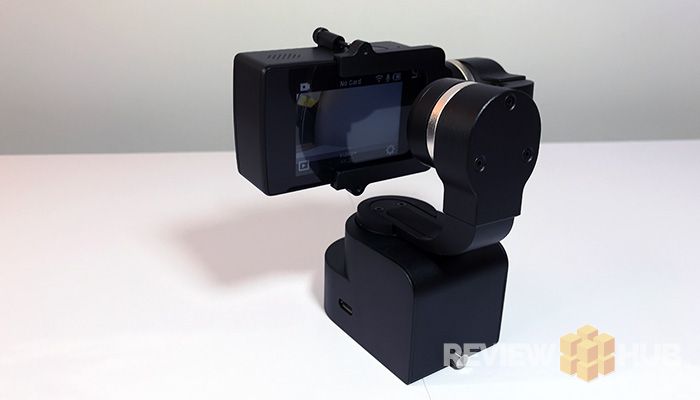 Features
With the Yi Handheld Gimbal, they've made it super easy to use by opting for one button to change through the modes.
 Yi Handheld Gimbal's 3 modes:

Pan mode (1 flash): the pan axis follows the gimbals movement & camera stays locked to remain upright.
Pan & Tilt mode (2 flashes): roll axis are locked & gimbal will point in the direction you direct it.
Lock mode (3 flashes): All axis are locked and the gimbal is fixed in one direction.
While testing the different modes, I found the most useful one was 'mode 1 – Pan Mode' as the gimbal pans with ease and follows your movements smoothly. If you're filming one fixed object or a person then 'mode 3 – Lock Mode' is great.
Like any gimbal, it takes a short amount of time to get used to the movements and how fast you can move. To capture the best footage with 'mode 2 – Pan & Tilt', you'll need to pan and tilt slowly. Otherwise, you end up with some more artistic shots…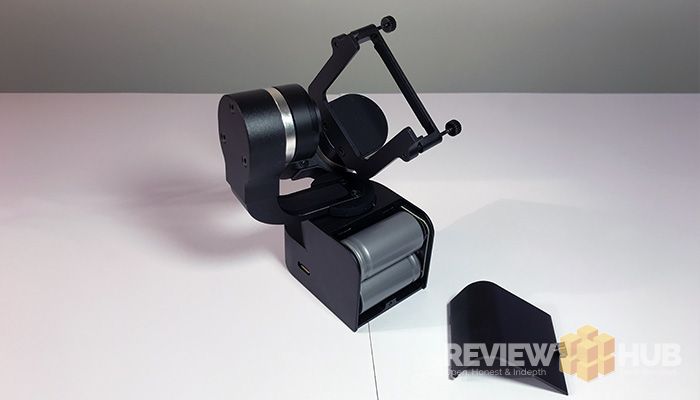 Battery Life
The Yi Handheld Gimbal comes with 2 rechargeable 850 mAh batteries. These have a lifespan of around 3 hours. To charge the batteries you do have to use the included battery charger. The LEDs on the battery charger turn from red to green when fully charged.
Heads up: the USB port on the side of the gimbal is for firmware updates only and cannot be used to charge the batteries.
The only small criticism is that the screw mechanism that holds the battery compartment in can be a bit fiddly.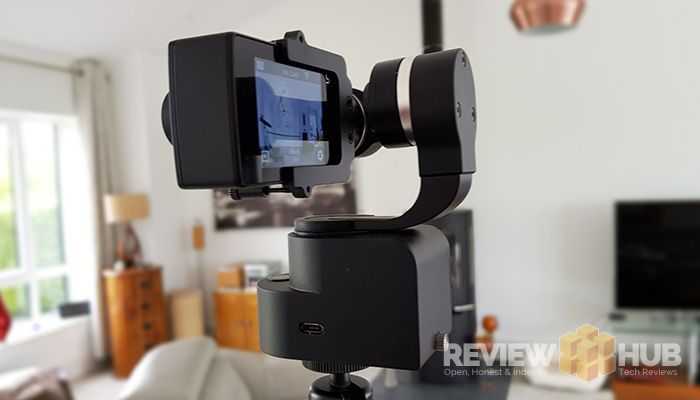 How secure is the Yi Handheld Gimbals Camera Mount?
To test how secure the camera mount is, I popped in my Yi Discovery Action camera and gave it a hard shake (over my bed… because I'm not crazy. The good news is that it didn't budge an inch. The mount is also secure and covered in rubber to prevent scratching.
A big catch is that the mount can only take cameras with these dimensions: 77 (L) x 75 (W) x 95mm (H). This limits the mount to Yi only which is a shame.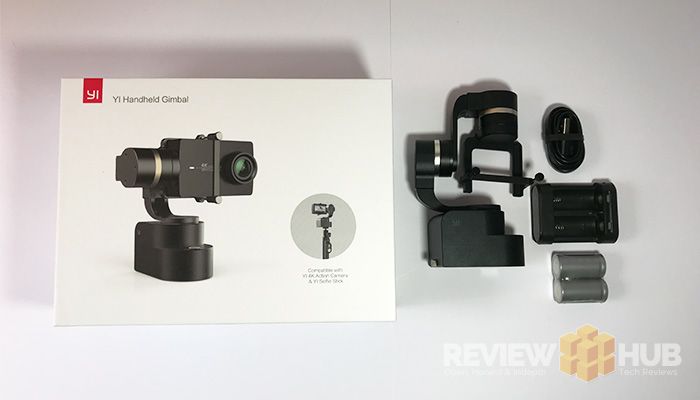 What's in the box
In your Yi Handheld Gimbal box, you'll find 2 rechargeable batteries, battery charger and the USB cable. There's also a user manual and warranty card too. Yi packaging doesn't disappoint with all the box contents safely nestled in protective foam.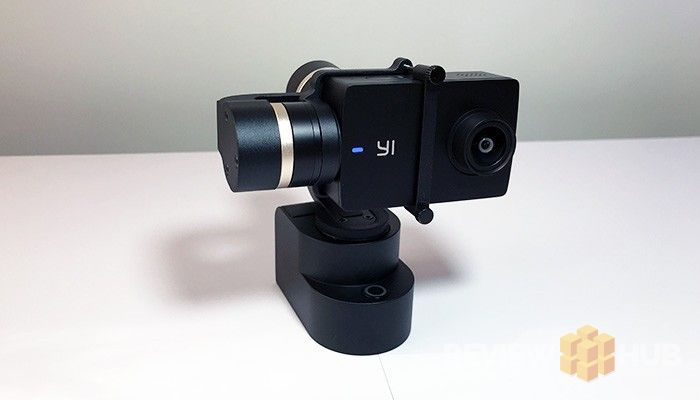 Yi Handheld Gimbal – The Verdict
If you've got a Yi Discovery Action cam and want to mount your gimbal, then this gimbal is perfect for you. The metal cover means it's built to last and creates smooth professional footage.
It does feel a bit clunky on the end of a selfie stick, but with the bundle deals that Yi has been offering lately, it's a worthwhile investment.
Tech Specs
| | |
| --- | --- |
| Gimbal | Yi Handheld Gimbal |
| Stabilization Axis | Roll: 84° / Tilt: 320° / Pan: 320° |
| Dimensions | 77 (L) x 75 (W) x 95mm (H) |
| Weight | 210 grams (without camera) |
| Waterproof/resistant | NO |
| Features | Roll, Pan, Tilt + Lock Mode |
| Colours available | Black |
| Battery Capacity | 2 850mAh batteries |
| Working Time | 2-4.5 Hours |
| USB | Micro USB |
| Charging | 1-hour full charge (4.2V) |