The Teclast F5 laptop is the perfect combination of price Vs performance!
If I'd told you 3 years ago you could have your hands-on the Teclast F5 laptop for under £300; you'd have laughed! It was only the premium Lenovo Yoga laptops that offered a 360 rotating hinge coupled with a full 1080P display.
Well, it's 2018 folks and tech is more affordable than ever. The F5 boasts not only a full HD display but 8GB's of RAM, a 128GB SSD, Dual-band AC Super Fast WiFi, a touchscreen display and to top it all off, is featherweight at just over the 1 kilogram.
And if that hasn't got your tech buds tingling already… it also uses an all aluminium chassis, charges via USB Type-C and folds a full 360 degrees into tablet mode.
C'mon, there's gotta be a catch right?
Let's find out as we take a look at the Teclast F5 Display, Performance, Connectivity & battery life.
But first, here are the F5's Pros & Cons.
The Good
The Price, The Price & The Price!
128GB SSD Storage + 8GB DDR4 RAM
Dual Band (2.4 + 5GHz) AC WiFi
11.6″ Full HD Touch Display (1920×1080)
USB Type-C Fast Charge
Slim Metal Build
The Mehhhh…

Low-end Gaming Graphics
Low-end Intel Chip
Web Cam only 720P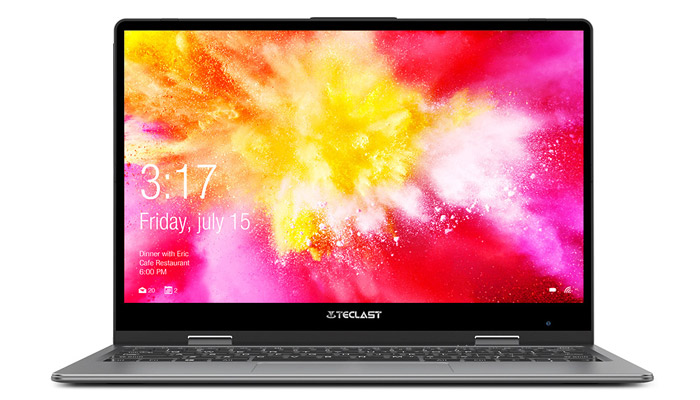 Display & Design

The Teclast F5 uses a full HD IPS panel for excellent viewing angles and vivid colours. What's more, is that even at this crazy low price Teclast has managed to make this laptop with a touchscreen.
You will have to purchase the Teclast T6 Pen separately, but at just under £20 it's a small investment.
The panel itself uses OGS manufacturing, which stands for 'one glass solution'. The benefit of this is that it removes one layer from the production process producing a slimmer display. The OGS display, when coupled with the thin side bezels, makes for one very nice looking laptop.
Onto the design, and the outer shell is made using aluminium, which is a pleasant surprise in this price-bracket. If you've ever used a 700 series Lenovo Yoga laptop, you'll already be familiar with the look and feel of the Teclast F5.
The 360 mechanism is also very similar to the Yoga's mid-range, with two hinges that rotate the screen from closed to fully open (keyboard and display facing outwards). It's no match for the elegance of Lenovo's 900 series watchband hinge, but hey… at this price who cares.
Onto the keyboard and the F5 uses a chiclet style that protrudes only a few millimetres from the laptop. A nice touch on the F5, that's usually reserved for laptops twice the price, is the thickness at only 13mm.
Overall, the display specs are impressive, the design materials are premium, and it's all squeezed into a slimline 11.6″ laptop that weighs a smidge over 1kg. Impressive!
Screen Tech Specs: 11.6 inch IPS display, 1920 x 1080 resolution, Touchscreen, 360 degrees rotation, Stylus Pen Available.
Colours Available: Silver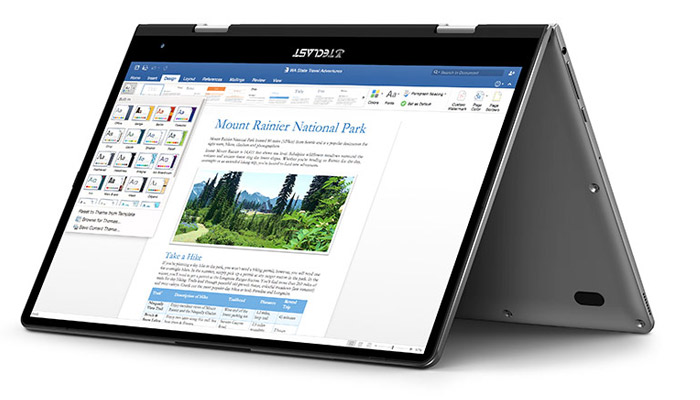 Performance

I said earlier that there had to be a catch, and here it is. While the 8GB of DDR4 RAM is impressive and when coupled with a 128GB SSD makes for one hot sounding laptop, the truth is, it's going to be bottlenecked by the Intel CPU.
The Teclast F5 opts for the Intel N4100. On paper, it's a true quad-core chip, but it's not multi-threaded and only clocks at 1.1GHz. It does come with Intel's turbo boost technology which boosts the speeds up to 2.2GHz, but this can't be prolonged due to heat issues.
So who's the Teclast F5 perfect for?
Pre-installed with Windows 10 home edition, the F5 makes light work of Microsoft Office applications, Internet Browsing, Light Gaming & Productivity Tasks.
It's not for anyone looking to work extensively with Photoshop, High-end + Mid-range Gaming plus any for anyone looking to use video editing software.
If you play old-school games, you'll have a much better chance at getting decent fps. Also lowering the resolution to 1280×720 will have a significant impact on performance and little on clarity thanks to the small 11.6″ display.
To be clear, this is definitely not a performance or games based laptop ! It's a lightweight productivity laptop first and foremost. But don't write it off if you're planning to play 2D games or pre-2014 3D titles.
This isn't a deal-breaker though, most users will be a good match for the productuvuty performance that the Teclast F5 offers.
Quick Tech Specs
CPU: Intel N4100 (Quad-core 1.1GHz + 2.2GHz Turbo Boost)
GPU: Intel UHD600
RAM: 8GB DDR4
Storage: 128GB SSD (expandable)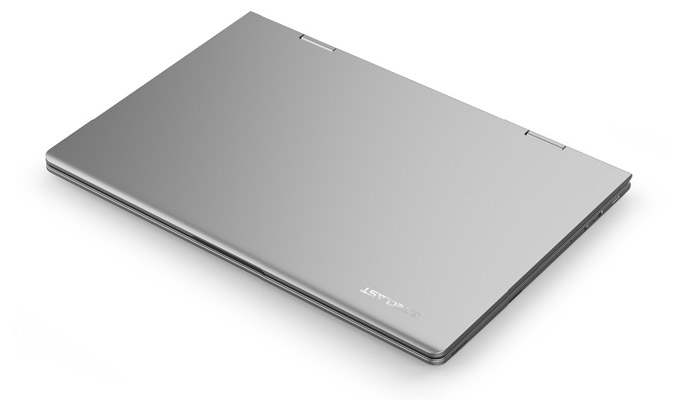 Battery Life
The conundrum with laptops is always weight Vs Battery life. The bigger the battery, the more it's going to weigh… there's just no avoiding this until we invent a new battery type.
The Teclast F5 fits into the super lightweight category and as such, doesn't come with the best battery life. The 3850mAh will get you to around 4 hours usage with the brightness turned to approx 75%.
The good news is that its fast charge-ready which reduces the charge time needed.
Connectivity
Connectivity on the Teclast F5 is excellent. It comes with Bluetooth and Dual-Band WiFi with the fastest AC standard. There's a memory card reader built in as well.
Although you only get a single USB Type-C port for both data and charging, you can now easily pick up a Type-C Hub online. Finally, you also get a Mini-HDMI port to connect to external projectors and TV's.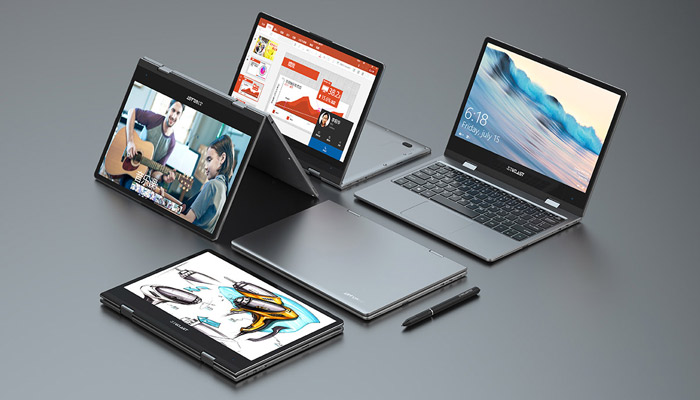 Teclast F5 Laptop – The Verdict
I'm willing to overlook the low-end performance stats of the Teclast F5 in favour of the excellent value-for-money it offers.
For light users, it's the perfect combination of modern connectivity, excellent display and lightweight metal form factor. If you're looking for a lightweight companion or something a little more capable than your phone or tablet, the Teclast F5 has your back!
Do we recommend the Teclast F5 Laptop? Yes, it's a hard laptop to beat in the budget 2-in-1 space.