We take a look at the Best Xiaomi Mi & Xiaomi Redmi Smartphones available in 2018
If you've never heard of Xiaomi before, then you're about to big time! They're a huge consumer electronics company based out of China that have been pushing the envelope of what's possible from import technology.
While in the UK, they're mainly known for their range of smartphones with excellent build quality. They are also the makers of products as diverse as electric scooters, air purifiers, smart trainers, selfie sticks, robot hoovers and baby slings!
Over the last couple of years, they have cemented themselves as the premium Chinese import brand standing side-by-side against other Chinese giants like Huawei, Oppo & OnePlus.
Further Reading: The Best Xiaomi Stuff that isn't a smartphone – 2018 Edition
With their reputation firmly set in China, 2018 is going to be the year that they cross-over to the west with some on the ground stores. In early November 2017, Xiaomi started selling in Europe and the Xiaomi owned Yi brand has been selling through Amazon direct for a while now.
Before long before you're going to see Xiaomi mobiles offered directly in retail as a cheaper Apple alternate but with the same premium aluminium designs.
So what sets the Xiaomi apart from the myriad of mobile brands that have popped up over the last few years?
Simply put… build quality & choice.
Need a flagship phone with a great camera? There's a Xiaomi for that! Need a budget-friendly device running the latest version of Android? Want the latest in bezel-less technology? Xiaomi has you covered.
So now that you know a little more about Xiaomi, let's get down to business!
The Best Xiaomi Mi & Xiaomi Redmi Smartphones you can get your hands on in 2018!
I want to hear what you think of Xiaomi in the comments, love them, hate them, never heard of them? Let me know below…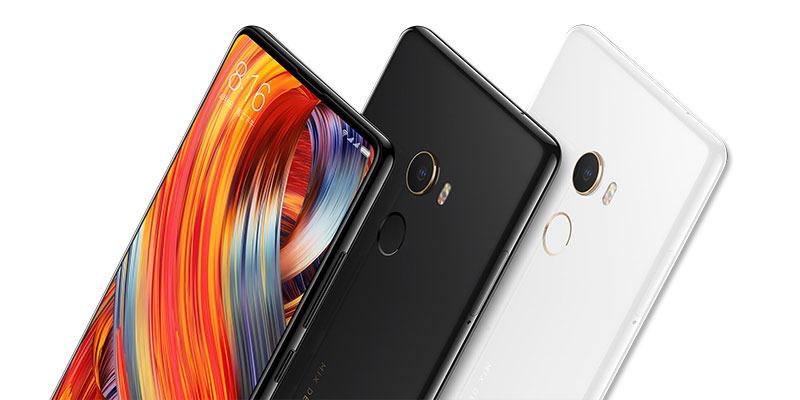 Xiaomi Mi Mix 2 – The Big-screen Bezel-less Flagship
Launched in 2016, the original Mi Mix could be seen as the device which kick-started the bezel-less craze that we've seen take over 2017, and the Mi Mix 2 has a more refined take on this winning recipe.
Of course, it's all about the screen with the Mix 2, all 5.99 inches of it! The display is set up in the 'tri bezel-less' format meaning razor-thin bezels on the top and sides. A standard sized bezel below the display houses the selfie camera. This delivers a 10% bigger screen than the 5.5″ unit in the Redmi Note 4, in a body only 0.5% taller.
Thanks to this epic display the Mi Mix features the de rigeur 18:9 screen aspect with all the benefits this brings. With the outstanding screen and sleek design, the Mi Mix 2 is truly a thing of beauty. But… its beauty is soon marred as the ceramic body picks up fingerprints fast.
Having said it's all about the screen, I'm going to contradict myself now. It's actually NOT all about the screen with the Mi Mix 2! Under the hood it has a Snapdragon 835 CPU with 6GB RAM, meaning it can legitimately lay claim to being Xiaomi's 2nd flagship phone of 2017 after the Mi 6.
In fact, screen size aside the two devices are remarkably similar other than one major difference. The Mi Mix 2 has only a single camera, so you'll miss out on the portrait mode that the Mi 6 can offer. If you can live without that, then the Mi Mix 2 is the closest thing you'll get to an iPhone X on Android!
Xiaomi Mi 6 – The Pocket-Friendly Photo Champ
The Mi 6 was Xiaomi's original 2017 flagship, featuring the Snapdragon 835 CPU, 6GB RAM and either 64GB or 128GB of non-expandable memory. As I found in my full hands-on Xiaomi Mi 6 Review, not only does it perform as well as any of the 2017 flagship devices but it also takes some amazing photos too. The dual camera setup has some great features including a 2x optical zoom and portrait mode.
The latter is a really effective take on the blur/bokeh effect and adds a blur to the background scene which really brings the subject clearly into focus. It can produce some really pleasing shots, and is a feature that I couldn't do without now. The Mi 6 also shoots great videos thanks to its 4-axis image stabilisation.
Other than the killer camera the Mi 6 shines in every area. With a 5.15 inch screen, you'd almost call it a compact device nowadays, and it's small and light enough to operate comfortably with one hand. The battery is fast to charge and is good for a full day of moderate use.
While it's only 1080p resolution, the display is crystal clear and the hybrid stereo speakers are loud and rich. In my review, I struggled to find any negative points, and I've been using it as my main phone for a few months now with nothing giving me any inclination to swap devices.
Having been on the market for a good few months now, the Mi 6 is priced extremely competitively and represents excellent value for money. A recent update to MIUI 9 means that it is running Xiaomi's latest software.
So now the difference between the Mi 6 and the Mi Mix 2 really comes down to whether you want a compact flagship with an amazing camera, or a beautiful bezel-less flagship with a huge screen. Either way, you're making a great choice.
Xiaomi Mi A1 – For Android Purists
I see the Mi A1 as the spiritual successor to Google's own, much loved Nexus 4. It's the latest phone released as part of Google's 'Android One' program, which aims to provide phones running the latest version of Android on solid hardware at a keen price-point.
Design-wise, the Mi A1 looks a little like an iPhone 7 Plus, with materials and construction bordering on premium. In our recent review we scored the 'price vs build-quality' ratio a solid 9/10!
The solid CPU and generous RAM, coupled with the performance benefits delivered by running a lean Android version means that the Mi A1 feels as quick and smooth as last year's flagships – no mean feat for a device that's half the price.
The Mi A1 is the only Xiaomi phone that doesn't run MIUI – Xiaomi's version of Android. For many people, who find MIUI too intrusive, this is a godsend.
The huge benefit to being an Android One phone is that the Mi A1 gets the latest updates and security patches as soon as they are available, in the 3 weeks I was testing the Mi A1 I had 5 OTA updates!
It's also worth noting that the dual camera performs almost as well as the one found in the Mi 6, and is easily the best snapper of any mid-range device we've tested.
Our only minor quibbles points with the Mi A1 are the rather large bezels, and a standard 5V/2A charging battery that's a little on the small side at 3080mAh.
Xiaomi Mi Max 2 – Your Netflix Companion
Looking for a phone with a massive screen, capable hardware and a battery that will last for days? Look no further than the Mi Max 2.
Every inch a premium mid-range monster, the Mi Max 2 is effectively a tablet that you can make calls on. Like the Mi A1 it runs a Snapdragon 625 with 4GB of RAM which is more than powerful enough for all but the most hardened users.
As with all Xiaomi phones build quality is excellent. Though it's 'only' 342 PPI the display is fantastic, capable of exceptional brightness with an excellent contrast ratio. Bolstering the multimedia credentials is a stereo sound setup using the earpiece as the secondary speaker.
As for the battery, the Mi Max 2 is powered by a frankly ludicrous 5300mAh unit. This thankfully features Quick Charge 3 so doesn't take forever to refuel. Vigorous community testing shows that the Max 2 is capable of 24 hours of video playback on a single charge!
The Mi Max 2 also performs well in other areas. The single 12MP camera with dual flash takes great photos and can even capture 4K video. The Mi Max 2 has wireless AC support, with Bluetooth 4.2, FM Radio and an infrared blaster.
All in all, this is a beast of a phone that has many great features. But, its strengths are also its weaknesses. Some will find it just too big and too heavy as a daily driver.
Redmi 4X – Best Budget Choice
The Redmi series may be Xiaomi's 'budget' line, but in my experience, this makes no real difference in terms of build quality.
The 4X is certainly well-built, with a pleasant enough design and an aluminium rear. The specs may place it firmly last for performance among the phones in this list. However, the price makes the Redmi 4X hard to ignore.
With many different spec levels, you need to make sure you're buying the phone that's right for you.
The mid-tier 3GB RAM/32GB storage variant has been seen for a staggering £85 during store promotions! For me, this represents fantastic value for money and is the model I'd choose.
You may want to avoid the 4GB RAM/64GB storage version however. At around £140 I'd say it's not worth paying the premium for.
Whichever model you choose, you'll get an octa-core CPU, bright 720p screen, decent 13MP camera and very generous 4100mAh battery. What this gives, even in the lowest 2/16GB package, is a phone that is absolutely adequate in every department. For some, that's damning with faint praise, but for many people that's just fine.
Whatever Xiaomi phone you buy, you'll be getting a great deal. For even better value, look to the last generation of models.
For example, you can currently get the Mi 5S Plus, featuring the Snapdragon 821 CPU, 4GB RAM and dual rear cameras for just over £200! That's around £50 cheaper than a Samsung Galaxy J5 but light years ahead in every department.
Top 5 Xiaomi Smartphone Comparison Table
| | | | | | |
| --- | --- | --- | --- | --- | --- |
| Model | Mi Mix 2 | Mi 6 | Mi A1 | Mi Max 2 | Redmi 4X |
| Dimensions | 75.5 x 151.8 x 7.7mm | 70.5 x 145.2 x 7.5mm | 75.8 x 155.4 x 7.3mm | 88.7 x 174.1 x 7.6mm | 70 x 139.2 x 8.7mm |
| Weight | 185g | 168g | 165g | 211g | 150g |
| Screen Size/Ratio | 5.99″, 18:9 | 5.15″, 16:9 | 5.5″, 16:9 | 6.44″, 16:9 | 5″, 16:9 |
| Display Resolution | 1080×2160, 403 PPI | 1080×1920, 428 PPI | 1080×1920, 403 PPI | 1080×1920, 342 PPI | 720×1280, 294 PPI |
| CPU | Snapdragon 835 (4 x 2.45GHz, 4 x 2.15GHz) | Snapdragon 835 (4 x 2.45GHz, 4 x 2.15GHz) | Snapdragon 625 (8 x 2GHz) | Snapdragon 625 (8 x 2GHz) | Snapdragon 435 (8 x 1.4GHz) |
| RAM | 6GB | 4/6GB | 4GB | 4GB | 2/3/4GB |
| Storage | 64/128/256GB, Non-expandable | 64/128GB, Non-expandable | 32/64GB, Expandable | 32/64/128GB Expandable | 16/32/64GB Expandable |
| Main Camera | 12MP, f/2.0, PDAF, OIS | Dual 12MP, f/1.8/f2.6, PDAF, Optical Zoom | Dual 12MP, f/2.2/f2.6, PDAF, Optical Zoom | 12MP, f/2.2, PDAF, OIS | 13MP, f/2.0, PDAF |
| Battery | 3400mAh | 3350mAh | 3080mAh | 5300mAh | 4100mAh |
| Charging | Quick Charge 3, USB C | Quick Charge 3, USB C | 5V/2A, USB C | Quick Charge 3, USB C | 5V/2A, Micro USB |
| Band 20 As Standard? | Yes! | No | Yes! | No | No |
What's upcoming for 2018?
We're moving into 2018 flagship season and there are a couple of pretty fantastic devices around the corner.
The Mi Mix 2S is hugely anticipated. As with all unreleased flagships, there is a lot of speculation in terms of the specifications of the phone, but what we're pretty certain of is that it will be one of the first devices released to feature the Snapdragon 845 CPU.
It also looks like it will be a 5.99 inch truly full-screen phone, ditching the tri bezel-less format that previous Mi Mixes have used and putting a fingerprint scanner under the screen itself! The rumour-mill also says that the Mi Mix 2S will have 8GB RAM, 256GB internal storage and a pair of Sony IMX363 camera sensors on the rear.
The second Xiaomi flagship of 2018 will be the Mi 7. This will also be running the Snapdragon 845 CPU with 8GB RAM, 128GB storage, a 5.6 inch 18:9 screen and a very generous 4480mAh battery.
So that's the flagships out of the way, but Xiaomi haven't forgotten about the mid-range market. Check out the upcoming Redmi Note 5!
Powered by the octacore Snapdragon 636, the Note 5 has a choice of 4/6GB RAM and 64GB storage, or 3GB RAM and 32GB storage. You'll also get a 5.99 inch 18:9 screen, as well as dual cameras, Oreo out of the box and a 4000mAh battery.
Suffice to say this phone is very much on our radar, and we'll share more information as soon as we can.
Should you choose a Xiaomi Mi or Xiaomi Redmi for your next smartphone?
Redmi is Xiaomi's budget-friendly sub-brand, which releases phones that are exceptional value for money.
While they still retain Xiaomi's great build quality, the Redmi phones will generally be running on lower specs, with slightly less cutting-edge design language – but that's the tradeoff for the cheaper price.
While we've only mentioned the Redmi 4X in our list above, there are still some great Redmi devices available. The most recent additions are the Redmi 5 and Redmi 5 Plus.
These are the first Redmi devices to feature an 18:9 display, which is in the 'Infinity Display' style. Specs are very solid all-round and I'm looking forward to getting to put one of these phones through its paces!
So what's the catch?
As with many of the smartphone manufacturers we feature on Review Hub, Xiaomi don't sell directly in the UK. This gives you 2 choices.
You can buy it direct from China, or pay 'over the odds' for a device that someone else has imported. Check out our Smartphone Buying Guide for some handy tips.
You may find the number of different variants of the same phone slightly bewildering. Other than the Mi A1, there are numerous versions of the 4 other phones in our list. The main differences are in the amount of RAM and internal storage offered.
Another difference that you'll need to be aware of is which region the smartphone has been produced for. Most models come in Chinese, Global and International guises. I'd definitely suggest that you stay away from the 'Chinese' versions. These won't have Google Play installed on them.
The Global version will be set up in English, and have access to Google services. Please be aware though that these are generally ROMs that have been installed by the vendor. This means that the phone may be running non-official software and be slightly slower to get OS updates.
The International version will have the official Xiaomi software and one other, major bonus. It supports LTE Band 20/800MHz, which as standard most Xiaomis don't.
Some phone networks in the UK only run their 4G services over Band 20 so this is worth bearing in mind. See our handy guide for more information on this.
My experience with Xiaomi Mi / Redmi Smartphones
I've been lucky enough to get hands-on with the Mi 6, Mi A1, Redmi 3S and Redmi Note 4. I've used each of them as my daily driver for differing lengths of time but my experience with each of them was overwhelmingly positive. Even the low specced Redmi 3S was up to any task I wanted to throw at it.
The Mi 6 was a worthy flagship which caused many an S7 Edge or iPhone 7 owner to turn green with envy when I told them how little it can cost to get a phone that outperformed their devices.
Of the four, perhaps the biggest surprise was the Redmi Note 4. This performed almost as well as flagships of the day at a third of the price. It proved immensely popular too, at one point Xiaomi were selling one every 4 seconds!
Love Tech? Subscribe for weekly updates of our best content!
Want the to know about the latest tech, gagdets and gizmos you can't find on the high-street? Join our tech community and receive weekly or monthly updates!