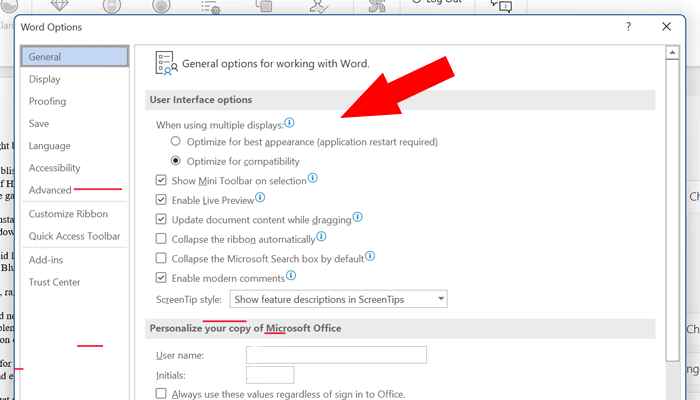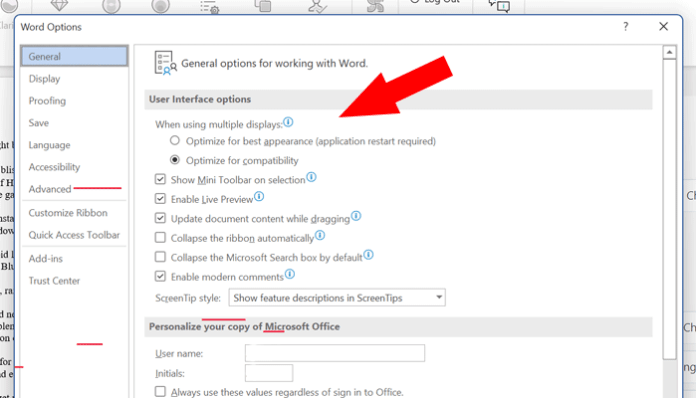 So you got yourself a shiny new laptop or PC and… What the heck happened to Grammarly in Word? It's blurry and broken.
The layout is all janky and zooming is impossible. The red correction errors don't match up to the words and it's totally unusable.
This is exactly what happened to me and I got so annoyed… I'm sitting here writing this as my good deed for the day.
The weirdest part is that when I drag the word window to my external monitor, it works perfectly. But on my laptop display, the Grammarly for Word box is blurry and when I click to correct a mistake nothing happens.
Luckily for you, I'm going to save you about an hour of troubleshooting and let you know how to get the Grammarly for Word layout working again… instantly!
SOLVED: Grammarly Word Layout Broken on high DPI display / multiple monitor setup

Inside Microsoft Word:
File > Options > General
General > User Interface Options > When using multiple displays
Select "Optimize for compatibility"
Restart Word
Grammarly for Word is fixed! Hurray!
The weird part is that now Grammarly for Word works fine on either setting. "Optimize for best appearance" or "Optimize for compatibility".
I suspect that the cause of this issue is having a two-monitor setup with different DPI zoom settings on each. In my case, I have a 1440P monitor and a 1440P laptop but the scale is at 150% on my laptop and 125% on my Monitor.
I hope this helped you get Grammarly for Word working again. No more blurry text or red-line crazy-ness when you zoom.
Leave a comment if this helped you get the Grammarly plugin working again. I'd also love to know if you also have a multiple monitor setup, so we can narrow down whether that's the root cause of this bug.
Thanks for reading!
Curious? Which 2022 Phone have the most epic battery life?