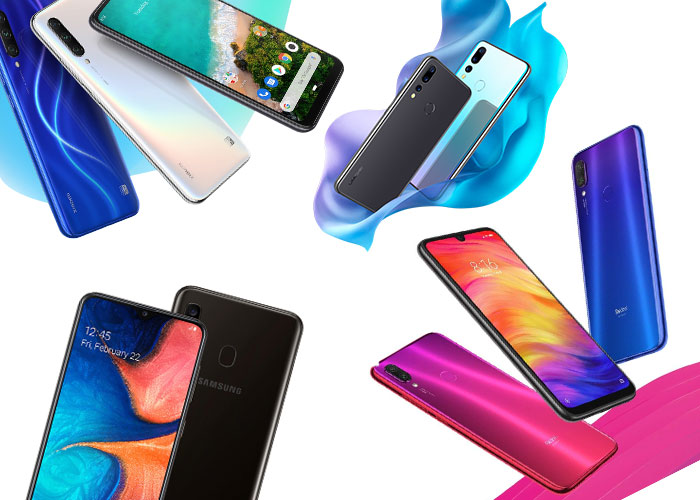 You Can Have An Awesome Budget Smartphone For Less Than Think!

The big dogs of mobile would have you thinking that you need to fork out £500+ for a premium well-balanced smartphone… well that's just plain false!
If our recent review of the Xiaomi Mi 9 taught us anything, it's that you can match the raw performance of a £900 Samsung flagship, for around the £400 price-point.
But that got me thinking… what if we took it a step further and set out to prove that you can have a premium-build phone with good performance for under £150. Well that's exactly what this best budget smartphone list is here to prove.
… You can have your budget phone cake and eat it! …
With all bargain smartphones, there are Pros & Cons to consider with the main one being: will it work in the U.K?. But, since we're a bunch of super helpful geeks, we've shortlisted only the best low-cost phones that have Full UK Network Coverage.
That's right, not every budget smartphone will work in the U.K. But you can rest assured that every budget phone in this list will!
Also, don't forget to check out our helpful buying FAQs later on. As always, we love hearing your questions and comments and if you find this article helpful then please share.
Let's get to it!
The Top 11 'Budget' Phones – U.K Edition
Xiaomi Redmi Note 7 Global – The Best Budget Phone!
Price From: £129.99
If you're looking for the best feature-packed phone that costs less than £150, the Xiaomi Redmi Note 7 is your best choice.
The 32GB version can be yours for as little as £129.99, and more impressively, it benefits from many of the same features we see in flagship phones.
In your hand, the dual-glass design feels fantastic and made from scratch resistant toughened Corning Gorilla Glass 5 on both sides.
But let's get back to those flagship features I mentioned earlier. The first is the rear camera module which now includes a whopping 48MP megapixel lens similar to what see on the Xiaomi Mi 9.
So if taking ultra-crisp photos is your thing, you'll love this versatility that this lens offers. We're also treated to 1080P video at 60fps and even a super-slow-mo mode which can capture 1080P video @ 120fps.
Related: What's The Best Xiaomi Smartphone?
Performance-wise, the Redmi Note 7 excels thanks to the powerful Qualcomm Snapdragon 660. If you're a gamer, you'll be happy to know this phone scores 150,000 in the AnTuTu benchmark. If you're not a gamer, you'll still love the speedy performance this phone offers.
Connectivity is also spot on with support for the fastest Dual Band AC WiFi, 4x GPS support for superior tracking, an Infrared Remote, USB Type-C, an SD Card Slot, Bluetooth 5 and full UK Network support.
And best of all, this is all crammed into a super-slim 8.1mm body that only weighs 186g. Considering its dual-glass design and huge 4000mAh battery, this is super-impressive.
So. it's for all of the above reasons that the Xiaomi Redmi Note 7 is our Favourite Budget Phone Choice!
Colours Available: Space Black, Neptune Red and Neptune Blue
Tech Specs: 6.3″ FHD+, 1080×2340 resolution, 19.5:9 Aspect Ratio, 409 PPI, Snapdragon 660 (2.2Ghz | 8-cores), 3GB RAM, 32GB Storage, (Qualcomm Quick-Charge 4.0) 4000mAh battery, Dual-band AC WiFi, Android 9 with Full UK Support for 3, 7 & 20 (4G) bands.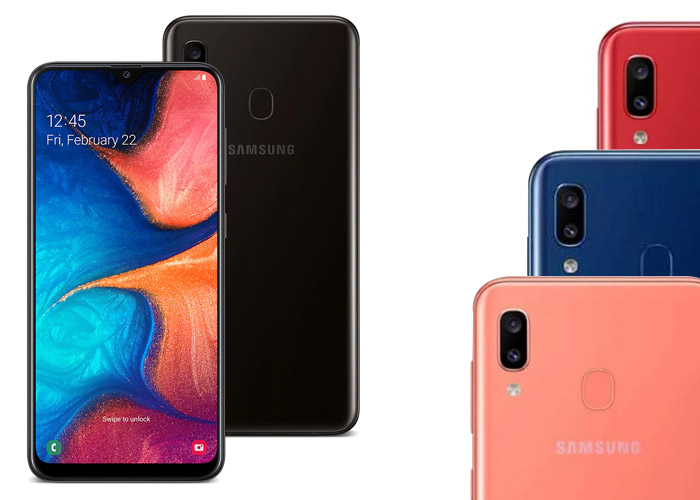 Samsung Galaxy A20 – Budget Super AMOLED Display

Price From: £149.99
Not to be confused with the A20e (which doesn't benefit from a Super AMOLED display), the A20 is the first of Samsung's budget smartphones to include Super AMOLED display technology.
If you love candy-popping colour and incredible black levels… then you'll fall in love with the Samsung Galaxy A20.
The catch? it's only a 720P display. This means you're giving up a little crispness in favour of the advanced AMOLED colour reproduction.
You're also getting a large fast-charge-ready 4000mAh battery squeezed into a super slim 7.8mm thick body. Although this time, the rear of the phone is made from plastic, helping it achieve its featherweight status at only 169g.
If you aren't already sold on the display, then let's talk about the impressive dual-camera setup. Samsung has combined a 13MP main camera with a 5MP 123° Wide-Angle lens so that you can frame every scene perfectly. You aren't getting Samsung's Galaxy-level camera quality here, but it's fantastic for the price.
Close to the top of our £150 budget, the Samsung A20 is a great choice for media consumers who value excellent battery life. Just remember that you'll be paying a small premium for the Samsung brand name, but in return, you are getting Samsung's epic build quality and no-nonsense warranty program.
Tech Specs: 6.4″ HD+ Super AMOLED, 1560×720 resolution, 268 PPI, Samsung (1.6Ghz | 8-cores), 3GB RAM, 32GB Storage, 4000mAh Fast Charge Battery, Single-band N WiFi, Android 9 (One UI) with Full UK Support for 3, 7 & 20 (4G) bands.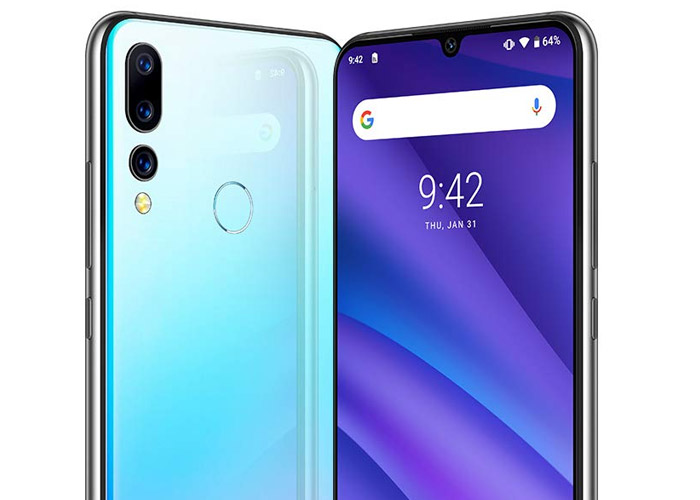 UMiDigi A5 Pro – Fantastic Value

Price From: £89.99
You can check out our full UMiDigi A5 Pro Review here where we talk about the epic-value of this sub-£100 smartphone gem.
If a dual-glass smartphone with triple-rear cameras, a full HD display, massive battery life and great connectivity doesn't get you excited, I don't know what will.
It's a little heavy compared to some of the competition, but this isn't a dealbreaker. I won't go into too much detail as you can check out our full review.
All I'll say is that the UMiDigi A5 Pro is well-deserving of its place in this best budget phone list.
Related: Best UMiDigi Phone of 2020
Available in Space Grey & a Breathing Crystal colourway that loosely imitates the Samsung Galaxy Note 10.
Tech Specs: 6.3″ IPS, 2280×1080 resolution, 400 PPI, MediaTek Helio P23 (2.5Ghz | 8-cores), 4GB RAM, 32GB Storage, 4150mAh 10w Fast Charge Battery, Dual-band N WiFi, Android 9 with Full UK Support for 3, 7 & 20 (4G) bands.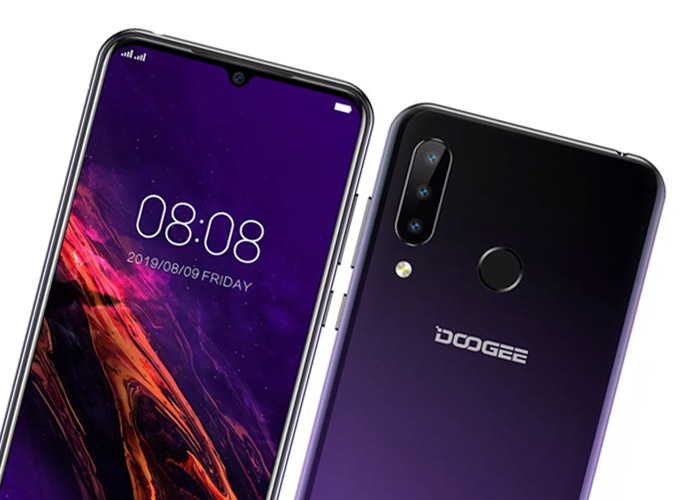 Doogee N20 – Super-Budget Camera Choice

Price From: £84.99
Another fantastic value smartphone is the recently released Doogee N20. At only 8.4mm thick, but with a huge 4350mAh battery (10-watt fast-charge), the design makes no compromises… well maybe one.
The 6.3″ Full-HD display uses IPS tech, is bright, and has excellent viewing angles. While Doogee touts an aluminium unibody, this is actually only the frame of the phone. The battery cover is made from a single piece of moulded polycarbonate. And while not as premium as glass, it does have the benefit of better drop protection.
Available in black, blue and a purple gradient colourway, the £84.99 N20 will be a big hit this Christmas.
On the back, we find the triple-camera setup. What's special is the 8MP 130° Sony wide-angle lens. This is backed up by a 16MP AI-ready main lens, and finally, there's an 8MP depth sensor. The N20 breaks the mould of what we thought possible from budget camera setups. Selfie-wise, you get a 16MP lens with beauty mode.
While the camera performance doesn't match the UMiDigi A5 Pro, you benefit from twice the storage plus a nice battery life boost. The N20 a great super-budget choice for those on a tighter budget.
Tech Specs: 6.3″ IPS, 2280×1080 resolution, 428 PPI, MediaTek Helio P23 (2.5Ghz | 8-cores), 4GB RAM, 64GB Storage, 4350mAh 10w Fast Charge Battery, Dual-band WiFi, Android 9 with Full UK Support for 3, 7 & 20 (4G) bands.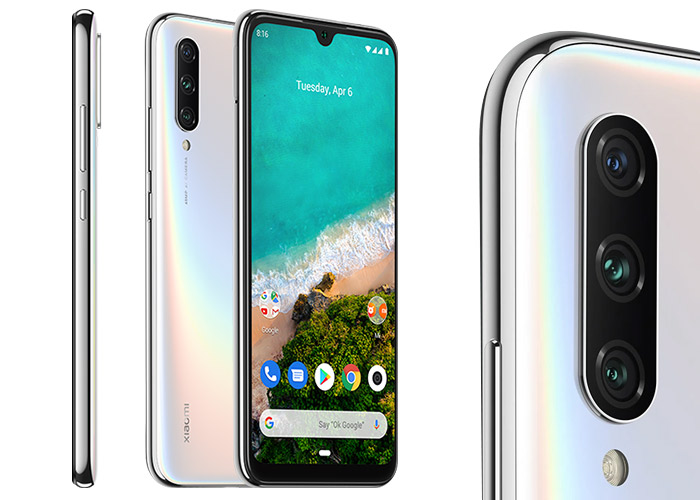 Xiaomi Mi A3 – The Over Budget Choice

Okay, I'm sorry, I snook the Xiaomi Mi A3 onto this list, but, full disclosure it's slightly over budget. But… it's seriously worth your attention and it regularly drops below £150 during sales.
So why am I so keen to add the Mi A3 to this list?
The Mi A3 is, for a lot of people, the perfect phone at the perfect price-point. It ticks all the right boxes: Samsung AMOLED Display, Great Cameras, Great Battery Life, Fast Performance, Premium Design and rich connectivity options including an in-display fingerprint reader.
Check out Review Hub's Top 5 Xiaomi Smartphones for full information on the Xiaomi Mi A3's key features and their benefits.
If your budget will stretch, then you can't go wrong with this smartphone. It's the Mi A2 upgrade that everyone wanted, and Xiaomi over-delivered.
Tech Specs: 6.088″ IPS, 1560×720 resolution, 282 PPI, Qualcomm Snapdragon 665 (2Ghz | 8-cores), 4GB RAM, 64GB Storage, 4030mAh 18w Fast Charge Battery, Dual-band AC WiFi, Android 9 with Full UK Support for 3, 7 & 20 (4G) bands.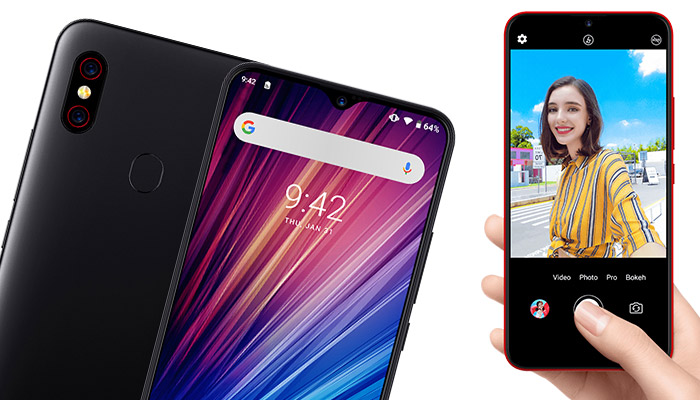 UMIDIGI F1 – No.1 Battery Life & Storage Choice

Price From: £145.99
Does 128GB's of storage and 6GB's of RAM sound like flagship specs? Yes? Then you might be surprised that you can find them on the UMiDigi F1.
It doesn't stop there though, as you also get a humongous 5150mAh battery that's super (18w) fast-charge ready. There's a gorgeous Full-HD IPS display with minimal bezels that offers excellent viewing angles.
Picking up the F1 reveals a cold-to-the-touch full metal design that's either powder coated in matt black, gold or red colourways.
There's no wide-angle lens like on the A5 Pro, but, the 16MP main camera has a low f/1.7 aperture to help brighten up your dark photos. This is backed up by a second 8MP lens that's used to add portrait mode bokeh effects.
We also see a decent performance boost thanks to the AI-ready Helio P60 processor, which trumps the P23 when it comes to gaming with an AnTuTu score of 135,000+. Good enough for high-end 3D gaming at medium settings.
You'd think that with the F1 offering so much performance and battery life, it'd be a heavy cumbersome beast. Well you're wrong. Thanks to clever construction techniques the F1 weighs in at only 186g.
If battery life, plenty of storage and a sleek metal design are your top priorities, then UMiDigi F1 has you covered. Not our favourite, but still a great option.
Tech Specs: 6.3″ IPS, 2340×1080 resolution, 409 PPI, MediaTek Helio P60 (2Ghz | 8-cores), 4GB RAM, 128GB Storage, 5150mAh 18w Fast Charge Battery, Dual-band AC WiFi, NFC, Android 9 with Full UK Support for 3, 7 & 20 (4G) bands.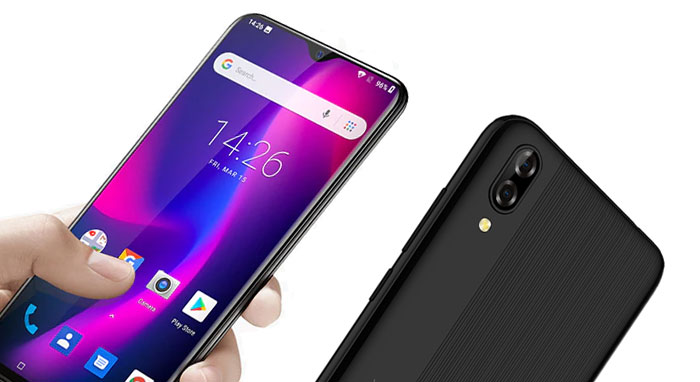 Blackview A60 Pro – Best Phone Under £75.00

The Blackview A60 Pro makes it onto this list with room to spare at only £74.99. Even at this price-point, we're still getting a modern waterdrop notch display with impressive brightness levels.
It's certainly not the slimmest in our list at 9.8mm, but part of the bulk is due to the healthy 4080mAh battery. This is more than enough to keep the phone charged well into the second day of usage.
There are a few corners that have been cut to help keep the cost down. The first is the 16GB of storage, although the A60 Pro has a dedicated SD card port that accepts up to 256GB's.
The second is the lack of fast charge support. This means you'll be waiting quite a few hours for the phone to charge. Not a deal-breaker, but something to consider.
Finally, the lightweight (170g) A60 Pro features one of MediaTek's new Helio A22 chips that offer solid entry-level performance with excellent power-savings.
It's not a phone for power-users, but it's a great option when compared against its super-budget competition.
Tech Specs: 6.088″ IPS, 1280×600 resolution, 232 PPI, MediaTek Helio A22 (2Ghz | 4-cores), 3GB RAM, 16GB Storage, 4080mAh Battery,WiFi, Android 9 with Full UK Support for 3, 7 & 20 (4G) bands.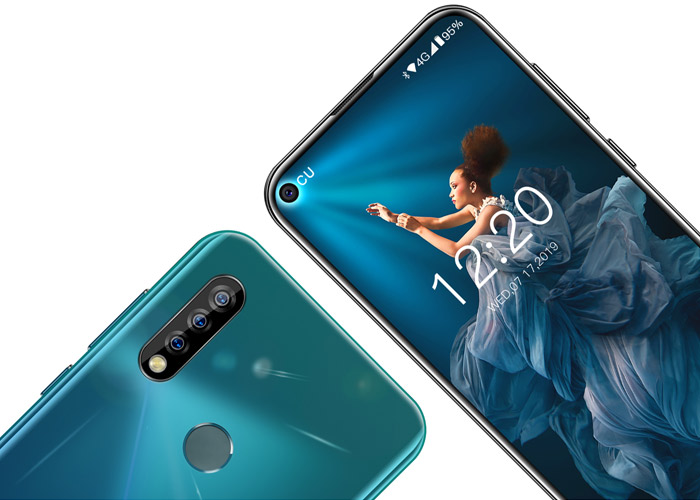 Oukitel C17 Pro – Beautiful & Budget

Price From: £109.99
Taking its design inspiration from Samsung, the Oukitel C17 Pro is the first budget phone to switch up the selfie camera notch for a hole-punch design.
Thanks to this design choice, the 6.35″ IPS display looks awesome, a real eye-catcher. Available in Sunrise, Twilight & Black, the high-gloss super-reflective polycarbonate design is on-trend. And, although the bezels quite big, kudos for Oukitel in copying Samsung so quickly!
Performance is also improved with the Helio P23 Octa-core chip backed up by a healthy 4GB's of RAM and 64GB's of storage. Need more space? The C17 Pro also accepts SD cards up to 128GB in size.
It's also nice to see a Gyroscope sensor included for Maps and VR Games plus dual-band WiFi for more stable connections at home.
If you want a modern gradient design with high-end display aesthetics, then add the Oukitel C17 Pro to your wishlist.
Tech Specs: 6.35″ IPS, 720×1560 resolution, 270 PPI, MediaTek Helio P23 (2Ghz | 8-cores), 4GB RAM, 64GB Storage, 3900mAh 10w Fast Charge Battery, Dual-band WiFi, Android 9 with Full UK Support for 3, 7 & 20 (4G) bands.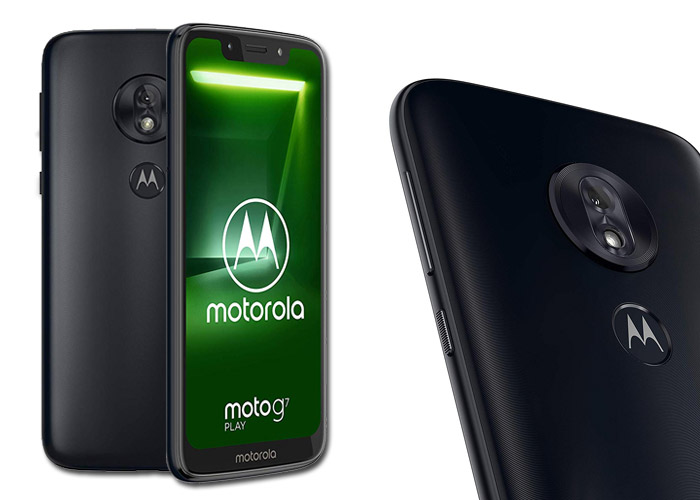 Motorola Moto g7 Play – Budget & Water-repellant

If the idea of a big 6.3″+ phone sounds unwieldy, then the 151gram 5.71″ Moto g7 Play could be the pocket-friendly option you've been looking for.
One of three in Motorola's g7 range, the g7 Play cuts back on battery size and has slightly slower charging, but keeps the same Snapdragon performance.
What makes the Moto g7 Play special, is that it's one of the only budget smartphones to offer a water-repellant design through its special p2i nano coating. While not fully waterproof, you can use this phone in the rain worry-free.
While the specs aren't as impressive as some of the other options in this list, you'll be happy to know that the g7 Play features an impressive camera setup. The 13MP rear camera and 8MP selfie camera both take bright & noise free photos. You even have a selfie-flash available on the right side of ear speaker.
Tech Specs: 5.7″ IPS, 1512×720 resolution, 294 PPI, Qualcomm Snapdragon 632 (1.8Ghz | 8-cores), 2GB RAM, 32GB Storage, 3000mAh 10w Fast Charge Battery, Dual-band N WiFi, Android 9 with Full UK Support for 3, 7 & 20 (4G) bands.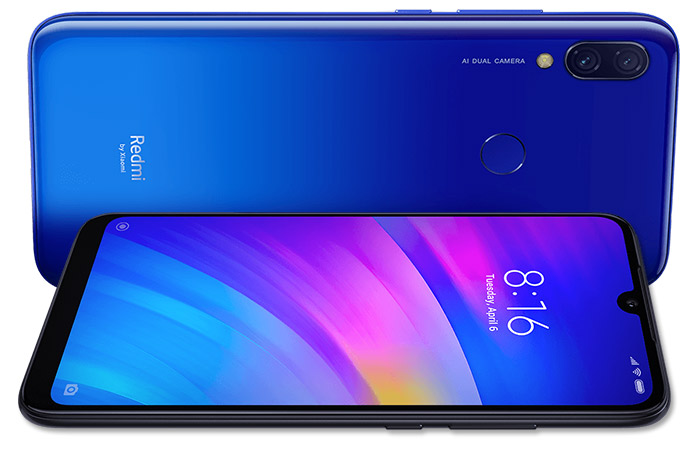 Xiaomi Redmi 7
If your budget won't stretch to the Redmi Note 7, then the Redmi 7 might be the phone for you. With a 2-day battery life thanks to the 4000mAh battery and lower resolution display, the Redmi 7 is a great choice.
Its HD display works indoors and outside thanks to a super bright 450nit rating. The screen is also protected by Gorilla Glass 5 to help prevent damage from drops and scratches.
Performance-wise, you get a Snapdragon 632 octa-core chip which is great for light gaming and makes the MIUI Android overlay buttery smooth.
Camera-wise it's a step down from the excellent Redmi Note 7, but, still holds its own against the budget competition. The 12MP rear camera offers larger pixels to capture more detail and the 8MP selfie camera offers AI Portrait Mode, Face Unlock and an advanced beauty mode.
While not a glass build, the smooth curved plastic edges coupled with the slimmer 19:9 aspect ratio makes it a pleasure to hold.
Connectivity-wise, we're still treated to the IR Remote, a dedicated SD card reader plus dual 4G SIM card ports. We do lose the 4G dual-band WiFi though.
All-in-all, if you're budget will stretch then opt for the Redmi Note 7. But if you don't need the advanced camera and extra connectivity, the Redmi 7 is still a great phone in its own right.
Tech Specs: 6.26″ IPS, 1520×720 resolution, 269 PPI, Qualcomm Snapragon 632 (1.8Ghz | 8-cores), 3GB RAM, 32GB Storage, 3900mAh 10w Fast Charge Battery, Single-band N WiFi, Android 9 with Full UK Support for 3, 7 & 20 (4G) bands.
Ulefone X – Wireless Charging Budget Option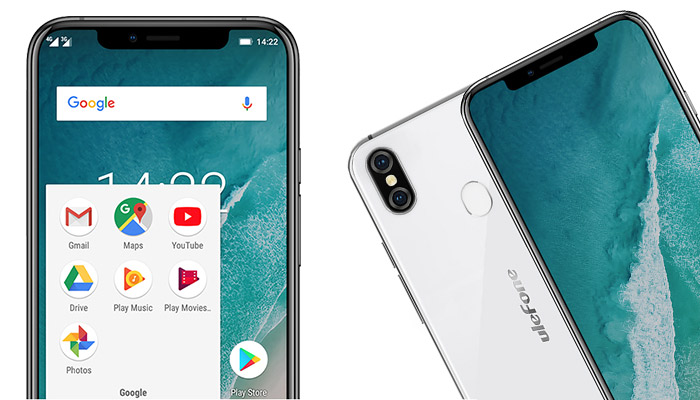 Just sneaking into the budget section (imported) is the impressive Ulefone X! Boasting a nearly 90% screen-to-body ratio coupled up with a sleek glass sandwich design, it's one good-looking smartphone.
Check out: Ulefone X Full Review
The Helio P23 processor is a tried and tested chip that's backed up by 4GB's of RAM and a healthy 64GB's of storage.
While the 3300mAh battery isn't anything to write home about, the Qi-enabled wireless charging is! Most flagships don't have the luxury of wireless charging, so to see in on a budget smartphone blows my mind!
While we don't get the benefits of a true Full HD display, we still manage to get a PPI (pixels per inch) figure of 286. Not bad.
To top it all off, the Ulefone X has a 16MP + 5MP rear dual camera setup, although only with an f/2.2 aperture. The selfie camera has a 13MP lens (+beauty mode) and is used for the phones face-ID unlock software.
Tech Specs: 5.85″, 1512×720 resolution, 18:9 Aspect Ratio, 286 PPI, MediaTek Helio P23 (2Ghz | 8-cores), 4GB RAM, 64GB Storage, Wireless Qi-ready 3300mAh battery, Android 8.1 with Full UK Support for 3, 7 & 20 4G bands.
Are Low-cost Cheap Phones Any Good?
This is a question I hear all the time. When you've been shelling out 40+ pounds a month to own the latest iPhone, it can come as a shock knowing you could be saving £100's on a SIM-only smartphone.
Now before you get too excited, not all areas of budget smartphones compare to flagships £600+ devices. The most obvious of these is camera performance. Squeezing a DSLR camera into a slim pocket-ready display doesn't come cheap. To get Instagram worthy photos you will have to shell out over the £300 mark. But, if you don't have 25000 Instagram followers, then you'll do just fine with one of the budget phones above.
What has trickled down into low-cost smartphones is the performance. The £100 smartphone of today, is more powerful than a 3-4 year old flagship. We're also seeing 3GB RAM standard and as well as a massive drop in the price of SD Cards.
So my answer is, Yes. Pick the right budget smartphone and it'll be the best decision you can make. It won't be blazing fast, but you'll have fat pockets from all the money you've saved!
Are Cheap Phones Reliable?
Another common question is: are cheap smartphones reliable? and it's a valid concern as not every mobile manufacturer produces their phones to the same standards.
When you buy an iPhone or Samsung Galaxy smartphone, you know that they're getting a fully tested, high-grade phone.
So how do we know what we're getting when dealing with smaller manufacturers that offer low-cost smartphones?
Well hopefully websites like Review Hub will answer that question. We closely inspect all the budget smartphones that come through our doors for craftsmanship faults and performance issues.
To answer the question: Yes. We've been particular impressed with the reliability of Xiaomi, Doogee, UMiDigi & Cubot.