If you're looking for a tough & rugged storage option then there's two routes to choose from: A Rugged Portable SSD or a Rugged USB Flash Drive but both have their pros & cons.
Rugged SSD's have the advantage of having much faster transfer speeds and higher storage capacities while Flash drives are super lightweight and much cheaper.
So why choose a portable SSD?
The main reasons are speed, reliability and capacity. While flash memory sticks are small and compact, they suffer from overheating which limits their speed. If you transfer files to a flash drive the speed will be up and down faster than a rollercoaster.
Portable SSD's on the other hand, are proven to reach consistent speeds of up to 5 times faster than typical flash memory. Tough & Rugged SSD's take it step further as you can get them wet, drop them and general abuse them without worrying about data loss.
As someone who travels a lot, being able to throw a lightning fast high-capacity drive into my backpack care free is great. I used to wrap up my old 1TB HDD in t-shirts to help protect it from shock and bumps. Always worrying that next time I plugged it in, I'd hear the dreaded HDD plates scratching noise.
As SSD's use solid memory with no moving parts they're much less susceptible to shock damage. So let's get to it, here are the best fully waterproof, shockproof and dropproof portable SSD's available. Enjoy!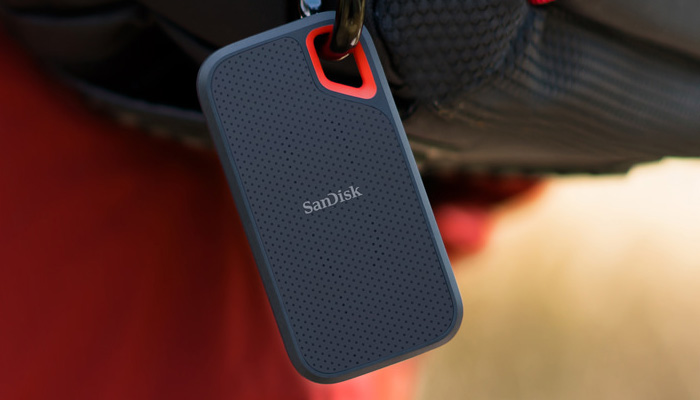 1. SanDisk Extreme Portable SSD (2018/2019 Model)

SanDisk has upgraded their rugged portable SSD after having issues with the previous versions ports failing. The new version has reinforced the USB Type-C and totally redesigned the external protection.
The new SanDisk Extreme Portable SSD also comes sealed with an IP55 rating and drop protection to an impressive 2 metres.
Unless you need to enhanced IP68 waterproofing of the next portable SSD, the SanDisk Extreme Portable SSD should be your number 1 choice!
Storage Sizes: 250GB | 500GB | 1TB | 2TB
Transfer Speed: Max 550MB/s
Connection: Detachable Cable – USB Type-C 3.1 (Type-C to Type-A adapter included)
Tough Credentials: Water & Dust Resistant (IP55), 2 metre drop protection, -20 – + 70 degrees storage temps.
Warranty: 3 Years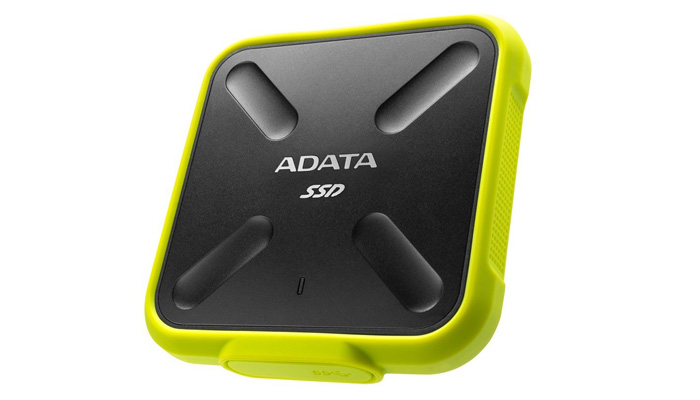 2. ADATA SD700 Portable SSD

The ADATA SD700 is our tried & tested portable SSD that's been available for a few years now. It comes with USB 3.1 but unfortunately uses a SATA to USB cable which you'll need to carry with you. It'd be great if ADATA updated the 2016 model to use a USB Type-C connection which is much more widely available. #dontmakemecarryanothercableplease
In terms of rugged credentials, it's at the top our list with a MIL-STD-810G shock grading (tested to 26 drops at 4ft), an IP68 rating which means it can stay submerged at depths of 1.5m for up to 60 minutes. With a waterproof rating like this, dust & dirt doesn't stand a chance either.
All this protection of cause comes with an Achilles heel… the silicone seal. Forget to close this firmly and you can kiss goodbye to that waterproof rating.
Storage Sizes: 256GB | 512GB | 1TB
Transfer Speed: Max 440MB/s
Connection: Detachable Cable – USB SATA to USB Type-A
Tough Credentials: Water & Dust Resistant (IP68), MIL-STD-810G 516.6 protection, +5 to +50 degrees operating temps.
Warranty: 3 Years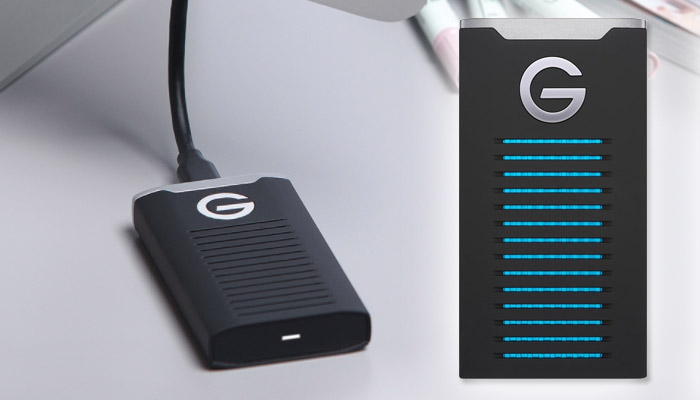 3. G-Drive Mobile SSD (R Series)

G-Technology is known for their range of high-speed drives and network servers. The G-Drive Mobile SSD is their portable rugged option that comes with all the tough features needed to earn it a spot in this list.
Available in three sizes, it comes equipped with a single USB Type-C connector with max speeds of up to 560MB/s thanks to the gen-2 USB 3.1 controller. The three meter drop-protection is impressive but if you read the small print this has been tested on a carpeted floor, so don't expect the same results on a hard surface.
As well as drop protection it's also IP67 rated which means it is protected from all dust and can withstand being submerged in shallow water for less than 30 minutes. Which is more than enough to handle wet weather conditions, just don't take it swimming.
Storage Sizes: 500GB | 1TB | 2TB
Transfer Speed: Max 560MB/s
Connection: Detachable Cable – USB Type-C  (USB 3.1 Gen 2)
Tough Credentials: Water & Dust Resistant (IP67), 3 meter drop-protection, Shock & Vibration Resistant, 450KG crush protection, Aluminium Core
Warranty: 5 Years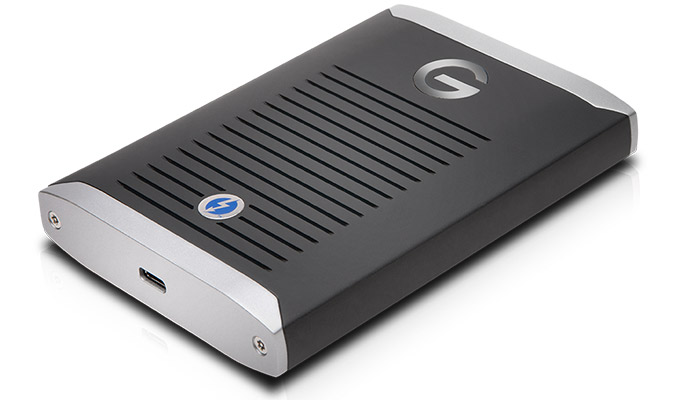 4. G-Drive Mobile Pro SSD (Thunderbolt™ 3)

The G-Drive Pro drops the IP rating and switches the Type-C port for the Thunderbolt 3 port allowing it to reach sustained transfer speeds of 2800MB/s.
If you regular edit 4K or 8K video footage, then the G-Drive Mobile Pro can easily handle your workflow with you having to worry about shocks, drops or vibrations. There's isn't currently a larger 2TB version like we see on the G-Drive Mobile above.
Storage Sizes: 500GB | 1TB
Transfer Speed: Max 2800MB/s
Connection: Detachable Cable – Thunderbolt™ 3 Port
Tough Credentials: 3 meter drop-protection, Shock & Vibration Resistant, 450KG crush protection, Aluminium Core
Warranty: 5 Years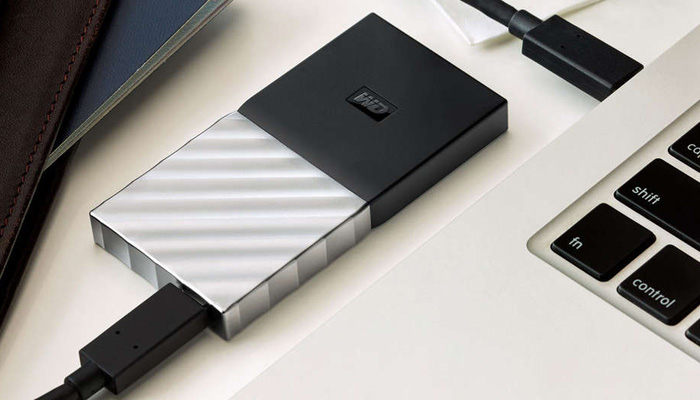 5. WD My Passport Portable SSD

The least rugged of the selection is the redesigned WD My Passport portable SSD. It has blazing fast speeds thanks to its Type-C 3.1 connection giving you up to 540MB/s transfer speeds.
While it doesn't have any dust, dirt or water protection it has been tested by Western Digital to be protected from drops up to 1.98 metres. This is in part due to its super lightweight design (41g).
If you're looking to store secure files, the WD Portable SSD comes with 256-bit AES hardware encryption. This type of encryption is easy to set up and doesn't slow down performance compared to software-based encryption.
Storage Sizes: 256GB | 512GB | 1TB | 2TB
Transfer Speed: Max 540MB/s
Connection: Detachable Cable – USB Type-C 3.1 (Type-C to Type-A adapter included)
Tough Credentials: Drop Protection 1.98 metres
Warranty: 3 Years (worldwide)