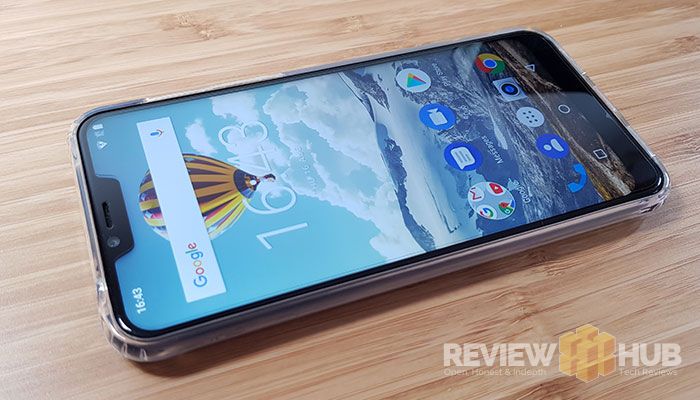 We get hands-on with the Full HD+ Notch-wielding Cubot P20
Cubot are now one of the older Chinese smartphone brands on the market. There wealth of experience making budget smartphones goes all the way back to 2013. Which in the tech industry, is a lifetime!
While many have tried at making smartphones, it's the reliable brands like Cubot that have weathered the turbulent tech markets and stayed popular with consumers.
Their latest smartphone release, the Cubot P20 is their first smartphone to jump on the notch bandwagon. Named after a well known Huawei (pronounced 'wah-way') smartphone, the Cubot P20 has a lot to offer at a very attractive price.
Further Reading: What are the Top 5 Cubot Smartphones?
To let you guys know whether the Cubot P20 is budget-wonder or a smartphone-disaster, I've been it as my daily driver for the last two weeks.
Not to give anything away, but Cubot are onto a winner with the P20.
You can check out the Pros & Cons below, before we take an indepth look at the Display, Build Quality, Camera Quality, Performance, Connectivity & Battery Life.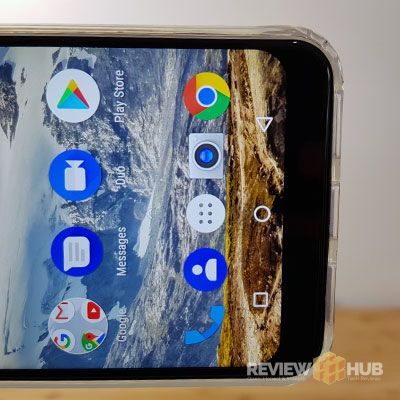 This weeks best Cubot P20 deals…
The Good
Big, Bright & Vibrant FHD+ Display
Solid Build Quality
Great Performance
Excellent Battery Life
Pre-applied notch shaped screen protector
64GB's Storage + 4GB RAM
The Mehhhh

Still using Micro-USB (Type-A)
Missing a Gyroscope sensor
No double-tap-to-wake
Average camera performance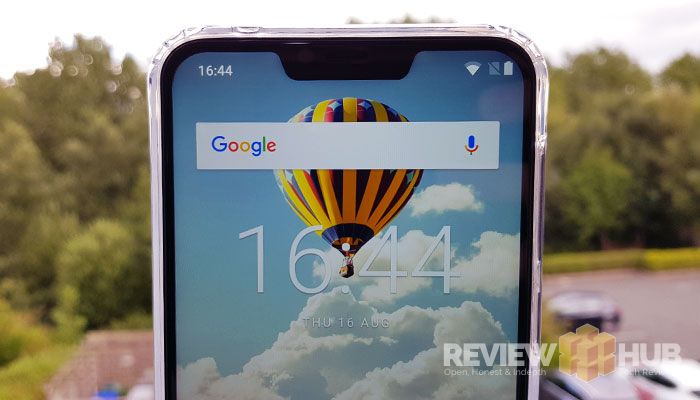 Display, Design & Build Quality
The 6.19″ Display on the Cubot P20 is excellent! The panel Cubot has chosen not only looks great from all angles but has impressive head-on black levels to match.
Brightness is also impressive, making the Cubot P20 easily viewable in bright lighting. White balance leans slightly towards a blue tint rather than the more reader friendly yellow. But overall, it's impressive thanks to that high-end (2160×1920) FHD+ resolution.
The notch sensitivity is also spot on allowing you to swipe down from anywhere. And while not the smallest notch in the world, any screen-real-estate gained is a plus. The notch houses the ear mic, selfie cam and notification LED.
The Cubot P20 uses on-display Android navigation which can be switched to your preference via the settings. Apart from this option, it's a bare-bones install without any other display customisation options.
Cubot P20 Display Contrast Results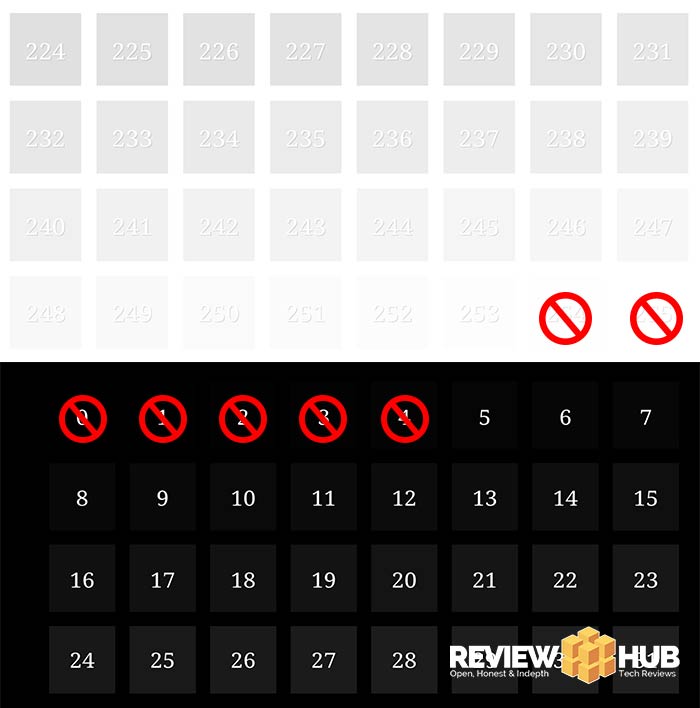 At 8.5mm thick and weighing in at 176 grams (10g more than advertised) it's still a nice phone to hold. The 6.18″ display doesn't feel to big thanks to the slimmer 19:9 aspect ratio.
Unfortunately, the rear battery cover is made from a fingerprint-magnet high-shine polycarbonate. It does come with a clear transparent case in the box, which I advise you thrown on straight away.
Aiming my beady eye at the P20's build quality and there are no obvious faults to be found. The phone has a solid feel to it, no echoes or creaks when applying taps and pressure.
The only build quality issue I tagged, is that the top display curve isn't perfect. When you look very closely, it's off by a couple of mils.
Fir this review, I ended up with the boring black version, but having seen the Purple gradient P20 (Twilight Black). I'm feeling very jealous!
Tallying up the Cubot P20's Display & Build quality points, it scores highly! While the design isn't groundbreaking, the display punches well above its price.
Screen Tech Specs: 6.18 inch display, 2246 x 1080 resolution, 403 PPI, 19:9 Aspect Ratio with 2.5D curved edges, 5-point multi-touch.
Colours Available: Black, Blue & Gradient Purple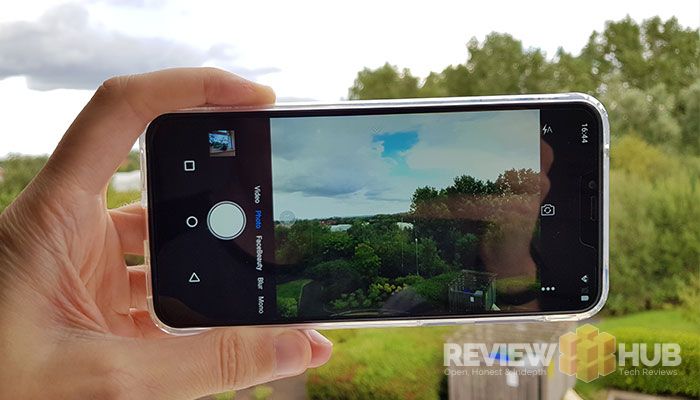 Cubot P20 – Camera Review
While the 20MP rear Samsung Camera may sound impressive on paper, we only managed to snap some average pictures with the Cubot P20.
During our test photos, we found that the Cubot P20 struggled with high-contrast scenes and didn't capture colours as much as we'd like. Tending to leave the photos taken looking undersaturated. Maybe, I've just spent too long with my Samsung Galaxy! XD
Unless you're a shutter-bug, then the snaps are good enough for sharing on social media and with friends. It's only when you zoom in that you start to see its weaknesses.
Not a deal-breaker though, especially when we consider all the pros this phone has to offer.
The second 2MP lens, similar to the P20's second speaker grill, is more for aesthetics than function. Looks cool, but does nothing to help you win the National Geographic Photography Competition.
Don't believe us? You can see our full Cubot P20 Camera Samples Album over on Flickr and decide for yourself :P
Rear Camera:
20MP + 2MP
f/2.0 aperture
LED Flash
1080P Video Recording
Front Camera (Selfie time):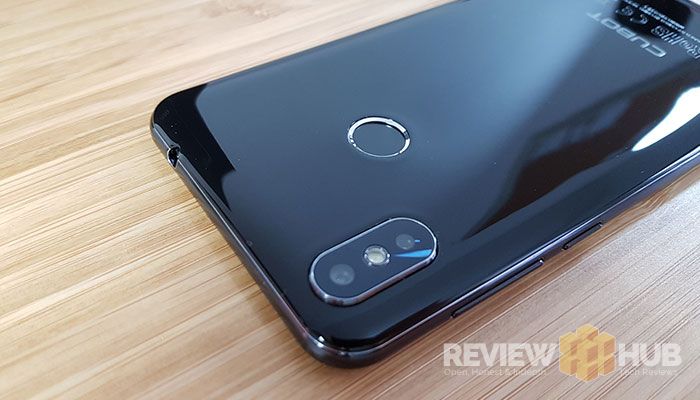 Performance, Android & Security
It's good news, performance on the Cubot P20 is excellent. Even though the MediaTek MT750T is aimed at the budget market, Cubot have used a lean stock version of Android 8 Oreo for optimal performance.
What this means for you is that apps load fast, the UI is smooth without any slowdowns, and overall it just works.
While it doesn't have the latest 8.1 Android update, it does comes pre-installed a fairly recent security update from Google. It's also encrypted by default and comes with Google Play Protect.
One software feature that is missing is double tap to wake. It's a real frustration of mine when manufacturers leave this out on a phone with a rear-facing fingerprint reader. Picking up your smartphone every time you want to unlock gets tiresome fast.
Fingerprint Unlock
You'll want to add both index fingers twice (the one next to your thumb). Adding them twice improved the accuracy to around 99/100 unlock success. The unlock speed isn't lightning fast, but you won't be growing out your beard either. (Or leg hair ladies!).
Benchmarks
You can find the gaming and performance benchmark at the end of this review. Warning, for geeks only.
Quick Tech Specs
CPU: MediaTek MT6750T Octa-Core 1.5GHz 8-Core
GPU: ARM Mali-T860 MP2
RAM: 4GB
Storage: 64GB (52.90GB available)(Read Speed 150MB/s | Write Speed 140MB/s)(expandable up to 256GB)
Rooted: NO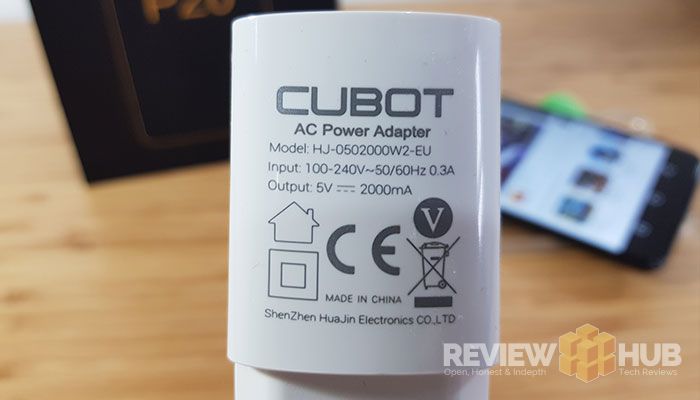 Battery Life
I've been thrilled with the battery life on the P20. It easily lasts me a full days usage with the brightness set to 75%.
Cubot have included a 5V/2amp quick charger, which doesn't compete with likes of Qualcomm Quick-Charge or OnePlus Dash-Charge, but will have the phone fully charged in a few hours.
The 4000mAh battery is non-removable.
Further Reading: Smartphones with EPIC Battery-Life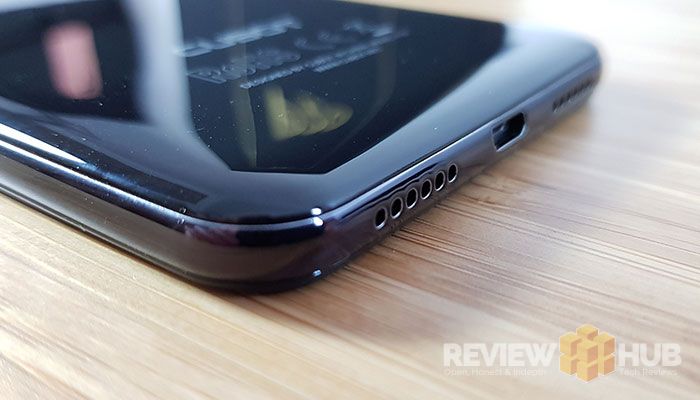 Call & Speaker Quality
Testing both incoming and outgoing calls on the P20 with a Samsung Galaxy S8 revealed no issues. Voices have much more depth on the Galaxy S8, but are still clear and legible on the Cubot P20.
There are two bottom firing speakers on the P20, the bottom left is for symmetry-only with the speaker placed behind the right grill. One downside is that using the phone for gaming in landscape mode can muffle the single speaker.
The loudspeaker is louder than you'll ever need, but lacks bass and overall quality.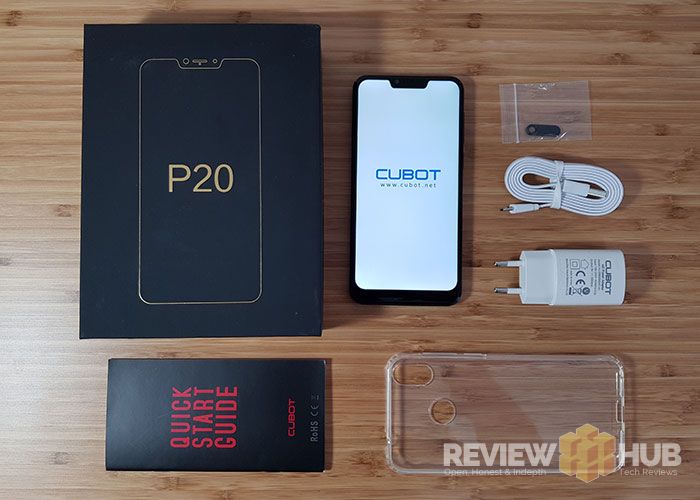 What's in the box?
A nice addition to the Cubot P20 box is the included clear silicone case and pre-applied notch shaped screen protector. This lets you use the phone straight away without worrying about scratches or damage.
You'll also get a quick start guide, Micro-USB cable, SIM Pin and 2amps fast charger.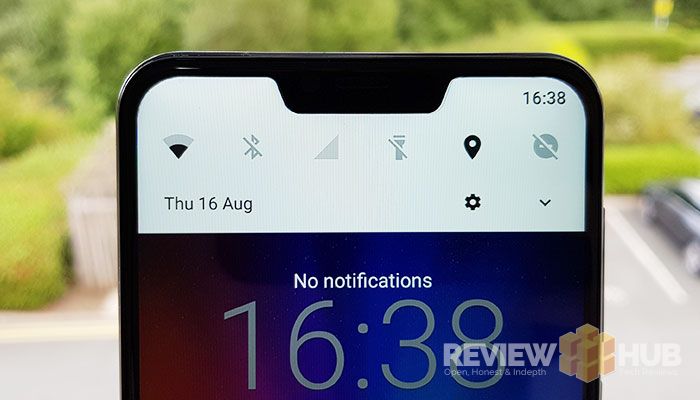 Cubot P20 – The Verdict
I'm a big fan of the Cubot P20! The large bright display is fantastic and for a 6.18″ phone, 176grams is lightweight.
Using the more cost-friendly mobile chip hasn't affected the performance thanks to the lean Android install that's been coupled with a very healthy 4GB of RAM.
While the camera isn't going to win any awards, I can easily forgive it when I remember the low low price of the Cubot P20.
Do we recommend the Cubot P20 Smartphone? It's a yes! You're getting a great all-rounder smartphone.
Read on for the Tech Specs, Connectivity & Benchmarks – Page 2