With bezel-less edgeless smartphones exploding onto the marketplace, are bezel-less tablets next?
Check out the Best Gaming Tablets of 2023 Here!
It's been 14 months since I originally published this article. At the time bezel-less or borderless tablets weren't a thing. Heck I even had to Photoshop that iPad above.
Well the long wait is over as Huawei has treated us to the first tablet that truly has tiny teeny borders so small that it can be labelled bezel-less! More details below.
Further Reading: The Best Bezel-Less Edgeless Smartphones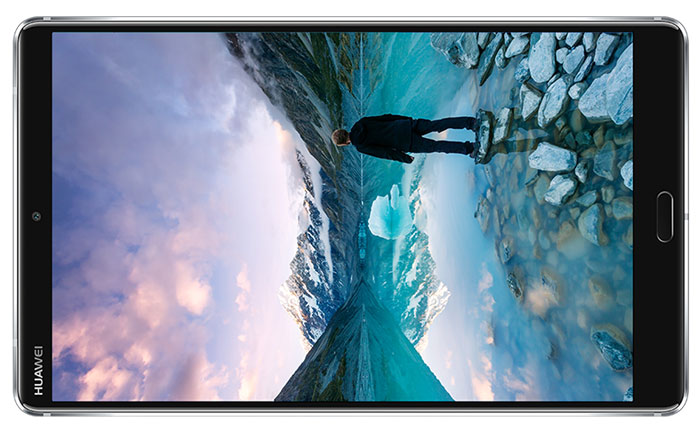 Huawei MediaPad M5 – 8.4″ Version
The 8.4″ Huawei MediaPad M5 comes with beautifully slim bezels either side. While not edge-to-edge, they give this tablet the futuristic look it deserves.
Check out the full Huawei MediaPad M5 Review Here.
At only 316 grams and being made from a single sheet of aluminium it easily rivals the iPad Mini and Mi Pad 3. The 8.4″ display, while not AMOLED, does come with an ultra-high resolution of 2560×1600 giving it an impressive PPI 359. While all this sounds techy, it adds up to make the perfect media consumption tablet.
You can view the nerdy tech specs below.
Display: 8.4″ FHD+ (2560×1600) | PPI: 359 | CPU: Kirin 960 (8-Cores) | RAM: 4GB | Storage: 32GB | OS: Android 8.0 | Rear Camera: 13MP | Selfie Camera: 8MP | Full UK Network Support: Yes (Cellular Version) | WiFi: Dual-band AC | Battery: 5100mAh | Weight: 316 grams
But what about the iPad Pro?
It's true that the iPad Pro does have slim bezels, but it's more of an illusion. The borders are quite large in your hands but look smaller due to the huge 10″+ size of the tablet.
Why aren't there more borderless tablets?
With tablets, it's a different game altogether as they're heavier with larger screen sizes, most often with just the screen being 7-11 inches. To use tablets this size, unless your hands are freakishly big, you need to grip the screen firmly to keep it stable or use two hands.
That's a lot more fingers touching the touchscreen than on a smartphone.
In the bezel-less tablet scenario, the border has more use as it means you don't interact with the touch screen by accident. Well, what about software that intelligently ignores these extra touches like the on the Samsung Galaxy devices? Good question!
Yes, I think eventually the bezel-less hype will catch on with tablets. But for now, having the border is a plus and it's too much of a risk for tablet manufacturers with less money than Samsung (almost all of them) to rely on software to ignore the extra touches. Get the software wrong and you've released a blooper of a tablet.
So the best you can look for is a tablet with an excellent screen-to-body ratio and slim bezels. At the moment, the iPads are one of the best choices. If you're set on Android the Xiaomi Mi Pad 3 is an option of go for a Samsung AMOLED tablet.
Like the border on your favourite book, the tablet bezel is here to stay for a little bit longer…
(oh… and if you're wondering about the bezel-less tablet above… it's a fake I made quickly as I didn't have an image for this post : ) … )
Would you buy a bezel-less tablet? Let me know in the comments below.