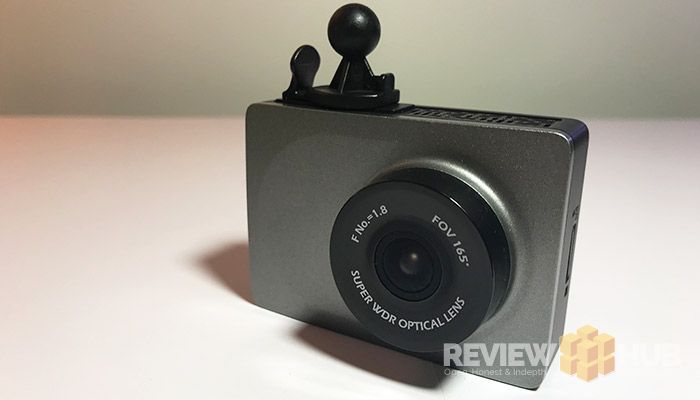 The Yi Smart Dash Cam offers reliable HD footage with a budget price tag…
It wasn't until some idiot drove into my car 4 years ago and then had the cheek to claim it never happened (thanks mate), that I realised how important having a dash cam is.
Being able to provide video proof in an insurance dispute, can save you hundreds in the long run from unnecessary premium hikes.
If you've never heard of Yi before, then you're in for a treat. Yi is a subsidiary of the Chinese tech giants Xiaomi, who have produced camera delights like the Xiaomi MiJia 360 Cam and the MiJia Mini 4K Action Cam. Yi has impressed us before with the quality of their other dash cam, the Yi Ultra Dash Cam. So its safe to say, when it comes to Yi cameras, you're on to a winner.
So now you know that Yi knows a thing or two about manufacturing high-end cameras, what exactly can we expect from the budget Yi Smart Dash Cam?
Well, quite a lot actually! I've been using the Yi Smart Dash cam for over a month now and am simply amazed by what this little budget dash cam has to offer.
In this review, I'll be covering the Yi Smart Dash cam's video quality, setup, design, build quality, features and battery life.
Check out the latest Yi Smart Dash Camera deals below:
What we love…
Budget Price Tag
Good Low Light Recording
Easy Setup
Emergency Recording
3.5m Power Micro-USB Cable
What's not so great…
Only 3M Permanent Mount Supplied
Mount is a bit fiddly at first
ADAS doesn't work
Video Quality
The most important element of having a dash cam is, of course, the video quality. And you'll be glad to know that the Yi Smart Dash cam offers clear and bright recordings.
With a 165-degree wide angle glass lens and an aperture of f/1.8 it's well equipped to record country roads, motorways and even low light driving.
But don't take my word for it, check out the video above to see the Yi Smart Dash cam's recorded footage.
Yi Smart Dash Cam Records in:
1280 x 720 @ 30 fps
1920 x 1080p @ 30 & 60 fps
2304 x 1296 @ 30fps
To get the best from your Yi Smart Dash Cam, you'll want to record in 1080p and above. In the resolutions lower than that I found that the footage clarity deteriorated a lot.
Overall, the quality of the footage is surprisingly good in relation to the price tag and really punches above its pay grade.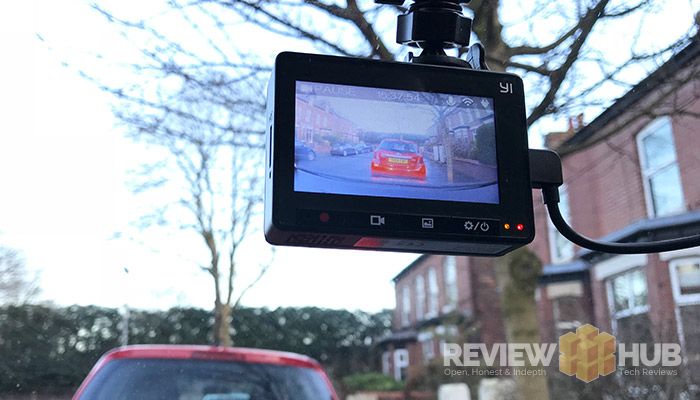 Setting Up The Yi Smart Dash Cam
Set up is very straightforward and takes a few minutes. After installing the 3M sticky mount, route your 3.5m micro-USB cable around your car, plug in your power socket into the cigarette lighter and you're ready!
To view back your footage you have two options: you can either remove the memory card and watch via your laptop or the easier option is via the Yi App.  Simply download the app and connect to your dash cam via WiFi to view and download your videos to your smartphone.
As well as viewing back footage on the app, you can also change other settings like the resolution and white balance.
Build Quality
On the build quality front, although the camera is very light, it doesn't feel flimsy and has already survived a few drops successfully.
One drawback you might find is that the mount has a permanent 3M adhesive pad rather than a suction cup, 3rd party suction mounts are available on Amazon.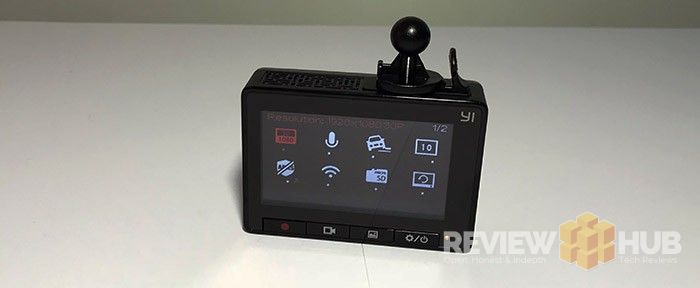 Yi Compact Dash Cam Features
A feature usually reserved for high-end dash cams but available on the budget Yi is the ADAS (Advanced Driver Assistance System).
ADAS is a system which analyses the speed and distance of the car in front, alerting the driver if they travel too close to the car in front.
Unfortunately, I've tested this feature on several occasions without much success.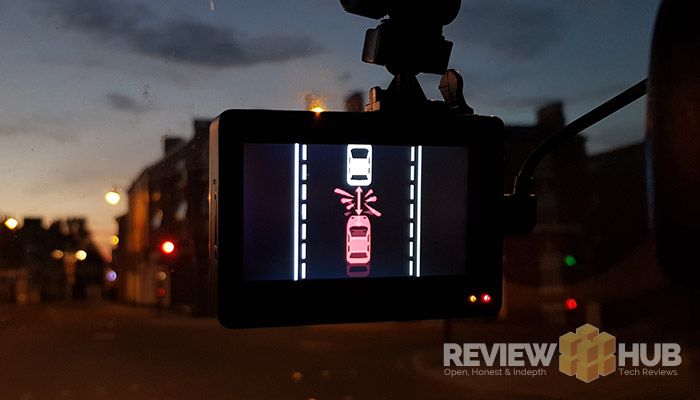 To say that the ADAS system on the Yi Smart dash is a bit overzealous is an understatement! If your idea of driving heaven is a lady repeatedly telling you off for no good reason, then, by all means, turn on the ADAS and Lane detection.
Personally, I turned off both of these features pretty quickly and just used the recording feature.
Another feature is the 'G sensor' which starts emergency recording when it senses sudden movements in the car.
Overall this budget dash cam is packed full of features whilst keeping that low price tag.
Battery Life
The Yi Smart Dash cam has a 240mAh lithium polymer battery which is designed for short use in emergencies when power is not available. To keep your Yi Smart Dash Cam recording happily, keep it plugged in while you're driving.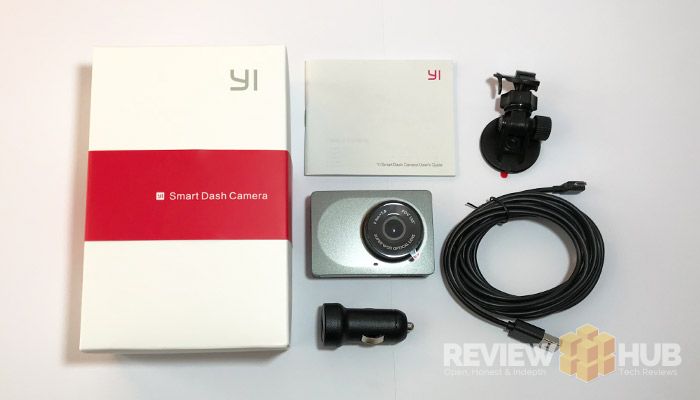 What's in the box?
In your Yi Smart Dash cam box, you'll find your dash cam, user guide, a micro-USB cable, USB car charging adapter and the 3M adhesive mounting bracket.
Compared to the Yi Dash Ultra, you don't get the micro-SD card or the suction cup mount included, however, this is reflected in the £40 price difference.
Yi Smart Dash Cam – The Verdict
Overall, this is a great option for drivers who are on a budget and looking for a reliable and well-built dash cam that won't break the bank. It records clear footage of the road in front and has an easy to use app where you can quickly view back your footage.
Do I recommend the Yi Smart Dash Cam? Yes definitely! It's a great budget option for clear footage, reliable recording and a sturdy build quality that will last.