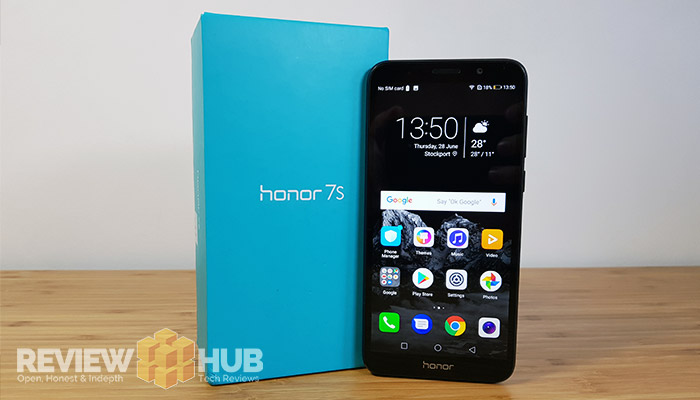 Huawei Leaps into the Super-Budget Android Arena with the MediaTek Powered Honor 7S
If you thought Huawei's Honor smartphone lineup was already confusing… then you better start taking notes.
In 2018, there's been the release of the Honor 7C, Honor 7A, the Honor 7S (which I'll be taking an in-depth look at in this review). And just to keep us on our toes, the Honor Play 7 will be hitting the shelves later this year as well.
So what's different about the Honor 7S? It takes a small departure from the tried & tested Qualcomm setup we're used to, instead opting for the budget-conscience MediaTek chip.
It's the smallest of the three phones with a 5.45 inch display and it also the lightest at only 142 grams. Finally, as it's the newest Honor 7 model, it also comes out of the box with the Android 8.1.
In this full hands-on Honor 7S review, you'll find out whether the Honor 7S is a smartphone bargain? or mobile disaster?. As well as covering the Build Quality, Display Quality, Hardware Performance, Connectivity, Camera Performance and finally the Review Hub Verdict.
Check out this week's best Honor 7S offers below…

The Good
Bright & Crisp 18:9 Display
Pocket-friendly & Lightweight
Dual SIM + SD Card Slots
Premium Vibrate Motor
Surprising Camera
Notification LED
The Bad
Slow Performance
No Fingerprint Reader
Poor Gaming Performance
No case / screen protector
No Fast-Charge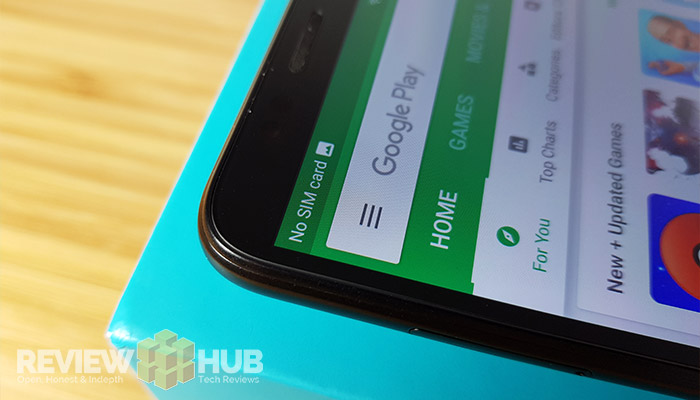 Design, Display & Build Quality
We've seen a lot of budget innovation in 2018. For under the £100 mark, you get yourself a tri-bezel-less display (UHANS MX) and even a notch ready beauty like the Elephone A4.
So how does the Honor 7S compare?
In terms of design, it plays it safe with an 18:9 display with reasonably slim top & bottoms bezels. While only rocking a 1440×720 resolution, it's 5.45 inch helps to push the PPI up to a respectable 295. Colours are rich, black levels are good (for LED) and viewing angles are excellent. (Black & White Levels Display Test – Page 2).
The display is sensitive to the touch, can register up to 5 fingers at once and uses only onscreen-buttons for navigation. You can switch the button layout easily via the settings.
When I first turned on the 7S, I wasn't very impressed with the clarity of the display. Don't worry though, Honor chose some awful backgrounds which don't do the phone justice. Just download a few HD wallpapers for an instant display boost.
Another benefit is that the 7S comes with a high-max brightness making it clear to see even in bright conditions.
As you'd expect from Huawei, the Honor phone's build quality is also top notch. The button click and vibrate motor feel premium, and under close inspection, there are no defects to be found.
Overall, the Honor 7S is a very pleasant if somewhat boring smartphone that I can't find any faults with so far.
Screen Tech Specs: 5.45 inch display, 1440 x 720 resolution, 295 PPI, 18:9 Aspect Ratio, 5-point Multi-Touch
Colours Available: Black, Gold & Blue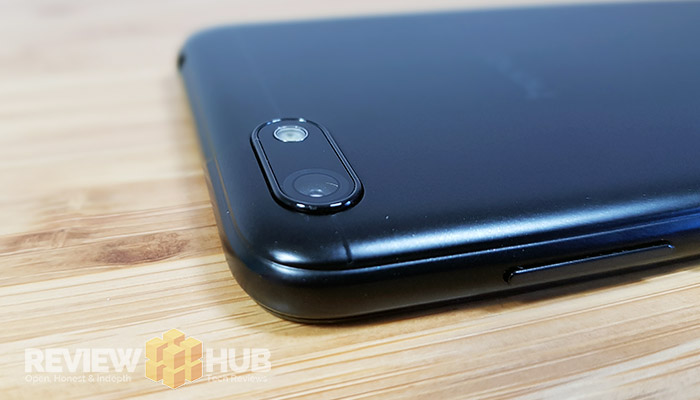 Honor 7S – Camera Review
For any budget smartphone, the real test is when it comes to the camera. With little information except the resolutions available on the Honor website, what can we expect from this single lens 12MP rear snapper?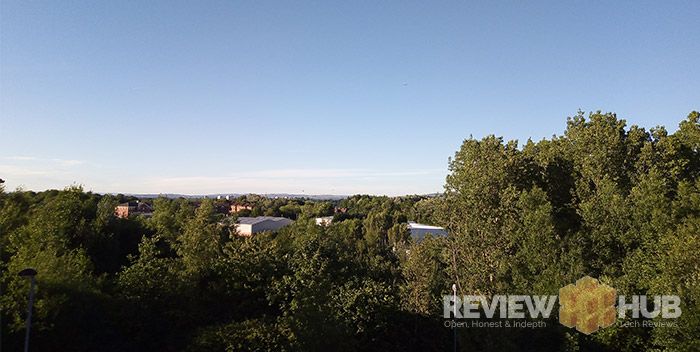 We've created a Flickr album of our photo test samples that you can visit here. We'll be adding more samples photos to the album over the coming weeks.
Overall, for a budget smartphone, the Honor 7S performs better than expected. In the difficult shot above, the 7S does well to keep the leaves looking crisp but does slightly undersaturate the blue in the sky.
It also performs better than expected in low lighting. While there's still some grain, it performs more like a mid-range lens than one belonging to a sub-100 smartphone.
Kudos & thumbs up to Honor for the 7S camera.
Rear Camera:
Front Camera (Selfie time):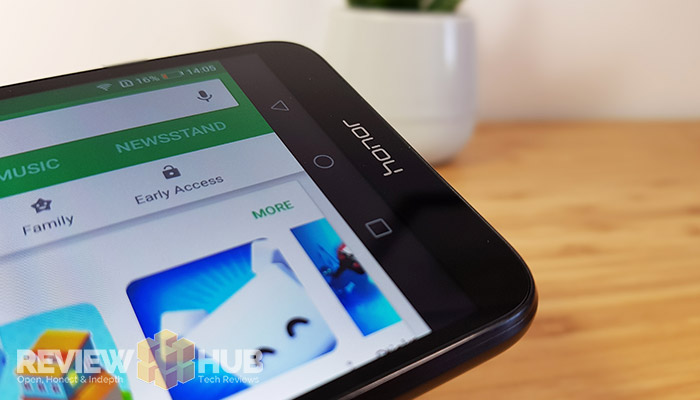 Performance & Android Software
When you first turn on the Honor 7S, you're met with a very slow and unresponsive smartphone. Don't worry though, give the little guy a few minutes to get going, update all the apps and then it improves… a little.
If you're thinking of getting the Honor 7S, then make sure you're a light Android user. For messaging, occasional browsing and taking photos, the Honor 7S is a good fit.
But… Once you start opening multiple apps and playing games the phone crumbles under the pressure. I'm not sure if it's the EMUI 8 overlay or the quad-core MediaTek CPU, but this phone is weak-performer. If you're a fan of SwiftKey keyboard, you'll be happy to know it's pre-installed. You can swap launchers to your heart's content. no lockdowns here. By default, the 7S starts off without an app drawer. You can add this back in via > Settings > Home Screen Style > Drawer if you prefer the classic Android style.
Finally, in terms of security, the 7S is encrypted by default, has Avast built-in, is Google-Play Protected and is using the March 18 Android Security Update.
If you're feeling geeky, you can find our Android benchmark results on page 2 of this review as well as full tech specs.
Tech Specs
CPU: MediaTek MT6739 Quad-Core 1.5GHz
GPU: PowerVR GE8100
RAM: 2GB
Storage: 16GB (10.7GB available) (Read Speed 115MB/s | Write Speed 58MB/s) (expandable up to 256GB)
Pokemon Go Test: Fail (missing Gyroscope Sensor)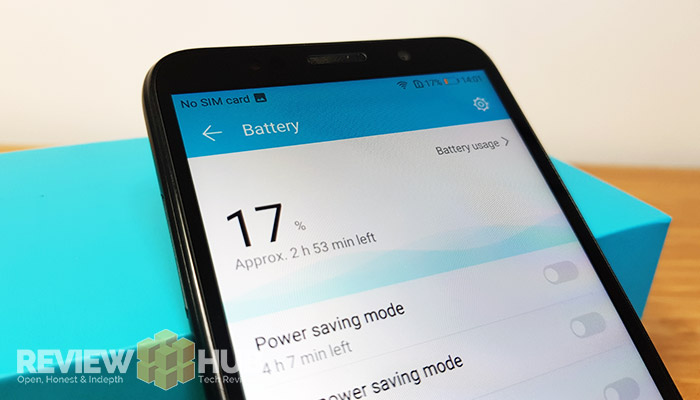 Battery Life
As with a lot of budget smartphones, the Honor 7S lacks any form of fast charge. The 3020mAh battery performs well though thanks to the MIUI battery optimisation software.
It's have been nice to see a little more battery juice, but I'm not complaining as the Honor 7S is very lightweight.
GeekBench Battery Test Score: 1776 – Medium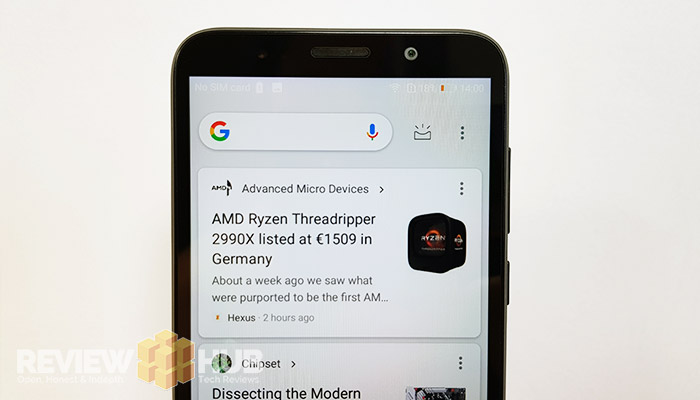 Call & Speaker Quality
Honor have gone to the trouble of pointing out how the 7S comes with 'very clear call quality' thanks to a high volume internal mic.
So how does it perform?
Unusually, the external loudspeaker is front-facing and at the top of the phone and doubles up as the internal call mic. This means that when taking calls, you can really crank up the volume for extra clarity.
In terms of sound quality (Netflix, YouTube, Games), it's the usual budget affair with high-treble and little bass. You'll want to connect your headphones with this one.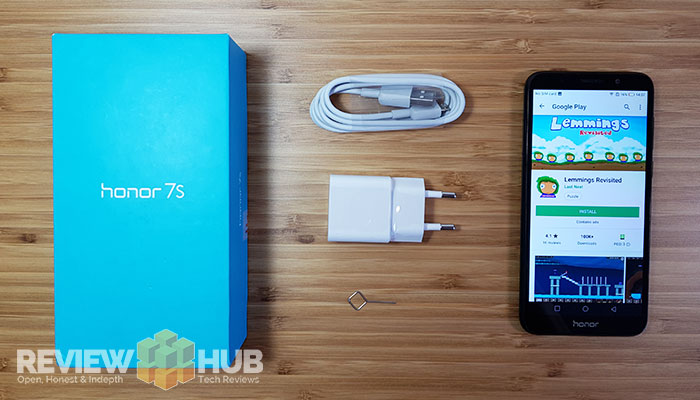 What's in the box?
You might be left feeling a little underwhelmed in the unboxing department. You only get a 1amp charger, a USB to micro-USB charging cable and a SIM pin.
No screen protector, no case, it's a barebones affair. At the £99 price-point we should a least be treated to a clear case!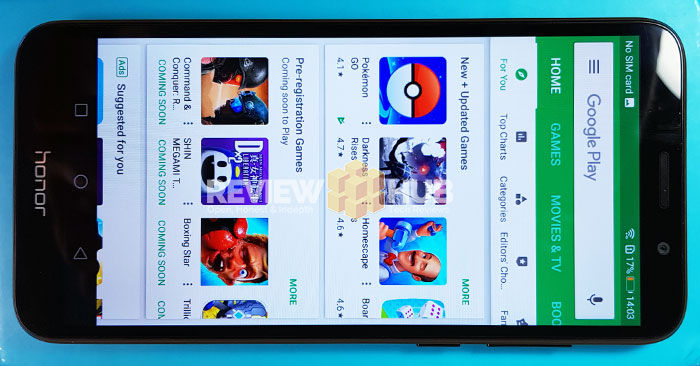 Huawei Honor 7S – The Verdict
The Honor 7S is a phone of two halves with many Pros & Cons. But as with all budget smartphones… it comes down to price.
On the positives, we've finally got a budget smartphone that can take an okay photo. In the world of budget, okay is bloody brilliant! We also have excellent build quality, a bright & crisp display as well as an extra loud call mic.
The downsides are it's a bit of an under-performer with noticeable lag between menus and creep during games. Speed is in the eye of the beholder though, what's slow to me is still going to be a lot faster than your 2-year old budget smartphone.
The obvious ommissions are fast charge and a fingerprint reader, which are available on almost every other smartphone in this price range.
Do we recommend the Honor 7S? Yes, if you're a light Android user, who wants a good display, lightweight form factor and the ability to take a decent photo.
If you're a gamer or medium-to-power user then the MT6739 just doesn't have enough grunt. If you don't take photos, then you might want to give the 7S a miss as well as other similary priced smartphone offer a lot more features.
HEAD TO THE NEXT PAGE FOR – CONNECTIVITY, TECH SPECS & BENCHMARKS