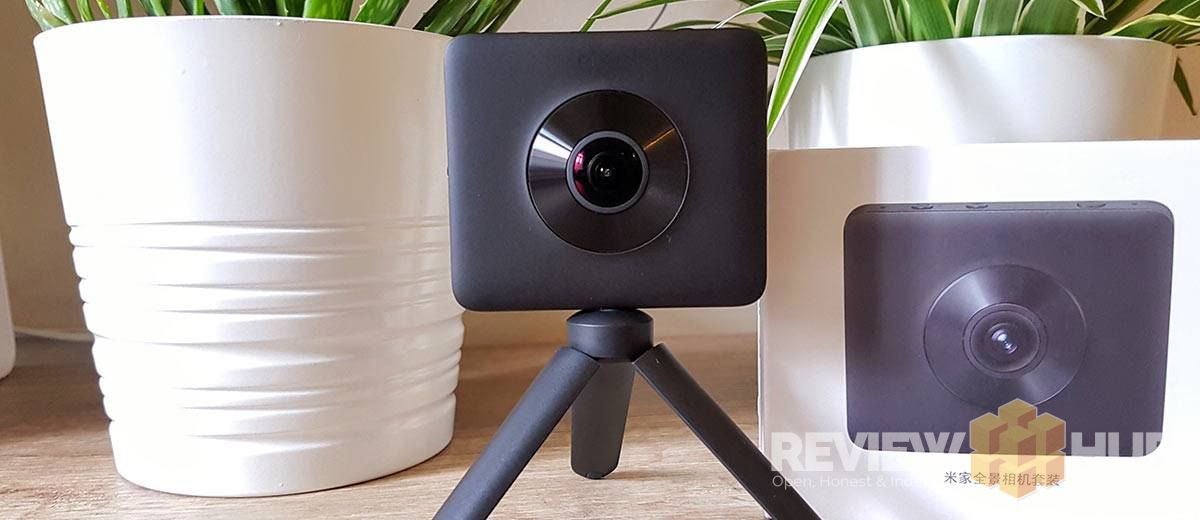 Dive into the world of 360 videos & photography with the Xiaomi MiJia Panoramic Action Cam! (3.5K resolution & IP67 rated)
The future's bright… the future's orange 360… with the new Xiaomi MiJia Dual-lens Action Cam. If you've ever thought about diving into the world of 360 yourself, then there's another option on the table from the all might Chinese brand Xiaomi.
If you haven't heard of Xiaomi before, then you're missing out as they have a reputation for quality products that push boundaries. Think the Xiaomi Mi Mix and the supremely popular Mi Band 2.
As you might be able to tell, I was super excited when we were offered a Xiaomi 360 Action Cam to test out here at Review Hub. So I've been snapping away with the Xiaomi 360 cam for the last 4 weeks to let you know the Pro's, Cons and most importantly whether the Xiaomi MiJia 360 is a worthwhile 360 camera investment.
Don't forget to check out my full Xiaomi 360 Action Cam Setup Guide for step by step instructions as well as common 360 solutions. – Coming very soon.
So why is it only now that we're seeing the increase in 360 cameras?
We can break it down into two parts; cost and 360 lens technology. With smartphone cameras driving down the cost of photography parts, due to scale, this price-drop has trickled on to dedicated digital cameras as well.
Secondly is the 360 technology, which until now, has been limited to using multi-camera setups to achieve high resolution 360. With improvements in lens quality & mobile camera chips, you can now cram everything needed for high-res 360 into one small compact camera.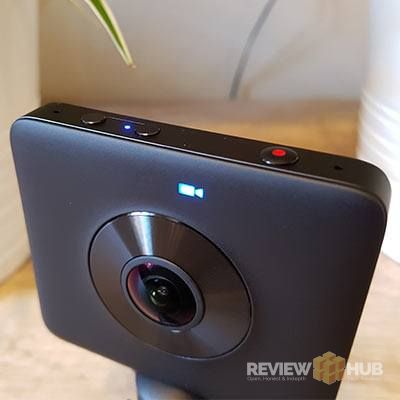 Another sign that 360 is here to stay is that we're seeing manufacturers bundling 360 devices in with flagship smartphones.
So what sets the Xiaomi MiJia 360 Action Camera apart from the competition? That's what this review is here to find out! Also, don't forget to check out the Xiaomi MiJia 360 photo and video samples I took in the full hands-on review.
Take photos & video that truly capture the moment for only… UK : £199 | EU : €223 | US : $249
What we love

Premium Design
The end results
Build quality
IP67 Waterproof /Dustproof
Simple to use
Seamless 360
60FPS
Battery Life
Could be better

Mi Sphere is missing from the Play Store
Low light video performance
60FPS lowers resolution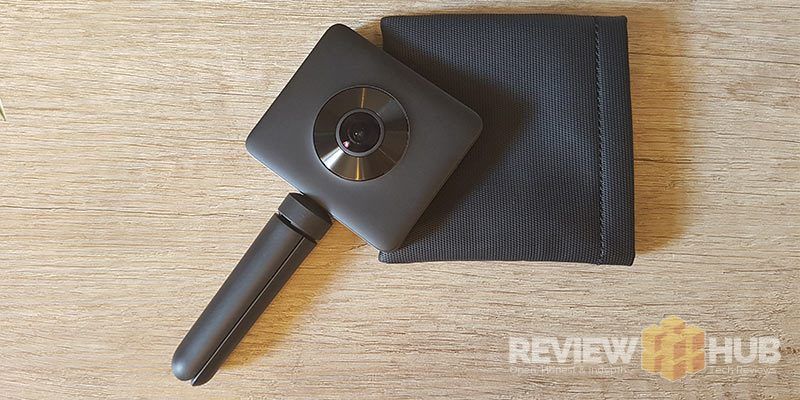 The 360 Action Camera Competition
With all new markets, competition drives innovation, and the Xiaomi 360 Action Cam is pushing what's possible from such a small camera. There are already a few competitors available that are offering full 4K resolution which I'll talk about briefly before getting in-depth with the Xiaomi's 360 offering.
The main competition for the Xiaomi MiJia 360 is from Samsung, in the form of the Gear 360. I've a separate article to pitting the two 360 cameras head-to-head battle which you can find here. – Xiaomi 360 Action Cam Vs Samsung Gear 360 Vs Gear 360 (2017) – Coming soon.

The LG 360 Cam doesn't cut the mustard.
Having only a 2K video resolution, footage from LG 360 cam is blurry and, in my humble opinion, not very enjoyable to watch back. Compared to the Xiaomi MiJia's 3.5K resolution, the LG camera doesn't stand a chance.
Kodak PIXPRO SP360 4K
It's worth mentioning the Kodak PIXPro SP360 as it hands-down beats the Xiaomi MiJia 360 in terms of video quality and resolution. But, it does suffer from stitch marks and requires a technical post editing of videos to get a premium finish.
You'll also need two of them for full 360 video immersion, which will cost over double the Xiaomi MiJia 360.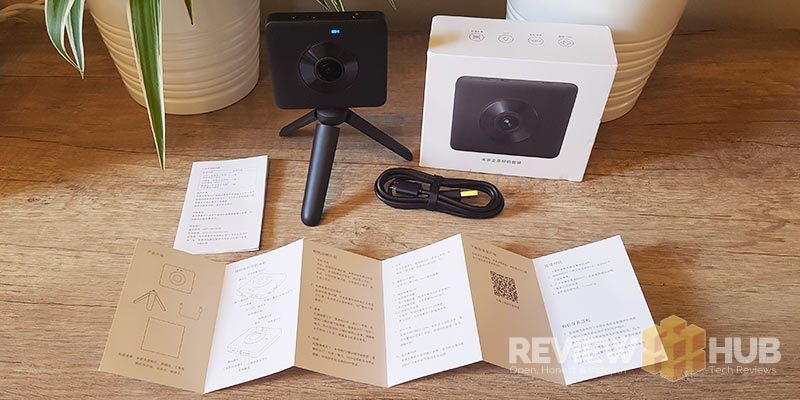 Unboxing, Design & Build-Quality
The Xiaomi MiJia 360 Action Cam comes well-packaged in a small white box not much bigger than the camera itself (Chinese version). Inside you'll find, the 360 camera (with lens protection films), a protective carry case (super-soft inside), a small tripod / handle (8.5cm), Chinese instructions with QR code (Mi Sphere Download) and a standard USB to micro-sub cable.
Both the carry case and tripod are well made and match the aesthetics of the Mi 360 Camera. It's a middle of the road packaging effort and whilst it doesn't reach the premium heights of a new Apple device is doesn't feel cheap either.
[column size=one_half position=first ]
Packaging aside, the camera itself looks and feels like a premium camera. I don't know if Xiaomi are planning to release colour variations in the future but the matte-black mix of metal and plastic helps the camera feel very discrete as well as warding off unwanted fingerprints.
It's nice to see the Mi brand signature following through from the Mi Band to the MiJia 360 in the form of the textured circular metal ring surrounding the camera lens.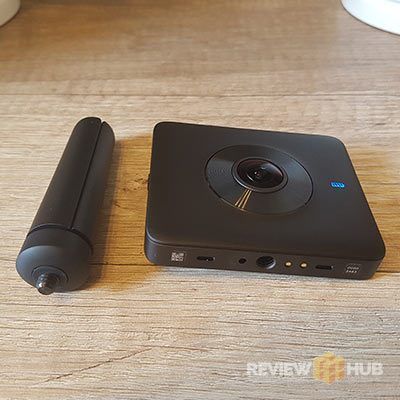 In terms of build quality, the Xiaomi 360 camera adds strength and stability to the frame by using an aluminium alloy. The front and back panels are plastic which, isn't obvious at first and does help to keep the weight down (108 grams / 141 grams with tripod ). Having a low weight is important for 360 cams as you'll often have your hand high in the air for long periods.
All the buttons on top of the Xiaomi 360 action camera have a very satisfying & reassuring click to them. Apart from these buttons, the only other moving part is the magnetic side panel that gives you access to micro-USB charging and an SD card slot.
Since the Xiaomi MiJia 360 is an Action Camera it's also rated with a waterproof rating of IP67 which means that it can be immersed in water for a short length of time and is completely dustproof. This isn't a 360 camera made for underwater sports but could happily get wet without any damage. The side panel uses a magnet and O-ring to seal the device which could easily be knocked open so I think we'll also start to see underwater housings soon.
… Premium build quality & discrete design …
Another action cam feature that the MiJia 360 boasts is its ability to work in temperatures as cold as -10 degrees Celsius. This, when combined with its digital stabilisation, means it's a good option for snow sports as long as you're careful.
Overall, I'm pretty impressed with the Xiaomi MiJia 360 Action Camera's build quality and discrete design. Whilst it's not designed to survive drops, nor does it come with a protective housing, it will handle most weather conditions without you having to worry.
Photo & Video Quality
Now that we know the Xiaomi MiJia has excellent build quality, the next step is to analyse the photo and video quality. Don't forget to watch the video footage we filmed on Budapest by clicking the play link at the top of the article.
The Xiaomi 360 cam is priced as a consumer product and whilst the 3.5K (3456×1728) video record quality isn't crystal clear, I think it's pretty damn good for a 360 action cam that easily fits in your back pocket. Using a VR headset to watch the footage back is a little blurry but for 360 video sharing on mobile phones, the 3.5K resolution is a real step up over 1080p.
Where the camera really shines is in its ability to take 360 photos. Once turned the on, it works just like a regular point and click (without the pointing) and even has a small delay giving you time to raise / point your arm out.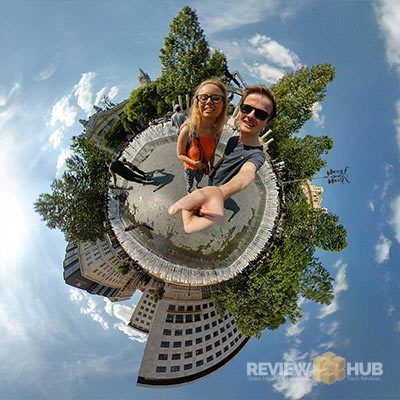 These 360 photos look fantastic and can be edited to your heart's content via the Mi Sphere app. You also have to option to create tiny world photos like the one above that look great. Should you want to upload a 360 photo to Facebook you have the option to export them by using the in-app share button.
Purely based on the 360 photos alone, I think the Xiaomi MiJia is worthwhile but when you add in the 3.5k video it becomes a no-brainer.
In terms of hardware, the Xiaomi MiJia has dual Sony IMX206 sensors that are both 1/2.3 inch in size. Each lens has a max photo resolution of 16MP and comes with electronic stabilisation which worked well on the video footage.
Video Tech Specs:
30FPS – 3456×1728
60FPS – 2304×1152
6 axis electronic anti-quake
Ambarella A12 Chip
Camera Photo Tech Specs:
16MP x 2
Time-lapse
Manual Exposure
Ambarella A12 Chip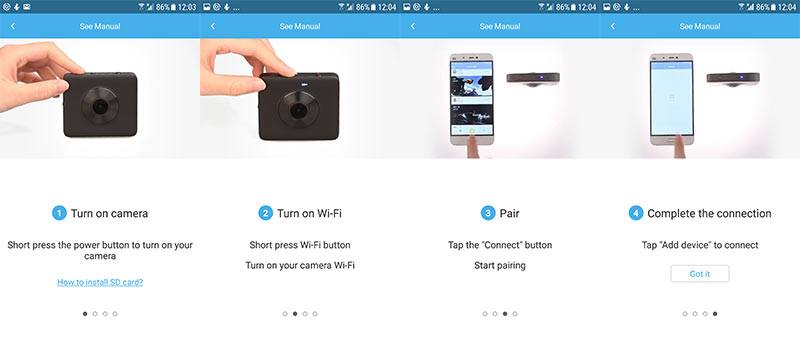 Xiaomi 360 Action Camera Software
Since first unboxing the Xiaomi 360 Action Camera, 3 weeks ago, it's had a total of 3 firmware updates. Too often, I've bought gadgets that haven't received a single update after the initial launch so seeing how dedicated Xiaomi are to improving their camera software only bodes well for the future of the device.
Don't forget to check out the Xiaomi MiJia 360 setup guide to answer some common software related questions. – Coming Soon
360 cameras can often live & die by their software with the Xiaomi MiJia 3.5 being no exception. The reason for this is that the only method for editing the videos and photos is via dedicated software usually your smartphone or tablet.
There is no universal software that will accept all formats of 360 footage to enable you to post-edit your footage. This makes it even more important that the Xiaomi Mi Sphere app performs well.
It doesn't start off well for Xiaomi as the companion app isn't officially released on the Android Play Store yet. To download you have to jump through a couple of quick hoops.
Enable apps from unknown sources in the Android settings on your phone.
Scan the QR code that is on the Chinese instructions
Then download the app from the Xiaomi App store (which is in Chinese)
Luckily, once installed the Mi Sphere App in in English! You'll only have to do the above process once so it's not a deal-breaker. For future app updates, the app will prompt you to download the latest version and then install.
The Mi Sphere app itself is split into three sections. Featured 360 images from the community. The gallery, which shows both local and pictures / videos on the camera itself. Finally, you can connect to the MiJia Camera via WiFi and see a live feed from the camera.
There are a few teething problems which when exporting the 360 pictures and video to other platforms. Exporting to Google Street view, so that you can embed pictures, changed the vertical alignment in some pictures. I'm sure Xiaomi are aware of these problems and will be releasing fixes in future updates.
Overall, I found installing the software cumbersome but, once installed, easy and intuitive to use. There is a manual, and the options on the live feed to change the filming style are straight forward. What's promising is that Xiaomi are providing lots of updates the camera firmware and also the app.
When I first used the Xiaomi Mi Band, the companion app was poor. After a year it had transformed so much I didn't recognise the original. The Mi Sphere App is starting off well, so can only get better!
… 360 Sunset at Budapest 360 Rooftop Bar …
Battery Life
The Xiaomi MiJia 360 action camera uses a 1600mAh non-removable battery. Battery life during testing was excellent with the MiJia easily recording over an hours 3.5K 360 footage and taking over 30 360 pictures before I received the red LED low battery indicator.
The camera does run quite hot when recording over 10 minutes at a time, but this didn't affect functionality.
As the battery uses small but efficient capacity and includes fast charges, it leaves open the possibility of carrying an external battery pack and charging the Xiaomi 360 cam on the go. Once downside though, is that the battery is non-removal so you can't carry spares or replace when easily.
I haven't torn the camera apart either to see how easy a DIY battery replacement would be as (I love this cam) this may damage the IP waterproof seal. In all honesty, in a couple of years, this camera will seem pretty obsolete so you probably won't be worrying about the enclosed battery anyway. You'll be more interested in the latest and greatest 8K 36o Cameras.
You can extend the battery life further by using the Xiaomi Action Cam in standalone mode with the WiFi turned off. With WiFi turned on, the battery will drain a lot faster and since you're shooting 360 footage, most of the time, you don't need a digital viewfinder.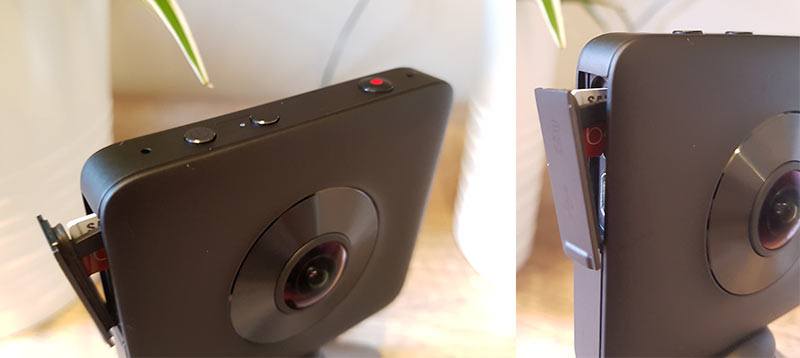 The bottom line…
The MiJia 3.5K Action Camera from Xiaomi is a fantastic option for anyone looking to venture into consumer 360 technology. The 360 Photo mode alone makes it a must-have for any travellers as it's certainly the most immersive way to capture that special moment.
Filming 360 video is very easy but becomes time intensive during the editing process as it's all mobile based. This is, in part, due to 360 technology being relatively new with no universal standard. That being said, the final 360 result is more than worth it and the included export options, whilst slow, work well.
Overall, it's a premium piece of 360 camera kit that comes with everything except an SD Card out of the box. When you add the IP waterproof / dustproof to the mix, I can see the competition having to up their game! Finally, the point and shoot ease-of-use from the Xiaomi MiJia 360 cam makes it a great buy for beginners and consumer pro's alike.
Another great Xiaomi Product, that gets the thumbs up from Review Hub!
Capture the moment in true 360 from… UK : £199 | EU : €223 | US : $249
If you've bagged yourself a 360 cam or are thinking of getting one then don't forget to check out my Top 360 Cameras List – coming soon. Also let me know your thoughts & any questions about the Xiaomi MiJia 3.5 Action Camera in the comments below.