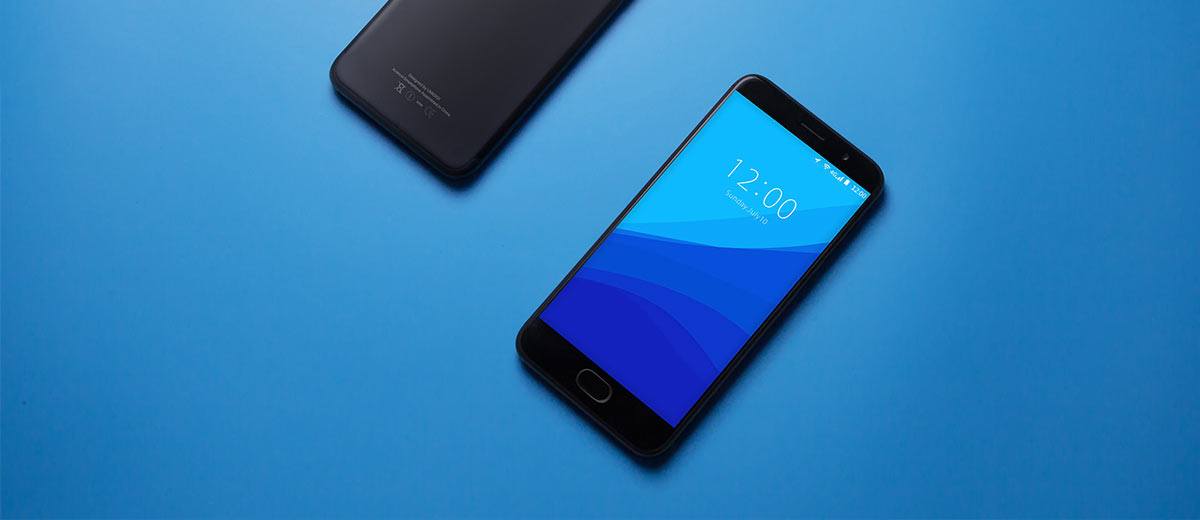 The UMiDigi G is on a mission to become the best budget Android 7.0 Minimalist Phone – Hands-on Review…
If you haven't heard yet… UMi has recently rebranded to UMiDigi (short for UMi Digital). So when you see the new UMiDigi logo on their phones, don't worry, it's the exact same company.
View All The Latest UMiDigi Reviews Here.
It's a relatively small branding change and one that we think might have its roots more in copyright legislation than actual rebranding. But who cares right? UMi or UMiDigi, they've been designing some of the most exciting mid-range smartphones of the last two years.
[column size=one_half position=first]
UMiDigi's mobile department has been going from strength-to-strength since they released the UMi Super last year and there's hot anticipation for their upcoming flagship the UMiDigi Z1 Pro. Having had their focus on creating bloatware-free smartphones, that offer mid-level specs, for rock-bottom prices they have edged their way to becoming an established big tech brand in the west.
After being impressed with the designer-friendly UMi Diamond X last month, I was excited to get my hands on their latest budget offering, the 5″ UMiDigi G. Marketed as being a truly minimalist phone, UMiDigi found their inspiration for their new phones name from the search giant Google. Rather curiously, the 'G' actually stands for Google and is a homage to Google's own very minimalist design style.
[/column]
[column size=one_half position=last ]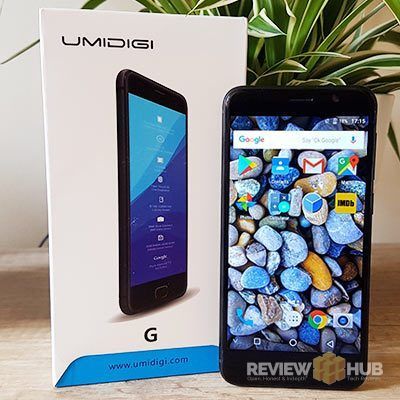 [/column]
While the matte black UMiDigi G might not have the elegant looks of its older sibling, the Diamond X (Galaxy S7 Clone), it more than makes up for it with a super-responsive fingerprint reader, Android 7 OS and a slim & lightweight design. The two budget phones from UMiDigi has their own styles and both offer great value for money… but… there can only be one winner!
In this hands-on review, I'm going to explore the UMiDigi G Display Quality, Build Quality, Performance, Battery life, Camera & Connectivity before getting to the bottom line of 'Should the UMiDigi G be your next phone?'
The Minimalist, Lightweight & Fingerprint Ready UMiDigi G…
[column size=one_half position=first ]
The Good

Fast & Responsive Fingerprint Reader
Lightweight & Slimline
Android 7 (Pure)
Bloatware Free
Vivid & Crisp 720P screen
Screen Protector & Case included
Low-price tag
[/column]
[column size=one_half position=last ]
The Bad

Tin-can Loud Speaker
No 5GHz WiFi
[/column]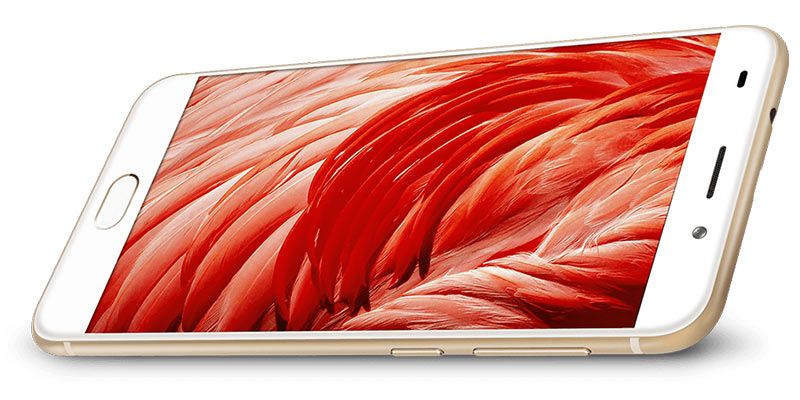 Design & Screen Quality
When you first turn on the UMiDigi G, your fears of a cheap budget reflective screen instantly disappear. While it isn't full HD, the 5″ form factor helps to make the 1280×720 resolution screen look crisp and achieves a respectable PPI of 294.
The on-screen colours are vivid with the screen luminance also being bright enough for outdoor use. White balance leans more towards a colder blue than a warm yellow and viewing angles are okay. You do have the option to tweak the colour balance using the built in MiraVision options as well.
[column size=one_half position=first ]
Once you pick up the UMiDigi G, the first thing you notice is how slim and lightweight it is weighing only 140 grams and at only 7.5mm thick. It's a true one-handed device with the matt black surface offering lots of grip. The screen bezels are minimal, and there's no surprise black box surrounding the screen either.
Ergonomically, the phone slides into your hand easily thanks to the curved phone edges and the prominent 2.5D curved screen. Think a slight bubble effect.
Touch sensitivity is also spot on with the 5-finger multitouch screen picking up all movements easily. You'll also find the double tap to wake feature in the Android settings. The screen itself is made from Gorilla Glass 4 which provides good protection but can be topped up further by using the included screen protector.
[/column]
[column size=one_half position=last ]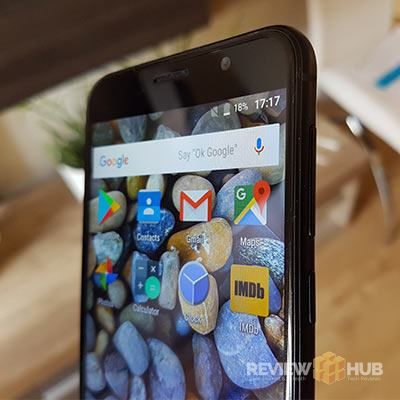 [/column]
Regarding design, while it certainly is minimal having the whole phone coated in matt black paint, I wouldn't go as far to call the UMiDigi G premium. It reminds me of the understated Nexus 5 but in all honesty, if given a choice, I'd go choose the Gold and white model.
It's also tempting to call the UMiDigi G an iPhone clone, but it isn't, it's something new which is filling the void that's been left behind for understated black matte slab phones.

Overall, the UMiDigi G is a solid budget smartphone that looks understated and feels nice. The screen is vivid, crisp and sensitive to the touch making up for the lack of full-HD support. I'm glad that UMiDigi released two colour varieties as, for me, the matte black version is a little plain but the gold and white version is much more appealing.
Screen Tech Specs: 720×1280 pixels, 294 PPI, SHARP IPS LED, 2.5D Curved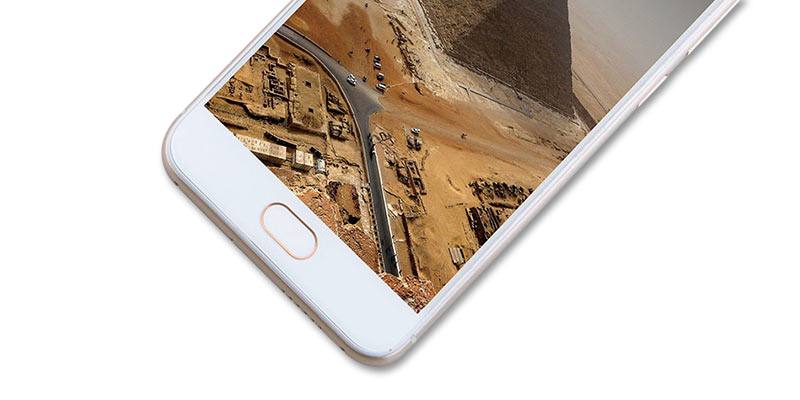 Front-facing Fingerprint Reader
I've given the fingerprint reader a section all on its own for the UMiDigi G. Why? Because it's fantastic!
The fingerprint scanner is swift and responsive. UMiDigi claims the G phone has a flagship level fingerprint reader and I actually happen to agree. Compared to my abysmal Galaxy S7 fingerprint scanner, the G phones is positively delightful.
The fingerprint reader, at first glance, looks like a pressable home button. It's actually not a button at all and is slightly inset into the phone. Once unlocked, it does take on the role of a home button by reading your fingerprint.
What's really impressive though is the speed at which the fingerprint reader unlocks the phone from a sleeping locked state.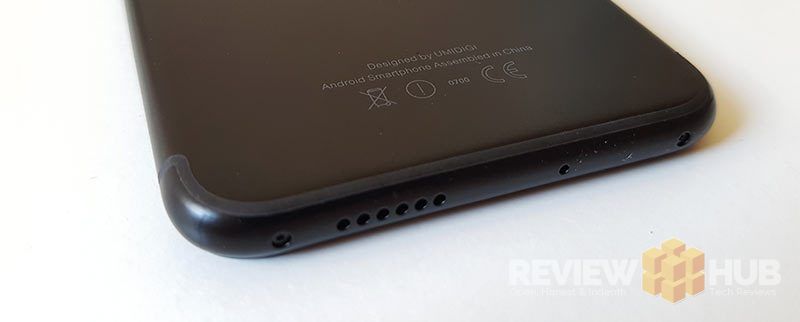 Build Quality
Testing the build quality on the UMiDigi was a little more difficult than usual as the matte surface sucks in all light like a mobile black hole making it difficult to spot any imperfections! To get this effect, UMiDigi sprayed the G phone with a paint that's been infused with aluminium alloy. The downside is that it can be quite a fingerprint magnet.
After much scrutiny, I found the build quality on the UMiDigi G to be excellent, there are no dodgy seams, no rough edges, no creaks or weak points and the buttons are well secured. The side volume rocker and power button don't have a premium firm click like the UMi Diamond but when shaking the phone there was no hint of a rattle.
Being an all plastic phone even with the aluminium paint, the build quality doesn't match the premium feel you get with a true aluminium device. But, for a plastic phone, it's top notch.
One part of the build-quality that it often overlooked is the vibration motor. Nobody wants a weak rattly vibration every time you get a message alert. The UMiDigi G passes this test and comes with a low deep vibration which is very satisfying…
Colours Available: Matte Black & Gold / White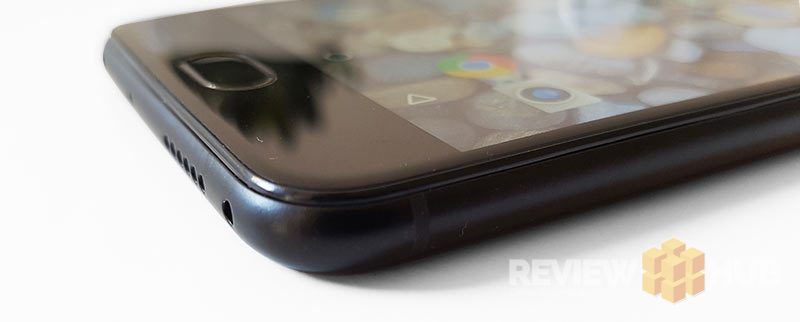 Hardware & Performance
In terms of hardware and performance, the UMiDigi could be a recycled UMi Diamond X with a new shell and an updated Android OS.
This isn't a bad thing though, as day-to-day performance on the UMiDigi G is nippy and feels responsive. It's not lightning fast but it doesn't leave you waiting around for apps to open and multitasking / switching between apps is also speedy.
[column size=one_half position=first ]
The older hardware has been optimised somewhat by the new Android Nougat OS and there are few tweaks that UMiDigi has added that I'll cover in software that to help keep the G phone from lagging behind.
[/column]
[column size=one_half position=last ]
… The latest Android 7 Nougat OS …
[/column]
The storage on the UMiDigi G is a budget standard of 16GB which you can expand using a micro-SD card up to an additional 256GB's. You will have to sacrifice the dual-SIM functionality for the extra storage though.
CPU: MediaTek MTK6737 (Quad-Core 1.3GHz)
GPU: ARM Mali-T720
RAM: 2GB
Storage: 16GB (12.16GB usable) (read speed: 72MB/s, write speed: 60MB/s)
Expandable: Yes (Dedicated slot up to 256GB)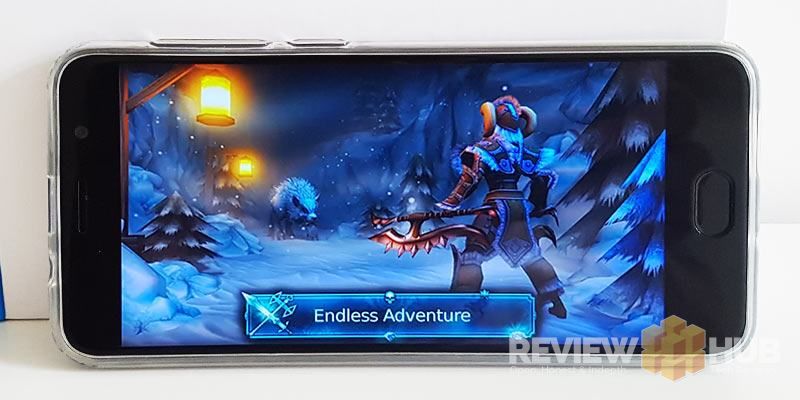 Gaming Benchmarks
Although the UMiDigi G isn't aimed at hardcore gamers, we still put it through the most popular Android Benchmarks so you can compare it against any other phones you might be considering.
The Mali-T720 GPU is a getting a little old now, but as the UMiDigi G screen is only 720P it doesn't need to move around as many pixels so still plays all but the most intensive 3D games smoothly. Gone are the days where you need a flagship device to play the latest games.
The results what we expected, being almost exactly the same as the UMi Diamond X mainly in part to the almost identical hardware. What we don't see is any obvious gaming benefit from the newer Android OS 7 in the UMiDigi G.
During the benchmarks, the G phone stayed cool, so you don't have to worry about any overheating issues.
[column size=one_half position=first ]
AnTuTu Benchmark 6

3D – 2393
UX – 11696
CPU – 10456
RAM – 4373
Overall Score: 28918
[/column]
[column size=one_half position=last ]
Geekbench Score:

Single Core Performance: 528

Multi-Core Performance: 1487

[/column]
Interested in Android Benchmarking Apps? Check out our guide to the Best Android Benchmarking App in 2017.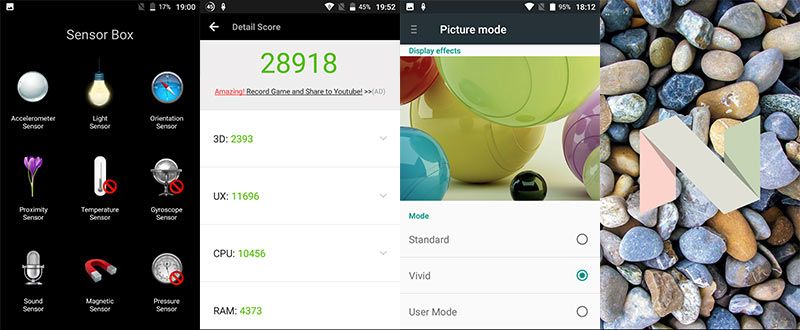 Software
UMiDigi released the G phone being marketed as a Pure Android 7 experience. This isn't quite true, as there are still a few software additions that they've snook onto the G phone that you wouldn't find on pure Android 7.
Even so, it's still a very close-to-stock Android OS that uses the correct on-screen buttons and doesn't try to customise any unnecessary aspects of Android Nougat. Once addition I have spotted though is that UMiDigi has baked the DuraSpeed app into the UMiDigi G settings.
[column size=one_half position=first ]
DuraSpeed actually provides a pretty useful feature that we've seen on the Samsung Galaxy range of phones for a while. DuraSpeed optimises the use of foreground and background apps giving you more performance when you need it. It's also developed by the team at MediaTek who make the CPU chip on this phone.
[/column]
[column size=one_half position=last ]
… a smooth Android OS 7 Nougat experience  …
[/column]
The Android OS 7 installation is also 1GB smaller than the equivalent Android 6 installation found on the UMi Diamond X thanks to the faster and more optimised OS.
Other features include: Not Rooted, MiraVision (Colour tweaker), Double-tap to wake, Bluetooth Smart Lock, SIM Management, DuraSpeed, Encrypted as Standard, Option to hide on-screen buttons, Cast, Battery Saver.

Speaker & Call Quality
To test out the quality of the internal microphone, speaker & external speaker we make a series of cellular and video calls. We also play various Netflix episodes as well as watching trailers on IMDB to see how the phone can handle the cinematic bass while still hitting the mid and high notes.
For call quality, the UMiDigi works well. Voices were clearer on the receiving end and a little flat in the internal speaker. There were no issues with volume.
As for the external speaker, which is used for loudspeaker calls, games and media, it fell a little flat. While the max volume is extremely high the quality is lacking. It's extremely high on the treble, weak on the bass and overall sounds like it's coming from a cave. This is definitely a phone you'll be wanting to use with headphones plugged in.
Battery Life
The 2000mAh battery we see inside the UMiDigi lasted surprisingly well. Under light usage, we were able to last a full day although during testing it needed topping up. There isn't any fast charging either which could have made up for the small battery capacity.
The positive of this small battery is that it's helped to keep the phone slim and lightweight, although whether this payoff is worth it depends on how close to a power outlet you are throughout the day.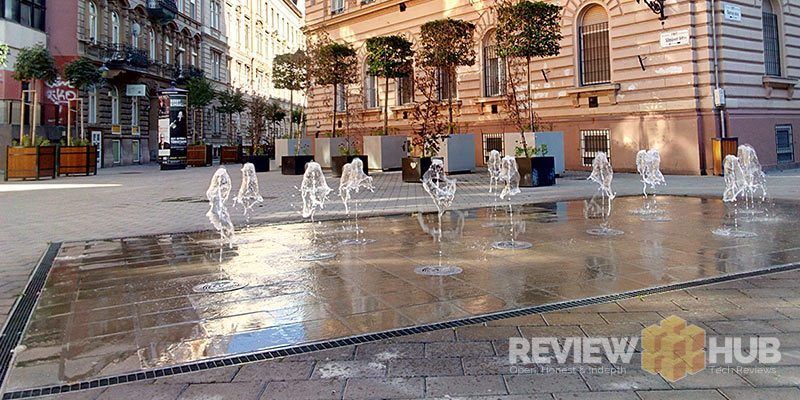 Camera
To test the UMiDigi G camera, I took it with me on a trip into Budapest city centre taking pictures in both normal and HDR modes. You can see the full album of UMiDigi G photos taken here on Flickr and I've quickly summarised how the camera performed below.
The photos in the sample album show photos taken with standard settings, with and without HDR turned on. The UMiDigi G struggles to take crisp sharp photos and needs a lot of light to perform well. For viewing on your smartphone the images look fine, but when zoomed in on laptops they start to look soft with artefacts.
Overall, it's a budget camera and that takes okay pictures. If you're looking to take quality snaps, then you'd be better off looking at mid-range smartphones rather than budget.
You can view the high-resolution photo and video samples on Flickr.

Camera Features: HDR, Beauty mode, Panorama, Face Detection, Scene detection, Colour Effects.

[column size=one_half position=first ]
Rear Camera:
8MP Photos (3600×2160)
1080P Video
[/column]
[column size=one_half position=last ]
Front Camera (Selfie time):
[/column]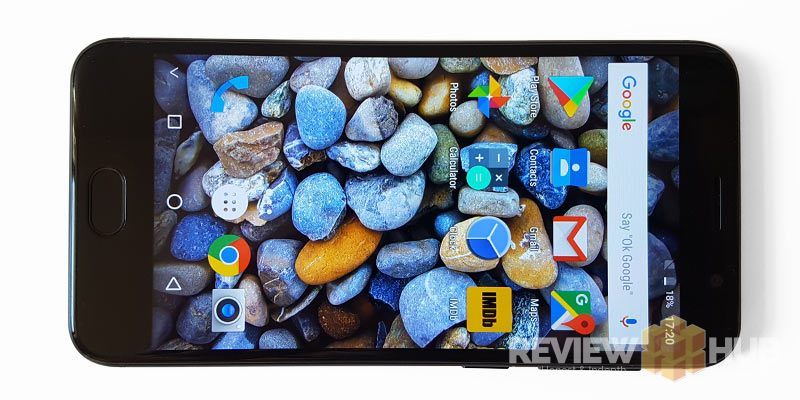 Connectivity
The UMiDigi G comes with full UK 3G & 4G support for both Nano SIM slots although if you want to use a micro-SD Card (256GB max) you'll have to give up the dual-SIM functionality as it takes up the second space.
It's a shame to see UMiDigi drop the 5GHz WiFi support on the 'G' model as this is a feature they have typically always included even in their low-end devices.
The 'G' phone uses a standard Micro-USB slot for charging and data transfer although the positioning is slightly awkward on the top of the phone and at a slight angle.
It comes with full UK bandwidth support for both 3G & 4G.
Frequencies Supported: GSM (2G) 850 / 900 / 1800 / 1900MHz, WCDMA (3G) 900 / 2100MHz, LTE (4G) 800 / 1800 / 2100 / 2600 (B20, B3, B1, B7)
3G: YES
4G: YES
Full UK Coverage: YES
Bluetooth: 4.1
GPS: GPS, A-GPS
NFC: NO
Sensors: Accelerometer, Light sensor, Proximity Sensor, Magnetic Compass, Orientation.
USB OTG: YES
USB Type: Micro-USB
SIM support:  Dual standby (2x Nano SIM or 1x NANO + Micro-SD)
WiFi: 802.11a, b, g, n 2.4GHz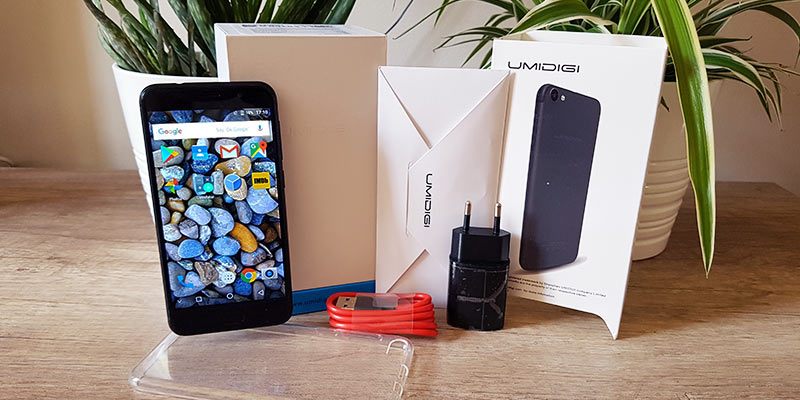 What's in the box?
It's a good haul with the UMiDigi G and the packaging update really helps the phone feel premium. It comes in a vertical box that slides up after you remove the outer sleeve, so be careful that the phone doesn't fall out when opening.
Inside we're treated with an UMiDigi envelope containing a screen protector and SIM pin. Underneath this is a custom red USB-to-Micro-USB cable and a regional 1 Amp charger. We also find a clear silicone case already on the phone.
The bottom line…
There's definitely Pros & Cons to the UMiDigi G and strong competition from their own camp in the form of the UMi Diamond X. The two perform almost identically but I think the Diamond X has the edge in terms of design.
What I love about the UMiDigi G is the low price-tag, minimalist design (it's won me over), it's slim and lightweight and finally the crisp and vivid 720P screen. I would have liked to see a much better external speaker, 5GHz WiFi and a bigger battery.
It's a tough choice, but overall, UMiDigi has another solid budget smartphone to add to their lineup that comes in either a super discrete matte black or a more outgoing gold and white.
Do I recommend the UMiDigi G? At this price, you can't go wrong!