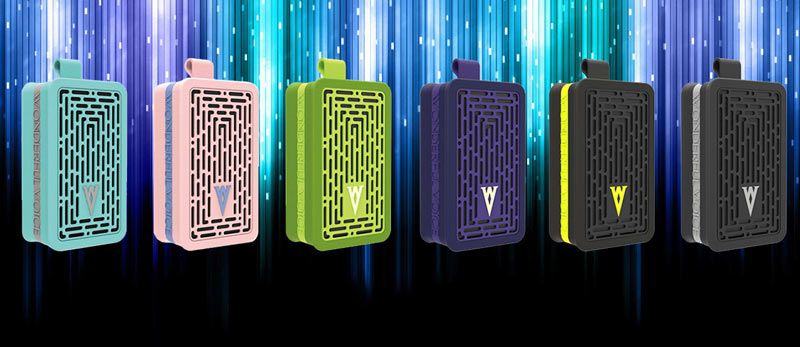 Wonderful Voice… travellers' choice?
The fabulously named Perfect Share Quintessence is a compact Bluetooth speaker from the relatively unknown Shenzen-based manufacturer Wonderful Voice. It backs up its sturdy construction with IPx7 waterproofing and features a range of inputs which should suit everyone's needs. Let's check out the main features in more detail before jumping into the review.
Check out the Latest in Portable Speaker Tech
Grab yourself a WV-PSQ for only… UK : £35 | EU : €40 | US : $45
[column size=one_half position=first ]
Main Features
Waterproof (IPx7)
Bluetooth 4.0
Micro SD/USB/3.5mm input
Power bank mode
2000 mAH battery
Bass Boost mode
[/column]
[column size=one_half position=last ]
The Good
Good looking robust design
Variety of input options
Impressive sound quality for the size
The Bad

Battery life could be better
Many other options at this price
[/column]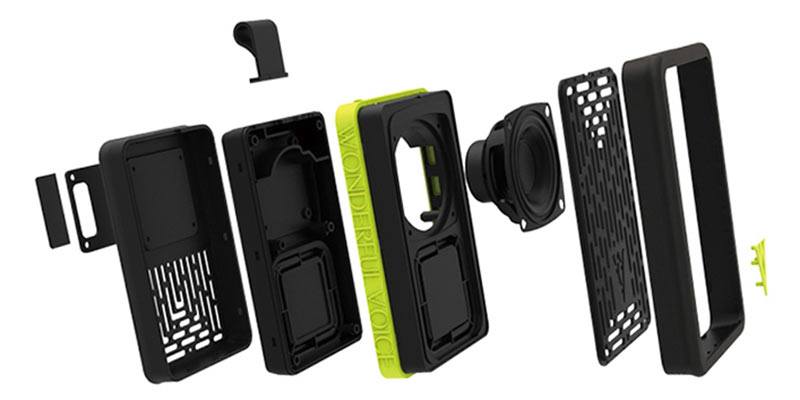 Unboxing/Design
The WV-PSQ comes in a box not much bigger than you get for most mobile phones, with plenty of protective foam inside, which is reassuring as it will have made a long journey from China. Aside from the speaker there is a comprehensive instruction manual, charging cable and carabiner/velcro strap which provide various mounting options.
[column size=one_half position=first ]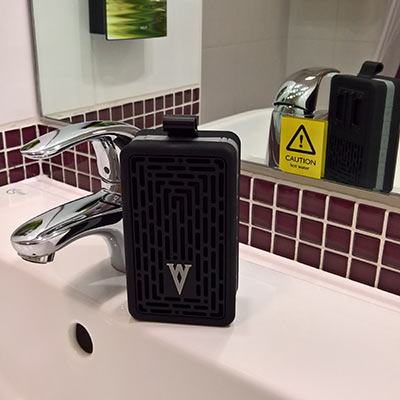 [/column]
[column size=one_half position=last]
The first thing you'll notice about the speaker itself is that it manages to achieve the tricky balance of looking robust and compact at the same time. Face on, the PSQ is smaller than most 5.5 inch mobile phones, but the design, in soft-touch rubberised plastic, certainly gives you some reassurances that this is no delicate or fragile device.
I think it's quite a neat looking speaker, I like the random grill design with the driver and passive bass radiator just visible behind a tight mesh, and at a verified 350g it can slip in your luggage without being noticeable.
[/column]
For the more adventurous there are a variety of colour options to choose from, but the subtle black and grey colour scheme of the review unit was up my street.
The 5 multifunction buttons run down the right hand side, and offer the following controls; power/pair/play/pause, skip back/volume down, skip forward/volume up, bass boost/photo and finally input mode/phone. There are icons on each button so it's easy to remember what each one does. At the top of the device is a waterproof flap which, when opened, reveals a micro USB charging port, standard USB port for the power bank feature or for playing music from a USB drive, along with a micro SD card slot and 3.5mm socket for further input options.
Usability
As is generally the case with Bluetooth devices, you put the PSQ into pairing mode by keeping the power button pressed. I've got it to pair with 2 different Android phones, a Windows phone and my laptop, all with no difficulties.
[column size=one_half position=first ]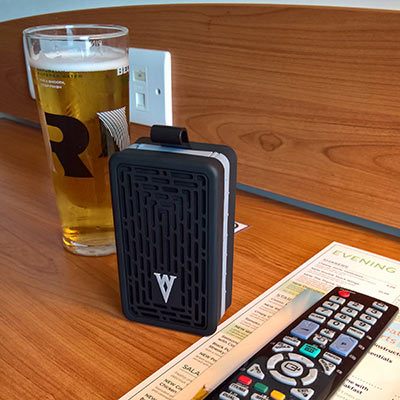 [/column]
[column size=one_half position=last]
I used the WV-PSQ for a week travelling up and down the country on business and it's going to stay as part of my travel kit going forward. It was simple to use, and though I didn't have any requirement to play from any other inputs I tested the USB, SD and line in methods and they worked fine. Bear in mind that you can only skip from track to track on USB/SD cards, there is no screen so no option for easily changing directories, skipping albums etc. That said, I view the inclusion of these input methods as a bit of a bonus, most people would be playing music from their phone so it's not a real issue.
[/column]
Performance
I have a pretty eclectic taste in music but found that the Wonderful Voice was able to cope with anything that my random playlist threw at it. Wu Tang Clan had punchy basslines but the lyrics were crystal clear and the quiet/loud/quiet dynamics of Slint were no trouble, with no discernible distortion even in the heaviest moments. The Bass Boost feature made a difference, and you could easily tell whether it was enabled or not.
For real-life scenarios I would envisage that the WV-PSQ would be perfect for barbecues, beside the pool or round the campfire – it's certainly capable enough to be heard outside, easily loud enough for a moderate 'gathering' indoors, but it won't be able to power a party. That said, for a speaker of this size both volume and sound quality were surprisingly good.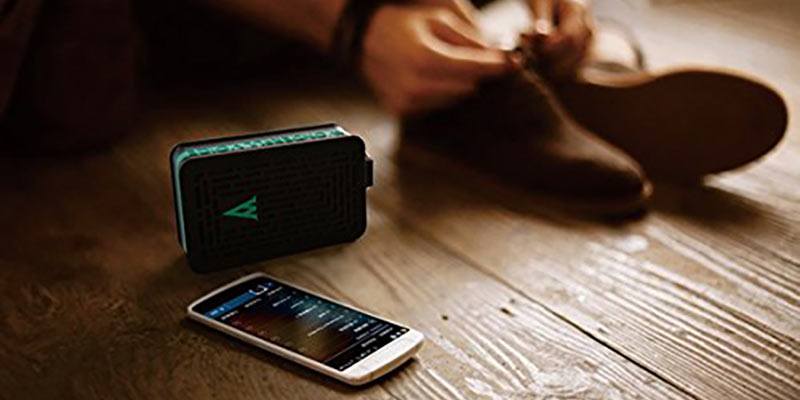 I was a little disappointed that the WV-PSQ only packed a 2000 mAH battery. Given that most mobile phones these days have a minimum 3000 mAH batteries themselves nowadays, it seems odd to put a powerbank facility in a device with a battery this size…
That said, on my travels I got a shade under 8 hours playback off of a single charge, though at volumes that were appropriate for a hotel room as opposed to a pool party! Obviously your mileage may vary depending on how loud the music is. Charging from flat took around an hour and a half which is fine.
Overall this is the biggest drawback of the WV-PSQ. A bigger battery (at least 3000 mAH) would certainly have made this a more attractive package, and though this would have had knock on impacts to the size and weight of the speaker that's a compromise I'd have been willing to make.
Conclusion
The Bluetooth speaker market segment is full to bursting with decent options that don't cost the earth, so it's a matter of choosing the right speaker for your needs. The Wonderful Voice Perfect Share Q misses out on excellence on the basis of its slightly stingy battery but as a compact rugged speaker, which sounds better than it has any right to, I think it makes the perfect travel companion for picnics, holidays or festivals.
Grab yourself a WV-PSQ for only… UK : £35 | EU : €40 | US : $45