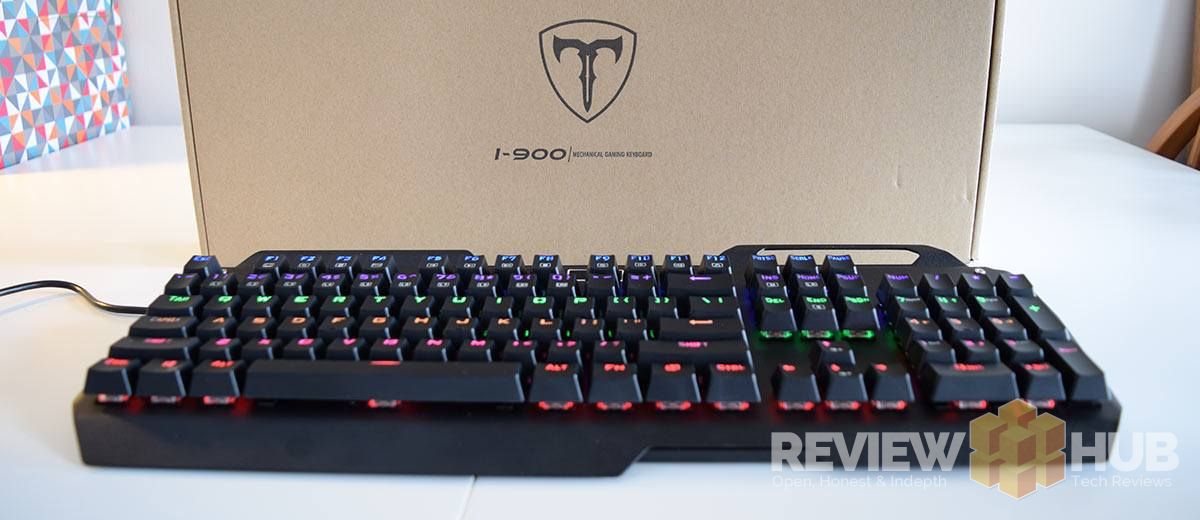 The VicTsing I-900 is a solid LED mechanical keyboard that punches above its weight
Straight out of the box, the I-900 is an impressive beast of a keyboard. The mechanical keys sit raised upon a single sheet of brushed black metal allowing the glowing LEDs to take centre stage. Bright enough for to impress even in daytime this is one keyboard will get a few envious looks.
[column size=one_half position=first ]
Plug this bad boy in and experience the satisfying audible click of each deathstrike keypress and take your gaming to the next level. If you can get past how intentionally loud this keyboard is, then it's not a bad for a daily typer either as long as you match it with a decent wrist rest or go for the VicTsing i800 (Amazon).
At first, you could easily be mistaken that the VicTsing gaming keyboard is using Cherry MX switches under the hood but upon closer inspection, I found they are using a clone switch called OUTEMU Blue Mechanical Switches. When compared against the Cherry MX blue they give a slightly lower pitched click but have a very similar click point at around a half press.
[/column]
[column size=one_half position=last ]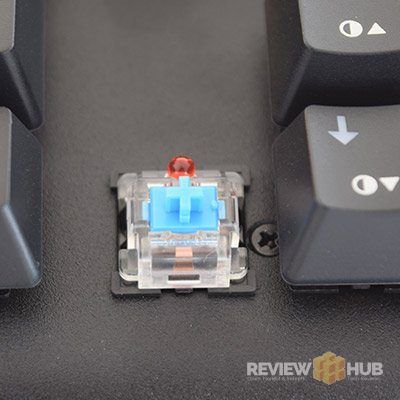 [/column]
If you've not used a Mechanical Keyboard before then beware! Once you experienced the satisfying clicks there really isn't any going back. Your old keyboard (if not mechanical) will feel like your typing on a bowl of porridge!
Check out my Pro's & Cons below before I explore in-depth the Design, Ergonomics, Features, Tech-Specs, What's in the box & Final thoughts on the VicTsing I-900 Mechanical Gaming keyboard.
The VicTsing I-900 starts at… UK : £55 | EU : €65 | US : $72
[column size=one_half position=first ]
Pro's
Build Quality
LED Backlit + 3 brightness levels
Lots of LED gaming presets
Replaceable keys
OUTEMU Blue Mechanical Switches
Good value
[/column]
[column size=one_half position=last ]
Cons
Small enter key
No LED Software
No extra UK Keys
A little noisy for day-to-day typing
[/column]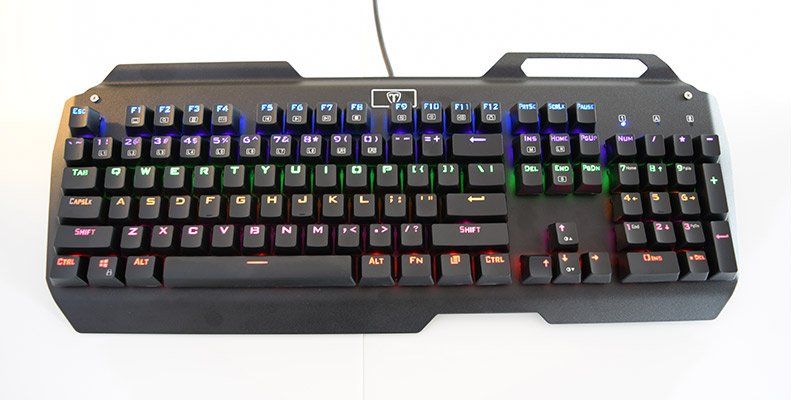 Design & Ergonomics
It's worth noting that VicTsing offers two variations of what is essentially the same keyboard but in two different design styles. The I-800 (Amazon) comes with a few more LED lights and, what might be important for you, a built-in ergonomic wrist rest.
[column size=one_half position=first ]
I'm a sucker for the design of the I-900 with it's sleeker design and slimmer profile (saving valuable desk space). The downside to this keyboard design is that long stretches of writing, like writing this review, leaves your hands at a slightly odd angle due to the raised keys.
The keys have the right amount of tension so that you can rest your fingers on them without fear of accidental pressing the key down but still achieve a fast second nature click when needed.
[/column]
[column size=one_half position=last ]
In the heat of battle, hearing the click can mean the difference between winning and loosing.
[/column]
Overall VicTsing has done a great job with the I-900 design, creating a stunning LED backlit mechanical keyboard at around half the cost of some of the big names in the industry.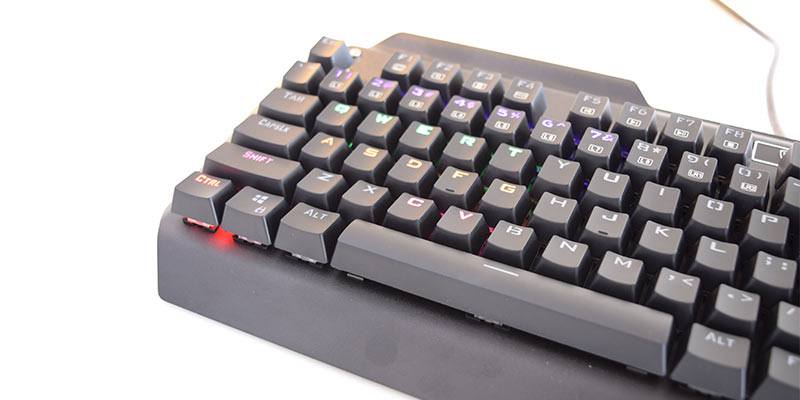 Features:
The I-900 features Anti-Ghosting Technology built into all 104 keys meaning that you can press multiple keys at once and they will all register. The keyboard manages this by having an independent switch for each key, ultimately improving fast paced gaming.
The switches used inside are OUTEMU Blue Switches which are clones of the Cherry MX Blue switches allowing you to interchange keys between the two. Having used Cherry MX Blue and now Outemu Blue keyboards there isn't a distinct advantage to either and I see it more as a personal preference.
The keyboard comes with 9 preset gaming LED configurations straight of the box for the most popular PC gaming titles. You then have the option to customise your own LED configuration and store this as well. The LEDs are fixed colours on each row going from top to bottom: Blue, Purple, Green, Orange, Pink & Red.
[column size=one_half position=first ]
Anti-Ghosting
Blue Mechanical Switches (Outemu)
3 LED brightness settings
9 Predefined lighting patterns which
[/column]
[column size=one_half position=last ]
LED Patterns & Keypress effects
Scratch, Water and Corrosion Resistant.
Tested to 50 million keystrokes
Non-slip Design
[/column]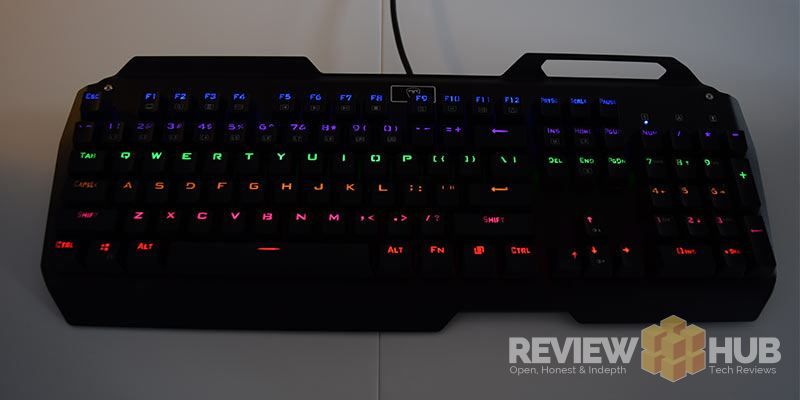 Technical Specification
Colours: Black
Keys: 104
Dimensions: 437 x 135.6 x 38.6mm
Voltage: 5.0V DC
Interface: Standard USB
Mechanical Switch Type: Clicky
Key Elastic Force: 60g – 15g
Key Stroke: 4.0- 0.2mm
Key Lifespan: 50 million strokes
What's in the box?
Delivered by Amazon, the VicTsing I-900 Mechanical LED Gaming keyboard that I received arrived in a brown Amazon hassle-free packaging recyclable cardboard box. I've seen online a more exciting black box with graphics.
Inside you'll find the keyboard, instruction manual (which tells you how to achieve the different LED effects and customise your own LED layout) and finally a plastic key puller to easily remove the keys.
My advice is to avoid the plastic key puller as it left faint scratches a couple of the keys I used it on.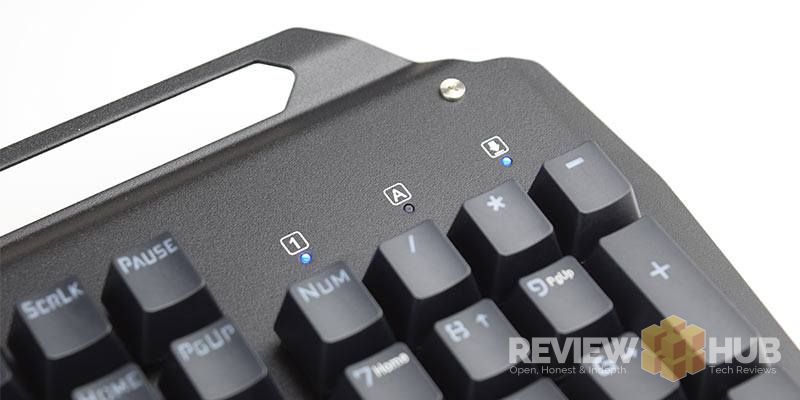 Final thoughts
Overall I've been really impressed with the build quality of the VicTsing Mechanical gaming keyboard. Although not true RGB, the lighting effects works well and it comes with all the presets needed to improve your PC gaming straight away.
I'm not sure how well the keyboard works as a multi-purpose device as the blue switches are loud but I've ordered a set of O-rings from eBay so I'll update on the noise once they arrive.
If you are looking for a great mechanical LED gaming keyboard that won't break the bank, then definitely check out the VicTsing I-900 Mechanical Gaming Keyboard.