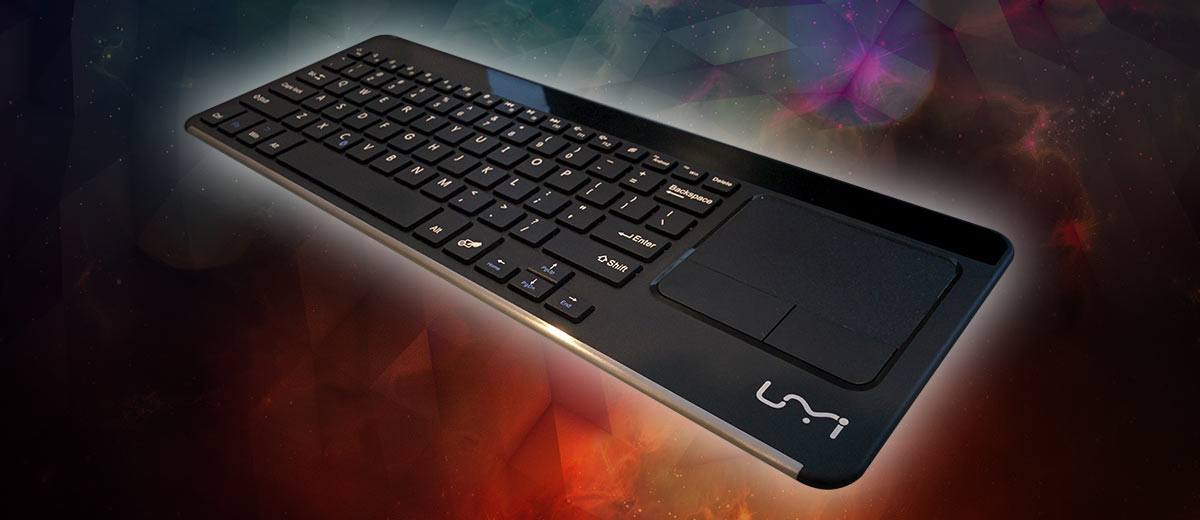 Hands-on with the beautifully designed UMiDigi KYB7 Bluetooth Keyboard with Touchpad
UMiDigi, who are known for their range of budget Android smartphones, recently got in contact with me to let me know they've ventured into the accessories market with a range of new portable speakers, headphones and wireless keyboards.
Curiosity got the better of me, so I'm writing this review on their new slimline Bluetooth keyboard with built-in touchpad, the UMi-KYB7. Although (at the time of writing this review), it's advertised as a UK layout keyboard on Amazon, unfortunately it's actually a US-based layout which, as a Brit myself, is a bit of a bummer.
To test the UMiDigi wireless keyboard I've been using it as my daily driver on my desktop PC & for sending emails on from my Android smartphone. The keyboard advertises itself as compatible with both Windows & Android and has dedicated quick keys for both.
You can check out my Pro's & Con's below before I go in-depth looking at how well the UMiDigi Keyboard holds up focussing on the Design, Keyboard Typing, Touchpad & Connectivity.
The Stylish UMiDigi KYB7 Touchpad Keyboard start at… UK : £21.99 | EU : €29.99 | US : $N/A
[column size=one_half position=first ]
Pro's
Stylish Design
Solid Build Quality
Android + Windows Friendly
Chiclet-Style Keyboard
[/column]
[column size=one_half position=last ]
Con's
American Keyboard Layout
No '£' and half-sized 'Enter' key
Connectivity Touchpad Speed
[/column]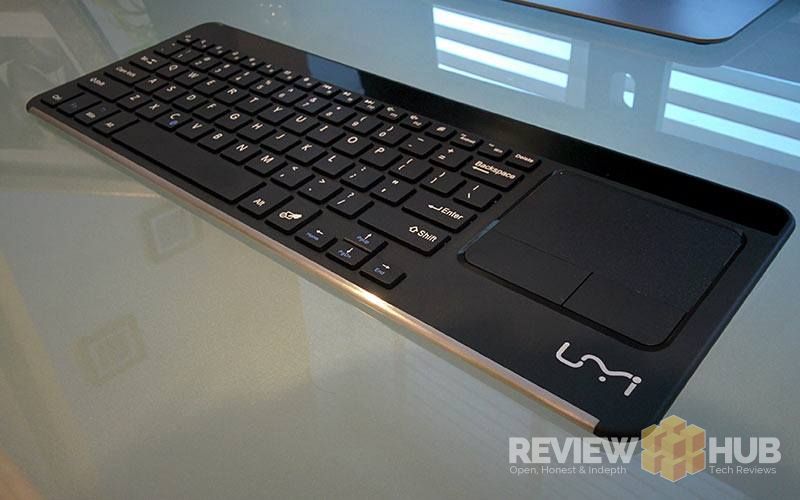 Design
The UMiDigi KYB7 keyboard certainly looks the part. Made from a textured black plastic that glistens in the light but somehow manages to avoid all your grubby fingerprints. UMiDigi have taken what they've learnt in the smartphone business and transferred it to their products department creating a stylish keyboard in the process.
[column size=one_half position=first ]
The rear of the keyboard is made from the single sheet of stainless steel that wraps around the front slightly helping to connect all the design elements together. Above the keys is a high gloss bar that looks like it could be a solar panel but is actually just for show with all the keyboard electronics hidden behind it. It'd be great to see this as a solar panel in future editions! Hint Hint UMiDigi.
[/column]
[column size=one_half position=last ]
"… UMiDigi have created one sexy keyboard…"
[/column]
Overall, the UMiDigi keyboard looks as if its sole purpose was to blend in with your TV setup. The black plastic with its subtle shine matched together with the cold silver of its steel frame merges to create a modern & stylish combination.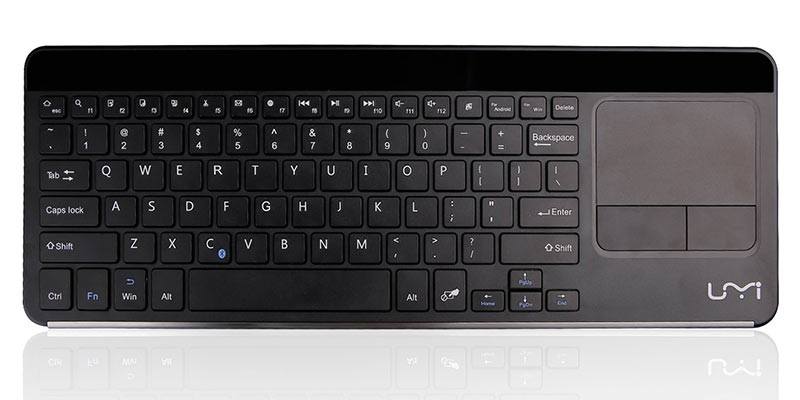 Keyboard
Touch typing on the UMiDigi keyboard is fairly easy with there being a nice amount of depth / travel to each keypress. I didn't find the keys to be overly noisy but they do have a small amount of treble to each click. With that being said, the keys don't feel muddy or soft to click either making typing on the KY7B a pleasurable experience.
[column size=one_half position=first ]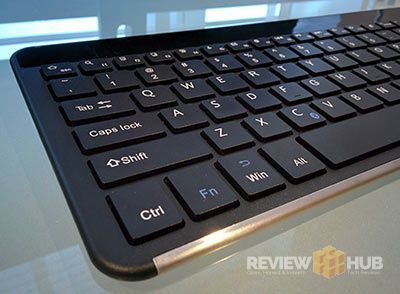 [/column]
[column size=one_half position=last ]
Although it didn't affect my typing, the keys do have a little wiggle room around the centre axis meaning that the sides of the keys press down a fraction before the whole key is gives way. Certainly not a deal breaker at all.
[/column]
The UMiDigi Keyboard works well as a portable keyboard / touchpad combo. It's a step up from using a tablet or phone touchscreen in terms of enjoyment and speed. My only gripe is that I found myself missing the single height enter button due to the US layout.
Touchpad
The touchpad uses a rough textured plastic which is reminiscent of cheaper laptop touch pads of the past. I've been using a smooth glass touchpad on my Lenovo laptop for a while now and the jump back to a rough plastic touchpad feels like a step in the wrong direction.
[column size=one_half position=first ]
For the most part, the touchpad worked well and is compatible with all the Windows 10 multi-finger gestures being able to recognise up to 4 fingers at once.
A nice design feature by UMiDigi is they have changed the texture of the plastic surrounding the touchpad. This subtle change means that your fingers don't stray from the touchpad when in use.
[/column]
[column size=one_half position=last ]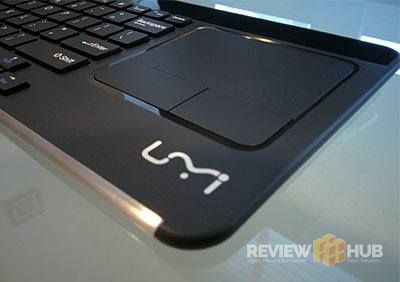 [/column]
The keyboard also has physical buttons for the left and right click which will please some. Personally, I would have preferred to have had a bigger & smoother touchpad area using taps instead of clicks.
For me, the touchpad is the weakest area of the UMiDigi Keyboard and feels a little cheap. That being said, it's still perfectly usable it just doesn't bring me any joy.
Connectivity
[column size=one_half position=first ]
For the most part, I had good connectivity when using the UMiDigi keyboard. There were a couple of occasions when having not used the touchpad for a while it would take a few seconds of moving my finger around before it responded on my laptop.
Connecting the keyboard to my PC via a Bluetooth dongle was a much smoother experience and eliminated the touchpad lag completely.
[/column]
[column size=one_half position=last ]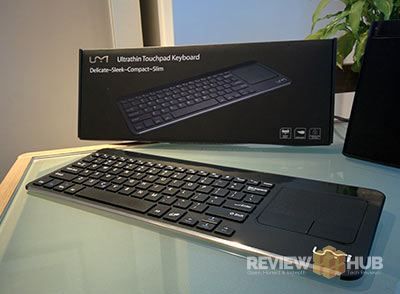 [/column]
The bottom Line
UMiDigi have done a great job in creating a stylish & slimline Bluetooth keyboard. As someone who spends a large part of each day typing it's not the keyboard for me as the sync time between touchpad and PC just isn't fast enough.
Where I think the UMiDigi Bluetooth keyboard would excel is when it's paired up with a home theatre PC or smart TV. Thanks to its premium look it'll blend in easily right next to your high-end TV or home theatre setup.
If you're looking at buying this keyboard as a typing workhorse, then you'll most likely be disappointed but if you're looking for an occasional use Bluetooth keyboard that looks awesome then the UMiDigi KYB7 has you covered.
The Stylish UMiDigi KYB7 Touchpad Keyboard start at… UK : £21.99 | EU : €29.99 | US : $N/A