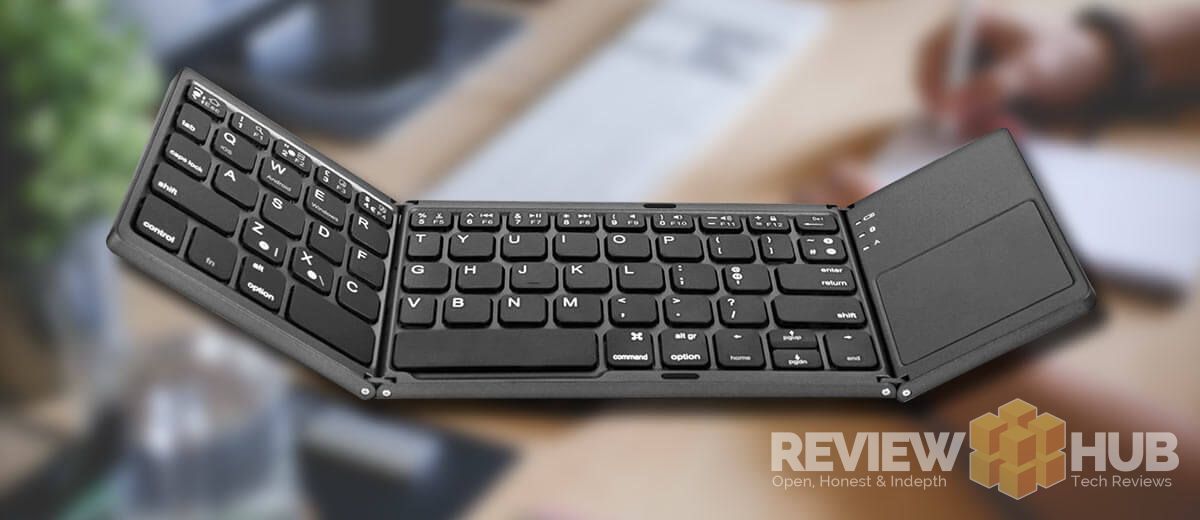 We find out whether the Jelly Comb foldable keyboard could be a writer's perfect travel companion
I recently got my hands on the Jelly Comb foldable Bluetooth keyboard with touchpad. Yes, that's correct… Jelly Comb! I've never heard of Jelly Comb before either but a quick search for Jelly Comb on Amazon shows thousands of positive reviews.
[column size=one_half position=first ]
I've had been looking for a portable keyboard for a while and if the Jelly Comb Tri-Fold Bluetooth keyboard could perform well it would certainly earn a place in my pocket for travels. I'm always dubious about Amazon reviews as they tend to be biased towards the positive.
When unboxing the Jelly Comb keyboard, I found myself impressed with the packaging which wouldn't have looked out of place on a retail high-street. I was also glad to see that the build quality of the keyboard is top notch and the keyboard itself is just about light enough (200 grams) to fling in your pocket and forget about.
[/column]
[column size=one_half position=last ]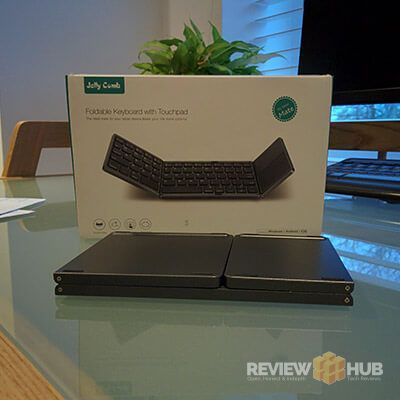 [/column]
So far so good, the Jelly Comb keyboard looks the part, feels well-made and is compact & light enough to be pocket-friendly. But… that's all pretty pointless unless can its great to type on.
Check out my Pro's & Cons before I take an in-depth look at the Keyboard / Touchpad & Connectivity.
The Jelly Comb foldable Keyboard with Touchpad start at… UK : £22.99
[column size=one_half position=first ]
What we loved

Magnetic Close Mechanism
Inbuilt Battery (Micro-USB)
Smooth / Responsive Touchpad
Easy to setup & Reliable Connection
Android, Windows & iOS compatible.
Windows 10 Gesture compatible
[/column]
[column size=one_half position=last ]
What could be better

No kick-out tilt feet
Small enter key
Sometimes keys double tap when typing fast
[/column]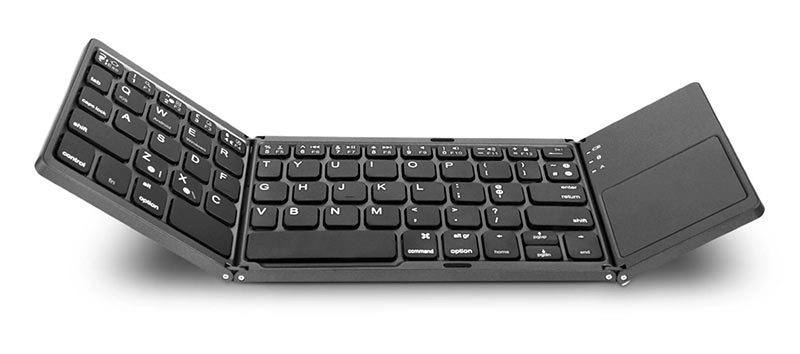 Design
The Jelly Comb tri-fold keyboard is made from a shiny grey plastic that's easily mistaken for metal at first glance. I would call it more functional than design-savvy. Let's hope its successful and we can see some limited edition versions.
Completely closed, the foldable keyboard only measures 12mm thick allowing it to easily slide into your pocket or bag.
[column size=one_half position=first ]
A downside to the keyboards tri-fold design is that it's only usable on a flat surface as there is no locking mechanism to keep the keyboard rigid once unfolded. I would have like to have seen a couple of kick-out feet as well so that you could raise the keyboard slightly when typing but this would come with its own set of engineering problems to overcome.
[/column]
[column size=one_half position=last ]
"… Super portable & travel friendly…"
[/column]
The Jelly Comb tri-fold keyboard is a nice piece of kit and it's weighty enough so that its rubber feet keep is steady whilst typing but light enough to throw in your pocket and forget about until needed.
Keyboard
It certainly takes a bit of getting used to typing on the Jelly Comb tri-fold keyboard. The main reason for this is that to incorporate the tri-fold design certain keys had to been downsized. When you first start using the keyboard you'll often miss the half-sized keys 'T, D & V'. The Backspace is has also been moved and is now in place off the 'delete' key.
All these changes make sense when you see how compact the keyboard is and with a little time and some practise I got used to the smaller keys and my mistakes became less frequent.
My biggest put off with using the keyboard is that when I touch type at fast speeds the keyboard often responds as if I've hit keys twice, adding in extra letters to words where they shouldn't be. This is happened mainly on the 'E' & 'T' keys.
If I slowed down my typing a little the problem disappeared.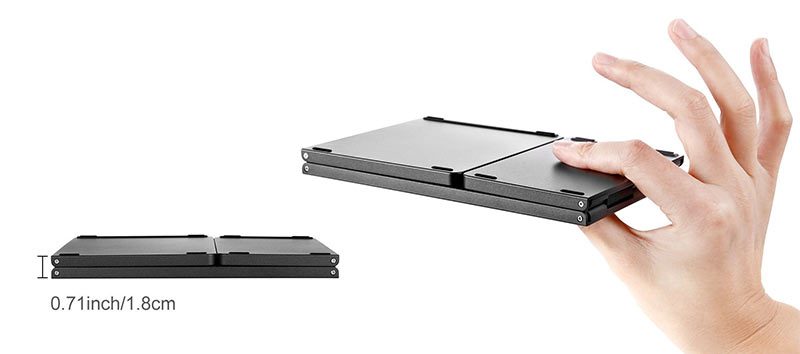 Touchpad
The touchpad uses a smooth pad placed on the right hand flip of the tri-fold design. It's no substitute for the accuracy of a mouse but it was very responsive during testing. To click using the touchpad you either tap (for left click) or two-finger tap (for right click) as there are no physical buttons on the touchpad.
The touch pad also recognised up to four fingers at once so you can use all the inbuilt swipe functions in windows 10 and mobile OS.

Connectivity
Jelly Comb deserve 10/10 for connectivity. I love that they have included an inbuilt battery that charges off a standard micro-USB port. This allows you to charge the keyboard anywhere & on-the-go via a portable power bank.
Setting up a Bluetooth Connection was a breeze and after not using the keyboard for a while it re-connected to my laptop, tablet & phone speedily.
To connect you have to enter the prompted code into the keyboard and hit the enter key. Once connected it will automatically re-connect to that device.

The bottom Line
I think the Jelly Comb tri-fold keyboard solves a real problem that a lot of us have which is being able to type on a physical keyboard on the go. I can see myself using the keyboard whilst travelling on trains or planes due to the limited amount of space and ease of bringing along a tablet instead of a laptop.
It's definitely a step up from using a touchscreen but it's not perfect either. The double tapping of some letters when typing at fast speeds is definitely a negative and one you should consider.
Should you get yourself the Jelly Comb tri-fold keyboard? If you travel a lot of want to keep weight to an absolute minimum then yes!
Post your questions and thoughts in the comments below!