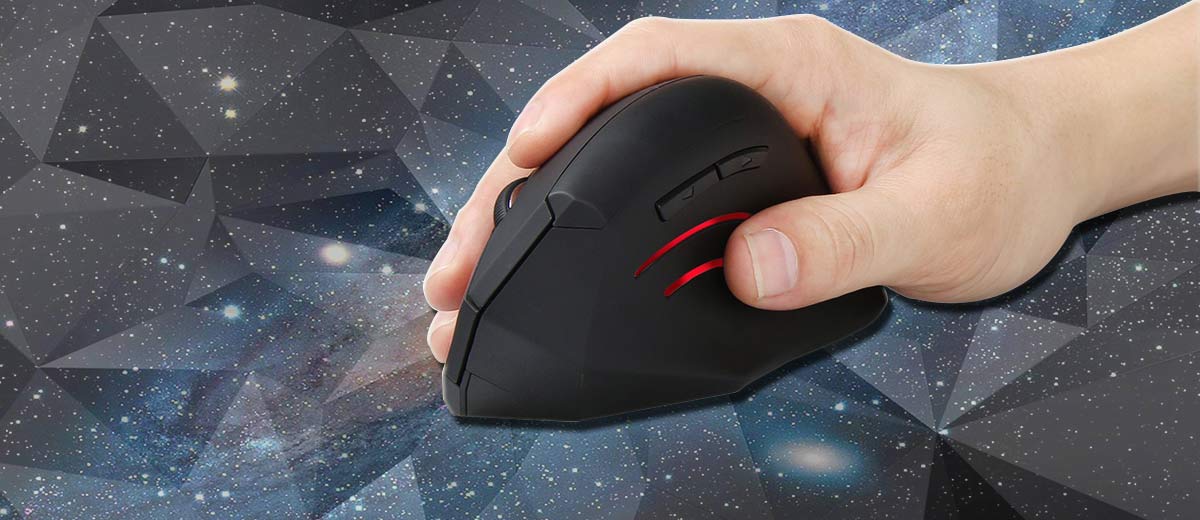 Let's find out whether TeckNet's Wireless Ergonomic Mouse cure my achy hand
If you read my earlier review of the TeckNet Wireless Nano Mouse you'll know I've got a lot of praise for the TeckNet brand so I was excited to see that they've released an ergonomic model.
With my PC usage increasing and inevitably getting older, gone are the days when I can throw any abuse at my body guilt free. I first started noticing that my mouse hand would start to ache after around 3-4 hours of use. Over the past 6 months, I noticed this ache slowly getting worse and happening more often.
So my search for an ergonomic ache free mouse began.
I'm a bit thrifty when it comes to gadgets so I was looking for a mouse that wouldn't break the bank but at the same time would relieve my hand pain. A quick search on Amazon shows that's I'm not the only one getting old with a good selection of vertical & ergonomic mice.
Knowing nothing about upright mice or having ever used one I saw the TeckNet Ergonomic Wireless Mouse on Amazon and thought I'd give it a try. At only £12.99 I thought it was worth a shot and I ordered one straight away. So let's take a look at the Pro's & Con's of the mouse before diving a bit deeper and exploring Design, Ergonomics & Build Quality in more detail.
The TeckNet Ergonomic Wireless Mouse M012 is available now for only £12.99
[column size=one_half position=first ]
The Pro's
Soft touch plastic feels good
Good DPI range
Nano receiver
Strong / Solid connection
18-month warranty
Long battery life
[/column]
[column size=one_half position=last ]
The Con's

Little finger felt cramped
Side buttons are poor
Didn't relieve my hand strain
Weak LEDs
[/column]
Design & Ergonomics
The TeckNet ergonomic mouse comes with a very understated design with the mouse being made from an all black soft touch plastic with only the TeckNet logo standing out. The only visual flair used is the curved LED lines that appear on both sides. You don't see the LEDs light up unless you change the DPI settings which, although boring, does help to preserve battery. Unlike the product pictures the red LED on my mouse was rather dim and disappointing.
Another area I wasn't too pleased with was the side buttons which have quite a bit of movement before they eventually click. With my medium-large hands, the forward button was a stretch to click and left me shuffling my hand to reach it. On a plus note, the scroll left & right buttons all felt good to use.
As to be expected, moving from a traditional to an upright mouse is going to feel odd to begin and I expected that. What I didn't expect was that my smallest finger didn't have any room on the mouse and ended up dragging along the mouse matt. Reaching for the scroll with your middle finger also feels odd in an upright position but you do get used to this with time.
Overall I found that using this mouse for long periods came with its own set of problems. The flimsy side buttons are a real negative for me as well.

Build Quality
The mouse feels well built with no audible creaks or noises when putting the mouse under pressure. There's also a good amount of slide tabs underneath which keeps the movement of the mouse smooth.
Features
Connectivity: 2.4 GHz Wifi Connectivity
Battery life: 18 months
DPI Settings:

2000/1500/1000

Receiver internal storage: Yes
Receiver size: Small Nano
On / Off button: Yes
Back / Forward buttons: Yes
Warranty: 18 Months
Battery Size: AAA
LED Lights: Yes
 
Final thoughts on the TeckNet M012 Wireless Ergonomic Mouse
Everyone has different needs from a mouse, for me, I bought TeckNet's ergonomic mouse to relieve my hand strain.
Did it work? Unfortunately, no and the hunt for a budget ergonomic mouse continues. Will it work for someone else? Who knows but based on my own experiences with this mouse and the flimsy side buttons I can't recommend it.
Want to get your hands on the TeckNet M012 ergonomic mouse anyway? It can be yours for around £12.99.