You're old news pass code, it's finger scanning time…
Gone are the days when having a fingerprint reader on your phone meant you'd splashed out the big bucks. The idea of people using swipes & codes to unlock their phones is slowly but surely entering the history books. Soon we'll all have demoted pass codes to a dusty part of our memory along with VHS & floppy disks.
The latest smartphone from China to use feature a finger print reader is the Bluboo Xfire 2. What's more impressive is that it's selling for a mere £50.
The Xfire 2 has its pro's and con's with the finger print reader definitely being a pro. It's reasonable fast & is accurate to around 1 in 20 touches. You can see the full Pro's & Con's of the Xfire 2 below before I go in-depth & hands-on looking at the Design, Screen, Hardware, Software, Camera, Battery, Speakers & Connectivity.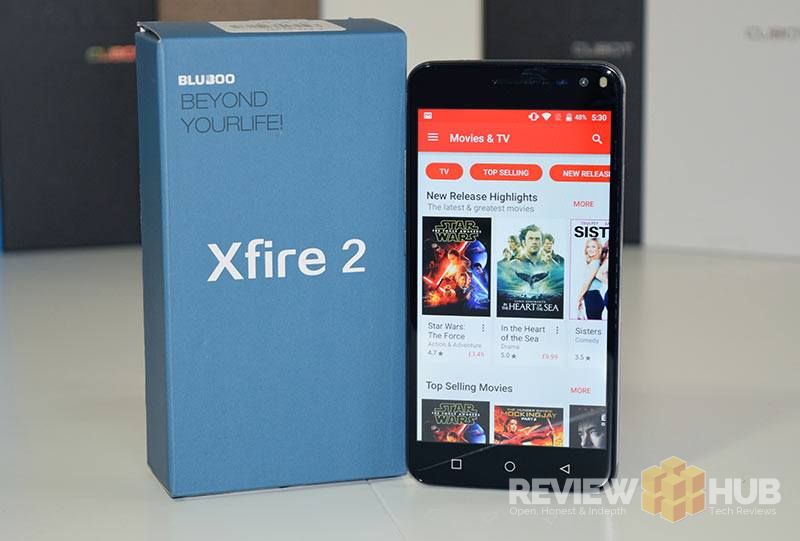 You can get your hands on a Bluboo Xfire 2 from…  UK : £50 | EU : €62 | US : $69
Bluboo's Xfire 2 – Pro's & Con's

[column size=one_half position=first ]
Positives
Notification LED
Light-weight
Great Looking
Metal body
Dual SIM
Front-facing flash
Accurate fingerprint reader
Low price
[/column]
[column size=one_half position=last ]
Negatives
Average Screen
Loose side buttons
No 4G
Screen set back from glass
[/column]

Screen & Design
The first thing you notice when unboxing the Xfire 2 is how light and premium the device feels especially knowing that you only forked out a little over £50. Most smartphones in this price range are an all plastic affair so it's refreshing to see Xfire 2 featuring a solid metal back plate although the top & bottom sections are made from plastic (presumably to improve signal).
Both the volume rocker and lock switch are located to the left side of the device and are also made from metal with the dual sim tray + memory tray being located on the right. One design flaw I found is that if you shake the phone both buttons rattle slightly.
The finger-print sensor on the back is well thought out and easy to reach when you are on the move. I personally prefer a front facing sensor but that's just because I'm a bit of a desk monkey with my phone lying face up.
The screen looks okay with a medium sized bezel but lacks brightness and vibrancy compared to the recently tested Cubot Note S. This isn't a problem indoors but the screen is can be a little difficult to see in sunny conditions. I spent 99% of the time testing this phone with the brightness set to maximum as this felt right.
Overall I found the Xfire 2 to be a lightweight phone that looks great from all angles.
Colours Available: Black, White & Rose Gold
Screen Tech Specs: 5 inch, IPS, 1280×720, 294PPI, Capacitive

Software
The Bluboo Xfire 2 comes with Android 5.1 lollipop and at this price range isn't likely to see any updates to Android 6, so bare this in mind. Straight out of the box it comes with a custom launcher that lets you choose from multiple themes, wallpapers, screen transitions and live weather widget.
Not a fan of the custom launcher? not a problem as the stock Google Now Launcher is fully compatible and gives a much cleaner & closer to stock feel.
The good news is that the phone feels fast and responsive and I didn't experience any jitters or slowdowns when using the phone. It does only have 1GB of RAM but seems to manage this effectively.
In the settings, you'll find an option to tweak and add your chosen finger prints. As well as using your finger to unlock the Xfire 2 you can also set up finger print locks on any apps that you want to keep private. Other options include using the fingerprint reader to take photos and answer calls.
Overall there isn't any bloat-ware and the fingerprint software that comes with the Xfire 2 works well.
Software: Android 5.1, Double-tap to wake, tethering, personal hotspot, MiraVision, Fingerprint management

Hardware
If you'd had asked me what I thought of the hardware 3 months ago I would have said it's pretty good for a £50 phone. That was before I reviewed the Cubot Note S which has double the RAM, double the storage and nearly double the battery.
Even with the slightly inferior specs the Xfire 2 does benefit from a being lighter whilst looking and feeling much more premium with the added finger print sensor.
Still the option to add an extra memory card without sacrificing the dual SIM functionality is a good choice from Bluboo. You'll definitely want to add a memory card to the Xfire 2 as you're only left with around 5.2GB of usable memory.
CPU: Quad-Core 1.3GHz
GPU: MediaTek MT6580A Quad-core 1.3Ghz
RAM: 1GB
Storage: 8GB (5.2GB left) (Read speed:  101MBs,  write speed: 13MBs )
Expandable: 32-64GB
Gaming
In our gaming benchmarks having only the 1GB of RAM didn't seem to affect the results very much. You can see the results below which are quite similar to the Cubot Note S which has the same CPU but 2GB of RAM.
AnTuTu Benchmark v6.0.1

The Xfire 2 scored: 22322
3D – 1190
UX – 9258
CPU – 8754
RAM – 3120
Geekbench Score:
Single Core Performance: 344
Multi-Core Performance: 1049
This puts the Xfire 2 just above the Moto G in the Geekbench benchmark.
Speaker Quality
External
Out of the box, the speakers sounds awful. Head to Settings > Sound enhancement > BesSurround > Turn on Movie Mode. This takes the speakers from 'awful' to 'bad'. The speaker has to much treble and sounds cheap.
Internal
The internal ear speaker is loud and clear.
Microphone
The microphone sound quality is clear but leaves your voice sounding a little flat.
Battery
Battery life on the Bluboo Xfire 2 isn't very impressive. Having only a 2150mAh battery has kept the phone lightweight but has sacrificed usage time in doing so.

Camera
I wasn't expecting great things in the camera department from the Xfire 2. Images look okay but soon deteriorate when you zoom in. One weak area is the rear flash, only being able to light up close objects.
You can see the full range of photos taken with the Bluboo Xfire 2 below.
Camera Features: Autofocus, Digital zoom, Face detection, Smile Detection, HDR,Panorama, Scene mode, Self-timer, Touch focus, Beauty mode
[column size=one_half position=first ]
Back Camera:
[/column]
[column size=one_half position=last ]
Selfie Camera:
5MP
Soft front fill flash
[/column]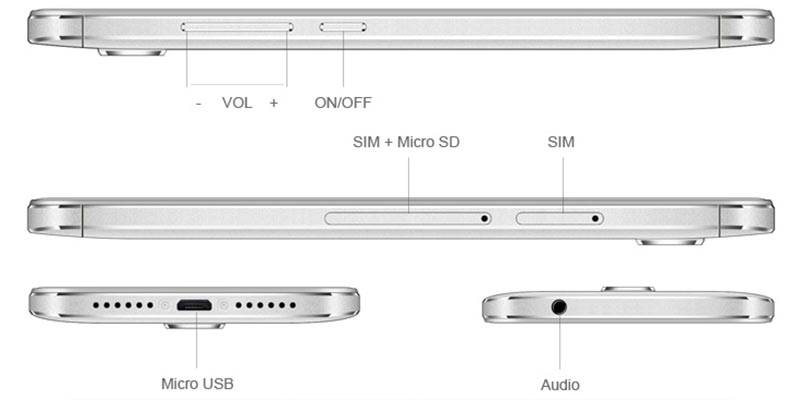 Connectivity
Although only 3G the Xfire 2 will support all UK carriers. It has the basic sensors although on the model I received the light sensor wasn't giving off any data during testing.
What shines about the Xfire 2 is the finger print reader. It works well and adds an extra layer of security to apps. It also supports the 5GHz WiFi spectrum although I wasn't able to test and confirm this.
GPS
The Xfire 2 picked the same amount of satellites as my tried and tested Nexus 5 slightly weaker signal but a decent lock distance of 3-5m. Tested inside by a window.
Frequencies Supported: – 2G: GSM 850 / 900 / 1800 / 1900MHz | 3G: WCDMA 850 / 2100MHz
3G: YES
4G: NO
Bluetooth: 4.0
GPS: GPS, A-GPS
Sensors: Accelerometer, Light sensor, Proximity Sensor, Fingerprint Sensor
USB OTG: NO
USB Type: Micro-USB
SIM support: Micro SIM + Nano SIM
WiFi: 802.11b, 802.11g, 802.11n, 5Ghz
Will the Bluboo Xfire 2 work in the UK?
3G – YES
The Bluboo Xfire 2 has 3G support for band 2100MHz which will allow it to work on all UK carriers.
What's in the box?
Inside the Bluboo Xfire 2 box, you get some basic accessories including 2-Pronged Wall Charger, 1 Screen protector already applied, USB Cable, Quick Start Guide.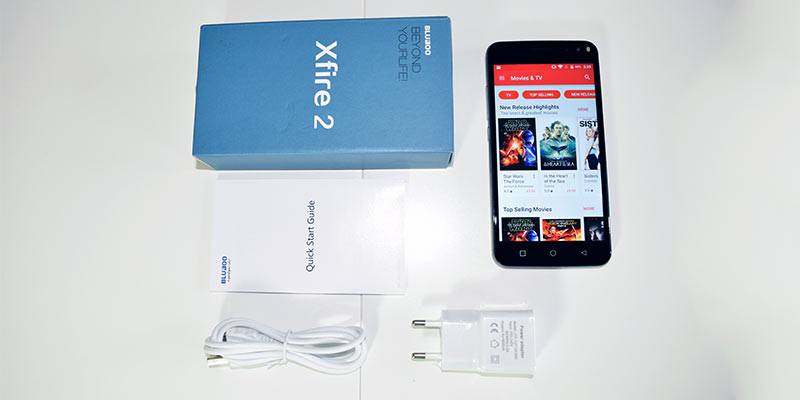 Should I buy the Bluboo Xfire 2?
The Xfire 2 has a lot of Pro's & Con's to consider before purchasing.
I'm in two minds about the Bluboo Xfire 2, I want to love it but the rattly buttons & okay screen are stopping me. On the other hand having an accurate finger print scanner on a £50 phone is amazing value.
Overall when we compare the Xfire 2 to the choice here in the UK, the features Vs cost make it decent smartphone choice.

You can get your hands on a Bluboo Xfire 2 from… UK : £50 | EU : €62 | US : $69
Let me know your thoughts on Bluboo's Xfire 2 in the comment below. Feel free to share.