Action stations!
The market for budget action cameras has never been more competitive with dozens of similar-looking devices at varying price ranges. The TaoTronics TT-VD001 4K has all the features you'd expect and is reasonably priced, but with an action camera it's all about the quality of the video and images that it produces. I've had one for a couple of weeks now and been able to test it in a few different scenarios, read on to see what I found out.
Check out the TaoTronics TT-VD001 for… UK : £59.99 | EU : €67.29 | US : $78.99
Thumbs up!

Reliable WiFi performance
Comprehensive selection of mounts included
Continuous loop recording
2 inch colour LCD screen
Thumbs down!

A spare battery would have been good
Average still camera quality
Occasional image issues in some situations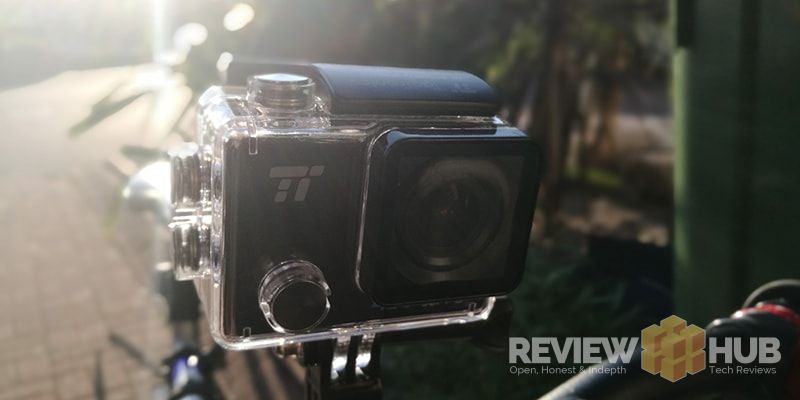 Design and Display
It's fair to say that if you've seen one budget action camera, you've pretty much seen them all and the TT-VD001 doesn't do much to stand out from the crowd. Button placement is familiar, power on the front, action on the top and 2 selector buttons on the right side. On the left is the micro-USB/charging port, micro-SD slot and a micro-HDMI output. These connectors aren't hidden behind a flap, and don't have any waterproofing, so outside of the case the TT-VD001 needs to be protected from the elements.
The camera itself has a rubberised coating which softens the edges and feels nice to the touch, but does make it a fluff-magnet. The construction seems pretty solid and there are no gaps around the body, buttons, or around the screen either. Button-press is responsive both in and out of the protective case and the overall impression is definitely one of durability, which is a very important asset as an action camera.

The 2 inch screen is generous, is bright enough to see outdoors and has good viewing angles. It is also just as clear when the camera is in the protective case.
I was able to get between 70 and 80 minutes use between charges of the 900mAh battery. The TT-VD001 doesn't come with an extra battery, but these are freely available from various online sources.
Tech Specs
Still Image Resolution: Up to 16M
Video Resolutions: 720p-30/60fps, 1080p-30/60fps, 2.7k-30fps, 4k-30fps
Lens Angle: 170°
Waterproofing: IPx8 (in case)
Working Time: Up to 90 minutes
Battery Capacity: 900mAh
Net Weight: 58g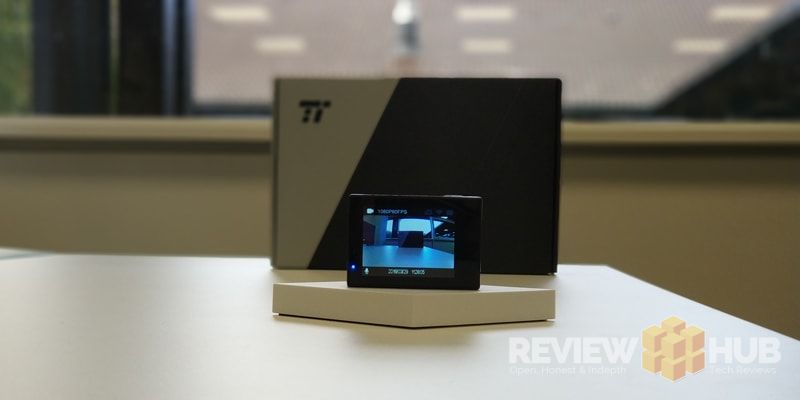 Video Quality/Modes
I was relatively happy with the quality of the videos that the TaoTronics TT-VD001 produced. I wasn't expecting (and didn't get) GoPro quality videos but in most situations the TT-VD001 produced videos that were clear, smooth and sounded accurate.
Before examining the quality of the videos it's worth mentioning a couple of shooting features that are native to the TT-VD001.
The first of these is continuous loop recording. This is most useful when using the TT-VD001 as a dashcam, as it will record clips of up to 5 minutes in length each, then once the memory is full start deleting the oldest of these.
The other recording mode, which I found quite fun, was the time lapse mode as demonstrated in this clip.
I've uploaded a number of videos that I took with the  TT-VD001 to YouTube so please take a look and judge for yourself how you think it performed. Please ensure that you choose the appropriate resolution as YouTube's auto mode may decide that 480p is suitable!
As I've said, in most conditions I was impressed with the performance of the TT-VD001. At relative slow speed, such as the pan round the jet ski, boats rocking and walking in a crowd, detail is good, sound is clear and the video is stable.

When I cranked up the action a little the videos produced were still good. The Labyrinth Challenge was in town so it seemed like a perfect opportunity to shoot some footage. There is a good amount of detail captured, and the TT-VD001 coped with the relatively slow pace as you can see in the video of the hurdles and the slide.
Things took a turn for  the worse however when I shot a video with the camera mounted to my bike. Poor image stabilisation means that the footage isn't very clear and detail is only visible at the last minute. For example the road surface appears completely smooth in the background but the detail is visible in the foreground.
Cycling through the tunnel from 1.50 onwards in the video, there are visible issues in dealing with moving between bright and darker locations. Finally there is constant wind noise throughout which I suspect pricier action cams would suppress.
On the subject of mic quality, it definitely struggled when recording in a noisy environment. If you listen to the music played in this video the TT-VD001 couldn't cope with it at all. The higher pitched steel drums sounded ok, but the bass-heavy backing track distorts and takes over the audio track, meaning voices etc are drowned out.
You can view all the videos I shot with the TT-VD001 here!
Still Image Quality
Unfortunately I have to report that the quality of photos taken on the TT-VD001 was average at best. Being an action camera, with wide angle point of view, there is a 'fisheye' quality to all photos taken which causes visible distortion on straight lines. This is common on most action cameras though so I can't really penalise the TT-VD001 for this.
Aside from the distortion though the images were lacking in detail, and colour reproduction wasn't great. This is best illustrated in the below side-by-side, zoomed in images taken with the TT-VD001 (left) and the Huawei P9 (right). The originals, as well as a number of other photos taken by the TT-VD001, are in the TaoTronics TT-VD001 Flikr Album.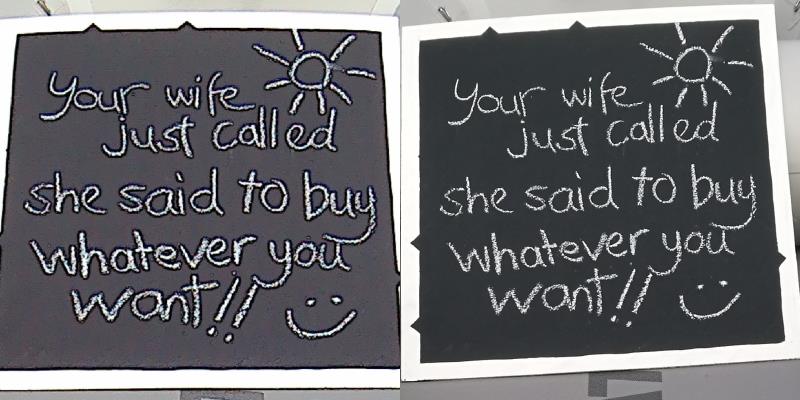 Overall I'd say that the TT-VD001 provides image quality comparable with a mid-range mobile phone. Nothing spectacular but good enough if you have nothing else to hand.
App/Accessories
There are an awful lot of menus and settings in the TT-VD001 and to be honest, navigating them using the camera itself was a bit of a pain. Luckily there is a companion app, which made things a lot simpler.
The XDV app allowed me to skip fiddly button-driven navigation and connect to and control the TT-VD001 using a local WiFi network. This was a godsend as it made it a breeze to operate. The app enabled me to use my phone as a viewfinder, to see what the camera was recording at that moment and also playback without needing to transfer the video files.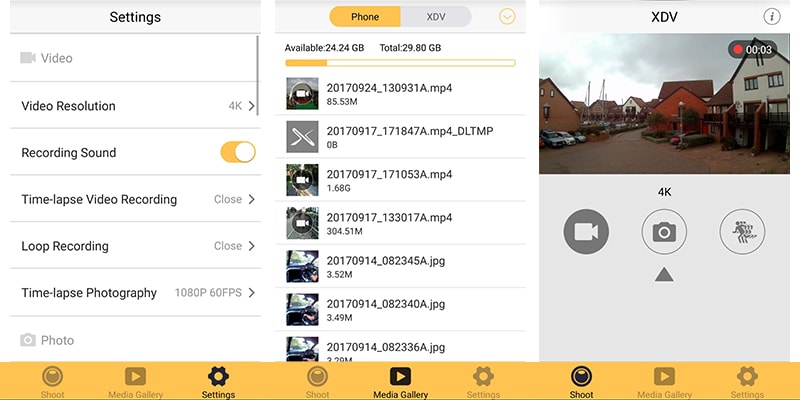 Not only this but I could select standard, loop and time lapse shooting modes, and adjust various settings such as resolution/framerate, exposure and white balance.
TaoTronics included a lot of mounting accessories with the TT-VD001, and using a combination of these I was able to fit it securely to myself, my bike, a shopping trolley and inside my car with ease.

This is where the app really came into its own as controlling the camera or seeing exactly what was in view whilst mounted would have been impossible in many situations.

WiFi control was generally responsive to operate, at times there were brief pauses when going through settings but no more than a couple of seconds.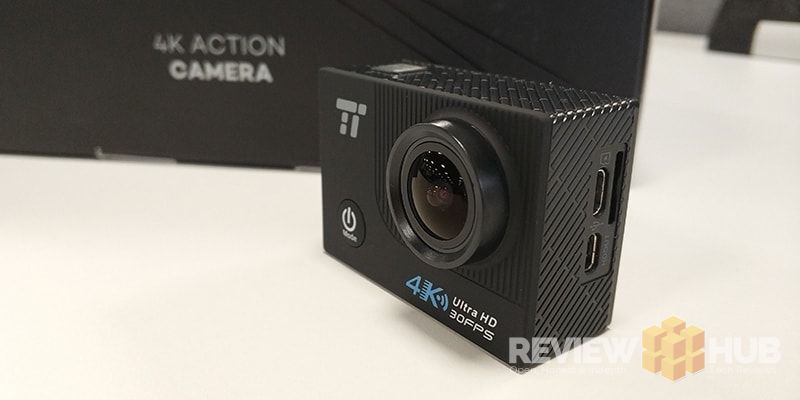 TaoTronics TT-VD001 Conclusion
Overall the TT-VD001 was simple to use and I had a lot of fun with it. The videos were generally good, though in some cases there were issues with sound and stabilisation. I've previously used a couple of other slightly more expensive action cams and found them fiddly to set up. I put the large selection of fittings and mounts to good use and the TT-VD001's companion app made things a lot easier to operate.
I can overlook the mediocre photos that it takes, because that's not really the main use for an action cam. I'd certainly recommend it to anyone looking to dip their toes into the action cam pond as it produces decent results without costing too much.
Check out the TaoTronics TT-VD001 for… UK : £59.99 | EU : €67.29 | US : $78.99
What do you think about the TaoTronics TT-VD001? Please add any comments below!