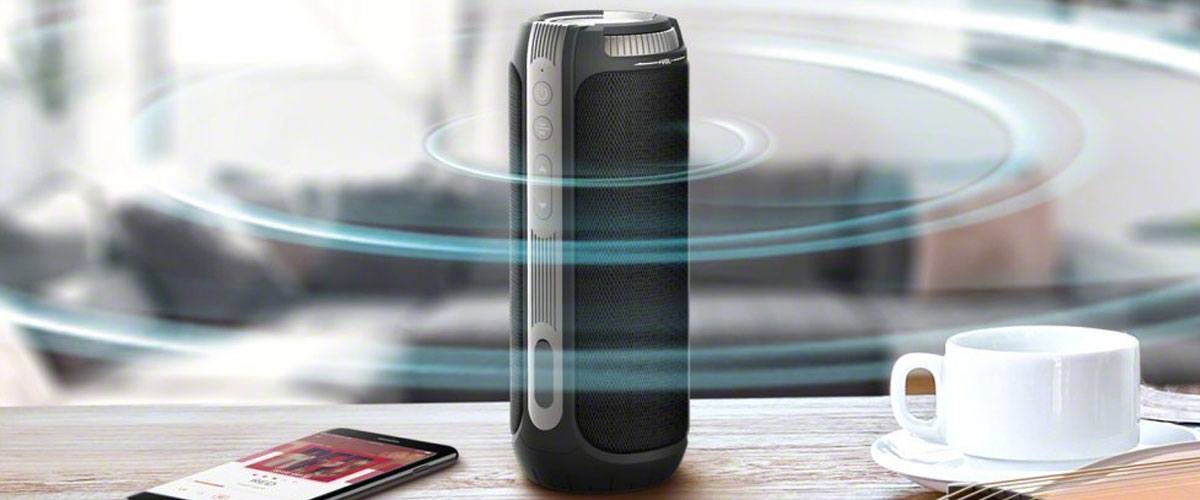 Looking to improve your speaker game but can't commit to splashing the cash? The TaoTronics TT SK-11 could be just the thing for you.
As the owner of my fair share of high-end portable Bluetooth speakers, I wasn't sure if the budget TaoTronics 360 speaker would be able to match up. Well after two weeks of using it as my daily driver, I can honestly say it's impressive!
While it won't replace my UE Boom 2, it doesn't need to as it's less than half the price and only lacks a little richness in the overall sound quality. There's a reason why the TT SK-11 speaker is an Amazon best selling Bluetooth speaker and that because it perfectly matches design, build quality and sound quality into an affordable budget packet.
Check out the latest deals below, before I dive indepth taking a look at the packaging, sound quality, build quality and features of the TaoTronics 360 speaker.
Fancy yourself the TaoTronics Amazon Best-Selling Speaker? Check out the best deals below…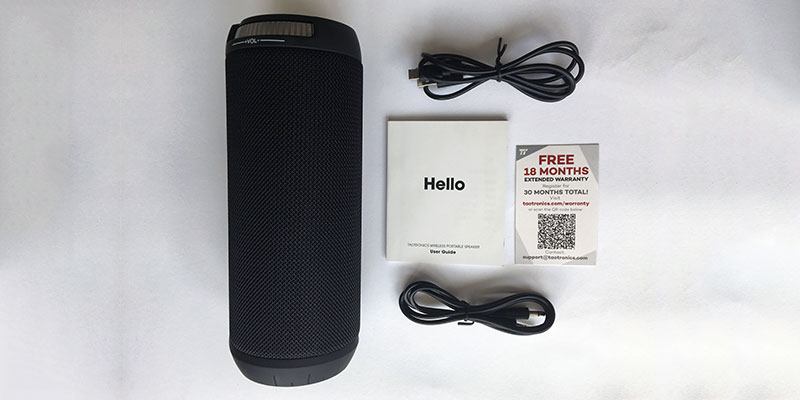 Unboxing
First impressions of the TaoTronics 360 speaker are good with the packaging feeling like that of a high-end quality product. Inside the carefully packaged box is the TT Sk-11 speaker, protected by a silicone bag, along with a smaller box with contains the USB charging cable, a 3.5mm audio jack, a card offering an 18 month extended warranty (not bad) along with a small but carefully designed instruction manual.
The charging and 1.5mm audio cable are a little small, but that doesn't matter as this speaker made to be portable. Overall, a good start to the little upright Bluetooth speaker!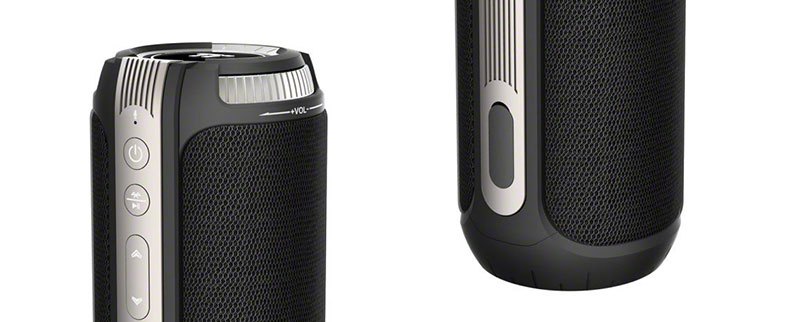 Sound quality (Indoors and Outdoors)
Initially, I was very impressed when we first starting playing tracks on the SK-11. On a closed-eye test, I could not tell the difference between the TaoTronics SK-11 and the much more expensive UE Boom 2. However, that was on an acoustic track.
Testing out some dubstep, drum n bass and rock, I found myself left a little disappointed by the lack of bass. It seems that although the speaker can reach impressive volumes, and very effectively fill a room, it is volume over quality. On a plus note, there wasn't much distortion at high volume, and the 2x 10W drivers definitely deliver that 360 sound they promise.
Outdoors the SK-11 holds its own because of its impressive volume range. However, some of the effect is lost because the sound isn't particularly rich. For this price, it's to be expected and overall I was still impressed by the speaker's output.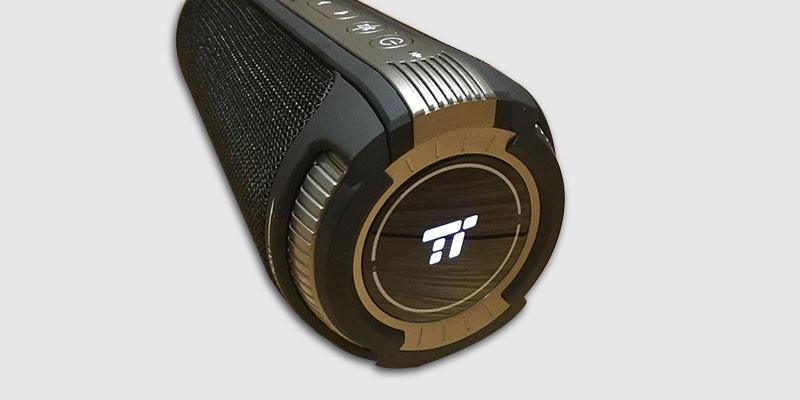 Build quality
The SK-11 is the kind of speaker that you would proudly display on your shelf. It's sleek, stylish and will fit well into any living room due to its sleek modern design. My favourite element of the TaoTronics SK-11's build has got to be the tactile volume control at the top.
It has a smooth twistable volume control, which very satisfactorily quietly clicks when turned. On the top is a light-up TaoTronics logo, which is also a helpful indicator of whether the speaker is turned on, needs pairing or paired.
Down the side is a silver bar which features an on/off button, a multi-function button and a track changing button. Below this, the charging and audio port which are protected by a rubber guard.
The design of the SK-11 is incredibly intuitive, and it is very easy to get up and running without looking at the guide. When turned on, the speaker responds with a short jingle and also responds with an audible beep when paired to a phone. When the impressive 5200mAh built-in battery is starting to run low towards the end of it's 15-hour playing time, the speaker will again let you know with a short tone.
The TaoTronics SK-11 feels incredibly durable, and has a nice, affirming weight to it. While it's not waterproof like some others on the market and doesn't advertise as being shock proof either, although the edges are protected with a rubber casing.
I put it to the test by knocking it off the table a few times and was pleased to see it continued to play absolutely fine.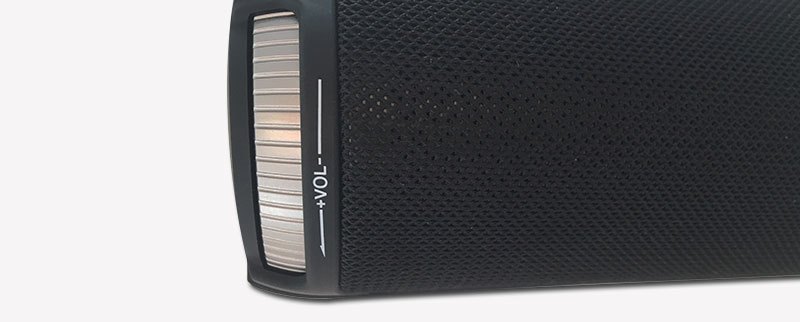 Extra features
A handy feature of the TaoTronics SK-11 is that it can be used as a hands-free speakerphone too. For this, it has a microphone built in and the buttons can be used to answer or decline calls. You can even call back the last person who rang without even picking up your phone. The call quality was clear and loud, and the person on the receiving end could hear me clearly through the inbuilt microphone.
Perhaps the most impressive feature of the SK-11 is its range. In this, it surpassed speakers twice its price. Advertised as being able to reach 33 feet away with its Bluetooth connection, we found that it could continue to play music even through multiple walls from several rooms away.
This is an area that other Bluetooth speakers often fall down on. We were constantly waiting for that annoying crackling sound and the music to start breaking up, but it never came! TaoTronics have clearly invested a lot of time into fine-tuning the Bluetooth 4.0 in this portable speaker.
Pros
Extremely impressive range
Loud volume
Sleek design
Good value for money
Long battery life
Hands free speaker phone
Cons

Lacking in bass
No plug included
LED Light difficult to see outside
Not shockproof or waterproof
TaoTronics 360 Speaker – The Verdict!
The TaoTronics SK-11 is hard to beat at this price. Although the sound isn't as rich as you might get with its higher priced competitors, the careful design and rigorous build quality are more than you'd expect for a mere £45.99 / $60.
I've enjoyed the last two weeks using it as my daily speaker with loudspeaker calls being a nice bonus. I'll definitely be keeping a close eye on TaoTronics in the future!
View the latest TaoTronics 360 Bluetooth Speaker Deals…