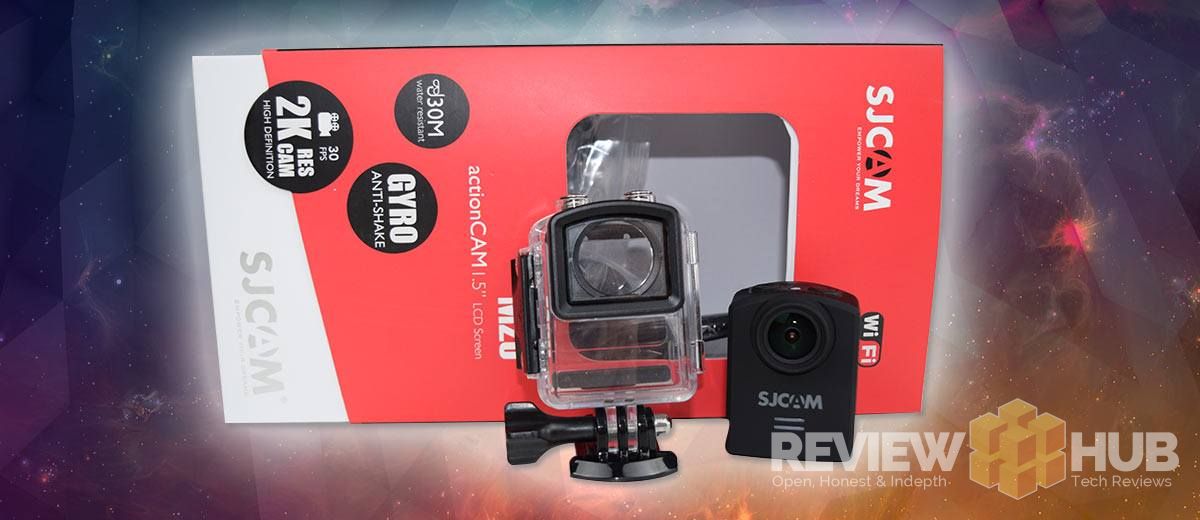 Weighing in at only 55g the little SJCAM M20 punches above its weight
[column size=one_half position=first]
Recently, SJCAM have become well-known online for producing affordable action cameras that typically cost 2-3 times less than the GoPro equivalent. Their action cameras have even made it in to the prestegious Amazon Action Cam – Best Seller List and, to top it all, off SJCAM even throw in 10 (GoPro compatible) mounts for good measure.
The latest SJCAM action camera I've managed to get my hands on is the SJCAM M20 which features a Sony IMX lens, 2.5K recording (4K interpolation), image stabilisation, a 30m waterproof diving case, 16MP camera stills & gyro stabilisation as standard.
[/column]
[column size=one_half position=last ]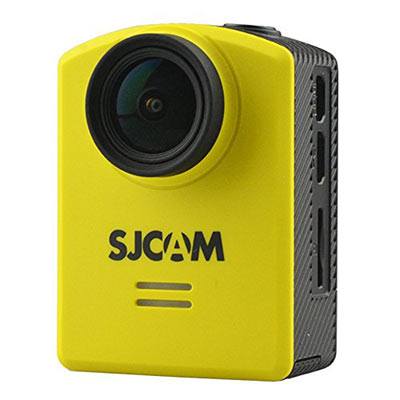 [/column]
Take a look at the Pro's & Cons below before I explore in-depth the Design, Build quality, Features, Video Footage, Camera Footage, What's in the box & Final Thoughts on whether you should buy the SJCAM M20.
SJCAM M20 starts at… UK : £79 | EU : €89 | US : $95
[column size=one_half position=first ]
What we love

Build Quality
Lots of bundled Mounts
Great Picture Stills
Easy to use
Image stabilisation
Super lightweight
GoPro mount compatible
Removable batteries.
[/column]
[column size=one_half position=last ]
Could be better

Low / Medium Light Video Quality
Side ports aren't covered without case
Average battery life
[/column]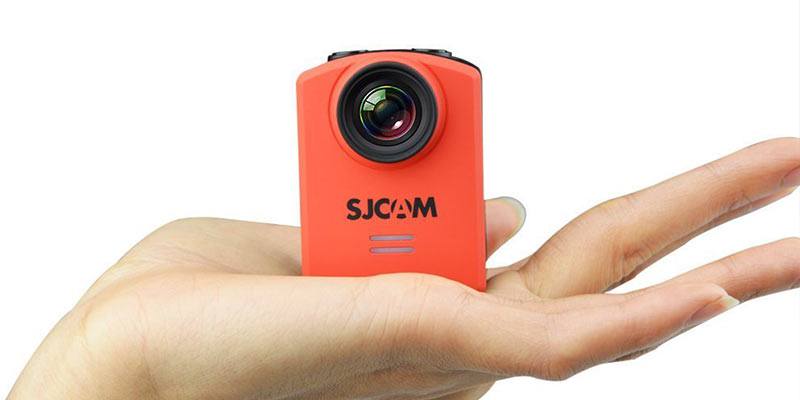 Design & Build-quality
The SJCAM team know a thing a two about designing user-friendly action cameras that look great. Given that the aim is to be as small and portable as possible theirs only so many designs that would work but the M20 breaks the mould with it's portrait layout.
This vertical portrait layout makes holding the M20 with one hand feel more natural and theirs less chance of covering up the lens with your fingers. The ridged plastic grip and soft touch front give the M20 a premium feel whilst improving the overall grip.
[column size=one_half position=first ]
Nobody can accuse SJCAM of being boring this time around either as they've released the M20 in 7 colours.
The button placement on the M20 is intuitive and easy pick up. Along the top of the device is the power button (also back) and record (also select) whilst along the side, we have up and down arrows to navigate through the options.
[/column]
[column size=one_half position=last ]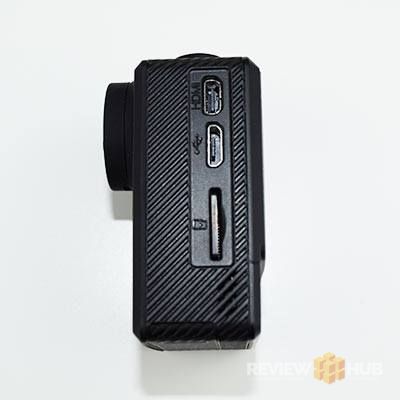 [/column]
Thanks to the clever placement of buttons you can access all of the device features & settings directly from the camera using the crisp 1.5″ onboard display. This display also acts as a digital viewfinder so you can line up your shots and play back videos on the fly.
Drop Test
Taking the M20 out for a test drive, I purposely dropped the camera from around 5 foot onto concrete a few times (in the protective dive case) to test the how well made insides were. After the test no visible damage or software upset so that's a pass.
Overall I've been really impressed with the design and build quality that SJCAM have put into the M20. The screen resolution is high enough to produce a clear viewfinder, the build quality is excellent and it definitely looks the part leaving my GoPro Session looking a little dated and feeling a little heavy (without the case).
Colours: Black, White, Silver, Yellow, Blue, Gold & Red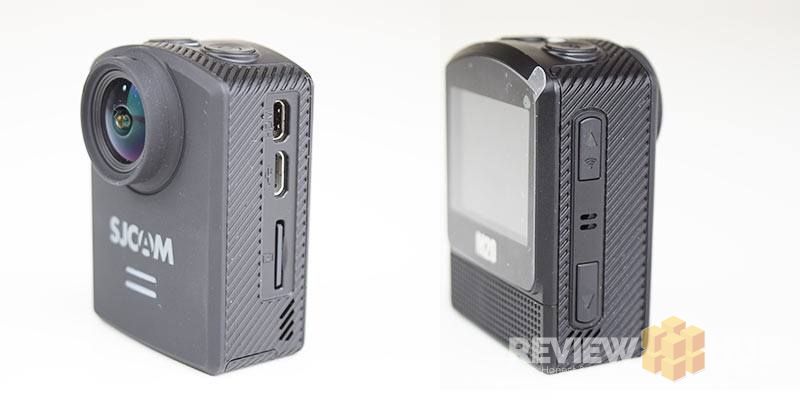 M20 Action Cam Features
It's good to see that the SJCAM team have given plenty of thought to the different scenarios that consumers might be using the camera in. From the selection menu, you can select options for Dashcam mode, Video Lapse, Photo Lapse, Slow Record, Burst Mode, Underwater, Drone and Motion detection.
Each of these modes slightly tweaks the camera settings. You can then further tailor each of these modes to match your needs exactly.
WiFi Companion App
[column size=one_half position=first ]
SJCAM provide a companion app for their cameras called SJCAM HD. On first glance it looks very similar to the GoPro app which isn't a bad thing at all. The SJCAM HD app gives you access to a live stream from the M20, lets you download photos and videos to your phone and change all the camera settings.
To connect to the M20 app, you first have to select it from you WiFi settings on Android. Enter the password 12345678 and then open the SJCAM HD app and select 'connect to camera'.
[/column]
[column size=one_half position=last ]
Easily download pictures & video straight to you smartphone
[/column]
If you are having difficulty connecting, select the pop-up box saying no internet connection (on your Android phone), select remember and select use this device anyway.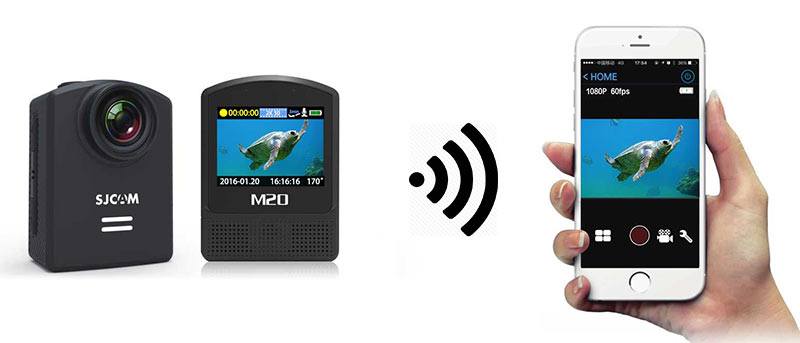 Dashcam Mode
I haven't had the time to test the M20 as a dashboard cam myself but based on my experience with the M20 I can see it performing well. The gyro image stabilisation did a good job during my run test and the wide field of view will easily capture any road incidents.
The SJCAM M20 also comes with a dedicated 'Car' mode which automatically starts recording when you turn the engine on as long as you have it connected via USB to charge.
Timelapse Mode
I was really impressed with the quality of the SJCAM M20 photos. So if you want to get your creativeness on and capture a fantastic timelapse sunset then you can. The M20 has the option to record at intervals of 3, 5, 10 & 20 seconds in either JPG or RAW image format.
Dive Mode
There isn't anything mentioned about dive mode in the manual and I'm not a diver myself. Generally dive mode changes the colour mode of the video footage to even out the strong blues from being underwater.
Video Settings: 166° wide angle view, 4K interpolated 24fps, 2K (2560×1440) 30fps, 1080P 60fps.
Storage: MicroSD Card up to 128GB.
Connectivity: USB 2.0, Bluetooth, WiFi, Mini HDMI
UI Languages available: English / French / German / Spanish / Italian / Portuguese / Chinese / Japanese / Russian / Korean / Romanian / Polish / Czech / Slovak / Hungarian / Danish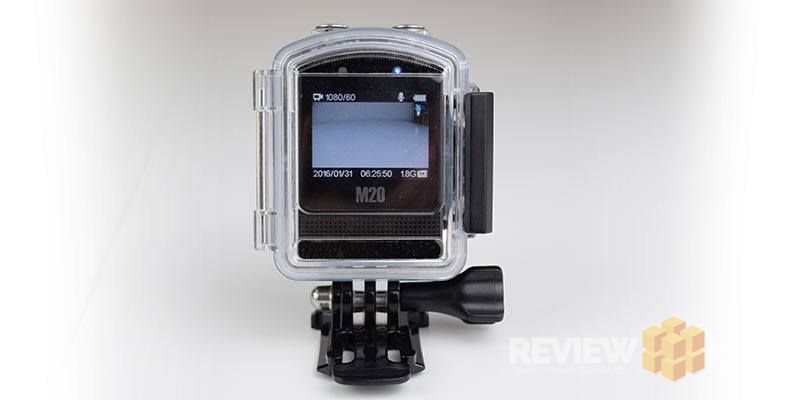 SJCAM M20 Video Footage
I wasn't bowled over by the quality of the SJCAM M20 video footage but it wasn't awful either. The M20 sits somewhere in the middle, you aren't going to achieve GoPro image quality at 1080P but the footage does look good on smaller displays such as tablets and phones.
You can see my rather boring set of test footage in the video below. Some points to note are I took the camera out when it was cloudy and the YouTube footage is of a slightly lower quality than what I downloaded off the camera.
Don't forget to change the YouTube setting to 1080P quality.
SJCAM M20 Still Photos
I was impressed with the still photos taken with the SJCAM M20. I managed to capture some nice shots with it's super wide angle lens. Click the Flickr image below to see all the photos taken with the M20 action cam.
Camera Specs
Lens: 16MP Sony IMX206
Max Resolution Photo: 4608×3456
Field of View: Wide, Middle & Narrow
Image Format: JPG or RAW
Features: Time Lapse, Burst Mode, Timer.
Image Adjustments: Sharpness, White balance, Colour, ISO (100-1600), Distortion Correction.
Battery & Battery Life
The SJCAM M20 comes with an 'automatic off' feature which helps to prolong battery life somewhat. Still, SJCAM claim the M20 can last up to 88 minutes with the Gyro & WiFi turned off.
In my own testing with WiFi and Gyro turned on I found it was closer to 50 minutes. Luckily the M20 battery is easily removable and you can pick one up online for around £5 / $6. To remove the battery there is a slide latch on the bottom of the action cam which reveals a pull tab for the battery.
Battery: 900mAh removable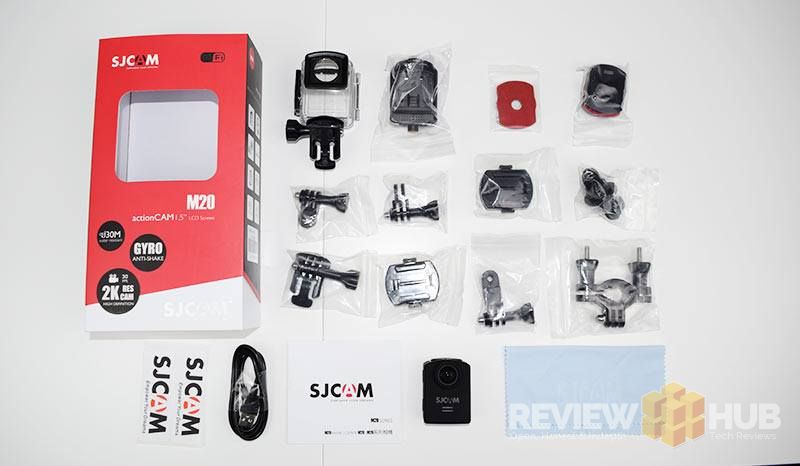 What's in the box?
Even though the SJCAM M20 might not be on par in terms of video quality as a GoPro it does come in at half the price whilst being bundled with a whole heap of goodies to get you started straight away.
SJCAM have put a lot of effort into the packaging and it's paid off.
So what's included with the SJCAM M20? the M20 action cam, quick release 30m waterproof dive & protective case, a handlebar grip, a curved adhesive mount, a flat adhesive mount, a 3-way pivot arm mount, 2 x 3M adhesive tape, a frame mount, a quick release clip, a Vertical Quick Release J-Hook Buckle, a Universal 1/4″ Camera Tripod Mount, a Tripod Mount Adapter,  a Cleaning Cloth,  1 x USB Cable, 900mAh Li-ion Battery, Multi-language Manual, 2 SJCAM Stickers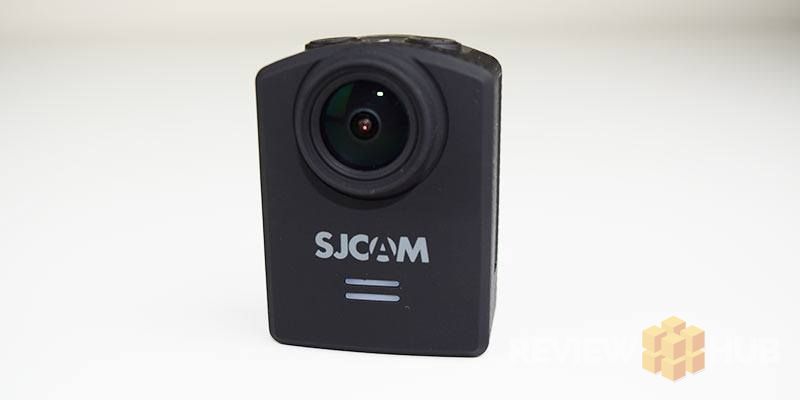 Is the SJCAM M20 right for you?
Overall, I'm impressed with what the SJCAM M20 offers for the price of £80+. Video quality isn't the best in low light but with a little practise you can get some good quality footage. The image stabilisation worked well during my testing and the bundled accessories included are easily worth an extra £25.
Getting to grips with the M20 is easy making it suitable for beginners who want to start filming straight away. Another benefit is that the camera works as a standalone camera (no app needed) allowing you to access all the settings through on onboard crisp 1.5″ screen.
Add to all this that the M20 ain't too shabby in the photography department and I think it's worth the investment. You can always turn it into a solid dash cam should you want to upgrade in the future.
Do I recommend the SJCAM M20? If your top priority is excellent video footage then you're likely going to have to spend a little more. If you're looking for a good all-rounder that's easy to use then Yes, definitely check out the SJCAM M20.
SJCAM M20 starts at… UK : £79 | EU : €89 | US : $95