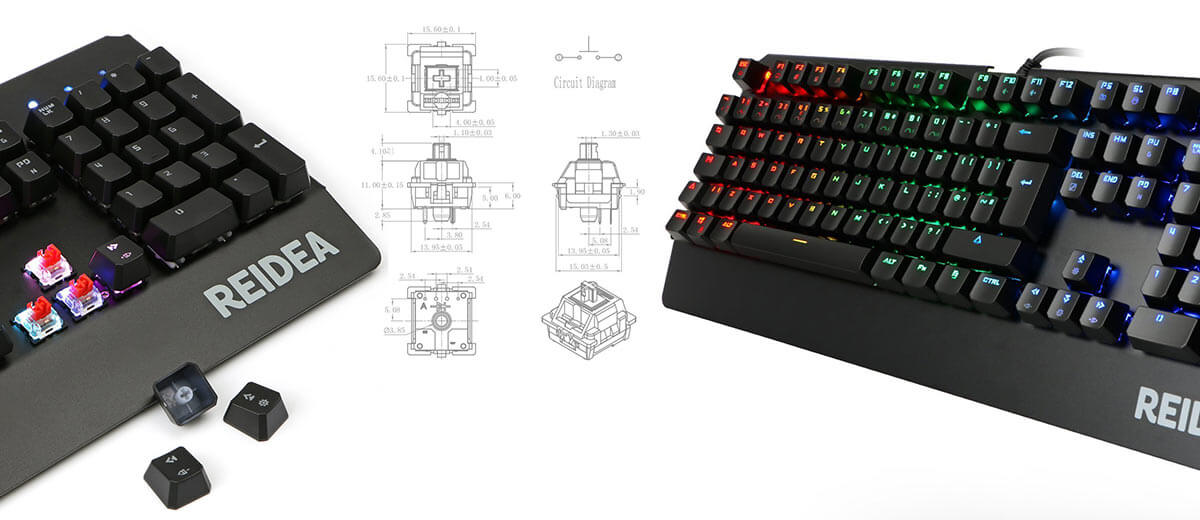 Reidea are new to the market, so how does their budget Full-RGB Gaming Keyboard (
KM06)

hold up against the competition?

The chances are that you won't of heard of 'Reidea' unless you stumble across their full RGB gaming keyboard listed on Amazon. You might also be thinking that… 'that's far too cheap for a full RGB mechanical keyboard, so what's the catch?'

Well I've been using the Reidea KM06 as my daily driver for the past two weeks to give it a fair review and the KM06 comes with it's Pro's & Cons, but for the price, it offers a nice mix of style and typing/gaming experience.

Check out the KMo6 Pro's & Cons before I go in-depth looking at Design, Features, LED Lighting and Typing Experience.

See the latest Reidea RGB Gaming Keyboard prices below…


[column size=one_half position=first ]
What we love

Full RGB Lighting
Comes with 4 spare switches
The Price
Great Build-quality
[/column]
[column size=one_half position=last ]
Could be better

LED Lighting could be brighter
Number Key Functions make keys look busy
Subtle metal echo sound
The Font
[/column]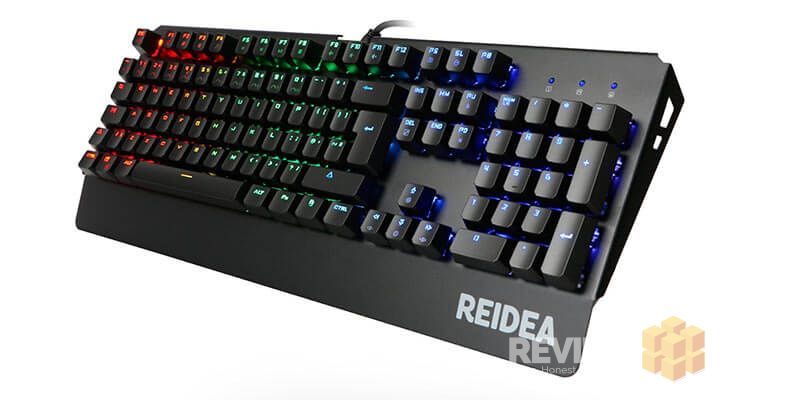 Design
The design of the Reidea KM06 is quite understated for a gaming keyboard with it having only a few subtle angular flairs. The biggest homage to classic gaming tech is the font used on the keys which looks like it's ripped straight from an 80's Sci-fi film and made faux-bold.
What's slightly odd is that the function keys have been painted on top with a silver paint so they miss out on the RGB backlighting. I also found that the 0-9 keys look a little messy as they been triple hit with three functions.
[column size=one_half position=first]
The front panel is made from one solid piece of metal which bends over to form a lip at the sides and back. The metal has been sprayed with semi-glossy layer of paint with only the REIDEA logo standing out. This all makes for a pretty sleek gaming keyboard that looks and feels like it'll last for a long time.
Is the KM06 keyboard prone to fingerprints?
You'll be happy to hear that it's not. After two weeks of use, the keys still look new and the metal base has only picked up a few small grease marks which are easily wiped away.
[/column]
[column size=one_half position=last ]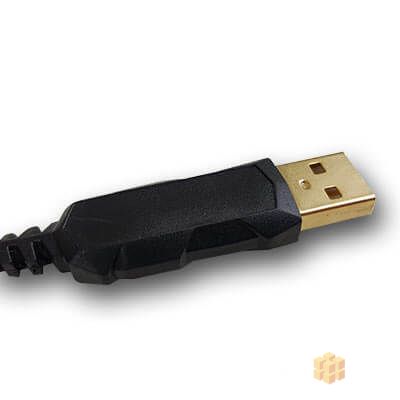 [/column]
Having a custom USB end helps to give the KM06 the edge, helping to make it feel more premium. Unfortunately the downside this is that if you've got lots of USB ports together (like on my Dell monitor) it can be a real squeeze getting it to fit. Overall, the braided USB cable feels tough and should last a long time.
Features
I've listed the main features of the Reidea Gaming Keyboard below.
Large Rubber Grips
There are 4 large rubber grips holding the keyboard in place. Two at the front & two on the flip rear feet.
Anti-Ghosting
Reidea 100% guarantee zero ghosting across the whole keyboard.
Cherry MX Red Clones

Tactile bump
50g of actuation
Easily replaceable
Full Colour Customisation

The Reidea KM06 comes with its own software to fully customise the RGB lighting or you can use the FN keys to switch between the defaults.
Easy maintenance

The KM06 comes with suspended key caps which means you can easily clean out all the gaming grime. If you like to eat at your keyboard you'll be happy to know that you can remove the whole switch easily with the provided tool as well.
LED Effects
I was a little underwhelmed with the brightness of the KM06 LEDs when set to maximum. I think the problem is with the Angle as when you look at the keyboard from above it lights up like a Christmas tree.
[column size=one_half position=first]
Brightness aside, the fact that this keyboard has full RGB customisable backlighting is fantastic as it's half the price of the big branded competition.
The lighting software comes bundled on a CD and is quick and easy to install. Once installed, you then have 9 pre-set lighting animations to choose from using either software or FN key. You then have the option of setting up to 3 custom themes to FN+0 which you can switch between these using the software.
[/column]
[column size=one_half position=last ]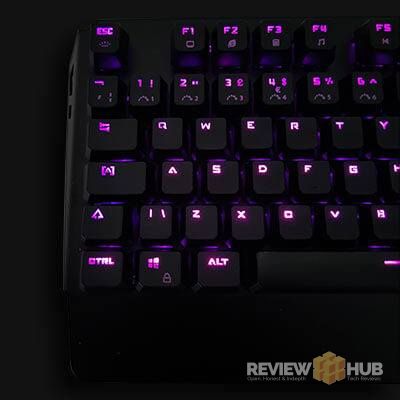 [/column]
Overall, I would have liked to see more variance in the speed settings available. The top speed is way faster than I would want, but the slowest speed isn't slow enough to enable more subtle colour changes.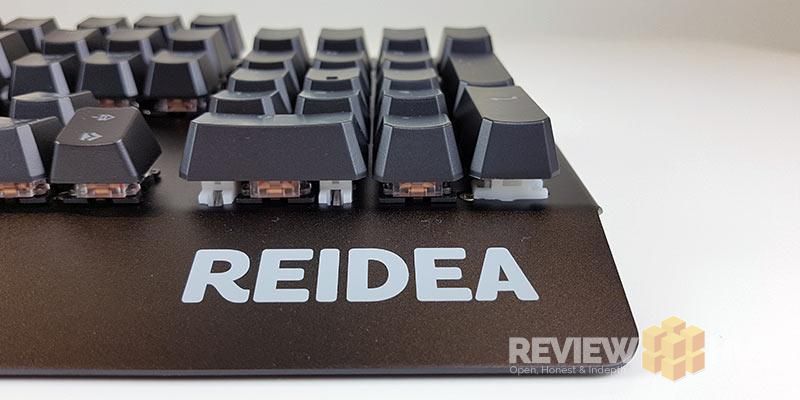 Overall Typing Experience
Like most gaming keyboards the Reidea can be a little loud when, for instance, typing this review. For gaming, though the feel of each click and audio feedback that key has been pressed can be a real game changer, pardon the pun.
[column size=one_half position=first]
I did find that when typing there is a slight tinny echo on the keys which can be a little off-putting and doesn't exactly ooze premium quality.
In terms of key texture, the Reidea uses a slightly rough finish which helps with grips and stops sweaty fingers from sliding off the keys.
[/column]
[column size=one_half position=last ]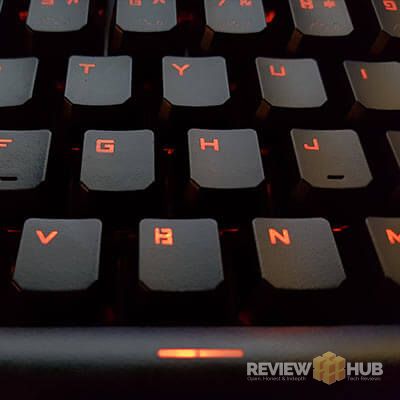 [/column]
Who are REIDEA?
Reidea are a relatively new brand who have ventured into the Gaming Keyboard market. To put your mind at ease they offer a full 30 day money back guarantee on their keyboards as well as an 18 months warranty and lifetime support.
30 Day Money Back Guarantee
18 Months Warranty
Lifetime Support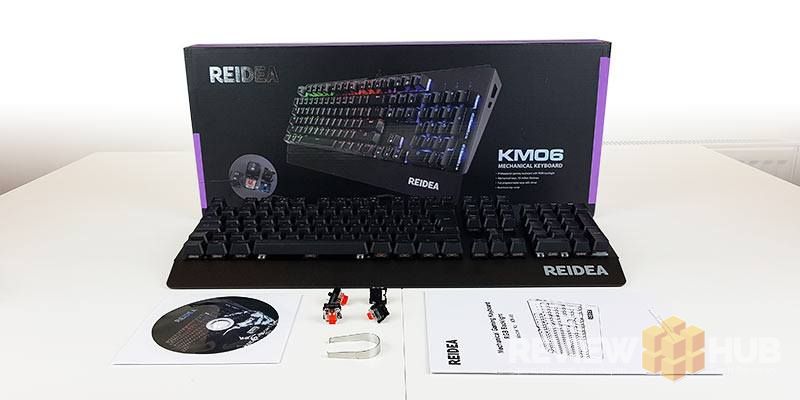 What's in the box?
Instruction manual in English, French & German, 4 spare red switches, a switch removal tool, LED software CD and the Reidea KMo6 keyboard.
The bottom line…
If LED lighting is high up on your agenda when looking for a new gaming keyboard then you might be left feeling a little lackluster with the KM06. They way the keys have been designed means that at an angle a lot of the LED light is lost.
That being said if you're looking for a well-built gaming keyboard with a decent warranty that won't cost and arm and a leg then I do recommend the Reidea KM06 keyboard.