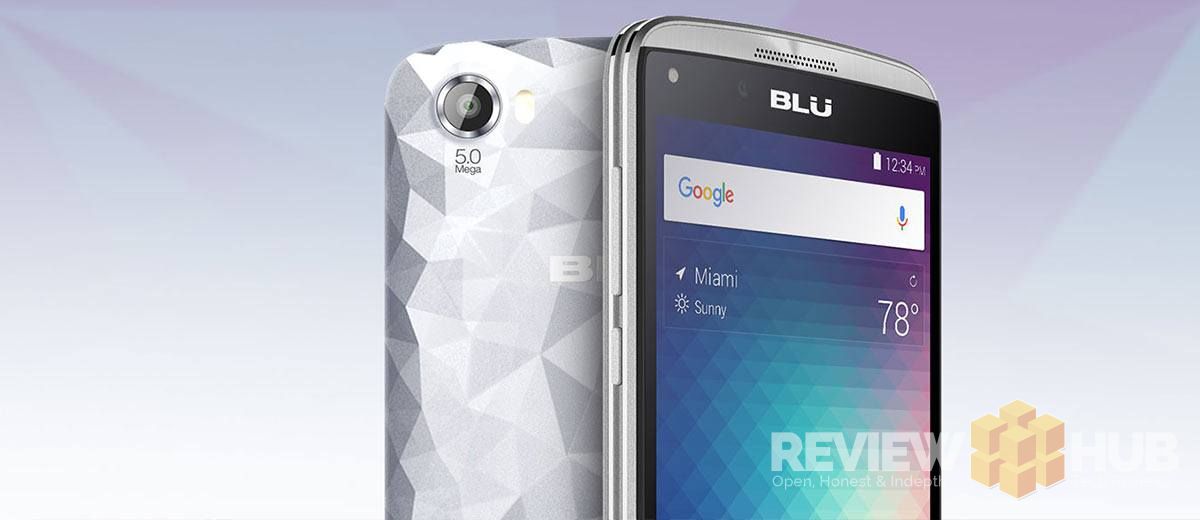 The new Blu Energy Diamond budget phone is easy to hold, easy on the wallet and comes packed full of battery life!

Blu has been taking the UK by storm, with a range of smartphones to suit everyone's needs from the tech savvy to the battery-life lovers. The latest Blu Android smartphone that we got our hands-on here at Review Hub is the Blu Energy Diamond which comes with a great design and a whopping 4000 mAh battery.
[column size=one_half position=first]
The Blu Energy Diamond is squarely focussed at the super-budget market and can be found new, on Amazon, for on very wallet friendly £59.99 (EU & US prices below). Since I'm a huge fan of budget smartphones, I'm very excited to see what the Energy Diamond has to offer.
(If you're wondering why I'm a big fan of budget smartphones it's because they allow anyone to access all that Android & the internet has to offer without having to take out long and expensive contracts.)
[/column]
[column size=one_half position=last ]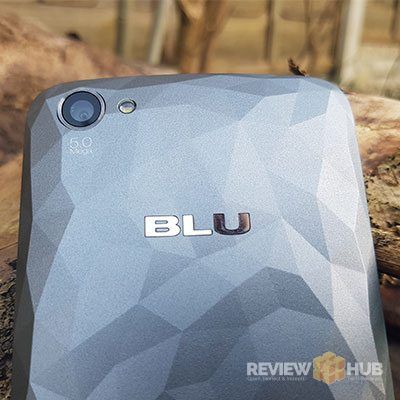 [/column]
You should also check out my Blu VIVO 5R Full Review as well! Coming soon.
So the questions is, just how much tech can Blu cram inside a phone that costs less than a train ticket to London?
First, let's check out the Pro's & Cons before I explore in-depth the Blu Energy Diamond Screen Quality, Performance, Software, Connectivity, Camera & Battery Life in full.

Fancy a Super-budget smartphone from Blu for only… UK : £59.99 | EU : €69.99 | US : $74.99
[column size=one_half position=first ]
What We Love

The Price
Build Quality
Design & Polygon Cover
Packaging & Accessories Included
LED Notification
Excellent Battery Life
Removable Battery
[/column]
[column size=one_half position=last ]
Could be better

Low resolution Screen
Poor Camera
Cheap Vibration Feeling
[/column]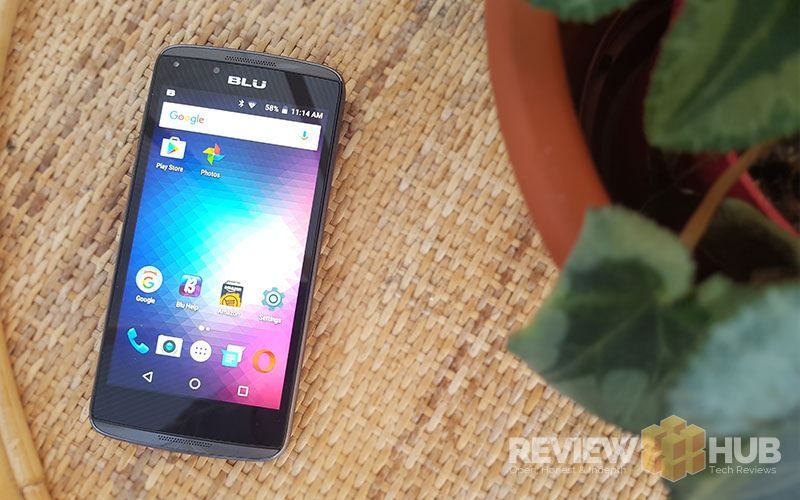 Screen Quality
It's been a while since I've seen an Android phone with a resolution of 480 x 854 as even on the super-budget Cubot phones I've reviewed we were still treated to 1280×720 resolution. Does this make much of a difference? Well… yes, as text doesn't look very sharp with the pixels being clearly visible.
It really depends on whether seeing pixels bothers you? Personally, I'm a pixel chaser and a HD snob, but I'm old enough to know that not everyone is. Take my Dad for example, he can't even tell if he's watching Planet Earth in HD or not. So don't be put off as the Energy Diamond is still perfectly usable, it just doesn't reach the crisp pixel perfect resolution that we're used to with full-HD.
In terms of colour and brightness, the Blu Energy Diamond does a good job with the phone being easily viewable indoors when set to around 50% brightness and viewable outside at 100% with some reflections. Viewing angles are also very good with little colour distortion even at extreme angles which is thanks to the screen using IPS technology.
[column size=one_half position=first ]
You won't find a pre-applied screen protector but there is one included in the box so I wish you the best of luck with putting that on! What you will find though, is on-screen buttons which I'm a big fan of. Although they do take up some of the 5″ screen real-estate you still get the added benefit of being able to see the buttons at night.
[/column]
[column size=one_half position=last ]
…a decent screen albeit with a low resolution…

[/column]
It would have been nice if Blu had added capacitive buttons as well as on-screen and then given us the choice between the two but this is a super-budget smartphone so I guess I can't complain.
I wasn't expecting great things from the Energy Diamond's screen and I was pleasantly surprised. Once you look past the outdated resolution, the viewing angles and colour reproduction aren't too bad for such a cheap device.
Screen Tech Specs: 480 x 854 resolution, 196 PPI, IPS LCD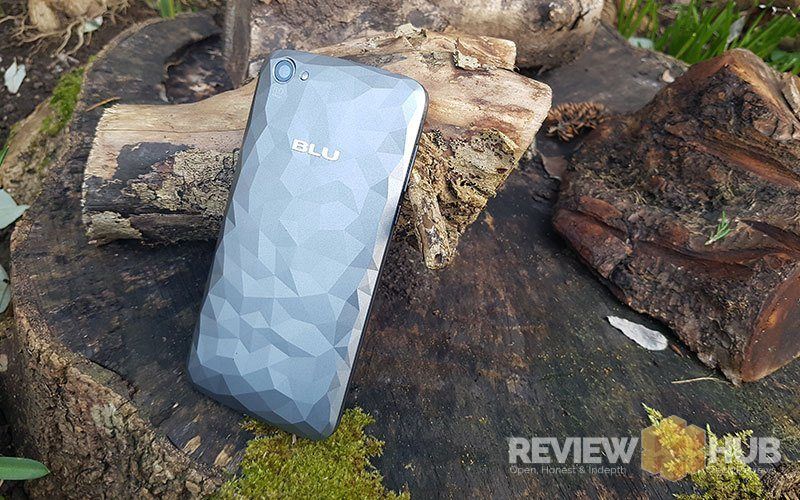 Design & Build Quality
The polygon curved plastic back of the Blu Energy Diamond is fun, looks great and fits into the palm of your hand well. Although the polygon shaped back looks like it would offer plenty of grip it's actually quite smooth but luckily the sides of the phone have a double groove making the Energy Diamond easy to hold even for a butter fingers like me.
Another benefit is that thanks to the curved back and grippy sides, picking up the phone off a flat surface is incredibly easy. This isn't high up on my smartphone agenda, but I'm sure it would be for some.
[column size=one_half position=first ]
When we look at the build materials it's an all plastic affair but this helps to keep the weight down. Weighing in at 184 grams means the Energy Diamond isn't a featherweight but when we consider (a) it's a budget phone and (b) it's got a 4000 mAh battery inside it starts to seem pretty reasonable.
[/column]
[column size=one_half position=last ]
…A solid phone with good build quality ..

[/column]
Performing the all important, scientifically proven squeeze, twist and shake test didn't reveal any weak or hollow areas. Also, the side volume rocker and power button are well secured and have a sturdy tactile press.
The Blu Energy Diamond feels much more than a super-budget Android phone. Even the fact that (at its thickest part) the Energy Diamond is, by today's standards, is a chubby 12.7mm, this is mostly disguised by the curve which even gives the Energy Diamond a hover effect when placed flat on a surface.
Overall, top marks to Blu for putting the effort in and creating a fun bespoke design style for one of their low-end budget devices.
Colours Available: Black, Blue, Pink, Gray & Gold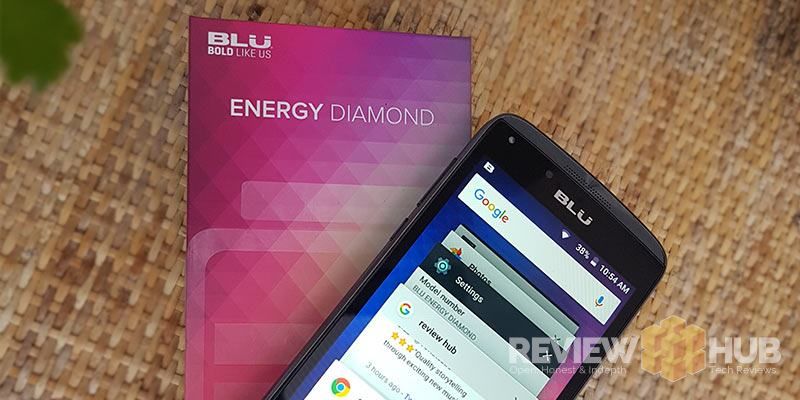 Hardware & Performance
The Energy Diamond isn't fooling anybody when it comes to performance of which it's rooted deeply into the budget end. Inside we find a MediaTek 6580 which although is a Quad-Core 1.3GHz processor, it's not one of the newest and only has 1GB of RAM to keep it company. This means that Android 6.0, although functional, does feel a little sluggish at times.
During my testing, I found myself having to wait just a little bit longer than usual for opening apps and web pages with the occasional stutter here and there.
[column size=one_half position=first ]
The budget decisions continue when look inside and find only 8GB of storage of which only a measly 4.3GB is left available for personal items such as Apps, Photos and Music. It's not all bad news though as the Energy Diamond comes with a dedicated SD card slot which will take up to a 64GB card. The benefit of a dedicated SD slot means that there's still two SIM slots spare for the dual-SIM functionality.
[/column]
[column size=one_half position=last ]
…a super-budget phone with super-budget performance…

[/column]
CPU: MediaTek 6580 (Quad-Core 1.3GHz)
GPU: ARM Mali-400
RAM: 1GB
Storage: 8GB ( 4.3GBusable) (read speed: 75MB/s , write speed: 22MB/s)
Expandable: Yes (Dedicated slot up to 64GB)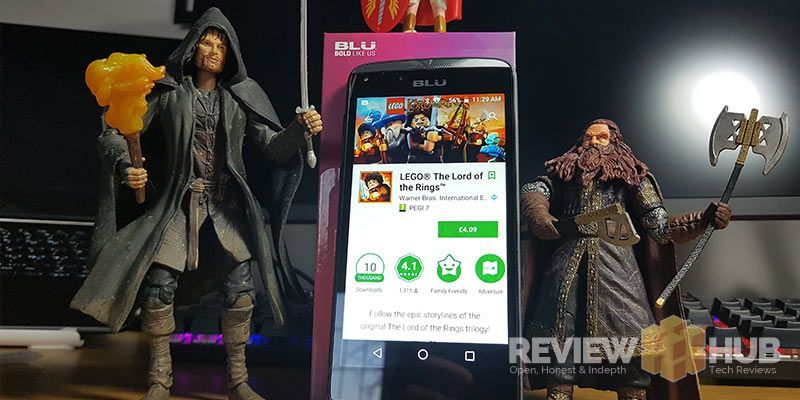 Gaming
Let's just say I wasn't expecting great gaming performance from a £59 smartphone with a low-end mobile processor and only 1GB of RAM to back it up.
Well, I was wrong. Thanks to the low resolution of the Energy Diamond, even with the outdated GPU it managed to play a variety of popular gaming titles with smooth gameplay.

[column size=one_half position=first ]
AnTuTu Benchmark 6

3D – 825
UX – 8979
CPU – 9622
RAM – 4306
Overall Score: 23732
[/column]
[column size=one_half position=last ]
Geekbench Score:
Single Core Performance: 418

Multi-Core Performance: 1200

[/column]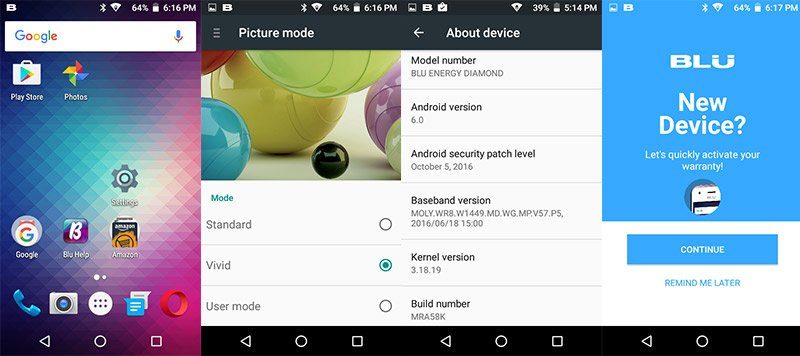 Software
After recently reviewing the Blu VIVO 5R, I was surprised to see that the Energy Diamond comes with a much closer to stock Android feel. Running Android 6.0 Marshmallow straight out of the box it even comes with all of the main Google apps pre-installed (Gmail, Photos, Drive, Maps, Chrome, Hangouts, etc) as well as a few of it's own apps such as the Blu App on the home screen that lets you register the warranty easily.
I've got a feeling that Blu have a little deal going on with regards to selling on Amazon as quite unusually you'll also find the addition of the Amazon App Store & Kindle Store pre-loaded onto the device. Luckily, these are all uninstallable, so if you don't want 'em, just bin 'em!
The one exception is that Blu phones come with McAfee Security baked into the OS, by default it's turned off and but if you want to switch it on you can find it under the Settings > Accessibility.
All-in-all, it's an almost bloatware-free version of Android 6.0 Marshmallow with the addition of a few added Apps, that are mostly useful but if not needed, easily deleted.
Other features include: Not Rooted, MiraVision (Colour tweaker), Bluetooth Smart Lock, SIM Management.

Speaker & Call Quality
The Energy Diamond uses one forward facing loudspeaker that has high max volume and leans towards the treble with weaker bass. It's rare to see front-facing speakers on any smartphones, never mind super-budget ones. The benefit of front-facing speakers is the improved volume and that your fingers don't block the speaker like on the Galaxy S7.

Making Calls (internal ear & mic quality)
Both the internal microphone and ear speaker are loud enough to hear and make calls clearly.

Battery Life
Battery life on the Energy Diamond is excellent thanks to the lower resolution screen and massive 4000 mAh removable battery that Blu have chosen to use. Changing the battery is as easy as flicking off the back cover and popping in a spare.
You won't find any fast charging but at his price I didn't expect to. In terms of cables, the Energy Diamond uses a standard Micro-USB port so will work with your old cables or the included cable and any USB plug. It's worth noting that you don't get a USB plug included in the UK version so if this is a gift you might want to add one.
Camera
To be able to sell a smartphone this cheaply and make a profit Blu had to make some sacrifices somewhere. One of those areas in the Camera.
Whilst not the worst smartphone camera, most of the photos I took look very soft. Close ups and macros worked the best with a few pleasing results.
You'll find the default lens feel very zoomed in, which can make it difficult to get those landscape photos in perspective. Not to worry though, as it's awful at landscapes photos, so just stick to the close ups.
[column size=one_half position=first ]
Using HDR mode helped a little with the dynamic range but overall just seemed to make images darker without improving the quality. Beauty mode isn't the best and creates a general area of softness around the face.
You can see the full album of test photos in this Blu Energy Diamond Flickr Album
Camera Features: HDR, Gesture Snap, Beauty mode, Smile Detection, Face Detection, Voice Capture, Timer.

[/column]
[column size=one_half position=last ]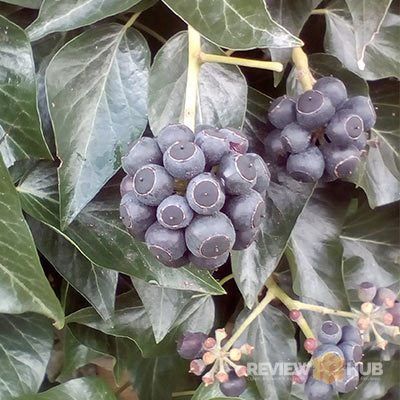 [/column]
[column size=one_half position=first ]
Rear Camera:
[/column]
[column size=one_half position=last ]
Front Camera (Selfie time):
[/column]
Connectivity
Another cost saving measure that makes sense for a super-budget Android phone is to leave out the 4G support which Blu have done with the Energy Diamond. For 3G, it supports the 2100MHz spectrum so it will work on any UK mobile network provider.
I haven't had a chance to test the GPS yet, but I'll take it out with Google Maps in the car and report back soon.
Frequencies Supported: GSM (2G) 850 / 900 / 1800 / 1900MHz, WCDMA (3G) 900 / 2100MHz
3G: YES
4G: NO
Full UK Coverage: YES
Bluetooth: 4.0
GPS: GPS, A-GPS
NFC: NO
Sensors: Accelerometer, Light sensor, Proximity Sensor
USB OTG: YES
USB Type: Micro-USB
SIM support:  Dual standby (Micro-SIM + Nano-SIM)
WiFi: 802.11b, g, n 2.4GHz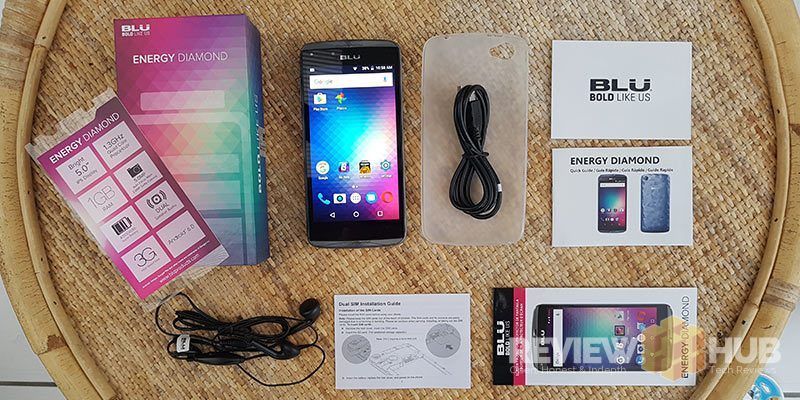 Packaging & Box Contents?
Inside the box, you'll find: Headphones with a hands-free microphone, USB to Micro-USB Cable, SIM Pin, Soft silicone transparent case, Warranty registration card, SIM Tray Instructional Card, Quick Guide and a screen protector.
All in all, it's a good haul that's well presented and easily matches the experience of opening the packaging of a bigger brand.
The bottom line…
In terms of design & build-quality the Blu Energy Diamond is an absolute steal. As with all budget phones, cut backs have to be made somewhere to keep the price down. Deciding whether the Energy Diamond is right for you, is deciding how high up these cut back are on your smartphone agenda.
The Energy Diamond Pro's are that comes with excellent battery life, good build quality and a fun design all with a very low price tag. Some of the cons are that suffers a little in terms of performance, lacks 4G and the screen resolution is a bit outdated.
If you're not a pixel chaser, don't need 4G and can live with the low resolution screen then I highly recommend that you check out the Blu Energy Diamond!
Has the Blu Energy Diamond tickled your tech buds?