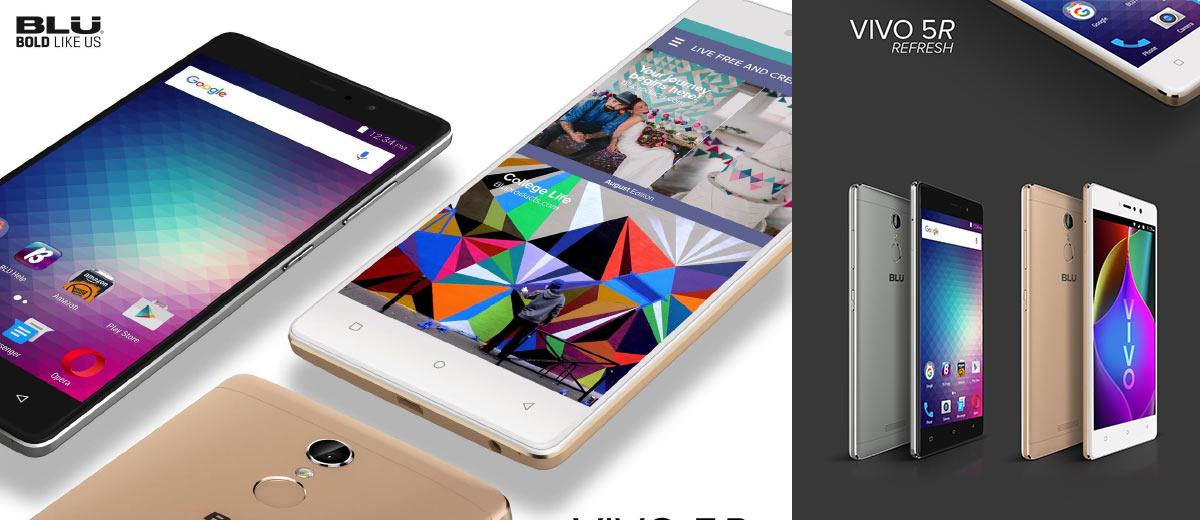 The Blu VIVO 5R offers real value for money! A strong Moto G4 competitor!

If you haven't heard of Blu smartphones before then you're really are missing out! They've gone from strength to strength recently and have now sold over 50 million devices worldwide whilst gaining exclusive deals with tech giants like Amazon.
[column size=one_half position=first]
Here at Review Hub, I've managed to get my hands on the mid-range Blu VIVO 5R which is a direct competitor to the likes of the ever popular Moto G4 but what's interesting is that the VIVO 5R has a few extra tricks up it sleeve, giving it the edge.
Featuring 32GB's of storage as standard, 3GB's of RAM and a powerful octa-core CPU, the VIVO 5R is starting to look very impressive. Then when you figure in that it's got a fingerprint sensor, Sony IMX class camera sensor and very competitive price-tag… things start to get really interesting.
[/column]
[column size=one_half position=last ]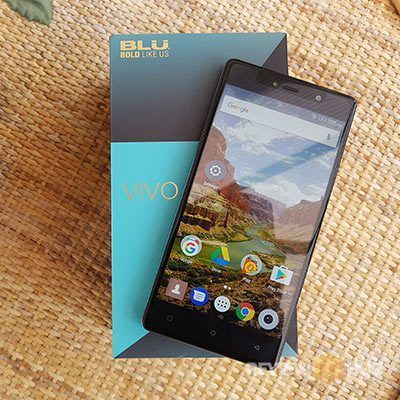 [/column]
So I've been thoroughly testing the 5R to find out if there are any kinks in the impressive VIVO 5R's armour!? Check out the quick Pro's & Cons below before I dive in-depth into this hands-on review looking at the Screen, Design, Performance, Features, Battery Life, Camera & Connectivity.

Like always, if you have any questions just scroll to the bottom of this review and leave a comment.
Grab yourself a mid-level bargain!
[column size=one_half position=first ]
What We Love

The Presentation, Packaging & Accessories
Great Full-HD display with good viewing angles
Lightweight, Metal Construction
Speedy & Responsive Android 6.0
Very Fast Fingerprint Reader
13MP Sony IMX Camera
Fast-Charge Ready
[/column]
[column size=one_half position=last ]
Could be better

No notification LED
Pre-fitted screen protector is too small
Heavily customised version of Android 6
[/column]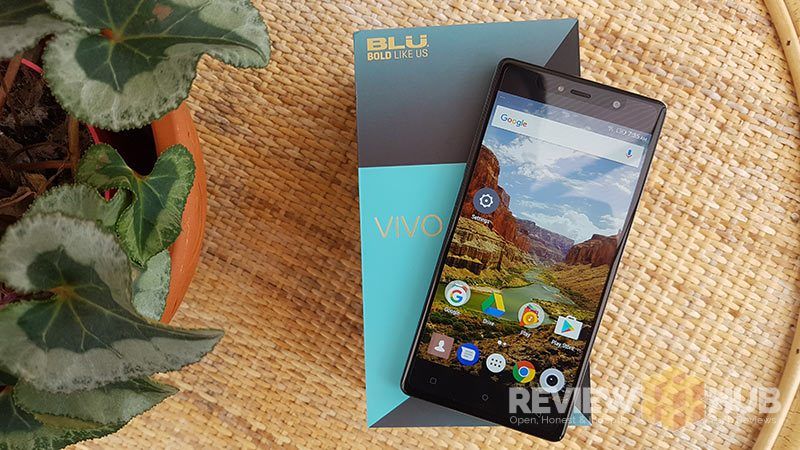 Screen Quality
After powering up the VIVO 5R I was impressed with the 5.5″ Full-HD screen. The colour profile is vibrant without looking oversaturated and images & text are crisp. The white balance is leaning towards a colder blue hue rather than a warm yellow or neutral white.
It's hard to describe in words but the screen has an almost paper-like quality to it with icons feeling like they are sitting on the very top of the screen… maybe I've just had one too many coffees… Viewing angles on the Vivo 5R LCD IPS screen are also impressive with no discolouration until it's tilted to extreme angles.
So with excellent colour, clarity and a colder white balance how does it fare when it comes to black levels?
The Vivo 5R strikes again, whilst not quite reaching the black level of the surrounding phone bezels the black level is still good for an LCD screen.
[column size=one_half position=first ]
Other screen features include the ever popular 2.5D curved glass effect and, although subtle in nature, it does help the phone slide into your hand more easily. The bezels are also fairly reasonable, whilst not razor thin they don't detract from the overall sleek and thin design.
It's not obvious at first which scratch resistant glass Blu chose for the VIVO 5R so I took the question directly to Blu and they confirmed the VIVO 5R uses standard Gorilla Glass 3.

[/column]
[column size=one_half position=last ]
…A great screen that's Crisp & Vibrant with excellent viewing angles…

[/column]
Overall all, you won't be disappointed with the screen quality of the VIVO 5R with the only drawback for me being it's not the brightest leading to reflections when in direct sunlight.
Screen Tech Specs: 1920×1080 resolution, 401 PPI, Gorilla Glass 3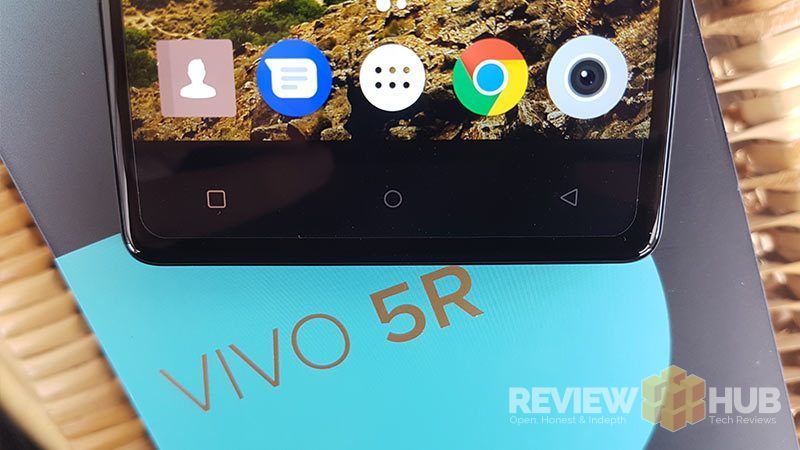 Design & Build-quality
Hats off to Blu as I'm a big fan of the VIVO 5R minimal slate-like design that ticks all the boxes. When looking for a new phone the build quality, thickness & weight are all high up on my agenda and the 5R has you covered on all three weighing only 165 grams with a metal body and coming in at a sleek 8.1mm.
To add the premium feel, the frame and battery cover are both made almost completely from lightweight aluminium with the only plastic coming in the form of the top and bottom antenna covers. These antenna covers look pretty authentic and it took the tooth test from me to confirm they were plastic.
[column size=one_half position=first ]
..8.1mm thick and only 165 grams with a 5.5″ display…

[/column]
[column size=one_half position=last ]
Adding to the minimal slate look of the 5R is the off-screen capacitive buttons that follow the traditional Android route of square, circle & triangle. It would have been nice to see the option of on-screen buttons as the off-screen buttons are missing any form of backlighting.
[/column]
Squeezing and twisting the 5R didn't reveal any obvious build quality weaknesses leaving the VIVO 5R feeling like a very solid slab of smartphone goodness. The edges of the solid aluminium frame have been chamfered to a high polish which reflects the light nicely and mimics other high-end devices currently on the market.
Well, let it be said that I really think Blu are punching above there weight with the VIVO 5R which boasts excellent design and build-quality that'll please all but the pickiest.
Colours Available: Slate Gray, Gold, Rose Gold.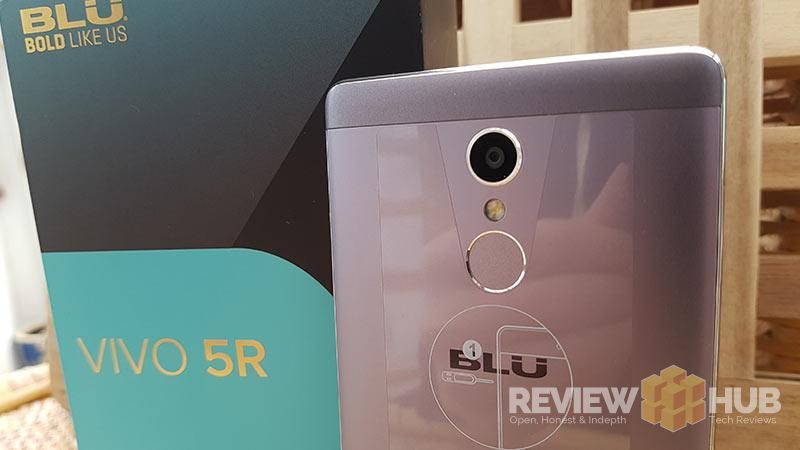 Hardware & Responsiveness
Performance on the Blu VIVO 5R has been impressively nippy with apps opening and closing instantly and no sluggish pauses.
The excellent performance is thanks to the 8 Core MediaTek 6753 which runs at 1.3GHz and works in two quad clusters which activate independently of each other to save power when needed. This is coupled with 3GB of RAM that makes light work of everyday tasks.
[column size=one_half position=first ]
One feature that really impressed me about the 5R is the rear-facing fingerprint reader. It's one of the fastest fingerprint scanners I've used and really puts my Galaxy S7 to shame.
[/column]
[column size=one_half position=last ]
…The MediaTek 6753 makes light work of Android…

[/column]
When we take a look at the storage of the VIVO 5R it comes with a respectable 32GBs of fairly fast onboard memory of which 7.7GB is system reserved leaving 24.3GB left for all your music and files. If you need even more space there's a micro-SD card slot that'll take up to a 64GBs card.
Overall the VIVO 5R is a well-equipped smartphone that's fast and responsive. Some geeky specs below.
CPU: MediaTek 6753 (8-Cores 1.3GHz, 64bit)
GPU: ARM Mali-T720
RAM: 3GB
Storage: 32GB ( 24.3GBusable) (read speed: 58MB/s , write speed: 78MB/s)
Expandable: Yes (up to 64GB)
Gaming
The Blu VIVO 5R wasn't built for high-end gaming and as such comes with the low-mid range Arm Mali-T720 mobile GPU. We put the phone through some popular mobile benchmarking tests below and you can also watch the video to see how it handles some popular Android Games.
It's a shame that Blu didn't go for a more capable mobile GPU in the 5R but you won't notice the low-end Mali-T720 unless you're into 3D mobile gaming.
[column size=one_half position=first ]
AnTuTu Benchmark 6

3D – 5434
UX – 15924
CPU – 12029
RAM – 4585
Overall Score: 37972
[/column]
[column size=one_half position=last ]
Geekbench Score:
Single Core Performance: 595

Multi-Core Performance: 2495

[/column]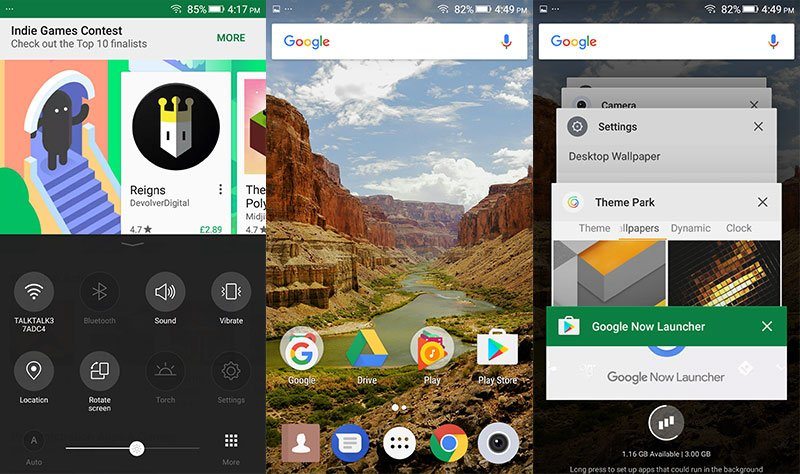 Android Software
This is where the VIVO 5R pulls away from the pack as it comes with a heavily customised version of Android Marshmallow. If you're on the search for a true Android experience like on Google Nexus / Pixel devices then you won't enjoy the VIVO 5R Android customisations.
On the other hand, if you're bored of every Android phone feeling the same? Then the VIVO 5R could be the refreshing change you're looking for!
For instance, the 5R shares a few software quirks with the iPhone such as sliding up from the bottom to access settings like Bluetooth, WiFi & Brightness. You also get app notification badges like we see on Samsung phone.
It's really down to personal preference. Lot's of the features that Blu have baked into their version of Android are quite helpful and improve the experience but then again there are the downsides too. I've listed below my VIVO 5R software Pro's & Cons.
Pro's to the custom OS
Customise battery percentage style
It feels new & refreshing
Some nice inbuilt widgets
App notification badges
Negatives to the Blu OS
Can't access Camera from Lock Screen without unlocking
Settings layout isn't familiar to Android Users
McAfee Security baked in.
Other features include: Not Rooted, Fingerprint management, Bluetooth Smart Lock, Screen Cast, SIM Management, Gesture Control, Glove Settings, Double tap-to-wake.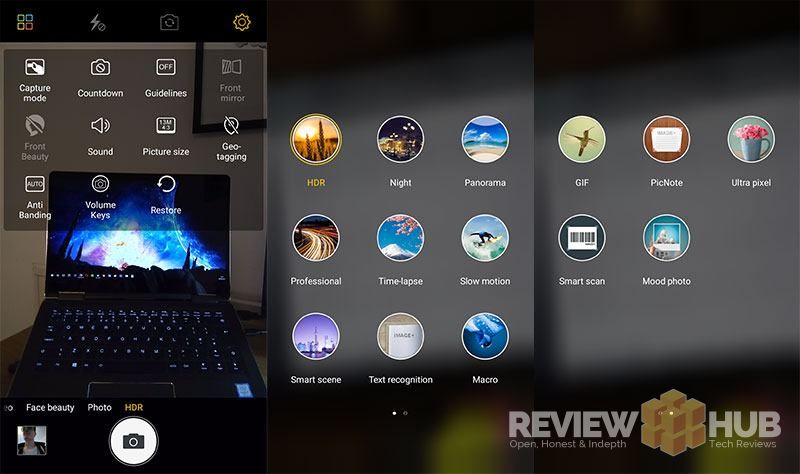 Camera
I was impressed with the Sony IMX258 camera sensor used in the VIVO 5R. The samples shots shown below were taken on a rainy day but still managed to pick out of a fair amount of detail.
Using the HDR mode tended to oversaturate the shot so I'd stick to using the standard automatic mode captured and you'll be able to get some nice wide outdoor snaps.
[column size=one_half position=first ]
It's nice to see that Blu have put a lot of effort into their camera app for the 5R which includes lots of unique modes that are all easily accessible through the camera app.
You can see all the VIVO 5R Camera Samples in this Blu VIVO 5R Sample Album.
Camera Features: HDR, Gesture Snap, Beauty mode, Live Filters, Face Detection, Timer, Beauty mode, Full-HD Video, Night Mode, Panorama, Slow Motion, Time-Lapse, Text Recognition, Macro, Pro Mode, Ultra Pixel, Gif Maker, Barcode Scanner

[/column]
[column size=one_half position=last ]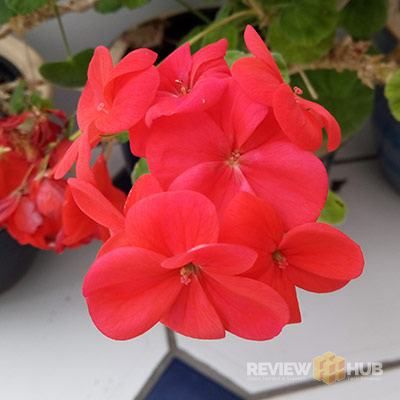 [/column]
[column size=one_half position=first ]
Rear Camera:
13 MP Sony IMX 258
Large Field of View
Single LED Flash
f/2.0 aperture
Phase detection autofocus
1080P Video
[/column]
[column size=one_half position=last ]
Front Camera (Selfie time):
8MP Wide angle
Bright Selfie Flash
[/column]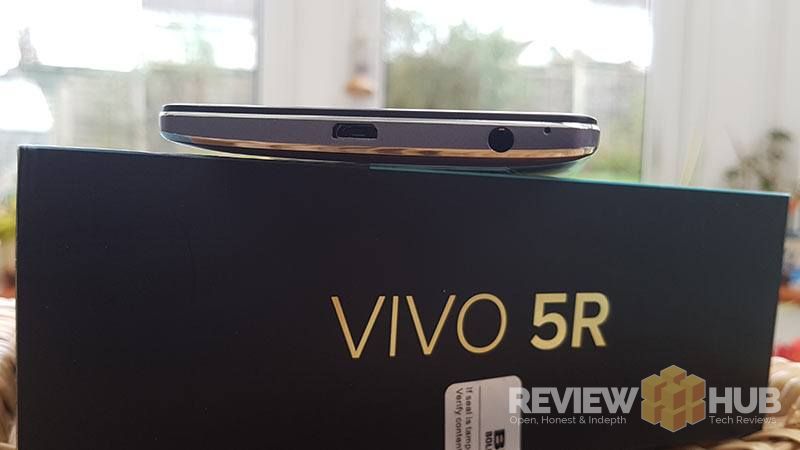 Battery Life
The VIVO 5R has decent sized non-removable 3150mAh battery that just about lasted me for a full day of taking photos, using social media and browsing the web. Whilst is used to be all about having a large smartphone battery the emphasis has shifted since the introduction of Fast Charging. The VIVO 5R comes equipped with 2AMP quick charge built-in that lets you reach 100% capacity twice as fast as normal.
The quick charge works best when topping the phone up between 20% and 80% which is perfect for adding a little extra juice to the 5R throughout the day.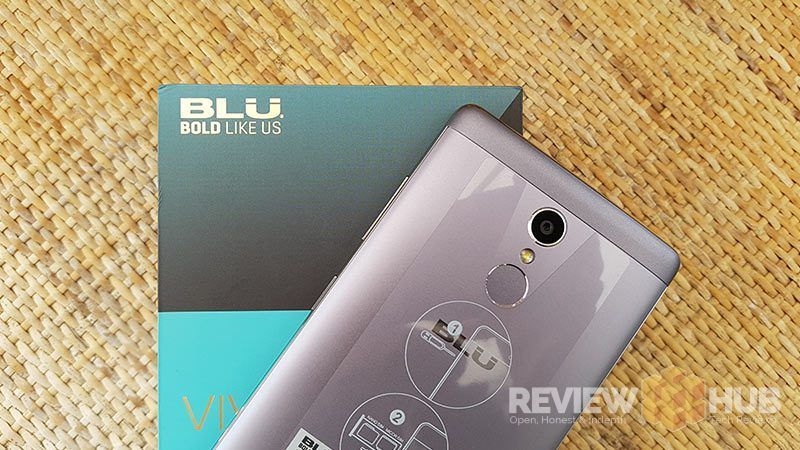 Connectivity
The Blu VIVO 5R comes with full UK network coverage across all networks. If you don't live the UK then you can check out this 'Will my phone work?' to see if it'll work on your network in your country of residence.
Whilst it is missing NFC, Dual-Band WiFi and USB-C in terms of connectivity it's priced well within the low-mid range segment of Android devices so can be forgiven.
Like most overseas unlocked phones, the Blu VIVO 5R comes with dual SIM functionality allowing you to have access to two networks without swapping SIM cards around. On the 5R, will have to decide between either dual-sim or single SIM + SD card as the 2nd SIM space is shared.
Frequencies Supported: WCDMA (3G) 900 / 2100MHz, LTE FTE (4G) 800(B20) / 1800(B3) / 2100(B1) / 2600MHz(B7)
3G: YES
4G: YES
Full UK Coverage: YES
Bluetooth: 4.0
GPS: GPS, A-GPS
NFC: NO
Sensors: Accelerometer, Light sensor, Proximity Sensor, Fingerprint
USB OTG: YES
USB Type: Micro-USB (custom length)
SIM support:  Dual standby (Micro-SIM + Micro-SIM)
WiFi: 802.11a, b, g, n 2.4GHz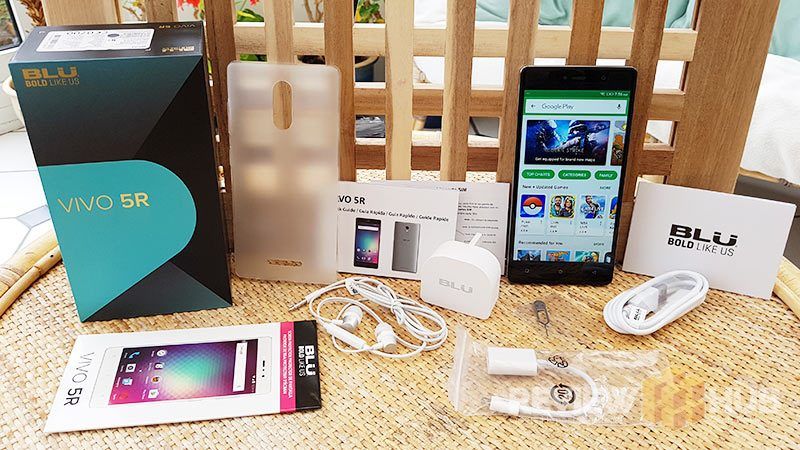 Packaging & Box Contents?
If you're like me, then you find the packaging and presentation play a big part in the whole experience of opening your new tech or gadget.
Well, you'll be pleased to know that Blu know a thing or two about creating a great packaging experience. Holding the outer box lets the inner box slowly slides out over about 5 seconds to reveal the Vivo 5R. ahhhhhh packaging heaven! You're then see the 5R which is surrounded by a soft velvety tray.
Digging deeper then reveals a whole treasure trove of accessories.
Inside the box you'll find: Headphones with Hands-free microphone, USB OTG cable, USB to Micro-USB Cable, SIM Pin, 1 Regional Plug (UK Three Pin), Soft silicone transparent case, Warranty registration card, SIM Tray Instructional Card, Quick Guide and a screen protector.
All-in-all a good haul, that's well presented and easily matches the experience of opening the packaging of a big brand.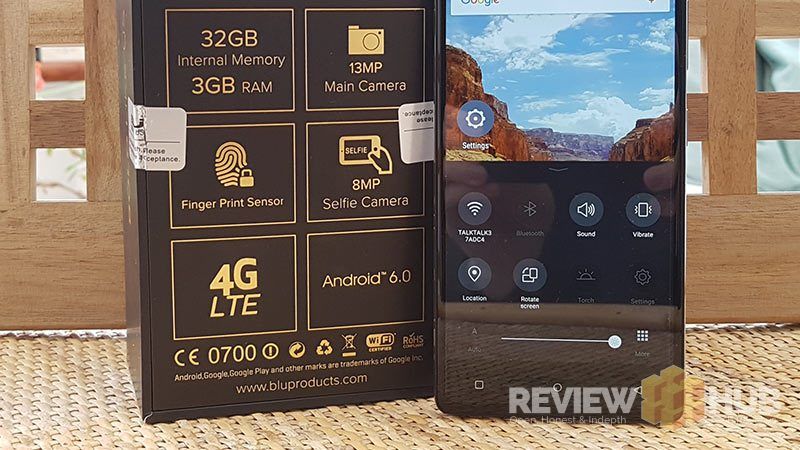 The bottom line…
The Blu VIVO 5R is a fantastic mid-range smartphone that delivers on Performance, Design, Build Quality & Photography. It covers all the essentials and is only missing on features such as AC WiFi, NFC and Wireless charging which are generally reserved for phones twice the price.
My big gripe with the 5R is that they've completely missed off any kind of notification LED which, for me, is an absolute must. If you can live without it, I highly recommend the VIVO 5R!
Has the VIVO 5R tickled your tech buds?