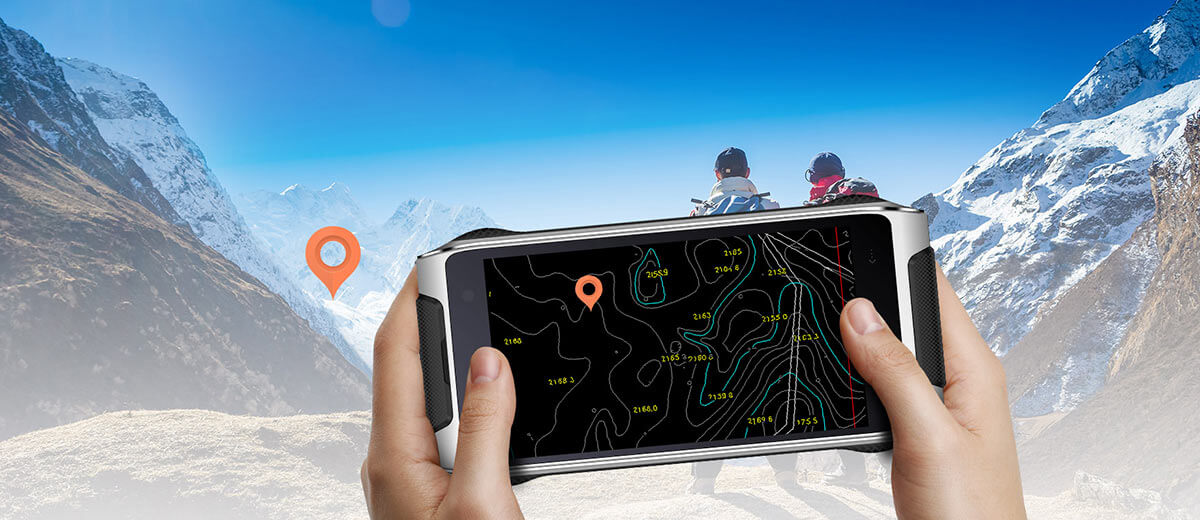 We get hands on with HomTom's latest Rugged Smartphone the droppable, fully armoured and IP68 waterproof HT20

When it comes to 'rugged' smartphones, like the HomTom HT20, there's definitely a specific type of person that they're aimed at. Controversially, I've divided these people into two distinct categories… the professionals and (like me) the clumsy!
Check out our Top 10 – Tough & Rugged Smartphones that'll Survive the Apocalypse!
There's those that, who due to their careers or hobbies, need a device that will resist knocks, bumps, drops, dust and the occasional soaking all whilst doing everything that a normal smartphone should. Then there are people like me who are prone to dropping any new expensive tech acquired and want some peace of mind.
[column size=one_half position=first]
The HomTom HT20 tries to cover both of these bases by not looking too much like it belongs in the tool section of a DIY store but still offering a high level of protection.
Typically cases that offer the same level of protection are only available for high-end devices so HomTom are filling a very valid gap in the market.
Under the hood, the HT20 looks like your typical budget smartphone with a 720P screen, 2GB of RAM and a MediaTek quad-core processor. It's also nice to see a fingerprint scanner, dual-SIM and even a separate dedicated memory card slot

[/column]
[column size=one_half position=last ]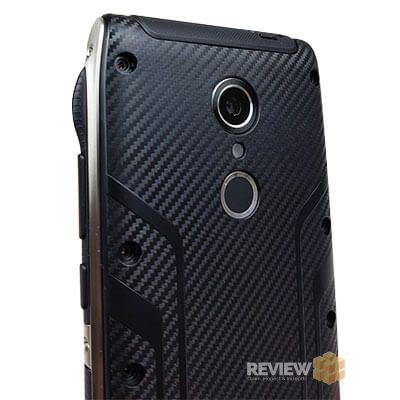 [/column]
You can check out the HomTom HT20 Pro's & Cons below and keep reading to find out how the phone fared in terms of Screen Quality, Build-Quality, Performance, Software, Camera Quality, Connectivity & Battery life.

This armoured android beast starts at… UK : £104.99 | EU : €119.99 | US : $127.99
[column size=one_half position=first ]
What We Love

IP68 Dust & Waterproof
Dual SIM
Dedicated SD Card Slot
Notification LED
Relatively thin for a rugged phone
Removable battery
[/column]
[column size=one_half position=last ]
Could be better

Screen viewing angles
Performance
Charging port
[/column]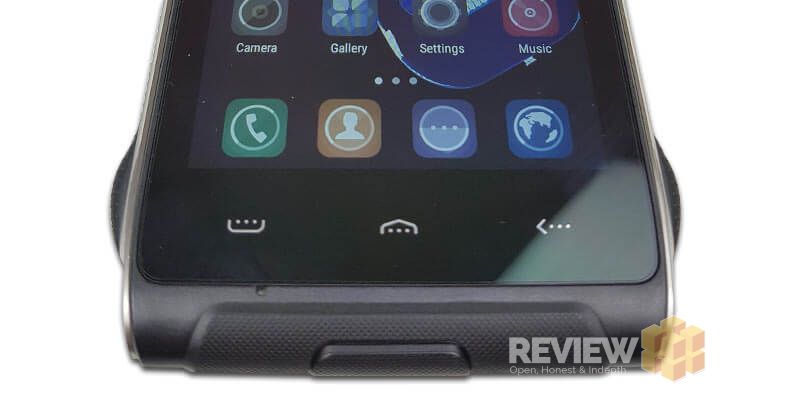 Screen Quality
Even if your phone is the most indestructible piece of technology ever built that will survive well into zombie apocalypse you're still going to be disappointed if the screen isn't up to scratch.
The HomTom HT20 features a rather mediocre 4.7″ 1280×720 display that's white balance leans very slightly towards a colder blue hue. Viewing angles aren't the best either with colours distorting quickly when you angle the phone but straight on, which is the 99% usage scenario, the screen looks like a typical budget display, distinctly middle of the ground.
Out of the box, the colours look a little under-saturated but there's an easy fix for this by heading to the settings and turning 'MiraVision' to vivid. This improves the overall colour accuracy and adds some much-needed vibrancy.
[column size=one_half position=first ]
Another nifty feature from HomTom is that the HT20 comes with a screen protector pre-applied and also includes a spare one in the box for good measure. The next thing you'll notice about the screen is that it has bezels big enough to keep your Granny happy! But, I can't fault the bezels as I'm sure they're all helping to enhance the HT20's ruggedness and allowing that all important 1.2 metres drop protection.
[/column]
[column size=one_half position=last ]
… bezels big enough to keep your Granny happy!…

[/column]
In terms of touch sensitivity, the screen works as it should with a light touch being registered even through the screen protector. HomTom also states that the screen is made from Gorilla Glass but they don't say which version and there's nothing mentioned on the box either.
Overall, the HomTom HT20 screen isn't anything special but it does the job with close to neutral whites and a middle of the range resolution.

Screen Tech Specs: 4.7″ Screen, Corning Gorilla Glass, 1280×720, 312 PPI


Design & Build-quality
As far as looking like a prop from Battle Star Galactica (like a lot of rugged phones), the HT20 doesn't do too badly and closely resembles a standard smartphone with a few extra armour tweaks. The carbon fibre pattern that has been etched into the rear of the phone helps to add grip and is visually appealing.
Once in your hands, you might be surprised at how light the HT20 feels compared to how heavy it looks. It's by no means a featherweight at 220 grams, but I was expecting it to feel a lot heavier with all the extra armour elements. Another surprise is that even though the sides are encased with a metal band the phone predominately feels like it's made from lightweight plastic.
[column size=one_half position=first ]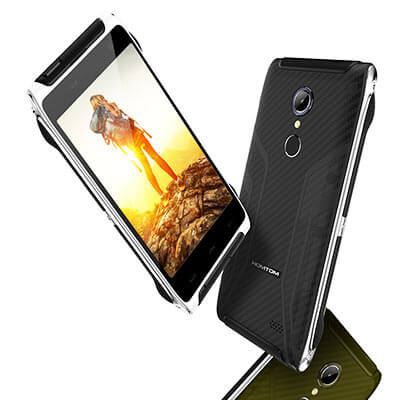 [/column]
[column size=one_half position=last ]
Squeezing and twisting the phone as hard as I could didn't reveal any creaking or movement at all which is reassuring.
It's only when we remove the back cover that things get really interesting in terms of the design. Rather than creating an o-ring type pressure seal, HomTom have used a waterproof membrane that seals over the battery & SIM trays.
To seal the phone further, HomTom have gone with the unusual approach of including a screwdriver with 8 screws, plus 8 screw caps in the box. Not the most friendly of designs and it means that you won't have any way of accessing the SIM, battery or SD cards when you're not a home.
[/column]
So just how rugged is the HT20?
Without throwing it off a bridge into oncoming traffic, I can only go off the small amount of time I've had with the device and my first impressions are good. Having the side made from metal and hard plastic drop points that protrude the phone should easily handle drops in one piece.
HomTom officially states that the phone will resist all drops from a height of 1.2m or less thanks to its military standard high-density PC material used.
The top of the phone has been reinforced with thick plastic to absorb drops and protect the headphone and charging port. There is a kink in the armour though because if the phone drops with the screen facing downwards there are no raised edges or lips to protect the screen from the impact. For an all round defence I would recommend adding a tempered glass screen protector to the HT20 for extra protection.
[column size=one_half position=first ]
..rugged design without bloating your pocket…

[/column]
[column size=one_half position=last ]
So what exactly does IP68 waterproof mean? It means, in theory, that the HT20 can be submerged completely in shallow water indefinitely. In reality, you probably shouldn't be swapping your GoPro for the HT20 anytime soon. As well as being waterproof to the above standard the rating also means that the phone is sealed against dust.
[/column]
Overall the HomTom HT20 has you covered pretty well against knocks and drops. I'm not 100% on the waterproofing method as it's prone to user error but in terms of dust-proofing, it should be fantastic.
Colours Available: Black, Orange, White & Army Green.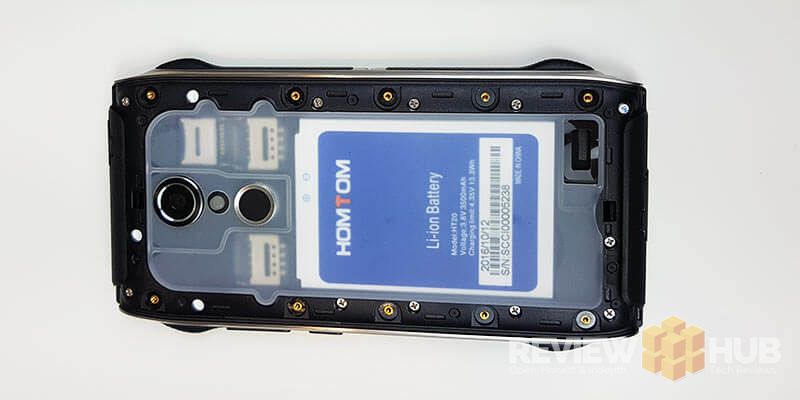 Hardware & Responsiveness
So now that we know how the HomTom HT20 can handle the most uncaring smartphone owners wrath, how does it perform day-to-day in terms of speed & responsiveness?
Inside you'll find the MediaTek MT6737, which is a low-end budget offering featuring a quad-core mobile processor with a max clock speed of 1.25Ghz. In terms of day-to-day performance whilst I was testing the HT20, it generally felt speedy until you opened a lot of apps, then switching between them would sometimes come with a small stutter but overall I found the phone to be very usable.
A tip for any Android phone that feels a little sluggish is to set the 'Windows Animation Scale' to 0.5s in the developer options. It's a little-known feature that makes your phone feel much more responsive.
[column size=one_half position=first ]
The Fingerprint Sensor
The fingerprint reader on the HT20 is fast and reliable unlocking the screen with minimal delay. Locking and unlocking the phone 20 times in a row, the phone unlocked every time which is better than my galaxy S7 so kudos to HomTom there.
[/column]
[column size=one_half position=last ]
…a very reliable fingerprint scanner…

[/column]
Storage
The HomTom HT20 comes with 16GBs of internal storage of which you'll get around 11GBs usable space after Android and the drivers have taken their share.
It's great news though as there is a dedicated SD Card slot allowing you to have a memory card and still use the dual SIM functionality.
CPU: MediaTek MT6737 (Quad-Core)
GPU: Mali-T720
RAM: 2GB
Storage: 16GB (11GB usable) (read speed: 52MB/s , write speed: 44MB/s)
Expandable: Yes (up to 64GB)
Software
Straight out of the box we're met with HomTom's rather bland custom ROM (Cooler OS) which looks a little dated and comes with its own set of muted icons that really make the screen look worse than it is. Not a problem though, as a quick trip to the Google Play store will let you install the launcher of your choice (I went with Google Now) which restored the Android App drawer functionality as well as the Google home screen search box.
A few minutes after connecting to the WiFi the device started downloading its first OTA update. Personally, I didn't notice a difference but the update said it has addressed a few known software issues but didn't mention which ones.
The HomTom HT20 comes pre-installed with Android 6.0 and at this price the likelihood is that you won't see any kind of OS update in the future. This isn't a big deal though as Android 6 Marshmallow is a great mobile OS that is very stable and power efficient.
Other features include: Not Rooted, MiraVision, LED Notification Management, Fingerprint management, Bluetooth Smart Lock, Screen Cast, SIM Management, Gesture Control, Turbo Download (4G + WiFi), HotKnot, Sound Enhancement.

Gaming
Don't expect the HomTom HT20 to run the top 3D Android titles smoothly as the combination of budget processor and low-end Mali graphics means it can struggle. As for the more popular 2D gaming titles, these don't require as much graphical power and all ran smoothly during testing.

I've posted the gaming and performance benchmarks below.
[column size=one_half position=first ]
AnTuTu Benchmark 6

3D – 2364
UX – 13170
CPU – 10143
RAM –4267
Overall Score: 29944
[/column]
[column size=one_half position=last ]
Geekbench Score:
Single Core Performance: 567

Multi-Core Performance: 1508

[/column]

Speaker & Call Quality
The external speaker is loud but distorts at the higher volumes. There is some tinniness and echo to the sound which is typical of most budget speakers. It also lacks bass and leans more towards the treble.

Making Calls (internal ear & mic quality)
To test the internal ear speaker and microphone I made a 5 minute call to and from the phone. The internal microphone sounds a little tinny but works fine and has a decent max volume. Receiving calls from the HT20 works perfectly with voices sounding true to life and full.

Battery Life
The HT20 comes with a 3500mAh removable battery that easily lasted the whole day during my testing. It would have been good to see a larger battery in a phone that isn't concerning itself with weight.
It's worth pointing out that they HT20 comes with its own extra-long ended USB cable. The design of the charging port means that regular micro-USB cables don't fit very well. I did manage to charge the HT20 from the standard cable but it would disconnect easily. This is worth bearing in mind as you will most likely have to carry the included cable around with you.
The included 2-pin charger doesn't feature any quick-charge capabilities and can be replaced with any standard USB charger.
PC Mark Battery Life Test:
With the brightness set to a very usable 50% the HT20 lasted for 8 hours and three minutes. The PC Mark Work 2.0 test simulates a variety of everyday Android tasks run repeatedly in sequence until the battery drops below 20%. For the test the phone wasn't connected to mobile data but bearing this in mind it's still a good battery test score.
Camera
Overall I thought the HT20 camera didn't perform too badly for a budget phone. The conditions on the day I took the camera samples weren't great with the sky being overcast and the occasional spot of rain making it tricky for the HT20.
[column size=one_half position=first ]
Generally, budget phone cameras perform well in sunny well-lit conditions but the HT20 managed to pick out a nice amount of detail in the samples pictures below. If having a decent camera is one of you main priorities then you'll be disappointed with the HT20 which is more suited to the occasional snapper rather than shutterbugs.
You can see all the HT20 Camera Samples in this HT20 Flickr Album.
Camera Features: HDR, Gesture Snap, Beauty mode, Smile Detection, Face Detection, Timer, Beauty mode, 720P Video
[/column]
[column size=one_half position=last ]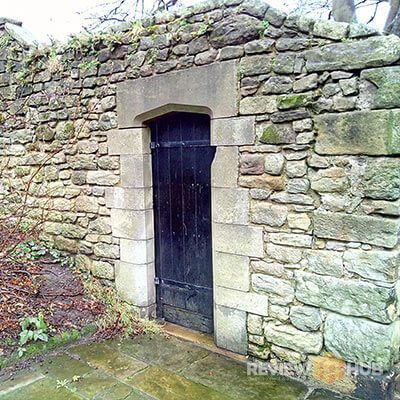 [/column]
[column size=one_half position=first ]
Rear Camera:
[/column]
[column size=one_half position=last ]
Front Camera:
[/column]
Connectivity
The HT20 comes with full UK network support, the most basic sensors and good GPS tracking. I took the HT20 out for a drive using Google Maps and the location tracking worked well. It's worth noting that it doesn't have a digital compass built in if you are looking to use the phone as an outdoor aid.
[column size=one_half position=first ]
In terms of SIM Connectivity, the HT20 has two micro-SIM slots that are underneath the waterproof membrane. To use these slots you need to slide the metal latch towards the camera and then lift the metal brace upwards.
To access the dedicated SD card slot you need to slide the metal latch towards the bottom of the phone. The SD card slot takes 1 micro-SD card up to 64GB in size.
[/column]
[column size=one_half position=last ]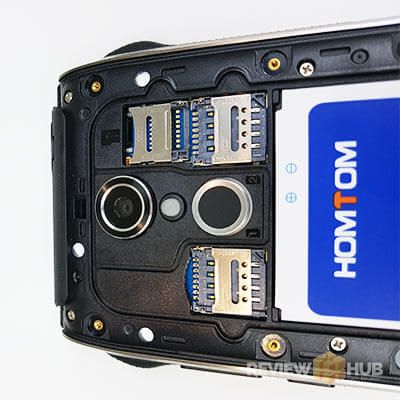 [/column]
Frequencies Supported: GSM (2G) 850 / 900 / 1900 / 2100MHz, WCDMA (3G) 900 / 2100MHz, LTE FTE (4G) 800(B20) / 1800(B3) / 2100(B1) / 2600MHz(B7)
3G: YES
4G: YES
Full UK Coverage: YES
Bluetooth: 4.0
GPS: GPS, A-GPS
NFC: NO
Sensors: Accelerometer, Light sensor, Proximity Sensor, Fingerprint
USB OTG: YES
USB Type: Micro-USB (custom length)
SIM support:  Dual standby (Micro-SIM + Micro-SIM)
WiFi: 802.11a, b, g, n 2.4GHz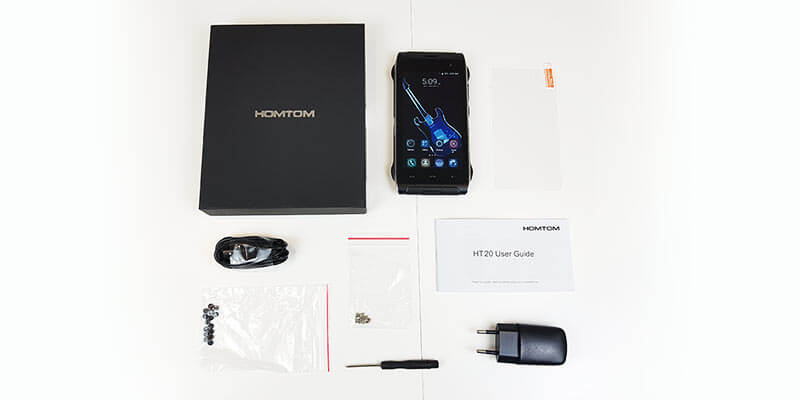 What's in the Box?
The HT20 comes in pretty standard square shaped box but with some unusual contents. A mini-screwdriver, 8 screws, 8 screw caps, Custom USB Cable, 2-Pin Charger, User Guide, Spare screen protector & 1 HomTom HT20 smartphone.
Final thoughts on the HomTom HT20
It's a difficult decision deciding on whether the HT20 is a good smartphone option. It really depends on whether you need the rugged form factor of the HT20. Finding a phone for just over the £100 mark, that is IP68 waterproof, 1.2m drop-proof and includes a fingerprint scanner plus a budget-decent camera isn't an easy task.
On the other hands, if you don't need the rugged exterior or the IP68 waterproofing then there are better options around that come with improved performance, smaller bezels, weigh a lot less and have better quality screens.
Should you go out and grab yourself a HomTom HT20? it really depends on how clumsy you are!

Check out the latest HomTom HT20 Prices below… UK : £104.99 | EU : €119.99 | US : $127.99