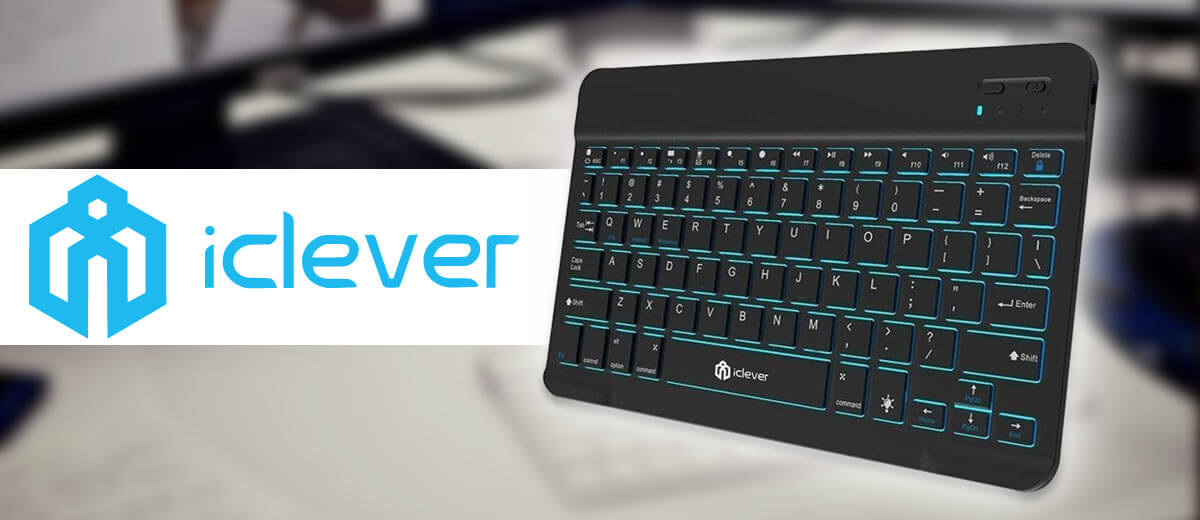 The iClever IC-BK04 is a compact Bluetooth keyboard with full Android/iOS/Windows compatibility.
It's small, light and has colour-changing backlights in the keys, but does it have enough to distinguish itself in a very crowded market segment?
The portable iClever IC-BK04 starts at… UK : £20 | EU : €20 | US : $20
[column size=one_half position=first ]
What we love

Small and light
Quick to pair
Nice backlights in keys
Good battery life
[/column]
[column size=one_half position=last ]
Could be better

US keyboard layout
Bends easily
Missing rubber feet
[/column]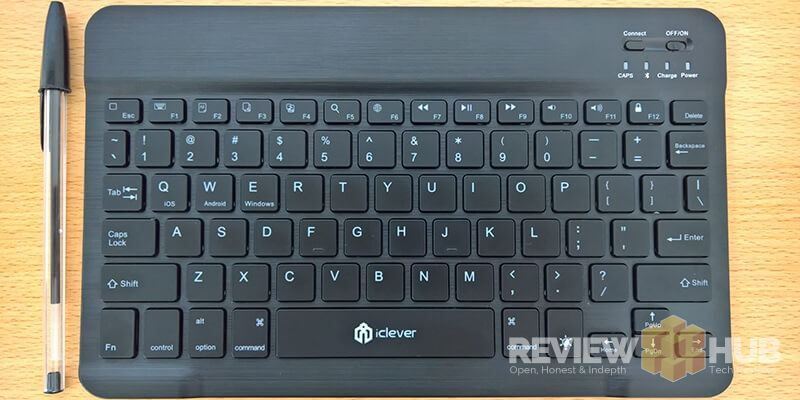 Design and Construction
My first impressions of this keyboard are very positive. It's compact, light and feels well put together. I checked the manufacturer's reported dimensions and can confirm that they are correct at 247.5 x 150 x 6.5 mm.
You won't find a weight reported in the specifications so I dug out the old electric scales and it recorded a mere 216g, which is easily light enough to throw in your bag and forget about.
[column size=one_half position=first ]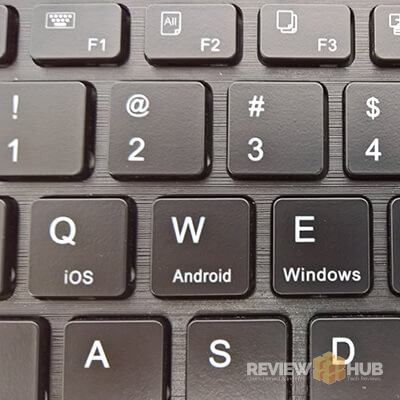 [/column]
[column size=one_half position=last]
Unfortunately for us little islanders, like of lot of import keyboards, the iClever IC-BK04 uses a US-layout. What this means for you is that when you connect the device it will operate based on the language setting of the device it connects to.
As all the devices I connected were set to UK keyboard this meant that a few keys weren't where they were supposed to be. Mainly the '@' and " symbols. You also won't find the £ symbol on any key, although you can still input this using shift+3.
[/column]
Like me, you might be surprised to find that iClever left off the rubber feet from on the back of the keyboard which allows it to slide around a little when on smooth surfaces. I remedied this by using a couple of these rubber feet from Amazon on the top corners which resolved the issue.
Aside from the sheer tininess of this keyboard the main USP has to be the LED backlit keys. There are 7 different colours to select from, and you can also adjust the brightness of the light. This is great for when you're typing in darker environments, and the option to select the colour means you can match your own ambient vibes. I've tried to capture the effect in the image below but, believe me, it's much more impressive in person!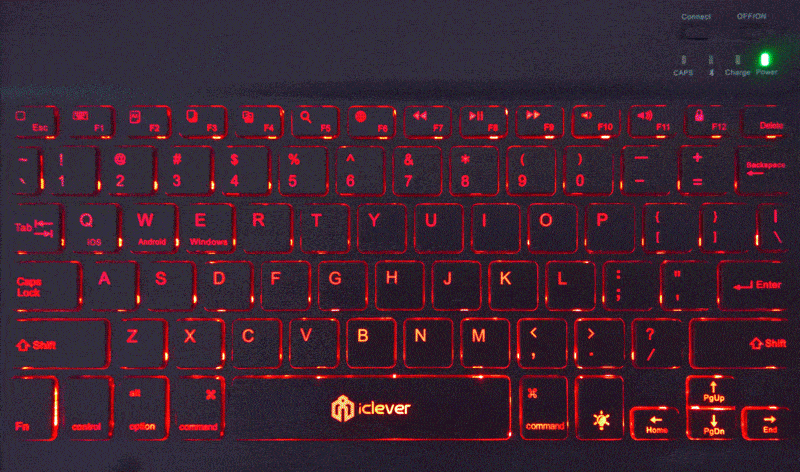 Connectivity
Utilising the Bluetooth 3 standard the keyboard connects to a variety of mobile devices easily. So far, I've managed to get it to connect to a number of Android, Windows and Apple phones, as well as a couple of different Windows laptops, Android, Apple and Amazon Fire tablets and an Amazon Fire TV stick.
[column size=one_half position=first ]
Pairing and connecting is a breeze and changing between operating systems (iOS/Android/Windows) is as easy as pressing the function key and the corresponding OS key.
These keys are handily labelled so you don't need to remember which is which, and the power LED will light the corresponding colour to tell you that the switch is complete.
[/column]
[column size=one_half position=last]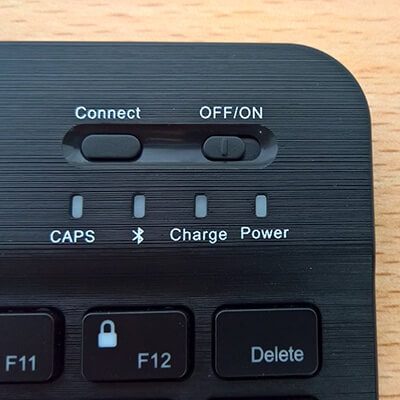 [/column]
Ease of Use
Being an extremely compact keyboard I had my doubts about how usable it would turn out to be. While it took a little getting used to, within a few minutes I was able to touch type with relative ease. The keys themselves don't feel too delicate but I would certainly avoid being overly heavy handed with this keyboard.
The keys are a little smaller than standard 'chiclet' keys, and also a little closer together which is a by-product of keeping everything so compact. This is not too much of a problem in light use but I found that after about a half-hour or so it began feeling a little cramped.
There are a number of function keys at the top of the keyboard which provide handy shortcuts including media options when combined with the Fn key, and these can be of great help especially when using the iClever with mobile devices.
Durability
Being so small and light of course the iClever keyboard needs to be looked after somewhat. I keep mine in my laptop bag, in its box, and it withstands the daily journeys into work and has had a few train trips so as far without any issues.
Something to bear in mind though is that it bends when put under moderate force, but this is the tradeoff for it being so light and I don't see this being an issue in general use.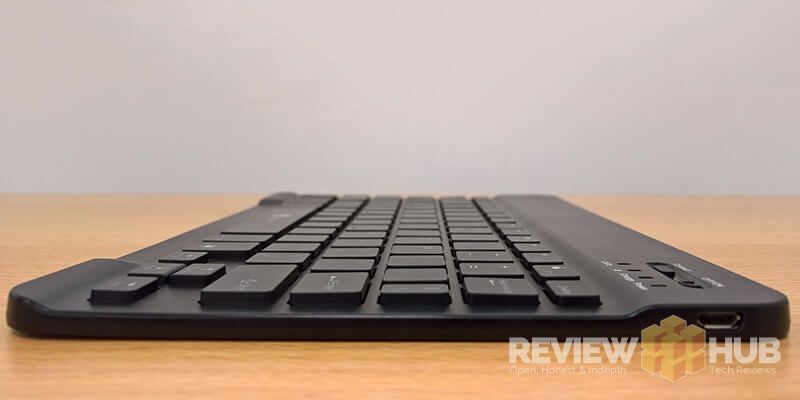 Battery Life
[column size=one_half position=first]
With a battery rated at 500mAh I knew that the standby time on the iClever would be pretty good, but it surpassed my expectations. I charged the keyboard when I took delivery of it around 4 weeks ago (it took around 3 hours) and it's still going strong. The product specifications state a standby time of 120 days, and 200 hours of use – I've not hit either of these milestones so can't comment for sure that these figures are accurate but initial impressions are very good.
[/column]
[column size=one_half position=last ]
Good battery life is a major plus point & surpassed my expectations
[/column]
The spec sheet does state that battery life is shortened dramatically when the backlight is used, but I've not used the keyboard a great deal in the dark. While they are a very cool feature, I'd expect most users to only actually need to use the lights infrequently – though, you may find you activate them more often just because they look so good!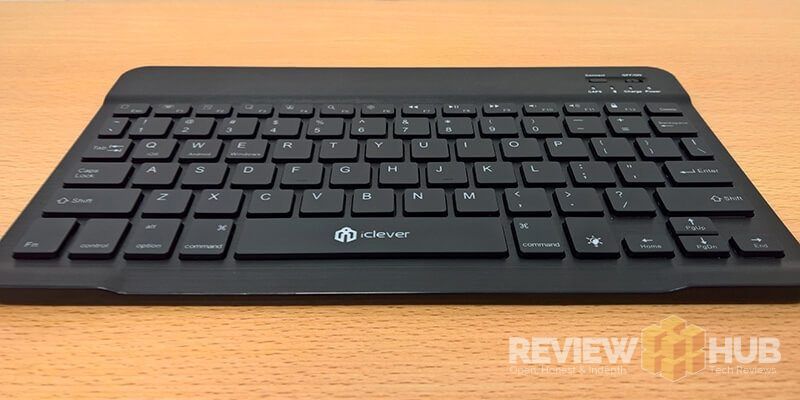 Overall
I can't really find a great deal of fault with this keyboard, especially at this price. It is easy to pair with whatever device you want to use it with, and comfortable to use in short sessions. The backlights look great and the battery life is impressive.
A minor moan would be the US layout, though as long as you remember to set the location correctly in your connected device it will still function as a UK keyboard. Its slight flimsiness is down to the major positive of its lightweight construction, and treated correctly I can't see it really being a problem.
If you're looking for a lightweight, easy to use Bluetooth keyboard then you should definitely consider the iClever IC-BK04 as an option.
If the portable iClever IC-BK04 keyboard has tickled your tech buds you can check out the latest prices below…
If you have any questions on the iClever IC-BK04 please ask in the comments section below!