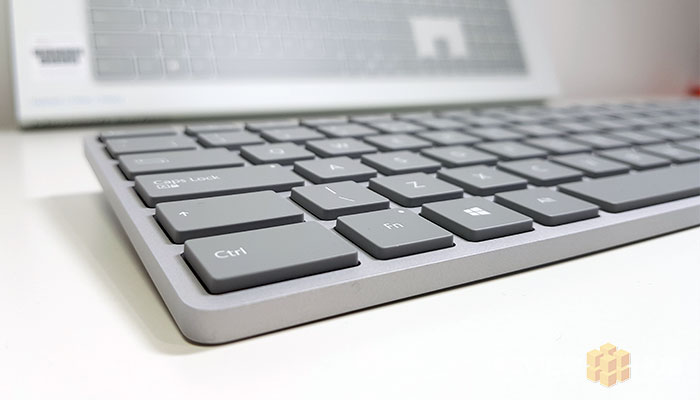 There's no denying the Microsoft Surface Keyboard is a thing of beauty, but does it deserve to be crowned as the Ultimate Windows Keyboard?
Unboxing the Microsoft Surface Keyboard is a real treat. The muted grey keys set against  the aluminium body is a sight to behold.
And I think Microsoft knows, as they didn't wrap the keyboard in any plastic or hide it behind a sheet of protective card. They wanted you to see the beauty of this keyboard from the moment you slide open the box.
Related: Microsoft Keyboard – Modern Vs Surface Vs Designer Vs Desktop 900
If you've not heard of the Surface Keyboard before, it's advertised as a portable keyboard for the Surface Tablet. But in reality, it's a little big to be lugging around and is a fully fledged desktop keyboard with a number pad to match.
So that's what I'm going to review it as. A permanent stationary keyboard for those who want the best in life.
Well I've had the keyboard at my desk for 4 weeks now, alongside the Microsoft Designer Keyboard and the Microsoft Wireless 900 Keyboard.
And without giving it away, the Microsoft Surface Keyboard isn't the best Microsoft has to offer…
So let's get to it, here is my full hands-on Microsoft Surface Keyboard Review.
View this week's best Microsoft Surface Keyboard Offers
[column size=one_half position=first ]
Pros
Looks Amazing!
Good Travel
Premium Minimalist Metal Design
Useful Function Keys
Solid Build Quality / No Flex
Reliable Connection
[/column]
[column size=one_half position=last ]
Cons
Noisy Spacebar
Keys Aren't Backlit
Very Minimal Tilt / Low Clearance
[/column]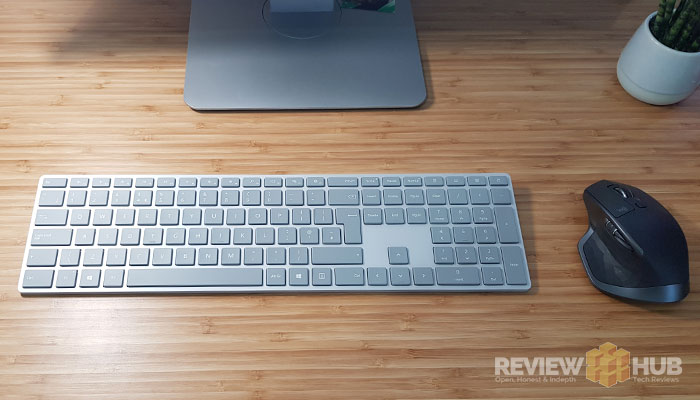 Design & Build Quality
If you're reading this review, then you're interested in the Surface Keyboard, and that also means that you care about design & build quality.
Anyone can order a basic keyboard off of Amazon that'll get you from A to Z. But the Microsoft Surface keyboard markets itself as the creme-de-la-creme, an Apple alternative for Windows users.
Featuring minimal grey chiclet keys over a solid piece of aluminium certainly feels very Apple, but does the flagship Microsoft keyboard live up to the hype?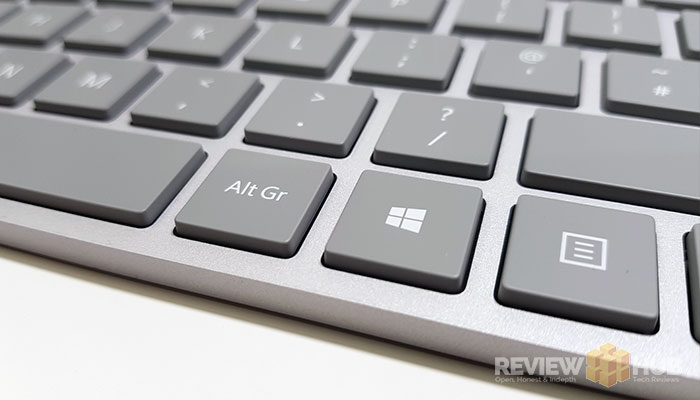 The minimal styling is continued through the packaging. As you open the box, you're met with the keyboard in the flesh. No wrapper, not polystyrene, just the keyboard and two minimal booklets. Even the batteries are pre-installed so as not to disturb the packaging's feng shui.
Once in your hands you get that 'ahhhh cold to the touch' premium aluminium feeling and trying to bend / twist the keyboard shows zero flex.
Typing, Travel & Layout

The chiclet-style keys feel very much like a laptop. So much so that when first using this keyboard I kept reaching for my non-existent laptop touchpad.
My first big issue with the Surface keyboard became evident after only a few minutes typing. The spacebar is incredibly noisy and the rest of the keys aren't quiet either. I'd find myself losing my train of thought after hitting the 'spacebar'.
As with all new keyboards what might annoy you to begin with, can soft and even disappear over time. Is the keyboard changing? No, just your tolerance. Since I switch keyboard a lot, the high-treble loud spacebar is driving me crazy!
If you're looking for a similar keyboard but with much quieter keys, you should read our Hands-on Microsoft Designer Keyboard Review.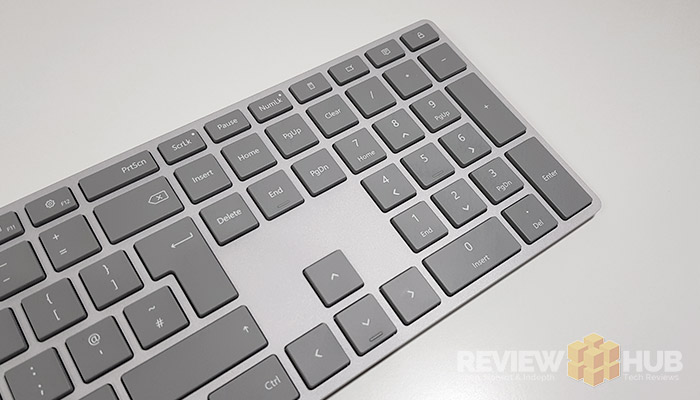 Noise aside, typing on the Surface Keyboard feels good. You can comfortably rest your fingers on the keys but still press them with the slightest nudge. There's no learning curve and you can begin typing away immediately.
Similar to a laptop keyboard, the 'F' keys and Functions keys share the same row. TO switch between you can either press or hold the 'Fn' key which has a handy backlight as well.
The function keys are useful covering everything from Volume, Media Controls, Brightness, Search Cortana, Task View, Settings, Calculator, View Desktop, Email and Lock. We also have a right-click key to the right of the spacebar. Copy / Paste is a stretch though even with my fairly large hands.
The only compromise is the undersized 'Enter' key which could have easily been fixed by shaving a few mil off the Caps Lock.
Finally, the angle of the keyboard is low without any way to adjust. Also if the keyboard isn't a flat surface, it suffers from wobble.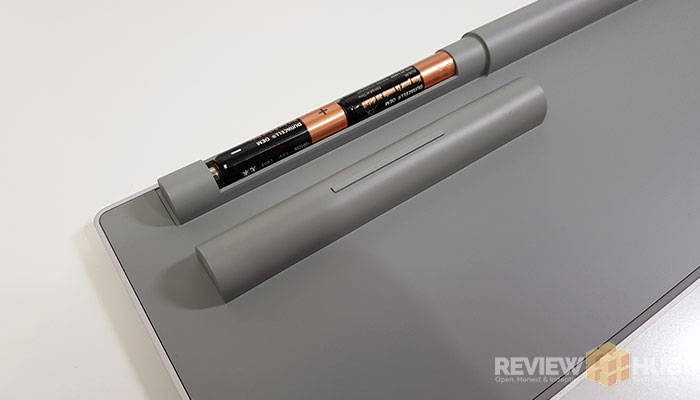 Connectivity & Battery Life

The Microsoft Surface Keyboard connects via Bluetooth and is compatible Windows, Mac, iOS & Android. It connects reliably to Windows 10, just asking for a numeric pin the first-time and then auto-reconnecting afterwards.
The keyboard hasn't suffered from any latency issues and the Bluetooth connection has been stable.
If you flip the keyboard over, you can see the magnetic battery cover hiding two regular AAA batteries which offers between 6-12 months depending on usage.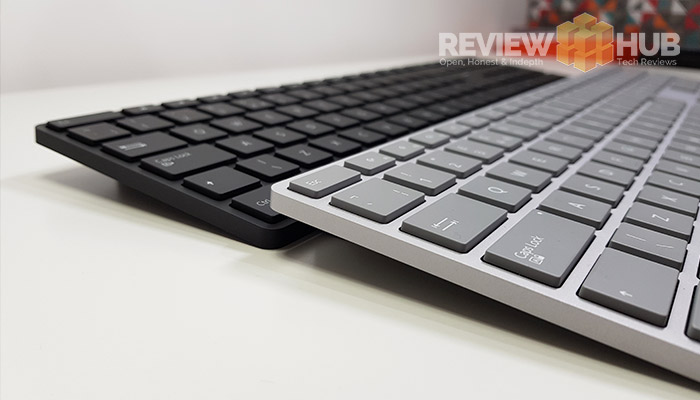 Microsoft Surface Keyboard – The Verdict
I really want to love the Microsoft Surface Keyboard! The premium aluminium build quality, grey keys and function keys makes it very desirable!
But the noisy keys are enough to put me off and make me stick with my Microsoft Designer Keyboard, which while nowhere near as pretty, get the job done much more quietly.
If you're not an avid writer or don't mind noisy spacebar's, then maybe the Surface Keyboard will work for you. For now, the quest for the ultimate Windows keyboard continues.