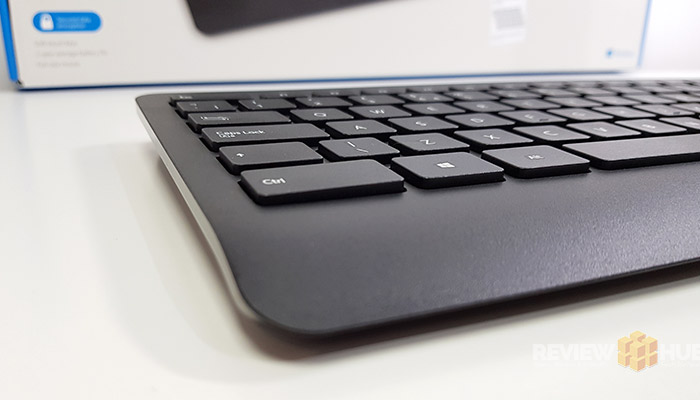 The Microsoft Wireless 900 Desktop Keyboard Set is a Big Fat Disappointment
Having recently spent many hours with both the Microsoft Surface Keyboard and the Microsoft Designer Bluetooth Keyboard, I'm left utterly flabbergasted with how poorly this keyboard performs.
Related: Microsoft Keyboards – Modern Vs Surface Vs Designer Vs 900 Desktop
On paper, it looks like Microsoft has created a sleek 'Designer Keyboard' alternative that keeps the dark looks but has a more affordably price-tag.
Too good to be true right?
… typing on the Wireless 900 is like typing in mud …
If your idea of 'quiet-touch keys' are muddy awkward keys & if your idea of premium Microsoft build-quality is budget cheap plastic? Then maybe, only maybe… you'll love the 900 Desktop Set. Personally, I just don't have the finger stamina to wrestle with this keyboard.
Wondering whether this review gets any better? Let's find out!
Order your Muddy Desktop 900 Now!
Pros
Batteries Included
Encrypted AES
Wireless Connection is Stable
Cons

The Muddy Quiet-touch Keyboard
The Keyboard Lettering is Cheap
Tiny Enter Key
It's a Finger Workout
The Mouse is Awful
The Price is Too High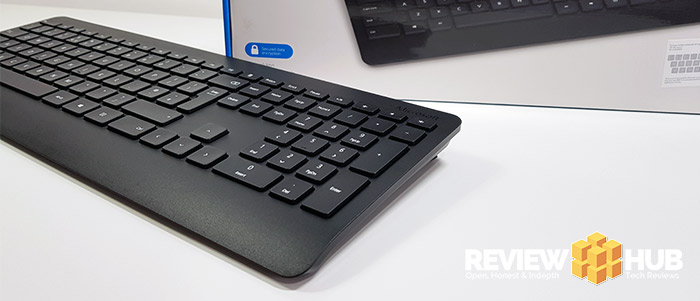 Design & Build Quality
While the marketing pictures online portray the Microsoft Wireless 900 Desktop Set as a sleek minimalist option, it's only after unboxing that reality hits you hard in the face.
Packaged very similarly to the Microsoft Designer Keyboard, I wrongly got my hopes up. These two keyboards are worlds apart! The 900 is very much a budget keyboard with a cheeky mid-range price tag.
I'll go into more detail on the layout and what it's like to type on the 900 later, but for now, let's talk Design & Build Quality.
The keyboard feels solid-ish but with a small amount of central flex. Although, this is accentuated by the bounciness of the keys especially when typing near the unsupported centre.
The first big tell that this keyboard isn't in the same league as the Modern, Surface or Designer Keyboard, is the cheap plastic used throughout. It's that slightly rough plastic you find on budget products. And while durable it isn't exactly desirable.
Look a little closer, and the budget-ness continues into the key letter printing. Each letter has a visible sticker surround with a low-quality letter printed onto the plastic key caps.
On a plus note, the dark design is inoffensiveness hides greasy fingerprints well. From a distance, … it don't look too bad! …
And don't even get me started on the Microsoft 900 Desktop Mouse. Let's just say you'll be looking on Amazon for a replacement soon.
All of the above comments could be smoothed over somewhat if this was a £20 ($30 ) keyboard set, but with Microsoft asking closer to the £50 mark, it's just not good value for money.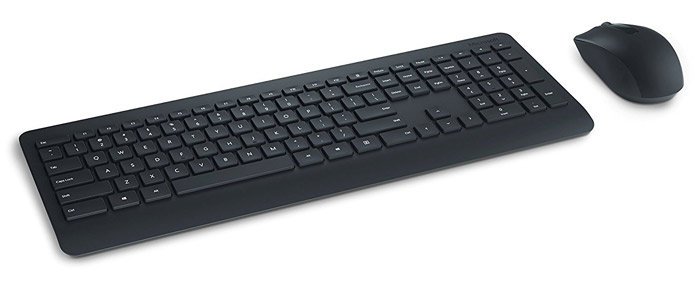 Typing, Travel & Layout
The 'quiet-touch' key technology of the Wireless 900 Desktop keyboard might please some, but I am not a fan. It's like playing whack-a-mole with the keys just to get them to press down. Plus when the springy-ness of the keys is combined with the central flex, it feels like typing on a trampoline.
This all adds up to you having very tired fingers after only around an hour of typing.
We have the Microsoft Wired Keyboard 600 laying around, and compared to the 900, the 600 typing experience is way better with the same noise-reduction. The Microsoft 600, while not wireless, costs only £10 | $15.
… the 900 Desktop feels like a step backwards …
Even though I haven't enjoyed my time with the 900, my typing speed isn't any slower than usual. Another point scored is for the angle of your wrists, which on the 900 feel comfortable and ergonomic.
Control C / Control V are both easily reached. There's plenty of breathing room around the arrow keys and we have a few dedicated function keys (Media, Volume, Left Click & Calculator) plus two Windows buttons either side of the space bar.
Strangely though, the enter key has been minimised to around half the size of what you'd normally get.
While there are some pros, who wants a keyboard that will tire your fingers out in less than an hour? No one!
The Desktop 900 Mouse
There's not a lot to say about the Desktop 900 mouse other than I don't like it. It feels cheap, has a cheap scroll, is missing productivity buttons and isn't very comfortable.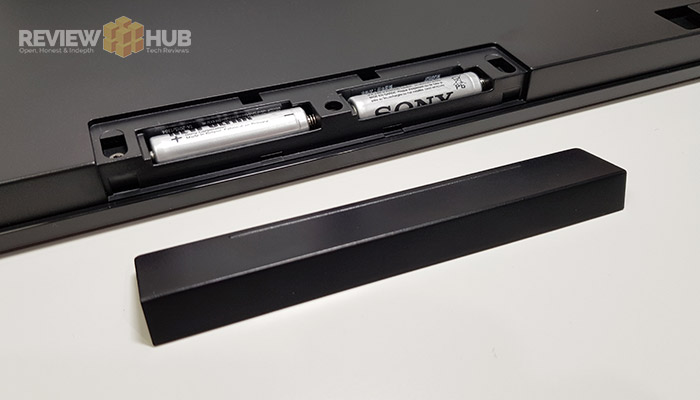 Connectivity & Battery Life
I can't comment too much on battery life as I've only been using the Wireless 900 Set for around 4 weeks, but Microsoft promises a healthy 2 years. This will vary depending on your usage hours, but it's still an impressive figure.
Connecting to a laptop or PC is done via the included USB Dongle. While not nano sized, like the Logitech Receiver, it's still compact.
During our testing we haven't had any connection drop or latency issues, so we can confidently say it's a reliable Keyboard and Mouse.
Could they make it better? Yes, by adding Bluetooth as well as a dongle allowing us to choose our preferred connection method.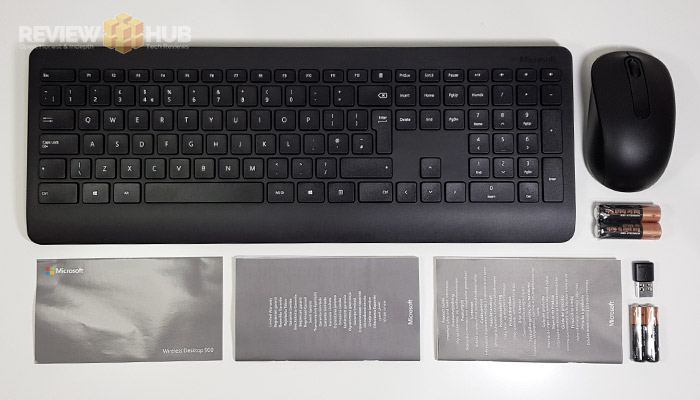 Microsoft Wireless 900 Desktop – The Verdict
Maybe you think I'm too harsh on the budget Microsoft 900 Combo set, but I disagree. As someone who spends over 8 hours a day at my desk, with a large portion of that typing away, I know what a bad keyboard can do for your productivity.
My advice? Save up a little more and get yourself the Microsoft Designer Keyboard! It's great!
But if you have your heart set on the Wireless 900, you can enjoy the AES encryption, a reliable connection without any latency and the non-offensive design.
Do we recommend the Microsoft Wireless 900 Desktop Set? Nope, The Microsoft Trampoline 900 Set just has too much spring in its step.