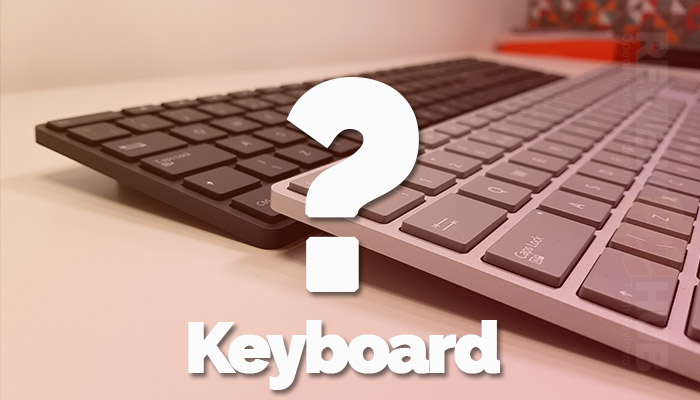 Picking a great Windows Keyboard can be a real challenge. Unlike Smartphones, you can't just walk into the keyboard store and test them all out.
So hopefully my side-by-side comparison of Microsoft's keyboard range will help you narrow down your search. If you need more info on any of the keyboards, follow the links to the full hands-on reviews.
To give you a heads up, we'll be comparing the Pros & Cons of the following keyboards:
Microsoft Modern Keyboard
Microsoft Surface Keyboard
Microsoft Designer Bluetooth Keyboard
Microsoft 900 Desktop Keyboard
… Windows Keyboard Showdown! …
A little background…
I spend most of my day staring at pixels and happily typing away my thoughts about the all the gadgets we get in here at Review Hub HQ. A hard life I know, but along the way I've picked up a thing or two about what makes a keyboard truly great and what makes you want to throw it at the wall.
If you're wondering why the Desktop 900 Wireless Set has been disqualified? It's because it's a spongy mess of a keyboard that doesn't warrant its asking price. Read my full Microsoft Desktop 900 Keyboard Review for more details.
So know that we're down to three, let's find out which Microsoft Keyboard offers the best Value for Money? the best typing experience? and is crowned the Best Microsoft Keyboard?
At the time of this review, the keyboards are priced as the following:
| | | | |
| --- | --- | --- | --- |
| | | | |
| Model | Modern Keyboard | Surface Keyboard | Designer Bluetooth Keyboard |
| AES Encryption | ✔ | ✔ | ✔ |
| OS Support | Windows 10 | Windows 10, 8 + MacOS + Android + iOS | Windows 10, 8, 7 + MacOS + Android + iOS |
| Connectivity | Wired + Bluetooth 4.2 | Bluetooth 4.0 | Bluetooth 4.0 |
| Warranty | 1 Year | 1 Year | 3 years |
| Build Material | Aluminium | Aluminium | Polycarbonate |
| Weight | 413g | 420g | 405g |
| Amazon from | £99.99 ($129.99) | £79.99 ($99.99) | £64.99 ($84.99) |
| Amazon | Amazon | Amazon | Amazon |
I won't be talking about the included mouse that comes with Microsoft Designer Keyboard, quite frankly is not great and isn't ergonomic for anyone spending more than an hour a day at their desk. If you want to learn more about the Designer Mouse? Check out this Full Microsoft Designer Bluetooth Keyboard & Mouse Review.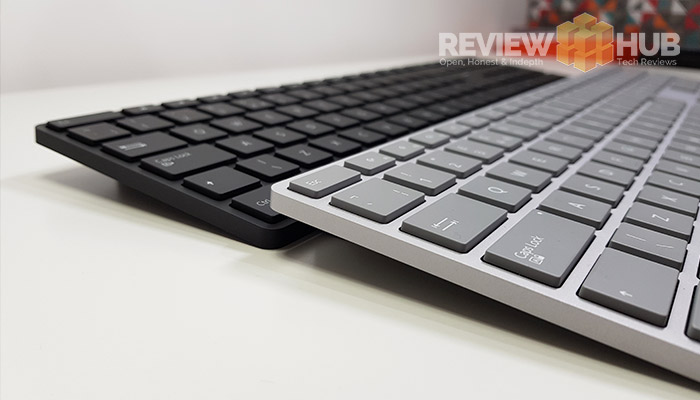 Typing, Layout & Travel

The typing and layout experience on both the Modern & Surface keyboard is identical, while you can think of the Designer keyboard as a similar but more condensed version.
All three keyboards use a chiclet style with spaces between the keys similar to most modern laptops. But while the Surface & Modern have breathing room around the arrow buttons, the Designer has been condensed, or squashed, or squished or however you want to say it.
Measuring in at 39cm length compared to the Modern & Surface's 43cm's, your arms find themselves in more natural position on the Microsoft Designer Keyboard. And, although the arrow keys are now underneath the oversized enter key, you do have the option of using the arrow keys within right-side number-pad.
The disadvantage to this condensed layout is that we lose some of the top row function keys that are available on both the Modern & Surface Keyboard.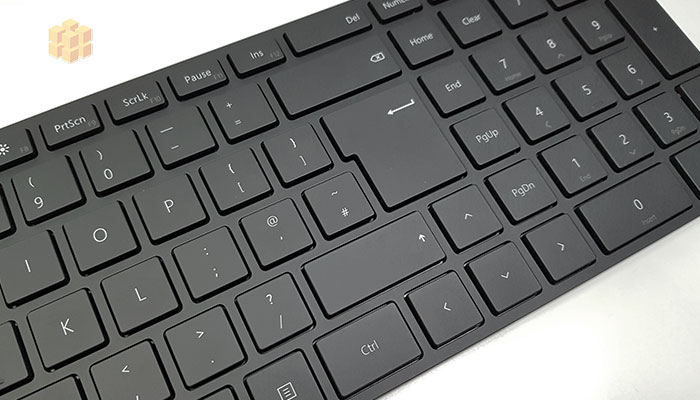 On the Designer keyboard, the right-side Shift and Control have also been moved left making them easier to reach when typing.
Even though all three keyboards feel very similar to type on, I find myself making less mistakes on Designer keyboard although it does have a steeper learning curve due to the layout. Maybe it's the undersized 'Enter' key or just the distractingly noisy 'Space Bar' on the Surface, but between the three I'm drawn to the Designer.
Yes, the Designer keyboard also scores another point for being much quieter than Modern or Surface which both suffer from a very loud space bar click.
Control C / Control V (copy and paste) on the Modern keyboard is a stretch at 8.5cm & 10cm. While on the designer it's 7.5cm & 9cm. That doesn't sound like a lot, but it's enough to make it uncomfortable during heavy copy/paste tasks.
Travel is very good and also very similar across all three keyboards. You can rest your fingers on the keys easily with only the slightest pressure needed to type. All areas of the keys have an even press and come with a nice springback feel.
Overall, all three keyboards have their pros & cons, but the Designer Keyboard wins with its quieter more natural typing experience. If you're not an avid writer, you may want to opt for the Surface or Modern with it's more breathable & functional layout.
Winner = Microsoft Designer Keyboard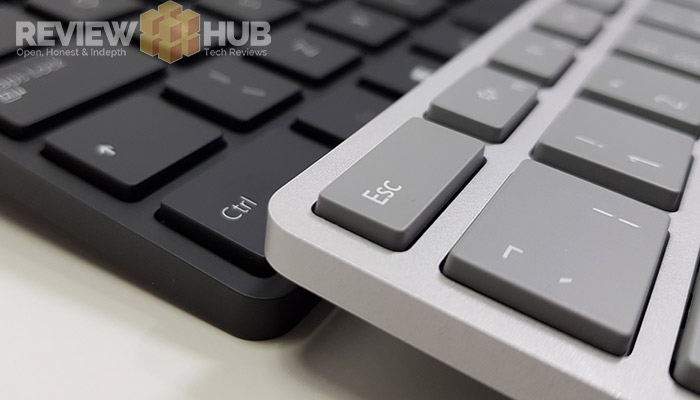 Design & Build Quality
In terms of Design & Build quality, it's an easy win for the Surface & Modern Keyboards. The aluminium frame used in both is lightweight and solid with absolutely no flex whatsoever.
The silver frame contrasts the muted grey keys nicely taking any desktop setup and giving it a premium feel. It really is a beautifully crafted keyboard that offers Apple Magic Keyboard quality to Windows users.
In a close 2nd is the Microsoft Designer keyboard. If you've read my full Designer Keyboard Review, you'll know that I had to use the 'Metal Tooth Test' as this keyboard looks & feels like painted aluminium.
While neither keyboards are backlit, the Surface & Modern keyboard do have more backlit function keys. On the Designer, we're only treated to an LED dot on the 'Caps Lock' & 'Fn' key while it's anyone's guess if 'Num Lock' is activated.
Twisting the Designer keyboard shows a small amount of movement, but on your desk it feels solid without any central flex.
Joint Winner = Microsoft Modern Keyboard & Surface Keyboard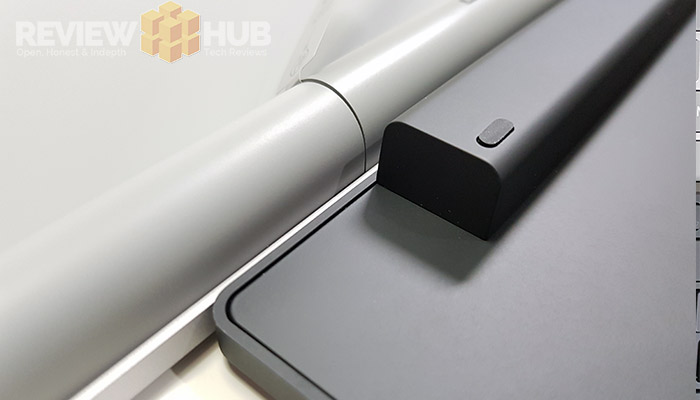 Features & Connectivity
It's now the more expensive Microsoft Modern Keyboard that pulls away from the pack as it includes some nifty extras. For one, it has an inbuilt fingerprint reader replacing the right-side 'Windows Key' that lets you easily unlock Windows 10.
While the Designer & Surface keyboards can only connect via Bluetooth, the Microsoft Modern can also connect & recharge using the included USB cable.
The final advantage of the Modern Keyboard is that it uses the Bluetooth 4.2 which provides a more stable connection. Although in testing, all three keyboards have been reliable without any stability or latency issues.
Winner = Microsoft Modern Keyboard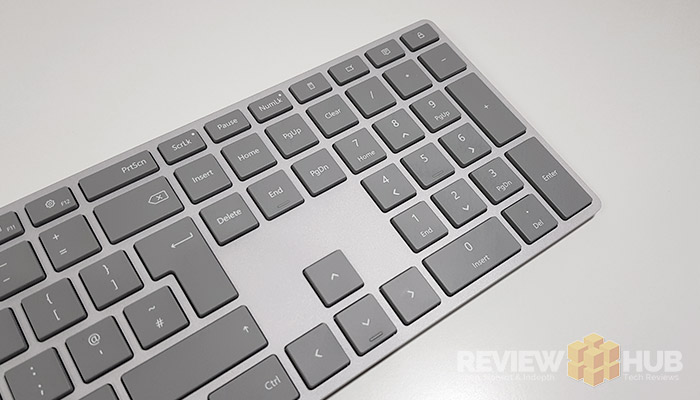 Modern Vs Surface Vs Designer – The Verdict
So which keyboard is our winner?
For me, it's the Microsoft Designer Keyboard. The condensed layout takes a bit of getting used to, but I found myself typing more naturally and with fewer mistakes. While it's not quite the eye-candy of the Surface or Modern Keyboards (which look epic next to my Dell Monitor on my Bamboo desk) it is the best value option.
If you don't spend you days typing or have unnaturally large hands, then for only around £20 more you can have the premium Surface Keyboard that's going to get you more than a few compliments.
I don't think the Modern Keyboard justifies it's higher price-tag. Having the option to plug-in is cool, but why pay big bucks for premium Bluetooth keyboard and then have a wire dangling out of the back? As for a fingerprint reader… just not my cup of tea.
I hope this article has given you some clarity. If not you can dive in a little deeper below with full reviews on each keyboard. Also, let me know in the comments below which keyboard you went for?
Microsoft Surface Keyboard – Amazon
Microsoft Modern Keyboard – Amazon