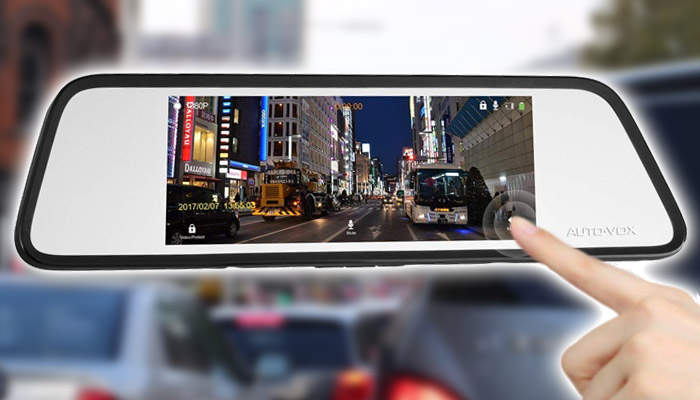 We get hands-on with the AUTO-VOX M8 Smart Mirror with built-in Dash Cam

With dash cams becoming a staple of modern driving, AUTO-VOX M8 is a no-brainer upgrade for your car. Not only are you getting a high-quality dash camera but you can also benefit from a Smart Mirror with a HD inbuilt touch display.
If that isn't enough to get you excited, then the M8 also comes with a rear parking camera and burglar detection!
… OLD Car? No problem, Upgrade with The Auto-vox M8 Smart Mirror …
To give the AUTO-VOX M8 the fairest review, I've been using it for the last four weeks. In your first week, you might find the larger mirror size strange, but trust me, by week two you'll love it!
The AUTO-VOX M8 is an upgrade from the previous M6 model. We now have a shorter screen-off timeout (1 min vs 15 sec), a larger touchscreen (4.5″ vs 6.86″) and the M8 also records in a higher resolution (1080P vs 1296P).
So, let's see how The AUTO-VOX M8 performs in this full hands-on review.
Take out the stress of driving with AUTO-VOX M8 Smart Mirror:

The Good
Excellent Display + Touchscreen
Premium Build Quality
Clear Dash Cam Footage
Wide Crystal Clear Mirror
Reliable Loop Recording
The Bad
No Reverse Cam Recording
Mini USB Connection
Charger Missing USB Passthrough
LDWS Beep Too Quiet
No Parking Beeps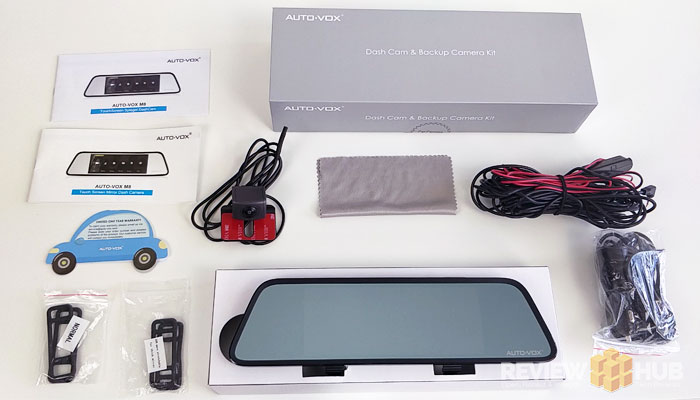 Display & Design
The AUTOVOX-M8 is sleek, premium and the light blue tint gives it a modern feel while reducing glare. It's a big upgrade on my original Honda mirror with the increased size giving me a much wider field of view.
Attaching the M8 over your rear-view mirror is a simple process. There are two bands that pull over your original mirror and hold the M8 firmly in place. I found that I was hearing a rattling noise at first, but a quick tighten of the back straps solved this.
The black front facing camera is relatively discreet blending in with the rest of the mirror. Make sure to angle the camera dash camera inwards to offset the angle of the mirror.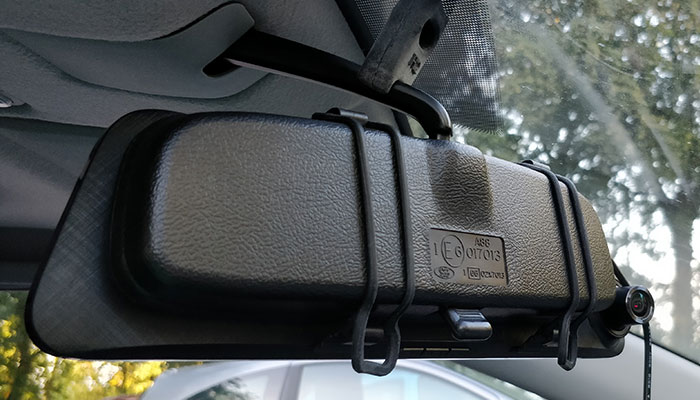 Now that you're all set up, let's get to the good bit!
The beautiful bright 6.86″ touchscreen display. From here you can play back your recorded videos, tweak all the dash cam features, watch a live feed from the front cam and also view the reverse cam live feed.
As you might expect, it's quite challenging to get decent videos or photos of a mirror. But trust me, the display is fantastic and certainly has the Wow factor.
There's also a physical button underneath the M8 that lets you quickly turn the display on and off. Or you can set the automatic screen-off timer.
Overall, we're off to a great start with the M8. It's premium design and superb display easily justifies the price-tag.
Camera Quality
Driving around in my shaky old Honda Jazz has certainly put the AUTO-VOX M8 through its paces for the last 4 weeks. But overall, I'm pleased with the M8's camera quality.
The 140° wide-angle lens captures a full view of the road and more importantly will give a full view of any accidents you might witness.
Night Footage Quality

Whether you're driving on a motorway or country road at night, the M8 records clear night footage. It's a little soft on roads without lighting, but still clear enough for dash cam purposes.
Reverse Camera Quality
In reverse, you'll be able to see a clear view from behind your car, so there's no need to crane your neck around any more. There's also three on-screen coloured brackets: from green, yellow to red.
These indicate how far away you are from the object behind you, although missing is any kind of distance sensor beeps.
Forwards Mirror Dash Camera:
140 Degree Field of View
Records in 1296P, 1080P & 720P resolution
Manually adjust camera angle
Reverse Camera:
180 Degree Field of View
Waterproof Camera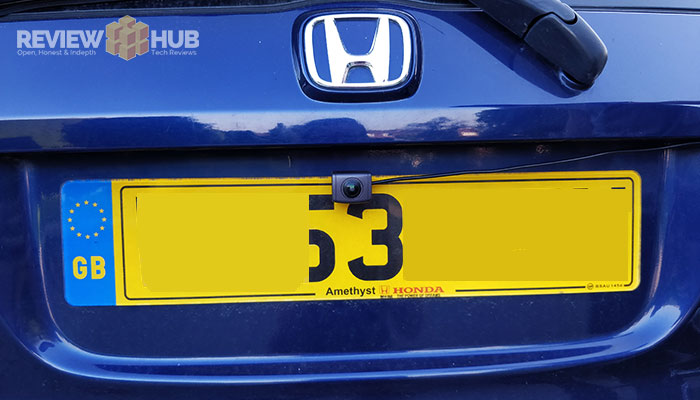 Setting up the AUTO-VOX M8 Reverse Camera
Setting up the reverse camera takes around 15 minutes, depending on your cars rear light setup.
First unscrew your license plate enough to slide the camera behind and then tighten. Don't remove the sticky tabs until after you've tested the M8.
Next, you'll need to access your reverse lights in your boot. Attach the wires following the instructions provided, then test. The reverse camera footage will automatically appear on the display when you put the gear into reverse.
We had some issues with lines on the display which were caused by a faulty rear camera. We contacted AUTO-VOX, and they quickly sent a replacement which resolved the issue.
Now that everything is working, the real task begins! Routing those wires for a neat finish.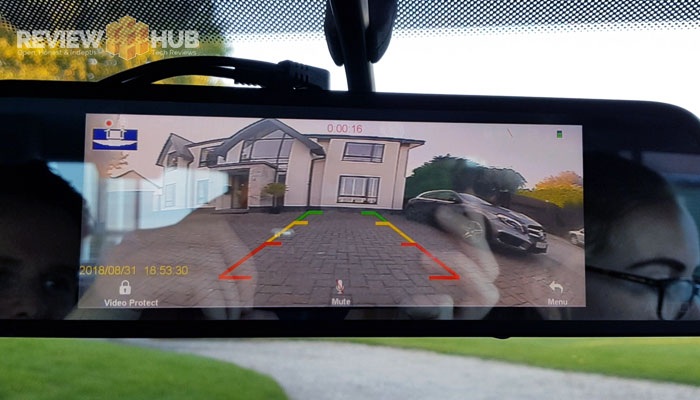 Extra Features
Below are some extra M8 Mirror features (some good, some bad) that are worth mentioning.
LDWS (Lane Departure Warning System)

This feature is designed to beep to alert the driver that they are drifting out of their lane. We found the beep is just too quiet to be functional. We also got a lot of false alerts so quickly turned it off in the settings.
Sound Recording
In addition to recording videos, the AUTO-VOX M8 will also record sound. This could be useful in the even of an accident where you can record all the conversations had with the other driver.
Emergency Recording (motion activated)
While this feature may sound a little odd, as the M8 is always recording, there is a benefit to be had. To set off the emergency recording you'll need to either brake or accelerate hard. This footage will then be saved in a separate folder where it can't be overwritten.
Hardwiring
If you don't want to use the included charger, you can hardwire the AUTO-VOX M8 to your cars battery. To do this, you can purchase the adapter separately online.
Motion Sensor (Burglar)

You'll need to connect the AUTO-VOX M8 to your car's battery for this to work. Once connected, it'll record any movement within 3 metres of your car. We didn't test this feature out.
What's in the box?
In your AUTO-VOX M8 box you'll find the mirror, the mini USB power cable with cigarette adapter, 4 soft black bands, rear camera and connecting wires, a manual with a 1 year guarantee and a handy cleaning microfibre cloth.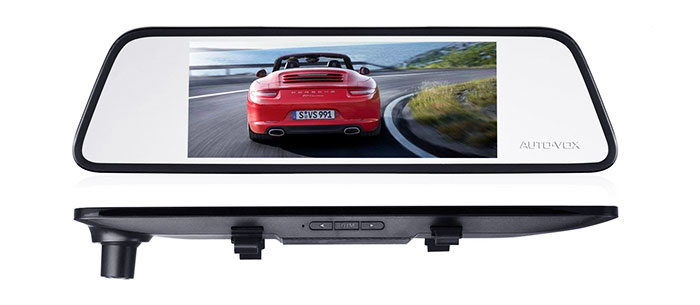 AUTO-VOX M8 Smart Mirror – The Verdict
Overall the M8 is a mean bit of a kit! I'm a big fan of all-in-one solutions and that's precisely what this is!
The M8 offers clear & crisp dash cam videos, a crystal clear wide-view mirror with inbuilt HD display and finally a rear-view reverse camera to aid with parking.
The biggest drawback has to be the lack of reverse camera recording but even so, the M8 is still an worthy car upgrade.
This week's best AUTO-VOX M8 deals: