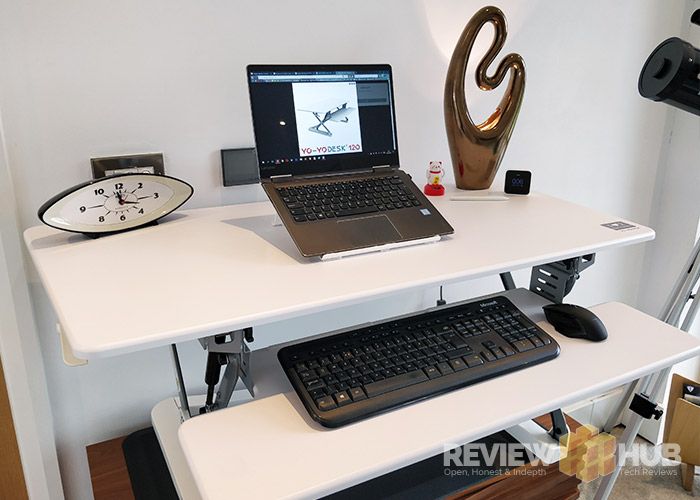 We find out whether the Yo-Yo Desk 120 (Sit-Stand Desk) is worth its premium price-tag
When choosing a standing desk solution you used to have two options. You could go for an expensive all-in-one desk (usually with a built-in motor) or choose a cheaper more portable option… and most likely end up with some serious wobble.
Now there's a new third option, a semi-portable 'Sit Stand Desk' like the Yo-Yo Desk 120. We've been testing out Yo-Yo's biggest baddest model for the last three weeks to give you the low-down on whether it's a standing desk gem or a sit-stand dud.
What the heck is a Semi-portable Sit-Stand Desk?
Unlike lightweight and portable options (like the ETPark Laptop Desk on Amazon), semi-permanent desks are heavier which helps to keep them stable and more durable.
You won't be hauling the Yo-Yo 120 around your office or home on a whim as it weighs a massive 24KG. Even the Yo-Yo Desk Mini at the half the size still weighs in at 20KG thanks to the robust metal-frame design.
We all know the benefits of adding standing to your work day, so let's find out if the Yo-Yo Desk 120 fits the bill.
If you're interested in learning more about the unboxing, packaging & setup? You can find this at the very end of the review.
This week's latest Yo-Yo Desk + Yo-Yo Anti-Fatigue Mat deals below…
The Good
Excellent Customer Service*
Premium Build Quality
Easy Controls / Adjustments
Micro-adjustments possible
Keyboard tray easily removable
3 Year Warranty
The Could Be Better

Very Heavy
Keyboard tray doesn't retract
No all white / all black options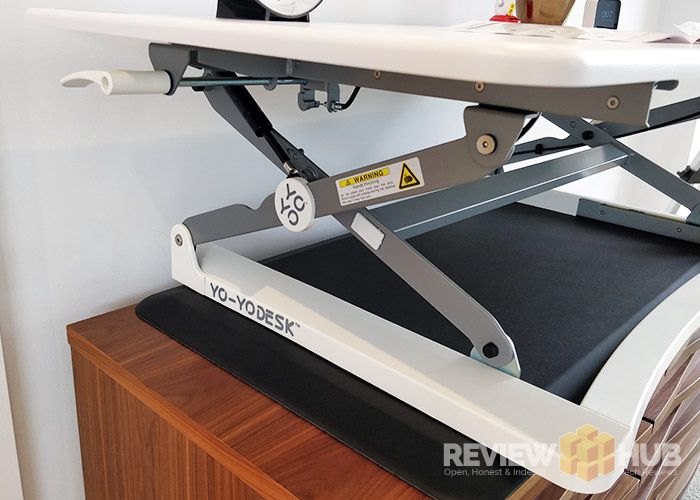 Three weeks with the Yo-Yo Desk 120
So after three weeks of using the Yo-Yo Desk as my daily go-to place of work, here are my thoughts.
It's worth noting that it's not my first time venturing into the world of standing desks. My first attempt was more of an hack-it-yourself-project than anything else. Think boxes, books and an old floating shelf that I had laying around!
While I can't deny that it saved the pennies, it didn't last very long at all.
Upgrading to Yo-Yo's more professional solution, well, is a hell of a lot more practical and has had me standing for around 5-6 of each day.
While this has done wonders for my concentration… my legs struggled at first. Even with the generously provided Yo-Yo anti-fatigue mat, you do end up feeling the pressure on your feet.
Coming from a sedentary desk where I sit happily drinking mugs of coffee and ignoring my smartwatches 'get up you lazy fart' reminders all day… I knew it was going to be an adjustment.
But that's the beauty of a sit stand solution, just stay on your feet as long as you're comfortable and then sit back down.
After about a week, I was easily managing 5-6 hours comfortable standing time, and my body fat scales agreed that's this standing malarkey has its health benefits.
How easy is the Yo-Yo Desk to use?
The ease and speed at which you can adjust this desk is brilliant. There are two levers either side of the desk that you squeeze then the desk will rise or lower. The levers are positioned perfectly so that you can leverage your palms off the table top.
Depending on how much you have on the desk, you might need to exert a little body weight to get it to decline.
That's it… super simple!
Depending on your preference, you can choose to use the desk with or without the keyboard tray. Although without the tray, you might find that the desktop is a little high for sitting.
Another upgrade that's definitely worth doing with the Yo-Yo Desk is installing a monitor arm. This way you can position your display at Eye level and also overcome any height limitations if you're tall.
So after two weeks sitting and then standing and then… you get the picture, I'm pleased with almost all aspects of this desk.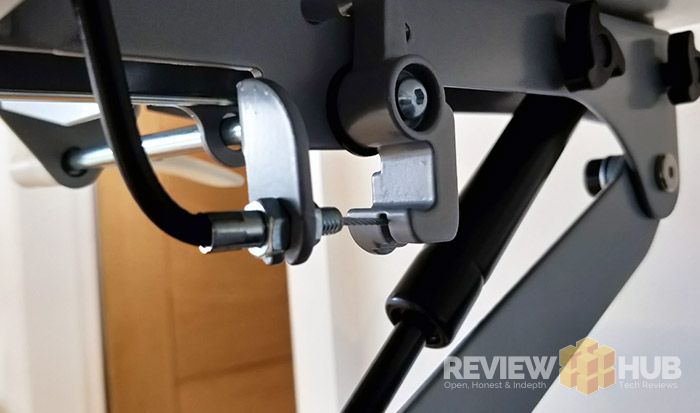 Design & Build Quality
After opening up the box and setting it up (super simple – see endnotes), I noticed the lower tray on my unit had a faint mark on it. With a desk this price, I want it to be perfect.
I contacted the team at Yo-Yo to let them know; and they were immediately apologetic and on the case. They had a replacement sent out within a few days, no quibble, no fuss. It's always great to know your buying from a brand who values there customers.
Onto the design. While the 'X' shaped construction of the Yo-Yo desk might not be as pretty as some of its competitors, it does have 1 big advantage!
The gas-powered arms let you stop the desk at any height you want. There's no fixed point you have to reach before it becomes stable allowing you to keep your elbows at exactly a right angle to the desk.
Shaking the desk, you still get a small amount of wobble, but overall it feels very solid. The sturdier the base of the desk, the less wobble you'll get. We tested it on a solid floor to get an independent wobble measurement.
The desktop itself feels solid, premium and I didn't find any rough edges along the plastic on the base of the unit.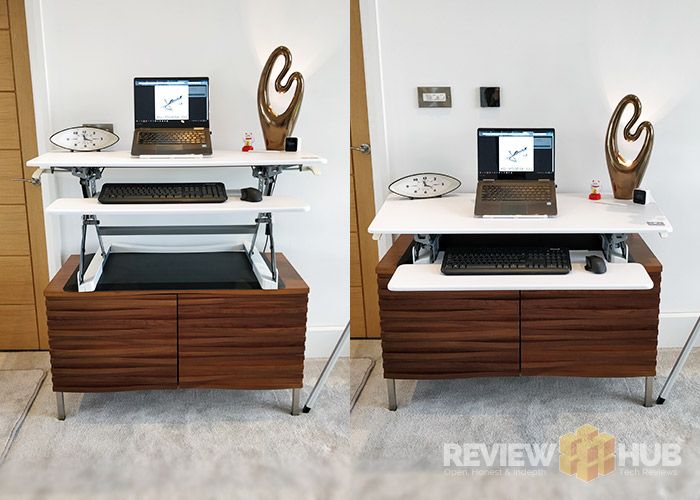 A nice touch is that the Yo-Yo White version is in fact white. Bright white that is! So often we get products described as white only to find they're off white or slightly cream. Rest assured the Yo-Yo white is white.
My only design quibble is that I wish it came in an all white model. The grey metal of the frame isn't the most attractive in a living room or home office scenario… maybe I'll have to get some spray paint…
Finally, Yo-Yo themselves state that the desk is for people with a heigh of 180cm or below. I'm 175cm and at full height on a standard Ikea base desk, my laptop screen is eye level. But, my elbows are nowhere near right angles and much too high (the optimum position…).
Depending on your setup you might want to add a laptop or monitor stand to the mix for perfect eye level viewing with comfortable arm angles.
Tech Specs: Max Height 180cm, 3 year warranty, 15-50cm Height Adjust, Gas Powered Lift, 24KG weight for 120 model.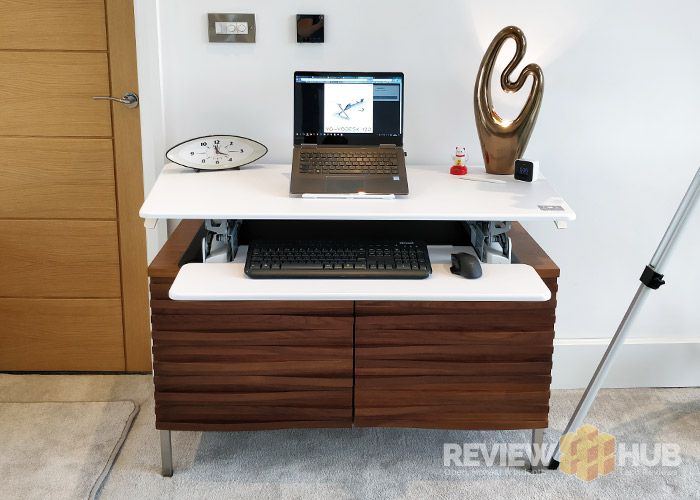 Yo-Yo Desk 120 – The Verdict
Now onto the elephant in the room. I've got a lot of praise for the Yo-Yo Desk and Yo-Yo's excellent customer service but let's talk prices.
The Yo-Yo Desk isn't cheap.
You are getting a solid premium product that's, for a lot of people, is going to be the perfect entry into the standing desk world. If you already have a desk but want to add a sit-stand element, then Yo-Yo is also a great semi-permanent addition.
The old phrase you can't put a price on health comes to mind, but, we love the budget here at Review Hub.
Do I recommend the Yo-Yo Desk 120? Yes, but only if your wallet allows it. You're getting one of the best sit stand desk options out there, but you're also paying for it.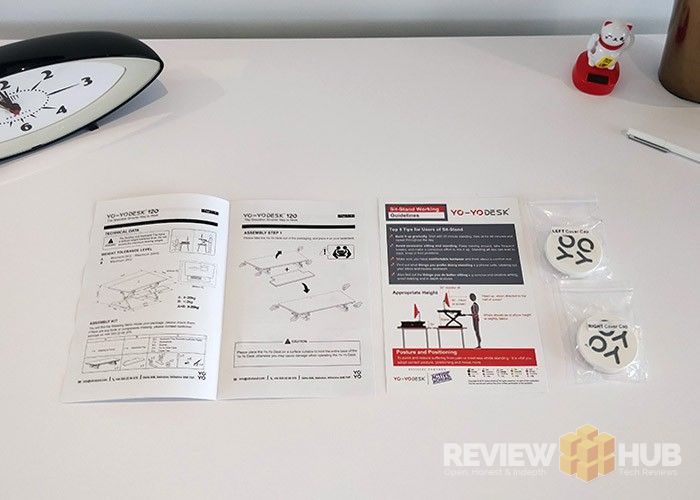 Unboxing, Packaging & Setup
You can rest assured that your Yo-Yo sit stand desk will arrive intact. It's packaged in thick cardboard and then surrounded by in a dense polystyrene foam mould.
The model we received, the Yo-Yo Desk 120 is a beast at 24KG! So with packaging,you can expect to add a few more kilos to that figure. So make sure there's someone around who's able to do the heavy lifting.
Once inside the box, it's a little easier to handle as the brackets and keyboard tray aren't yet attached. The whole base unit is pre-assembled and ready to use. Connecting the keyboard tray using the included brackets, screws and screwdriver took around 5 minutes.
The design of the tray means you can quickly add and remove this element when needed which is a nice touch as it protrudes from the base of the desk when not in use.
Overall, it's a super simple setup; your only difficulty might be carrying the desk to its destination in your home or office. Good job I started that gym membership in Jan!
Yo-Yo Desk 120 Should Be In Co-working Spaces
While I've had a lot of fun using the Yo-Yo Desk 120 at my home office, I think I'm now going to go on and choose an all-in-one standing desk solution.
I love the clean lines and minimalism that comes from having a single piece of wood stuck to 4 legs… while the Yo-Yo Desk is definitely cool, it's going to be demoted to another area of the office, most likely the 3D printing station.
But there's one place I really want to see this type of Sit Stand Desk being implemented in. And that's Co-working spaces!
Being able to add a Yo-Yo desk and transform any spot in a co-working hub into a standing desk… instantly… is super cool. Plus you'd only need a few, and it'd save thousands compared to kitting a whole place out with full standing desks.
Happy to answer any Yo-Yo Desk questions you might have. Just comment below. : )