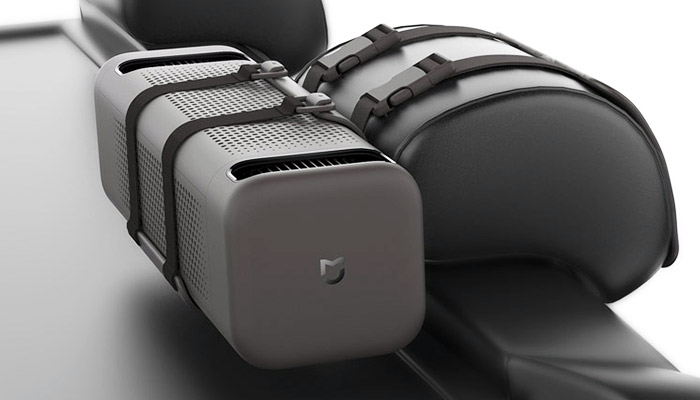 Don't settle for dirty air! Detox your Car with the Xiaomi PM2.5 Air Purifier
While air pollution isn't high up on the agenda for most Brits, with London's pollution at record highs, it should be. After having lived in SE Asia's burning season where PM2.5 levels can reach as high as 500 (regularly staying above 200), I've acquainted myself with a whole host of Air Purifiers.
And as a very happy owner of the Mi Air Purifier 2S, which I've had running steady for almost two years now, I can testify to Xiaomi's build quality.
But what about when you're in your car?
Well, that's when the Xiaomi PM2.5 Car Air Purifier comes into its own. No longer do you have to put up with poor air quality for you or family when driving. Using a two fan design coupled with a replaceable tubular carbon filter, the Xiaomi Car Purifier is a shrunken down version on uber-popular Xiaomi 2S & Purifier Max.
Related: The Best Xiaomi Stuff You've Never Heard Of!
Related: Dyson Air Purifier Buyers Guide
In this review we'll be looking at the Xiaomi's in-car air purifier: Features, Build Quality and Performance letting you know whether it's the right choice for you.
(You can grab the Xiaomi MiJia Car Air Purifier at your local Xiaomi store or online.)
The Good
Premium Build & Design Quality
Simple Filter Replacement
Inbuilt PM2.5 Air Quality Sensor
Simple Setup + Auto Purification
Standard 12v Power Supply
The Could Be Better

Mainland China Mi Support
On The Large Side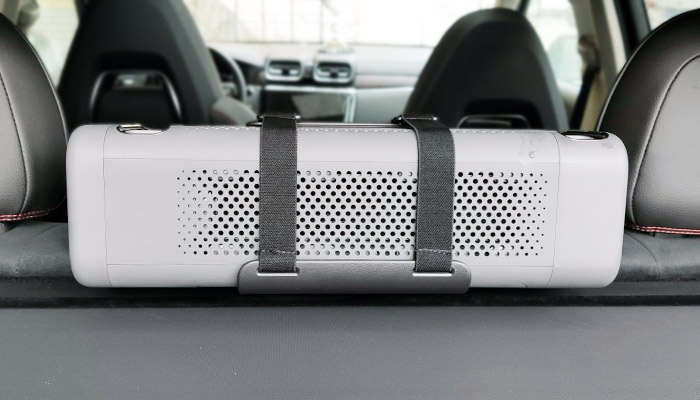 Design, Installation & Build Quality
If you order the Xiaomi Car Purifier online, then the first thing you'll notice is how big it is. At 11x11x38cm and weighing 1.25kg, it's not exactly discrete. Especially when compared with smaller models that fit into your existing cup holder.
I was lucky enough to view it in my local Mi Store (Bangkok) so I knew what I was getting myself into. Also worth noting is that if you drive a smaller car, then often you won't have a central headrest. Not a deal-breaker, but you'll lose that Xiaomi beautiful symmetry when it's crammed up against your side window.
The second thing you'll notice is that it has the same excellent build quality as the larger Xiaomi purifiers (premium plastic with little flex and no moulding marks).
Setup is minimal, remove the plastic from the filter. Attach the mount to your car's headrest and then attach the purifier itself. The headrest mount looks and feels premium with its embossed faux leather logo. It also acts to hide the straps from view.
If you don't have a power outlet in the boot of your car, then you'll need to route the 4.5m cable to the front lighter port. The Xiaomi Mi Car Air Purifier is powered by a standard 12v lighter adapter which has a USB pass-through socket on top.
First impressions of the Xiaomi Mi Air Car Purifier are good; it scores highly on design, installation and build quality.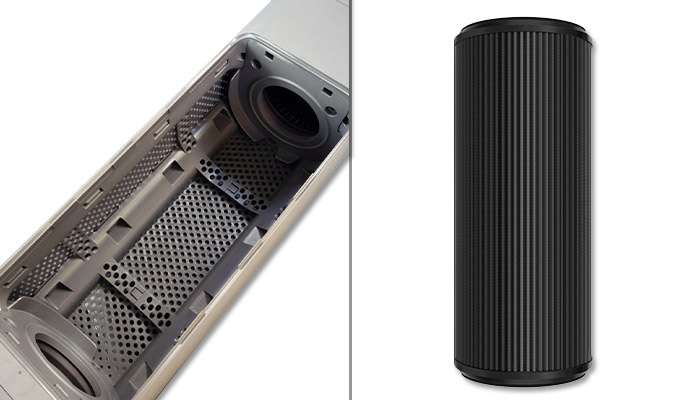 Air Purification & Filter
There are going to be multiple filters types available for this air purifier. Right now, the only available version is the Japan Toray H11 high-efficiency HEPA filter which comes included in the box. As with the larger Xiaomi purifiers, a range of replacement filters are set to be released to cater to specific needs (most likely smells & pets).
Listed on Xiaomi's store at 49 Yuan, (approx £5.99 | $7.99), you can expect to get a replacement filter in the west for under the £15 including shipping.
The filters themselves don't have an exact life-span, it depends a lot on the environment you use them in. If you often drive in built-up polluted cities you can't expect the filter to last as long as say in rural France. Xiaomi recommends that you'll need to replace the filter approximately every 3-6 months, but don't worry about keeping track of this.
Inside the Xiaomi App, you can see exactly how much filter life you have left. This is calculated using the PM2.5 levels taken by the sensor and the amount of air that been pulled through the purifier to let you know exactly when the filter needs changing.
If you happen to have a PM2.5 detector, you can also hold it over the exhaust vent to check that the levels are lowered sufficiently.
Exactly how fast can the Xiaomi Car Purifier clean the air in your car?
With the dual fans set to maximum, the Xiaomi Car Purifier can clean 60m³ of air an hour. Not a very helpful number, so let's simplify this:
Small Car – Purified in 3 minutes (3m

³)

Medium Car – Purified in 5 Minutes (5m

³)

Large Car / Van – Purified in 7 minutes (7m

³)
You also have the option to set the in-car purifier to 'Auto' inside the app. This will keep your PM2.5 levels below a specified value. This is the best option as it doesn't overwork the fans when they aren't needed.
If you're finding the fans to be a little noisy, there's also a silent mode available. This slows the fans down to a noise level of 42dB which can't be heard over the engine of your car (unless electric). Even in silent mode, it still purifies 30m³/h, which will double the time taken for a full car purification (see above).
The fans use a centrifugal design with dual turbine fans that house Japanese NSK brushless motors. Or in laymen terms, you shouldn't worry about these fans wearing out any time soon.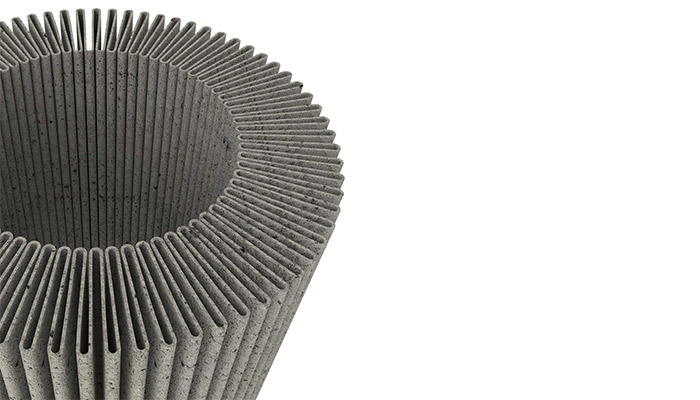 Connectivity & App
On the body of the purifier, you're only treated to a singular button, power on/off. To control the purifier you'll first need to download the Mi Home app (recently rebranded to the Xiaomi Home App Xiaomi Home App).
At the time of writing this review, you'll need to switch your Xiaomi Home app's region to Mainland China to be able to add the device. This has been the case with many Xiaomi products, to begin with they only roll out support for mainland China. The price of being an early adopter. Don't worry though as Xiaomi will release more regions and translations further down the road.
The app itself, a mix of Chinese and English, has a simple three button layout with the PM2.5 level highlighted in the central circle. If you've used the Xiaomi 2S before, you'll be familiar.
From here you can set the Mi Car Purifier to run at a constant speed or have it manually turn on when the PM2.5 levels rise to harmful levels. You can also view what percentage of use your filter has left.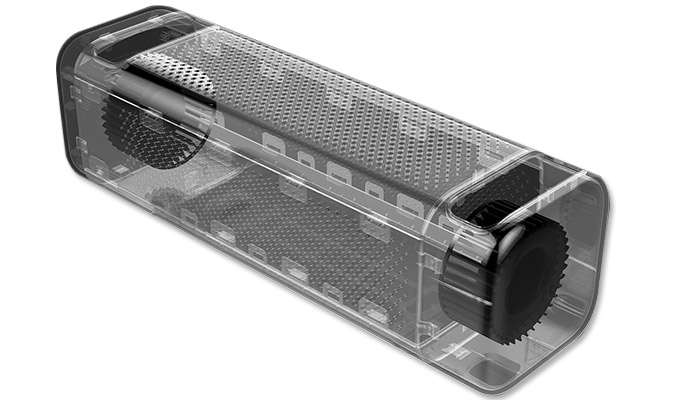 Xiaomi Car Air Purifier – The Verdict
Since Xiaomi know a thing or two when it comes to creating high-end smart home products and already have a line of large home air purifiers, it's only natural that they'd move into the car market.
They've taken one of the best purifiers on the market, scaled it down and packaged it into a neat & easy car air purification solution. While the app still needs official translations, these should arrive in the next few months.
Overall, we've been impressed with the Xiaomi MiJia Car Air Purifier. It goes beyond the competition and offers quick and easy PM2.5 particle removable from your vehicle. A must-have for anyone driving in congested cities or polluted areas.
So we recommend the Xiaomi PM2.5 Car Air Purifier? It's hard not to when it's a mini version of the best selling Xiaomi 2S & Xiaomi Purifier Pro.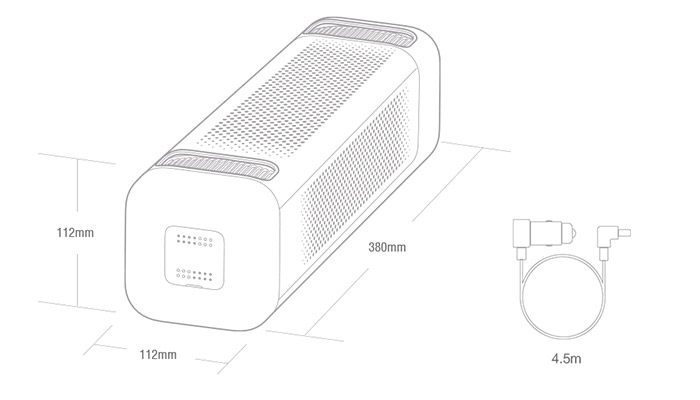 Tech Specs
Below you can find the technical data for Xiaomi's latest Car Air Purifier.
| | |
| --- | --- |
| Air Purifier Model | Xiaomi Car Air Purifier |
| Dimensions | 380mm(L) x 112mm(W) x 112mm(H) |
| Weight | 1.25kg |
| CADR | Max 60m3/h |
| Purification Area | 4.2m2 – 7.2m2 |
| Connectivity | App via Bluetooth 4.1 |
| Sensor | Inbuilt PM2.5 |
| Power Consumption | 6.5w (DC12v Socket) |
| Filters | HEPA Cylinder (Japan Toray H11) |
| Colours Available | Grey |
| Fans | DC Brushless |
| Mode | Auto, Manual, Silent (30m3/h) |