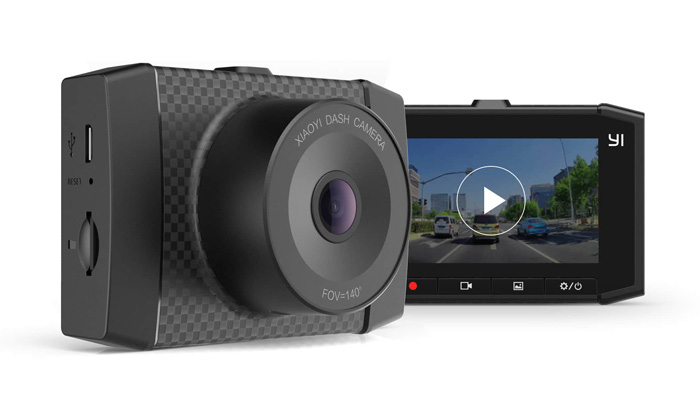 The Yi Ultra Dash Cam is fricken' awesome, Films in Super HD and even works in Low Light
When Yi contacted Review Hub to let us know they've got some new cameras available we weren't expecting them to be Dash Cams.
It turns out that if you're great at making tiny action cameras then you can also create some kick-ass dash cams as well. Low light photography, image stabilisation and tiny form factors are all the right skills you need.
So what separates the Yi Ultra Dash Cam from the pack?
2.7K Recording at 30fps
Awesome low light footage
Voice Activation & some kick-ass software
Automated Emergency Recording
You're not stuck at 30fps though, drop down to 1080P and you can film at a smooth 60fps for easily catching any incident you're likely to see on the road.
Worried about big file sizes? Buy from the official Yi Amazon store (link below) and they've included a 16GB SD card to get you started. The 2.7K mode also uses the H.264 encoding to keep the files sizes ultra-low.
I've had the Yi Ultra Dash Cam attached to the window of my Volkswagen for the last few weeks for testing. So in this review, I'm going to tell you everything you need to know about the Yi Ultra Dash cam, The Pros, The Cons and everything in-between.
Link to the Official Yi Amazon Store below…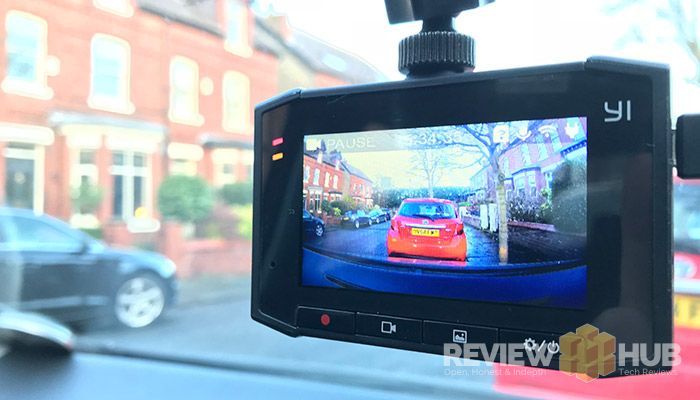 Setup, Design & Build Quality
With Yi, you know you're in good hands as they pay attention to even the smallest details. The packaging is top notch and everything you need to get started is right there in the box.
Taking the Yi Ultra cam out of its box, you'll first notice how light it feels weighing only 96 grams. This is a big pro as it's going to spend it's life hanging from your windshield, the lighter the better. Closely inspecting the dash cam, I found no defects, moulding errors or shabby craftsmanship.
In terms of design, the carbon fibre looks nice but once installed you don't often see this side of the camera anyway. What you do see is the bright and clear 2.7 inch LCD touch display. It does suffer a little with viewing angles but you should be keeping your eyes on the road! :D
With a display of only 960×240, we were never going to expect miracles but, rest assured, when you watch the footage back via your smartphone it's incredibly clear.
Setup is as simple as inserting the included 16GB memory card, formatting and then connecting it to the Yi Dash Cam App using the built-in WiFi.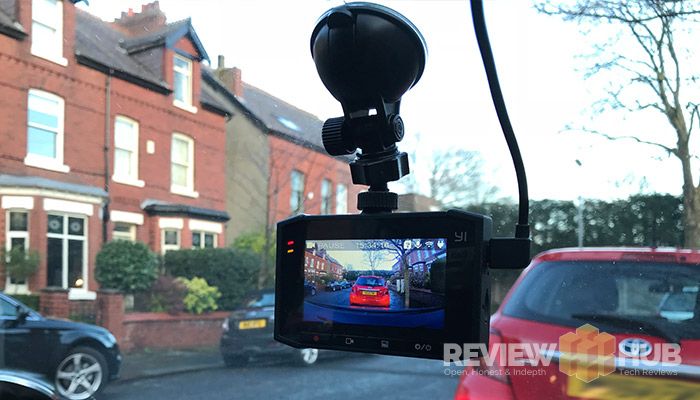 Installing the Yi Ultra into your car, you can choose between the suction cup or permanent mount. Both feel secure, so why not go for the suction cup. You then screw the camera in and out as needed. It's not as fast as a quick mount, but gives a very secure fit.
Attach the lengthy 3.5 metre cable to the Yi Ultra and insert the included in-car power adapter.
It's a really simple and intuitive setup combined with one of the easiest to use dash cams available.
Video Quality
I'm really impressed with the video quality that the Yi Ultra offers. Now I know you aren't going to be making your holiday videos with the Yi Ultra, but it's more than good enough for recording road accidents in detail.
The daytime footage and super wide 140-degree angle lets you see the whole road in bright sharp detail. I caught my fair share of Ambler Gambler's during testing! :D
I raved about the night-time footage earlier and for good reason! It's a difficult task for a high-end flagship smartphone cameras to deal with, so for a Dash Cam under £80… well, you get the point.
While it may seem grainy, there's still enough detail with some street light added in to record usable collision / incident footage. If you drive down dark country lanes, then the footage will suffer.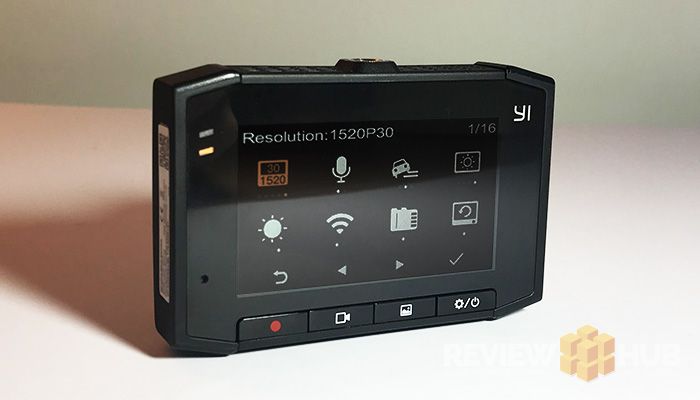 Yi Ultra Features
Yi has a few tricks up its sleeve with the Ultra. They've added voice control, so when driving you can say "Yi Take Photo" and "Yi Begin Recording" (See Video) for a hands-free experience. The voice module works around 95% of the time, even with my north of the wall accent.
Automatic Emergency Recording – The Yi Ultra has an inbuilt 3-axis gravity sensor that will automatically start recording and beep when your car suddenly break or shakes. You can tailor this with three sensitivity settings if you're getting false alarms.
A few useful features that Yi have missed off with the Ultra are speed data and GPS tracking. While not essential, they're important sets of data to have in the event of an accident.
Battery Life
While the Yi Ultra has a 400mAh battery inbuilt, this is only to be used in emergencies and will last around 1 hour. It's more of a fail safe and you should always keep this dash camera connected to your in car power.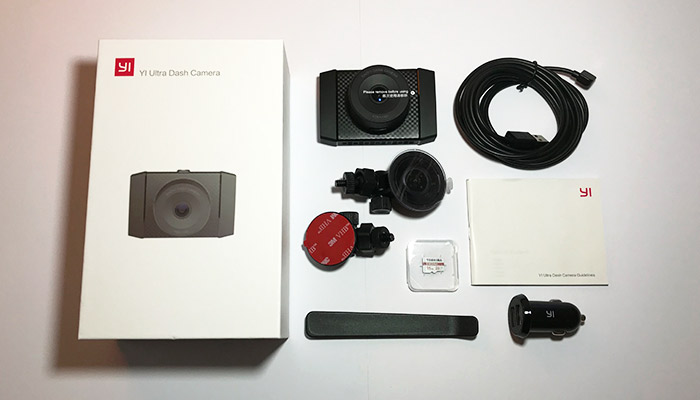 What's in the box?
The Yi Ultra packaging is a premium treat. Inside you'll find a quick user guide, USB Car Charger, 3.5m USB power cable, 2 mounts (1x 3M & 1x Suction Cup) and a mounting tool.
If you buy from the official Yi Official Store – Amazon, you'll also get a 16GB memory card. The one I received was a 16GB Toshiba Micro-SD card.

Yi Dash Ultra – The Verdict
You can't go wrong with the Yi Ultra, it offers excellent video footage and is ready to use out of the box and most importantly, very simple to use.
While the price may be higher than some of the competition, the added features like emergency recording, voice activation and low light filming are worth it.
If you don't need the advanced features, they Yi offers two value versions called the Yi Compact and Yi 1080P which we're reviewing at the moment. We'll update with a full comparison soon.
Do I recommend the Yi Ultra Dash Camera? Yes, it's a great & reliable dash cam.