The Redmi Note 5 raises the mid-range stakes…
A few months ago Xiaomi looked like they had killed off the Redmi Note series. With the release of the Redmi 5 and Redmi 5 Plus, there didn't seem to be anywhere in the range for a new Note.
Little did we know what they had up their sleeve! The Redmi Note 5 is the best specced Redmi phone yet, and looks like it's going to fight it out with the Honor View10 to be the new mid-range champ!
The Good

New Snapdragon 636 CPU
Greatly improved camera
Marathon battery life
3.5mm headphone socket
The Bad

Micro-USB charging port
Large camera hump
Far from bezel-less
Uber-confusing naming policy!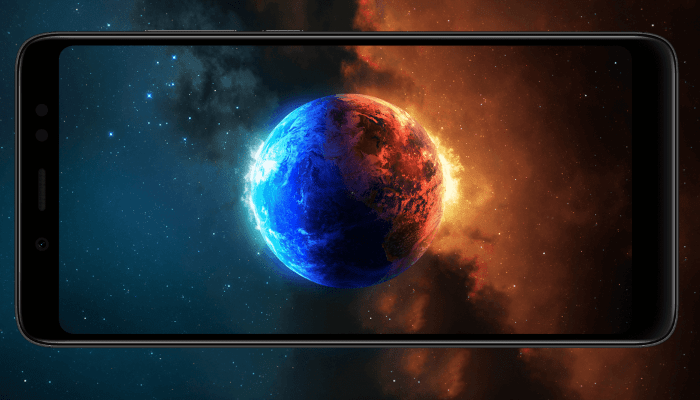 What's in a name?
Are you ready to get confused? Ok then, let's get this out of the way…
In December 2017, Xiaomi launched the Redmi 5 and Redmi 5 Plus. In a strange move, the Redmi 5 Plus was called the Redmi Note 5 in India. At this point the expectation was that we wouldn't see a true replacement for the much-loved Redmi Note 4.
Then, in early March 2018 Xiaomi surprised us all by releasing the Redmi Note 5 Pro in India. But, in international markets this will be known as the Redmi Note 5, with a couple of key differences.
So – if you're in the market for a Redmi Note 5, please make sure you do your research to ensure that you end up with the phone you want!
Redmi 5 Plus

Snapdragon 625 CPU
Android 7.1
Single 12mp Camera
Redmi Note 5 Pro

New Snapdragon 636 CPU
Android 7.1
Dual 12mp + 5mp Camera
Redmi Note 5

New Snapdragon 636 CPU
Android 8
Dual 12mp + 5mp Camera
Design, Display & Build Quality
The Redmi Note 5 continues to see Xiaomi push the envelope in terms of giving a premium feel to mid-range phones. Looking at build quality and materials used, there is nothing to complain about here.
With a 5.99 inch Gorilla Glass screen and an aluminium rear, as well as 'reinforced corners' the Note 5 is built to last. But… The prominent (for 2018) bezels and plastic signal boosters on the rear make it clear that this isn't a flagship device.
It's almost as if Xiaomi left a little bit in the locker room deliberately – they want the Redmi series to look good, but not so good that Mi series owners are tempted to jump ship…
Of course, the Note 5 has an 18:9 ratio screen. No self-respecting smartphone these days runs 16:9! With the 'Full HD+' resolution you'll get a very sharp display with 403 pixels per inch. Certainly a clear improvement on the stingy 275 PPI that the Oukitel U18 offers!
Screen Tech Specs: 5.99 inch 18:9 Display, 2160 x 1080 resolution, 403 PPI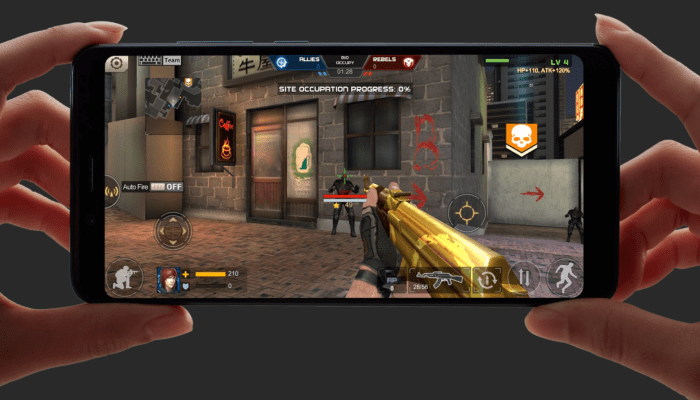 Hardware / Performance / Software
As the first phone to market with the Snapdragon 636 CPU the performance of the Redmi Note 5 will be watched closely.
The Note 5 scores comfortably over 100,000 in Antutu 7, though as James noted in his Leagoo T5C review these can't be compared directly to Antutu 6 scores.
You'll be able to choose 3GB, 4GB or 6GB RAM. Please note though that the 3GB RAM variant only has 32GB of storage. The 4/6GB options come with a much more sensible 64GB.
Software-wise I'm very happy to see that Android 8 Oreo is present. We've seen too many phones getting released on Android 7 Nougat, 'on a promise' to be updated to Oreo. With the recent release of the early developer-only preview of Android 9, we're in danger of the import phone market slipping behind the curve.
You won't really be able to tell that Oreo is present though, as the Note 5 runs the heavily skinned MIUI 9 operating system. I'm still a fan of MIUI, though a recent Twitter poll which Xiaomi ran asking if users preferred MIUI or pure Android rather embarrassingly scored a comprehensive win for pure Android!
CPU: Snapdragon 636 – 8x 1.8 GHz
GPU: Adreno 509
RAM: 3GB/4GB/6GB
Storage: 32GB/64GB
Expandable: Yes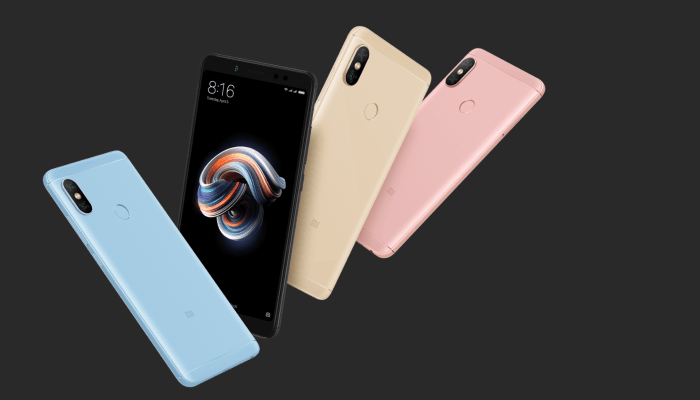 Camera / Photography / Face Unlock
This is the first phone in the Redmi series to feature dual cameras. Early indications are that the performance is much better than the Redmi Note 4, and almost as good as the Xiaomi Mi A1. I'm very keen to put the Note 5 through its paces when our review unit arrives.
Something to bear in mind though, is that unlike the Mi A1 and Mi 6, there is no telephoto lens on the Note 5. This means that the bokeh effect used in Portrait Mode isn't likely to be as effective as on these phones.
The Redmi Note 5 does have a camera upgrade from the Redmi Note 5 Pro released in the Indian market. Wider aperture and larger pixels allow for more light to hit the sensor and as such improve the images shot in darker conditions.
Of course, Face Unlock is an option. Along with the 18:9 screens this is the most common 'new' feature on 2018 smartphones. If you're suspicious of this option though there's still the trusty fingerprint scanner on the back.
Rear Camera: 12MP + 5MP, Dual LED Flash, Portrait Mode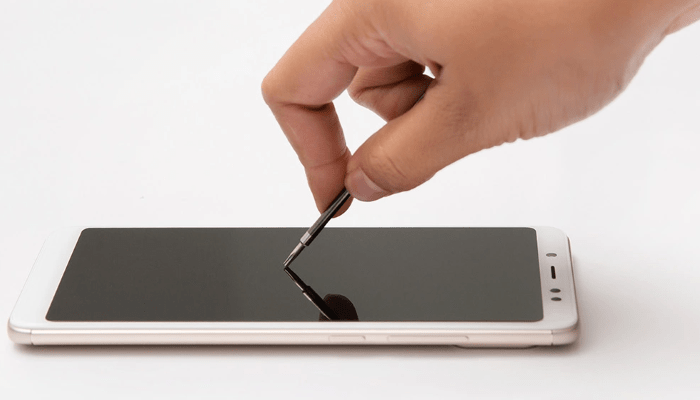 Battery Life
In keeping with tradition, the Redmi Note 5 has a large 4000mAh battery. I used to call this 'huge', but there have been a slew of phones recently with even bigger juiceboxes (Vernee X, Ulefone Power 3 / 3S)
The Note 5 is lighter and thinner than these devices though. I think that Xiaomi have made the right choice to 'only' go with a 4000mAh battery. And, with the efficient Snapdragon 636 under the hood, the Note 5 will definitely post fantastic endurance scores.
It's note all good news though (geddit?)
At a time when we are seeing even budget phones use the USB-C connector, Xiaomi's decision to go for a micro USB charging port for the Note 5 has me puzzled to say the least.
Anything else?
Sure! In keeping with tradition, the Redmi Note 5 has a micro SD slot. I've always thought this was odd seeing as Xiaomi's Mi flagships don't have this option.
I'm also happy to see the Redmi Note 5 keeping it old-school and rocking a 3.5mm headphone jack. Don't get me wrong, I love my Mi 6, but sometimes I have to choose between charging it and listening to music with a USB-C to 3.5mm adapter, and that just ain't cool…
You'll also get another feature we see on most Xiaomi phones, the Infrared blaster. It's probably something that not a lot of us need. I'm sure there are people out there who can't live without one though!?!
For a phone in this mid-range market it's great to see Bluetooth 5 and AC wireless support, but unfortunately there's no NFC so Google Pay is not an option.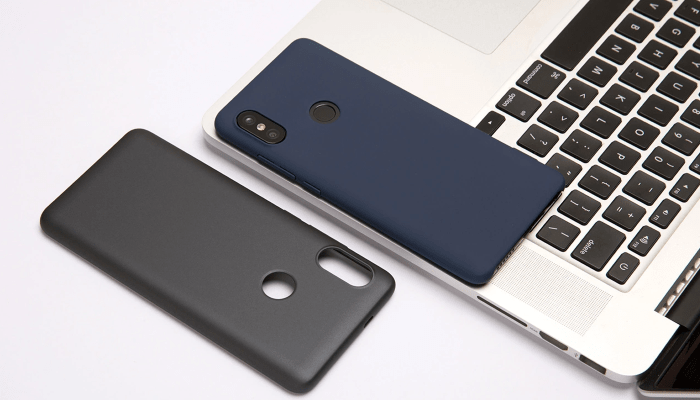 Redmi Note 5 – The Verdict
The Redmi Note 4 was definitely top of the mid-range league in 2017. The Note 5 promises to offer more of the same, but with a few upgrades along the way.
Sure, you'll still get great build quality, performance and battery life. But with dual cameras and a bigger screen too.
Between the Note 5 and the Mi A1 it looks like Xiaomi has the mid-range market well and truly sewn up for a good while yet…
Check Pre-Order Status:
Full Tech Specs Below…
Tech Specs & Connectivity
Full UK 4G Network Coverage? No – until Xiaomi releases a Global Version, the Redmi Note 5 doesn't have Band 20. Check to see if this affects you.
| | |
| --- | --- |
| Smartphone | Redmi Note 5 |
| Screen Size | 5.99 inch |
| Screen Ratio | 18:9 |
| Pixel Density | 403PPI |
| Screen Resolution | 2160×1080 |
| Dimensions | 75.4mm x 158.6mm x 8.1mm |
| Weight | 181g |
| Colors Available | Black, Gold, Rose Gold, Cyan |
| Storage | 32/64GB |
| Processor (CPU) | Snapdragon 636 (8x 1.8GHz) |
| Graphics (GPU) | Adreno 509 |
| RAM | 3/4/6GB |
| Android Version | 8.0 Oreo |
| Micro-SD Card Tray | Yes – Dedicated Slot |
| Notification LED | Yes |
| Finger Print Sensor | Yes – Rear-mounted |
| Face Unlock | Yes |
| Infrared | Yes |
| USB Type | Micro USB |
| 4G Bands | FDD: B1 (2100MHz) / B3 (1800MHz) / B7 (2600MHz) |
| SIM Support | Dual SIM |
| WiFi | 2.5GHz – b, g, n, ac 5GHz – n, ac |
| GPS Tech | GPS, A-GPS, GLONASS |
| Bluetooth Version | 5.0 |
| NFC | No |
| Sensors | Proximity, Accelerometer, Light, Hall, Gyroscope, Compass |
| OTG | Yes |
| Battery Size | 4000 mAh |
| Wireless Charging | No |
| Fast Charging | Yes (5V/2A) |