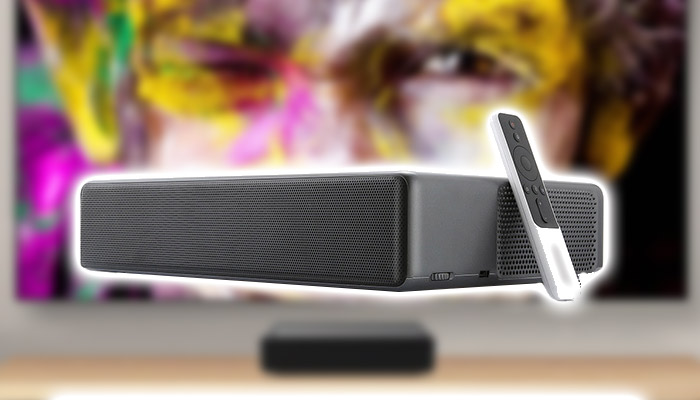 Xiaomi are back with their new & improved 'Ultra Short Throw Laser Projector'. Now 40% brighter?
The future has arrived and it's arrived in incredible style, with this high-spec, high-tech, short-throw projector from Xiaomi.
Further Reading: The Best Xiaomi Stuff – 2018 Edition
The Xiaomi FMWS01C short-throw projector is a real game changer and that's not an exaggeration, this is an incredible piece of kit. Offering unrivalled 1080P image quality and audio, it's the very first of its kind in the world to offer so much for so little.
If you're looking to bring that big screen cinema experience directly into your home then the Xiaomi FMWS01C Projector may just be the perfect machine for you.
The Good

Great in low lighting
Accurate Colour Details
Premium Build Quality & Design
Amazing Space Saver
The Could Be Better

Still washed out in bright surroundings
Mix of Chinese / English Menus
A tad expensive compared to TV's
Advertises 4K, Actually 1080P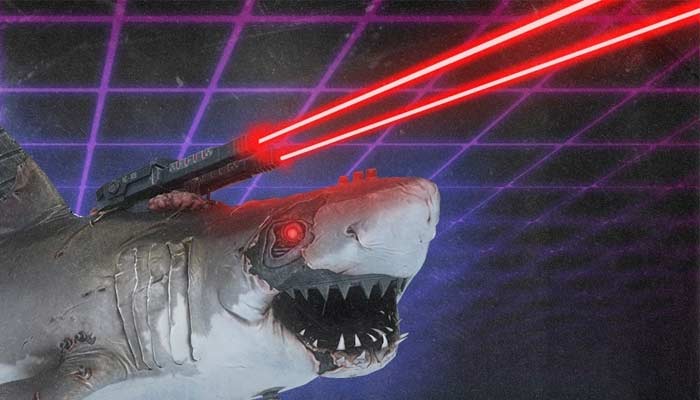 What the heck is a short throw projector? and aren't lasers dangerous?
The Xiaomi FMWS01C is referred to as a "short-throw" projector and it's a term that has raised some questions and caused some confusion amongst consumers and reviewers.
But it actually has a relatively simple explanation.
"Short-throw" refers to the distance the projector needs to be from the wall or screen it's cast on, to display its maximum image size (150 inches, in this case).
The Xiaomi FMWS01C, which is an "ultra-short-throw" projector, using ALPD 3 laser technology, needs to be only 19 inches away from the wall or screen.
That's pretty much unheard of in the industry and when you see the quality of the images this machine can project, at such a short distance, you'll be blown away.
The benefit of this technology to you may be a little or a lot, depending on your circumstances. It's useful if you're short on space. If you're not, it gives you positioning flexibility in your home, which is always a plus when arranging your home cinema experience.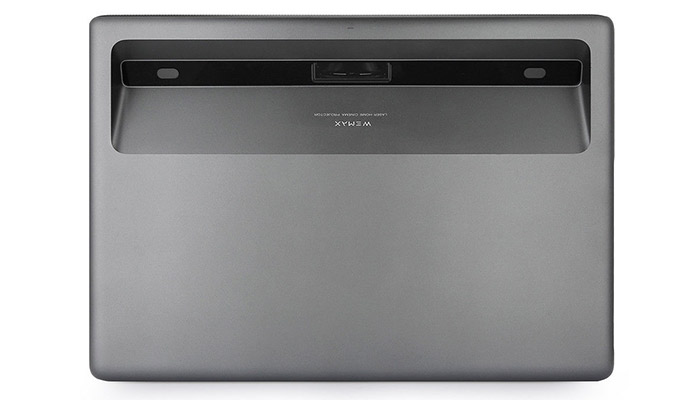 You need to make sure there's enough room for the reclining seats and popcorn machine, right?
The projector also comes with built-in technology that protects against eye fatigue, so don't worry about being too close to the action.
The quality of this projector is as you would come to expect from Xiaomi; sleek, stylish and sturdy. This a seriously well-made device and one that feels like it will last even more than the 25,000 hours Xiaomi guarantees it for.
Like most Xiaomi products there is a specific focus on user interactivity with the product; it's user-friendly and intuitive, you'll hardly need to look at the instruction manual (but ones included if you do)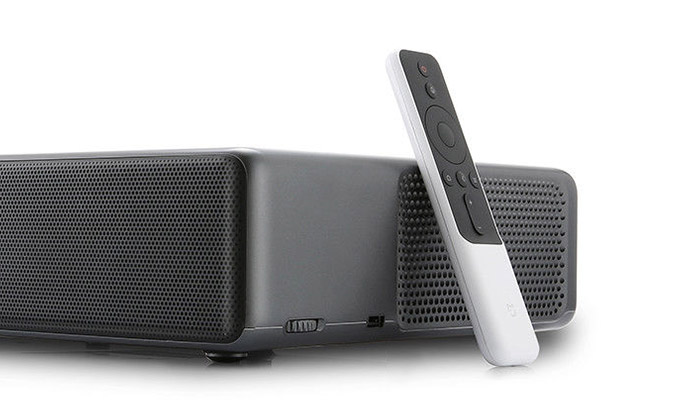 Setup & Remote
Everything is pretty much "plug and play" and you'll have it up and running in no time at all, even with the most rudimentary knowledge of this kind of tech. You'll probably spend more time deciding what movie to watch, it's that simple.
The projector can be controlled quite easily from anywhere in the room using the remote control, which connects via Bluetooth and comes with some very impressive voice command technology.
This makes it incredibly straightforward to channel-hop and select movies, without having to repeat your commands over and over (as sometimes can happen with lesser machines). The remote control follows the minimalist styling of the projector: sleek and sturdy.
Despite its very affordable price tag, you never at anytime feel like you're using a "budget" machine. This is a high-end, powerful machine that would be a bargain at double the current price, but for some inexplicable reason, sits at just under $2000.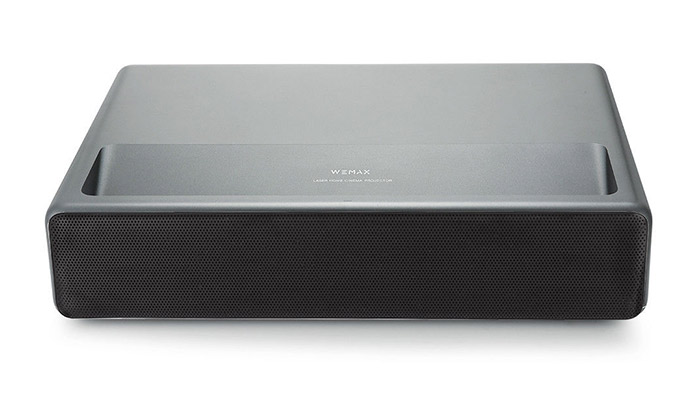 Xiaomi Laser Projection Quality
The Xiaomi projector features ALPD 3 lasers, which are responsible for its "ultra- short-throw" capabilities. The lasers also deliver gorgeous colour reproduction, 3000:1 native contrast, and up to 7000 lumens source brightness.
The key word here is 'source'. The is the when the light is measured before it reach it's target. In reality, this projector still needs a fairly dim environment to look it's best. When looking at projector brightness, you'll want to look out for this.
The screen size goes all the way up to 150 inches, which is impressive in even the biggest of living rooms. Couple that with the top-end DOLBY speaker system, that comes built into the projector and you'll be experiencing your movies exactly the way the director and producers intended you to do so: in pristine blow-your-face-off quality.
The sound is loud but it never distorts, the image is enormous, but it never loses focus. One downside of the system would be that its currently only available in English, so that might be something to take into consideration if English isn't your first language. That issue aside, this is flawless, futuristic, bone-shaking stuff.
The system can run on Android 6.0 and higher, allowing you to cast videos directly from your phone or tablet to the projector. This works well, It's quick and intuitive and pushes them up to 150 inches in a fraction of a second, with DOLBY audio to boot. Those grumpy cat videos the world has on repeat have never looked or sounded so good.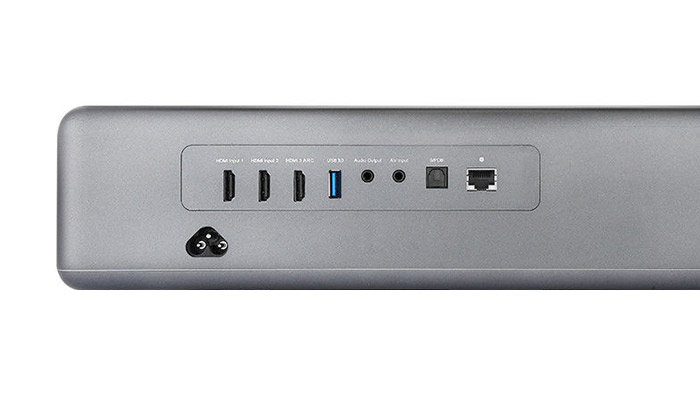 Connectivity
The Xiaomi FMWS01C supports Bluetooth V4.0 and dual-band WIFI, 2.4GHz + 5GHz, so whatever device or network you're using, you're sure to be in sync with your projector. What really sets this thing apart from its competitors are it's connection ports.
The back of the FMWS01C is seriously impressive. Whatever set-up you're used to, this projector has you covered with an ethernet port, 2 SPDIF sockets, audio out, AV 3.5, USB 3 and USB 2, ARC and HDMI 2.0. It's a technological beast that gives you a lot of flexibility, allowing you to set it up the way you want.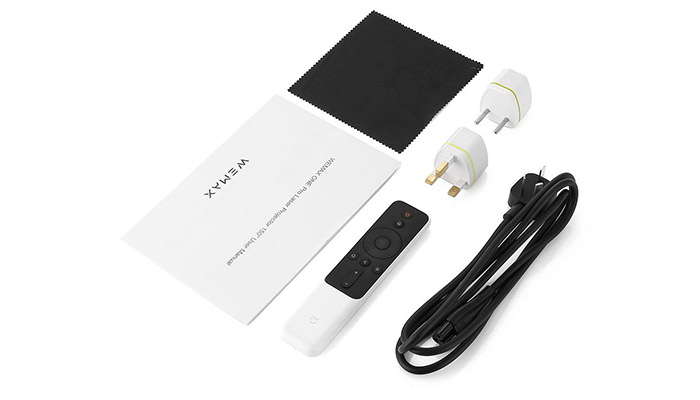 Xiaomi Short Throw Laser Projector – The Verdict
The Xiaomi FMWS01C projector is a bold, high-tech, powerful and user-friendly machine from Xiaomi. A company that just keeps getting better at this stuff, innovating with each and every attempt.
If you're looking to bring that true cinema experience into your living room for a price that is much more affordable than it should be, then the Xiaomi has to be one of the very best options on the market today.
Near perfect for its price and one of the best projectors available in any price range. It's strong, well built, will last up to 34 years (if used for 2-hours per day) and it offers unrivalled picture and audio quality in its price range, coming in at just under $2000.
There really isn't much more to be said about this Xiaomi Projector, better for it to be experienced; feet up, popcorn in hand, and with a big Hollywood blockbuster on screen.