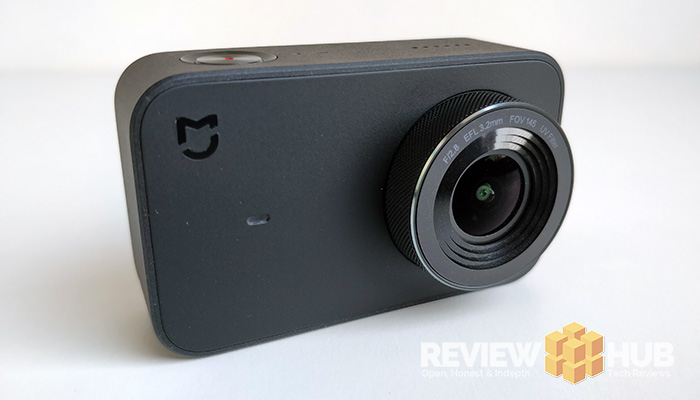 We get hands-on with the Xiaomi MiJia Mini 4K Action Camera… the budget GoPro alternative
With a summer of capturing awesome 360 footage from the Xiaomi MiJia 360 Action Cam behind me, I'm super excited to try out the new Xiaomi MiJia Mini 4K Action Camera.
Currently, the action camera market is split into two. There's GoPro and then there's everyone else.
Trying hard to change that is Xiaomi with two of its own action cam ranges, MiJia and also Yi cameras. The camera we'll be reviewing this time is the Xiaomi MiJia Mini 4K which looks a lot like the GoPro 4 featuring an LCD viewfinder and shooting in 4K.
It even has its own specific Gimbal that exclusively fits the MiJia Mini and its totally awesome! Link to the full Xiaomi Gimbal Review coming soon but you can check out some footage in our video below.
Further reading: The Best Xiaomi Smartphones – 2018
I've spent the last 4 weeks touristing around South East Asia with the Xiaomi MiJia Mini by my side. Why? because I want to see if it can perform as well as my trusty steed, the GoPro Session.
Check out the latest Xiaomi MiJia Mini 4K Camera deals below…
What we love…
Excellent Battery Life
Good Low light filming
Lightweight (99 grams)
Amazing Value for Money
Display + Touchscreen Viewfinder
Time-lapse, Burst & Timer function
What's not so great…
Waterproof case sold separately
Image stabilisation without Gimbal
No Lens Cover Included
Xiaomi MiJia Mini – Video Quality & Features
They say a picture can say a thousand words… well a video has 30 pictures a second so… well you get the point. Here's the Xiaomi MiJia Mini 4K in action (above)!
Shooting Modes
The Sony IMX317 sensor inside the MiJia Mini is able to shoot at 1080p (60fps) with image stabilisation and 4K (3840 x 2160) without.
In bright sunlight, the colours look vivid with the whole picture showing more contrast than the GoPro. Its hard to believe this action cam costs less than £100.
There's a variety of different features you can play around with including time lapse, slow motion, burst and loop record. The timer has options of a 3, 5, 10 or 15-second countdown to get those perfect solo or group shots!
Lens Correction
The MiJia Mini 4K has two options for shooting your footage. You can film using the fisheye lens for the GoPro effect or you can turn on 'Lens Correction' in the settings. Lens Correction works really well removing almost all the distortion although you do lose some field of vision.
Xiaomi MiJia Mini 4K Vs GoPro Session (Colours, Crispness, Quality)
To test the video quality I filmed side by side footage with my GoPro Session and the MiJia 4K Mini to compare the overall quality.
Ok, so I'd be lying if I said the MiJia had more vivid colours than the GoPro, but it holds it's own all the same and offers a higher level of detail.
In terms of field of view, the MiJia Mini's is slightly narrower. I actually prefer this as with the GoPro I spend a lot of time moving in closer to the subject.
It's only when we consider how much more expensive the GoPro Session is, that we start to see what excellent value the MiJia 4K Mini has to offer.
Night Filming
To test out how well the MiJia Mini 4K films at night I took it to the Chiang Mai Sunday Walking Market and I was more than happy with the footage! Normally cheaper camera produce grainy, unusable night footage. While not perfect the low light footage is clear and very usable.
Stabilisation
Once I started using the MiJia Mini while running and cycling, things quickly went downhill. The image stabilisation did little to steady the footage making it unusable. Walking around with the camera or using in water is fine but the image stabilisation isn't up to the job of extreme sports.
Xiaomi MiJia Gimbal
While it does add to the initial cost, the companion gimbal is excellent. The build quality is premium, it extends the cameras battery life and lets you get your #spielberg on like a pro.
This weeks best Xiaomi MiJia Gimbal offers: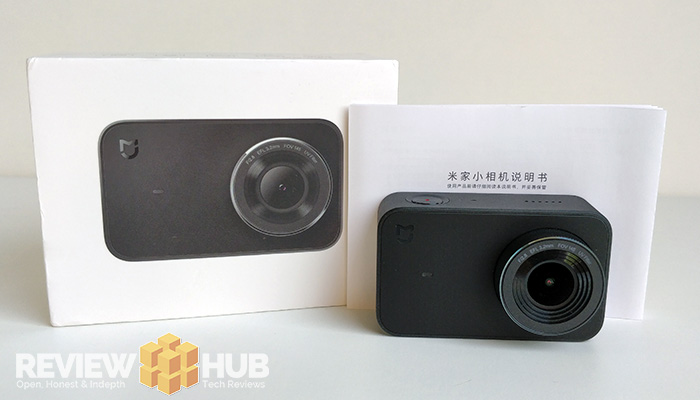 Unboxing the Xiaomi MiJia Mini 4K
The MiJia Mini 4K comes in a small square white box with only a picture of the camera on the front. Once you've managed to satisfyingly tease the box apart, you'll only see the little action camera staring back.
Dig a little deeper and underneath you'll find a simple instructions booklet, the battery and a micro USB cable.
Surprisingly, you only get a black sticker covering the lens without any hard cover or case to be found. Xiaomi isn't known for handing out free accessories with their products, but this seems like an oversight to me.
There is an official Xiaomi MiJia Mini waterproof case which we've been testing. But, you'll need to purchase this separately. It's the same case used in the video review above.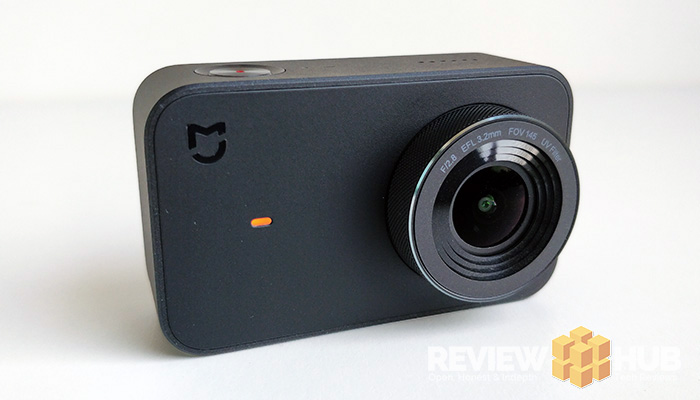 Design & Build Quality
I love the design of this action camera! It's simple, it's black and it's grippy. The metal lens circle feels tough, and I didn't find any weak areas during my few weeks with the camera.
Just having one button for shooting footage makes it a dream to use, and then you have the touchscreen for when you want to play with the settings. All the settings can be accessed via the app as well.
The fact that it only weighs 99 grams means it won't get left behind like your DSLR, although the waterproof case does make it a little on the bulky side. So it's a point to GoPro for their case-free waterproof cams.
It'd have been nice if the charging port cover felt a little more sealed, but it doesn't advertise as waterproof without the case.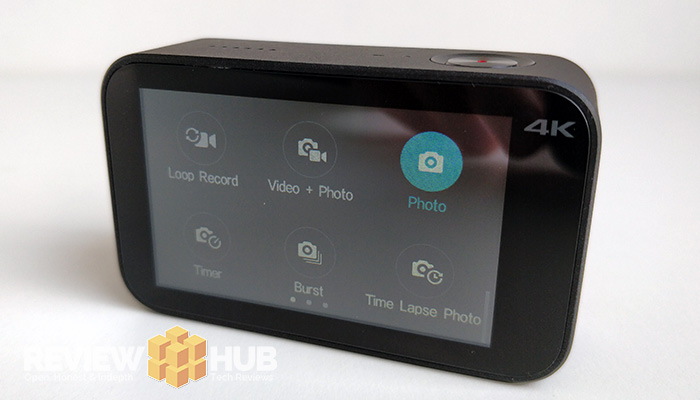 Xiaomi MiJia Mini 4K – Setup & Software
Getting started with the camera is simple. Add a memory card and you're ready to start filming making it suitable for both beginners and more experienced users.
Press down the single power button on top, wait for the cute jingle and then you'll see either a camera or video icon at the top of the screen. This lets you know which mode you're in.
Swipe Right and you'll see all the camera modes such as time-lapse video, slow motion and loop record.
Swipe Left to view all of your video recording and picture in the gallery. You can view or play these back on the camera itself.
Swipe Down to access the settings. From here you can connect to the Mi Home App using WiFi (more info below). Change the cameras (non-filming) settings and also power off the cam.
Settings Icon – You'll find this in the bottom right of the viewfinder screen and it'll give you access to all of your filming settings.
Super simple right : )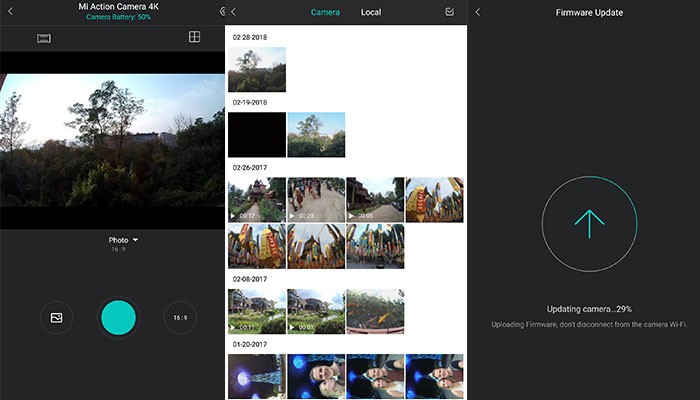 Xiaomi Mi Home App
Rather than messing around with the fiddly Micro-SD card you can export all your footage to your phone via the Mi Home App.
While not a dedicated video editing app, it has some basic functionality that's useful. You can view all the videos on your MiJia Mini, download videos and pictures directly to your smartphone and access a live stream of what the camera is viewing.
If you find the camera display a bit small, you can also access all the same setting through the Mi Home app as well.
Probably the most important reason to use the Mi Home App is so that you can update the MiJia to the latest firmware version. With each new firmware version comes improvements and enhancements to the camera.
During testing, I've had several firmware updates each time I connected to the app. Xiaomi are known for their continued product support.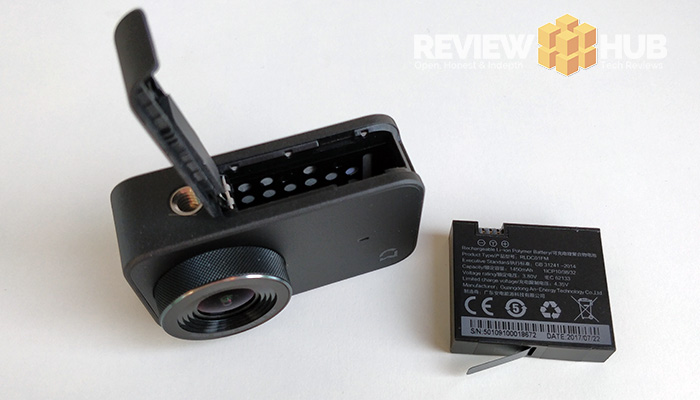 Battery life
An area where the Xiaomi MiJia Mini Action cam really shines is in its long battery life!
The worst nightmare for every tourist is when you're visiting a once in a lifetime spot, you reach for your camera and its dead…
Luckily, the Xiaomi MiJia has a 1450mAh removable battery that lasted a whole day of taking both photo and videos without a hitch! Eventually it's going to  run out though, so best get yourself a couple of spares.
Turning the WiFi on and connecting to the Mi Home app wasn't a battery drain either.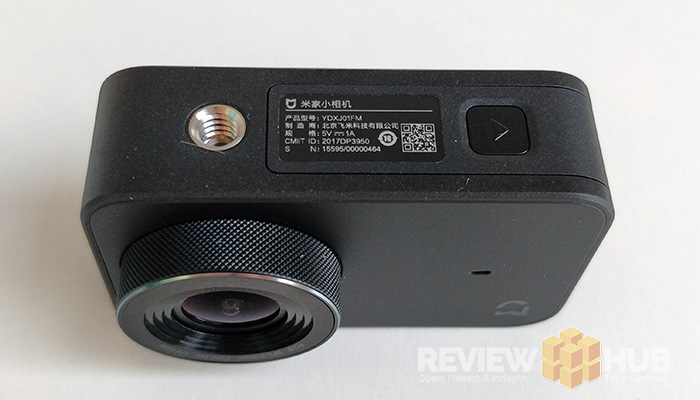 Xiaomi MiJia Mini 4K – The Verdict
Overall, the Xiaomi MiJia 4K Mini is a strong choice for those looking for an action camera without the GoPro price tag.
While adding a Gimbal and waterproof case makes brings the price up, you're getting a much more comprehensive setup than a GoPro without a gimbal.
Overall, the MiJia 4K Mini exceeded my expectations of a sub £100 camera both for daylight and night-time footage. My only gripe is that could of designed a better cover for the charging port.
Do I recommend the Xiaomi MiJia 4K Mini? Yes, it's a great little action cam that becomes an awesome action cam when combined with the MiJia Gimbal.
Xiaomi MiJia Mini 4K offers below…
Tech Specs
| | |
| --- | --- |
| Camera | Xiaomi MiJia Mini 4K Action Camera |
| Screen Size | 2.4 Inches |
| Dimensions | 2.81 (L) x 1.68 (W) x 1.16 (L) |
| Weight | 99g |
| Video Resolution | 1080p (60fps), 4K (3840 X 2160) |
| Still Image Resolution | 3840 x 2160 (8.3MP) |
| Lens Angle | 145 degrees (fish eye) f/8.2 aperture |
| Waterproofing | NO |
| Features | 6 Axis Stabilization, Slow Motion, Burst, Timer, Loop Record, Time Lapse, |
| Colors Available | Black |
| Battery Capacity | 1450mAh (Removable) |
| Working Time | Around 2 hours |
| USB | Micro USB |
| Processor? | Ambarella A12S75 |
| Materials | Plastic |
| Connectivity | IEEE802.11 b/g/n + Bluetooth 4.1 |
| Languages Available | English, Traditional Chinese |
| Storage | Up to 64GB (SD card not included) |