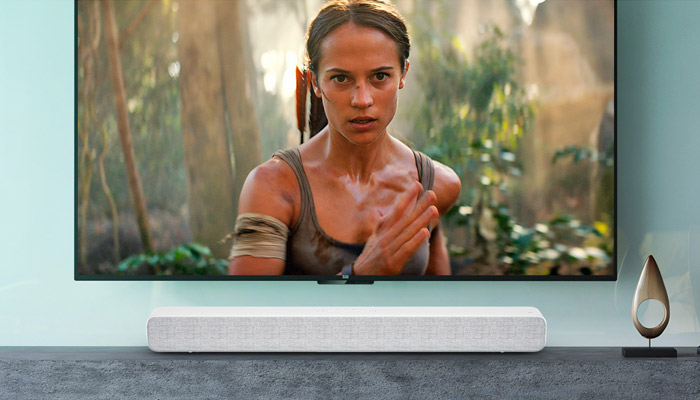 At 400 Yuan, the Xiaomi Mi TV Soundbar is a steal, but, to bag yourself one outside of China, you're going to have to pay double. So let's dig deeper to see if the Xiaomi Soundbar is worth every penny?
With so much cheap & underperforming tech flooding out of China, it's reassuring to know that premium Chinese brands like Xiaomi have emerged. Once known for creating iPhone lookalikes (#DesignedInChina), they now have their fingers in nearly every tech pie.
The latest of their gadgets I've managed to get my hands-on is their 33 inch Mi Soundbar that wouldn't look out of place on the shelves of Ikea. The full textured minimalist grey front gives only a small clue to the devices function.
Although Xiaomi are known for creating exceptionally good value products with great craftsmanship, the Xiaomi TV Soundbar sits firmly in the budget spectrum when it comes to build quality. The plastic feels… well… very cheap.
It's no deal breaker though as this soundbar looks great and once setup, you won't be touching it much anyway.
Plus, it has to be one of the cheapest soundbars on the market. So, if it can impress me with some half-decent audio quality, then all will be forgiven on the build-material front.
This full hands-on review of the Xiaomi Mi TV Soundbar will cover the: Pros & Cons, Audio Quality, Setup & Connectivity and finally our Review Hub Verdict.
Latest Deals & Pricing Below…
Pros
Good Overall Audio Quality – Price Considered
Decent Cinematic Bass
A big upgrade from TV Audio
Modern Scandinavian Design
Wall Mountable
Cons
No Remote
Only a SPDIF Cable included
Chinese Plug (easy fix)
Bass can overpower treble
Half the price in China (399 Yuan)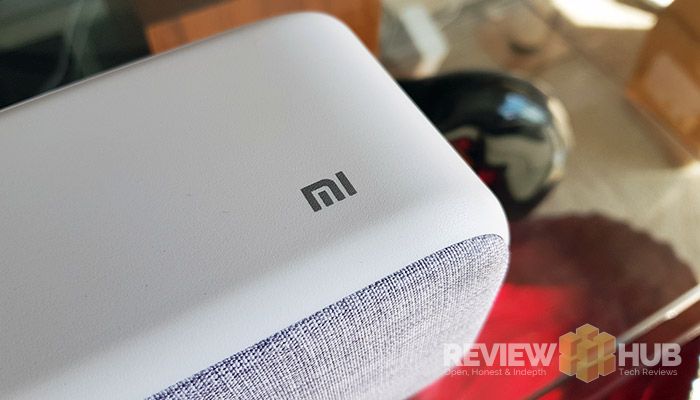 Audio Quality
When measuring the audio quality of a soundbar, I always keep the retail price in the back of my mind. You can't fairly compare the £99 Xiaomi soundbar to say the £1200 Sony HT-ST5000.
So for around £99, how does it perform.
Pretty damn good! True to form Xiaomi have created a product that impresses on the budget end of the spectrum. You get low deep rumbling bass combined with okay mids and highs.
Watching the new Venom trailer on YouTube really shows off how well this speaker has been tuned to get the most out of cinematic effects. Venom's low growling voice is captured well with plenty of bass in the explosions. Cinematic sound effects are bright and push out a sense of realism your TV speakers can't match.
Without a dedicated sub though, you don't get the chest rumbling bass effect, but, the bass is definitely still there. While the mids & highs could be clearer, this soundbar doesn't suffer from any cheap tin can speaker effects either.
Another nice effect of the Xiaomi soundbar is that the 33″ length gives an improved stereo soundstage compared to smaller units. It's subtle but a nice subtlety to have.
My only criticism, which I touched upon earlier, is that some of the mids could be sharper. During scenes with a lot of bass, voices can become a little lost.
Overall though, the Xiaomi TV Soundbar does an excellent job considering its price-tag. If you're listening to your TV's inbuilt speakers, you're going to be getting a big upgrade!
It also works as a Bluetooth Speaker for Music & Games*

Built into the soundbar is Bluetooth 4.2 connectivity. With a high max volume, no rattle and very little distortion it doesn't make a half bad music speaker.
If you mainly listen to acoustic or vocals, you'll probably be disappointed as the lack of clarity in mids can make some songs feel a little muddy.
*If you're planning on using the Xiaomi soundbar to boost your gaming audio you'll be disappointed. For fast paced games the lag between phone and speaker is too much. For casual games with only background music, this isn't an issue.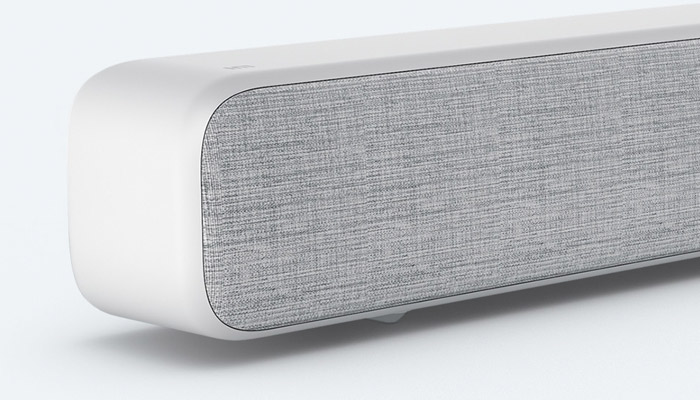 Oh yes, that beautiful Scandinavian Design
One of the best bits about this soundbar… is how it doesn't look much like a soundbar at all. The grey fabric covering the front, the rounded curves and the minimalist white plastic add up to make one stylish soundbar.
In the box, you'll also find a screw kit allowing you to wall mount. The port area is recessed so you'll still be able to access any cables and the power switch.
Overall, it's a refreshing change to most of the budget soundbars out there but can look a little garish if you already have a black setup.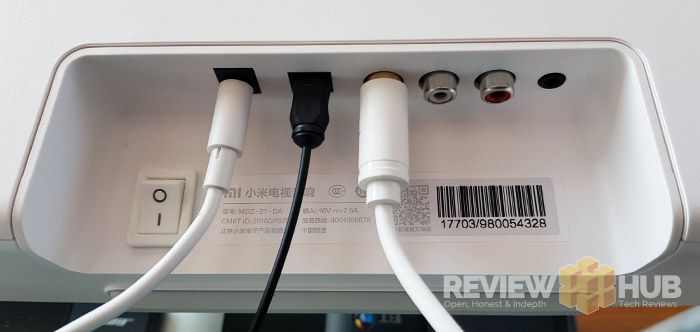 Setup & Connectivity
Setting up the soundbar is very simple. The reason it's so simple is that there is no remote, no fine tuning and nothing to fiddle with. The lack of remote can cause some volume issues depending on what connections you use during setup.
Connect to your TV using either an AUX cable, Optical Cable, SPDIF (included) or Bluetooth. Depending which connection you've picked and your TV's own controls you can tailor the sound using your TV's menu.
This is where you realise not having a remote for the soundbar can be really annoying. On my 58″ Panasonic TX-58DX700B, you can't control the volume when using the Optical Out. Not a problem for my Bose Soundbar as I just turn off the TV volume and turn up the Bose… using the Bose Remote.
On the Xiaomi Soundbar, using optical, you physically have to get up to alter the volume… #AngryCouchPotato.
Bluetooth 4.2 Connection
Included is Bluetooth 4.2, allowing you to connect and play sound from your smartphone or tablet to the TV Soundbar. The connection is stable and it's more than loud enough to get the party started.
On my Galaxy S8, there is some lag between the Xiaomi Soundbar and my phone. Not a problem for music but movie watching trailers the lips were out of sync.

Xiaomi Mi TV Soundbar – Review Hub Verdict
If we were getting the 399 Yuan price (£45) over here in Europe, then it would be a no-brainer. But since we'll have to pay double that plus risk import fees the decision becomes a little trickier.
On the pros, we have the excellent Scandinavian fabric front design, cinematic bass and Bluetooth capability. But, on the cons, we have a lack of remote, sometimes muddy mids and Bluetooth delay.
Connectivity availability is good, but relying solely on your TV for output is bad.
I'm torn on this one. Let me know what you think in the comments below.