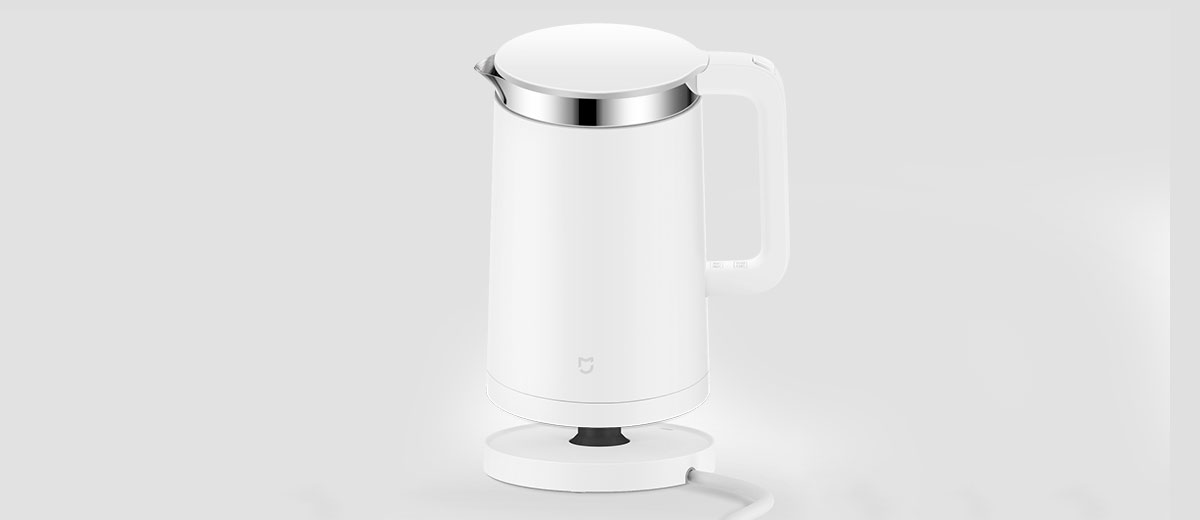 China-based Xiaomi is among the world's most prolific electronics manufacturers. The company dabbles in just about everything- from high end gadgets like laptops and smartphones, to consumer appliances like lamps and water purifiers. As long as there is a circuit board attached to it, you can be sure that Xiaomi produces (or will produce) it.
Further Reading: 15 Awesome Xiaomi Products
One of the most curious gizmos that Xiaomi has manufactured in recent times is the Mi Smart Electric Kettle. If you're asking how an electric kettle (aka the thing that you use to heat water with for your tea or coffee) can be called "smart," then you're asking the right questions.
The Xiaomi Mi Smart Electric Kettle is a "smart" gadget because you can control it remotely using your mobile device (e.g. smartphone and tablet). No need to get off from your couch to check if the water's already boiling or if you want to prepare a cup of instant coffee on a whim. Just tap on the app and go.
The smart features are very innovative and unique, that's for sure, but can the Xiaomi Smart Electric Kettle stand up to the daily rigours of being a plain old electric kettle? Read on to find out:
As the Xiaomi Smart Kettle has been design for the Chinese market, you won't find it in your local retailers or Amazon. If you want the designer Xiaomi Kettle, you're going to have to get it shipped online.
Build Quality
When you first pick the Mi Smart Electric Kettle up, the first thing that you'll notice about it is that it feels very solid and sturdy. It has a certain heft and weight to it that you can't find in other lesser electric kettles.
The inner layer of the kettle is where the magic lies. It is made out of double 304 stainless steel, which ensures that you get optimal insulation for your hot water. The outer food grade PP (Polypropylene) chassis also adds another extra layer of thermal insulation. If you don't want to use the kettle's "smart" features, you can simply unplug the device from the outlet once the water has boiled over and its contents will stay hot for hours on end.
Boiling Times
The kettle has a 1.5L capacity. This is enough water for a person who likes to drink coffee, tea, and soups throughout the day. Despite the sizeable capacity, the Xiaomi Mi Smart Kettle can provide enough power to boil all of its contents in five minutes tops.
In case of excessive water splashing (which normally happens when you overfill the device), the kettle's lid will automatically open to 45 degrees. It can then be fully opened by the user up to 80 degrees. The Mi Smart Kettle will also automatically turn off when the water inside has boiled out so there's no risk leaving it in thermostat heating mode.
Design
The kettle comes in a crisp matte white color that will not look out of place in a lot of modern kitchens. It has a simple minimal design, and a very sleek, very modern-chic silhouette. There are two buttons on the handle: one button to boil the water, and the other button to keep it at a constant temperature. These buttons are waterproof and resistant to mechanical wear since they are capacitive touch buttons. All in all, it's a very pretty looking gadget to have in your home.
"Smart" Features Mi Smart Kettle's "smart" features can be accessed by connecting your phone to the kettle's mobile app through Bluetooth. The Mi Home app can provide remote temperature control up to 12 hours. If you want your water boiling hot throughout the day, then using the app is definitely for you.
Xiaomi Mi Smart Kettle Pros and Cons
Pros:
Excellent Aesthetics – Probably one of the best looking gadgets that Xiaomi has produced so far. It has a timeless modern look to it that won't go out of style for years to come.
Can Heat Water Fast – It can heat 1.5L of water in just five minutes. This is perfect if you're the type of person who can't stand waiting around for your coffee or tea.
Built-in Security Features – The kettle is specifically designed to prevent electric leakage and shock. It also automatically turns off once the water starts to boil.
Cons:
Cannot Toggle The Kettle On & Off Remotely – You can only remotely control the device's temperature; you can't turn the device on or off through the app.
Chinese Instructions – while not a deal-breaker, the two buttons are labelled in Chinese.
Chinese Plug – You'll either need to attach the kettle to an adapter or rewire the end.
Xiaomi Mi Smart Kettle – The Verdict
If you want a solid electric kettle that can last for years, then the Xiaomi Electric Smart Kettle is a must-buy. The "smart" features can be a bit limited, but there's no denying that the gadget does its job of. boiling water a whole lot better than other lesser electric kettles.
See the latest Xiaomi Smart Kettle deals below: