The Xiaomi Mi Square Box 2 has arrived…
Picking a Bluetooth Speaker has now become a chore… the speaker market is saturated with new brands and the brands we know are charging overinflated prices… it feels like we only have two choices…
Take a gamble on a new brand… or pay up…
Well not anymore, as Xiaomi has just released the new Mi Square Box 2 Bluetooth Speaker. If you haven't checked out my original Xiaomi Mi Box review, do that now and you'll find out why I rated it as one of the best budget Bluetooth speakers available.
So what's new on the Xiaomi Mi Square Box 2?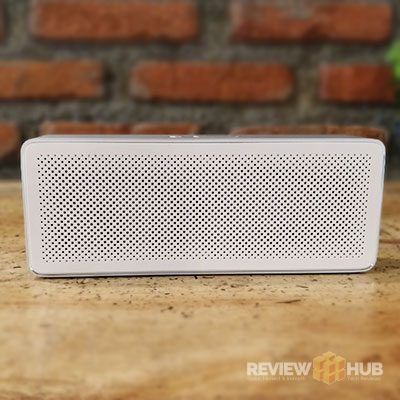 You'll find out this and more as we take a first look at the Mi Square Box 2 speaker's Design, Build Quality, Sound, Connectivity & Battery Life… right after the Pro's & Cons…
Mi Square Box Generation 2 – available now…
The Pro's
Added Headphone Jack
Super Lightweight
The Price-Tag
Premium Build Quality
Bluetooth 4.2
The Cons

No SD Card Slot
Sound Quality isn't as good as original
Higher Treble than Mi Square Box 1
Smallish battery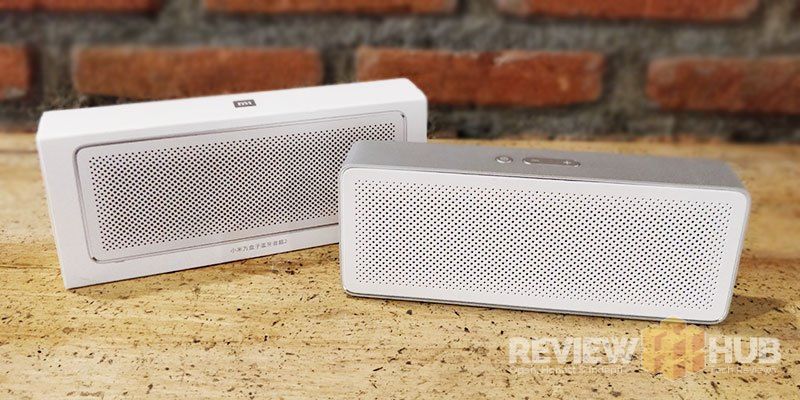 Design & Build Quality
I really like the Xiaomi Mi Square Box speaker… but the design on the Mi Square Box 2 is so much more refined…
On the surface, the two speakers seem very similar but the small subtle changes add up to make a big difference. The Micro-USB port has been moved to the back meaning you can leave it plugged in without having to see a wire sticking out the side.
They've also moved the power button to the top and added physical buttons for volume up & down making it much easier to use. Finally, they've hidden the LED light inside the speaker grill meaning you can see it more easily.
In terms of the dimensions, it's nearly 25% longer than the original but manages to cut the weight down to 155 grams, a whopping 32% weight reduction. The thickness has also dropped but 1.5mm but this isn't noticeable.
Overall, it's another good (albeit similar) speaker design by Xiaomi. The Mi Square Box 2 has softer curved corners than it's predecessor and really drops the weight making it much more portable.
The design isn't as impressive as the Xiaomi Mi Cannon Speaker, but it's miles ahead of the mainly plastic portable speaker competition…
Colours Available: White Only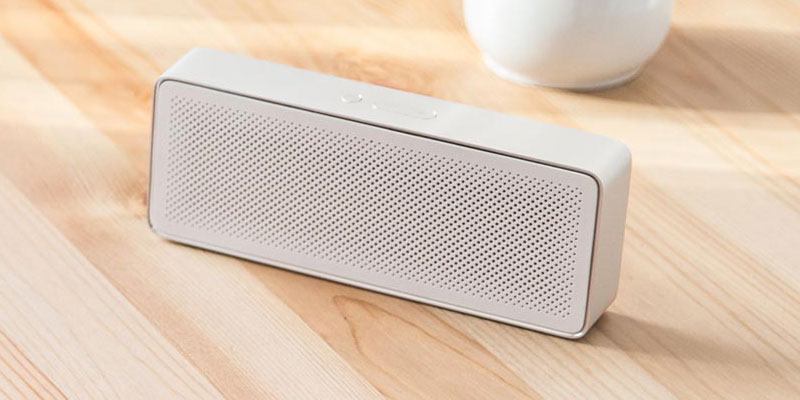 Sound Quality
The Xiaomi Mi Square Box 2 portable speaker looks very similar to the original Mi Square Box but as soon as you turn them on, you'll know the difference.
I praised the original Square Box speaker for it's rich even sound and unbelievable bass (taking its size into account). Listening to a variety of music on the Mi Square Box 2 and you'll soon notice that its equalisation leans towards the treble.
I'd say between the two speakers the amount bass produced is very similar but you don't notice it as much on the Square Box 2 as the treble is distracting.
The more treble focussed sound isn't tinny and, on the plus side, it does allow you to listen a lower volumes than you can on the Square Box 1. But, for me, I think the Mi Square Box 1 has a richer & better overall sound quality.
Xiaomi Mi Square Box 1 – Even Rich Sound
Xiaomi Mi Square Box 2 – More Treble + higher max volume.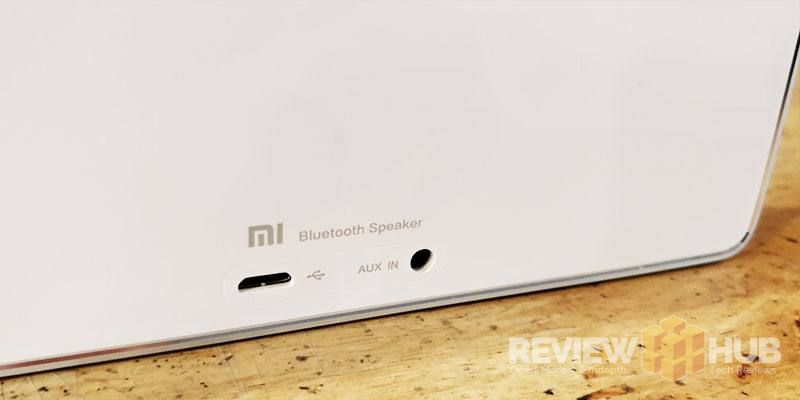 Battery Life & Connectivity
The battery life is still between 7-10 hours thanks to the 1200mAh battery. The full 10 hours is based on using the speaker at around 40-50% volume output, so usage time will vary.
You can increase this further by using the inbuilt 1.5mm headphone jack but don't expect miracles as the new Xiaomi Mi Square Box 2 comes with LE Bluetooth 4.2 which is already very power efficient.
Xiaomi Mi Speaker – The Verdict
It's great to see that Xiaomi have taken onboard feedback for their second generation Mi Square Box. The Mi Square Box 2 is an improvement in almost every way.
The best of which has to be moving the micro-USB input to the back which shows off its minimalist design without a great big wire dangling out the side!
While it is 25% longer than the original, it's also a lot lighter which is more important when measuring portability. My only suggestions would be to add an SD Card slot and to put a 2000mAh battery in at the cost of a little extra weight…
Do I recommend the Xiaomi Mi Square Box 2 Speaker? Yes, the Mi Square Box 2 features lots of subtle improvements to an already excellent speaker…

Xiaomi Mi Square Box 2 Bluetooth Speaker – Tech Specs
| | |
| --- | --- |
| Model | Xiaomi Mi Square Box 2 Speaker |
| Colours Available | White Dots & Black Polygons |
| Material | ABS / Aluminium |
| Interface | Micro-USB |
| Bluetooth Version | 4.2 |
| Headphone Jack | YES |
| SD Card Slot | NO |
| Wattage | 2.5 watts x2 |
| Dimensions | 154.5 x 60 x 25.5mm |
| Weight | 155 grams |
| Play Time | 10 Hours |
| Battery Size | 1200mAh / 5 volts |
Love Tech? Subscribe for weekly updates of our best content!
Want the to know about the latest tech, gagdets and gizmos you can't find on the high-street? Join our tech community and receive weekly or monthly updates!