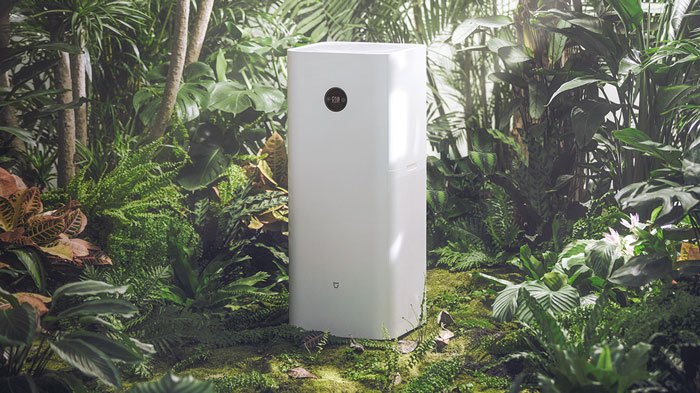 Home Air Purifying just got a major upgrade with Xiaomi Purifier Max!
I'd be lying if I said I've always cared about the air quality where I live. Growing up in the UK, it's not something anyone worries about let alone checks the AQICN before leaving the house.
Heck, i didn't even know what the AQICN or a PM2.5 was up until around 2 years ago.
It was during a spring trip to south-east Asia that 'Air Quality' finally popped up on my radar. In northern Thailand and the surrounding areas they have tons of old diesel trucks, heavy traffic and some severe crop burning problems.
This all equates to a haze in in the sky and some pretty unhealthy levels of air quality. So like any tech fan, I got myself a decent portable PM2.5 Monitor and the Xiaomi Air Purifier 2S for my flat.
Living in a small flat like mine, the Xiaomi Purifier 2S works great with a max filtration rate of 37m3/h. That's 37 square metres of fresh, odour-free & pollution free air.
But what do you do for bigger rooms and offices or for those who want to take their air purifying to the next level?
More details on price & availability below…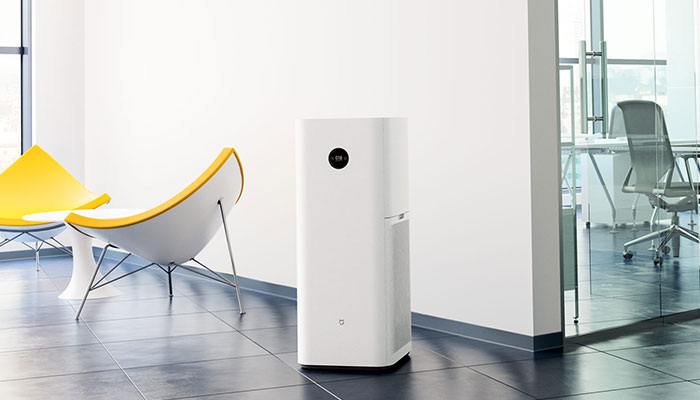 Bring out the Xiaomi Professional Home Air Purifier – The Xiaomi Home Purifier Max!
The Xiaomi Purifier Max filters air up to a whopping 1000m3/h. That's three times the amount of 2S all while keeping the same sleek minimalist design. This means that the Purifier Max can effectively filter a room of around 120 square metres.
It measures 96cm in height with a width of 38cm so it's not as exactly discrete. But it doesn't need to be as Xiaomi has kept to their minimalist roots and chosen all white design with only the circular OLED touch display standing out.
Heck it even looks good surrounded by jungle and ferns…
It's not just an oversized version of the original either as it comes with a whole new type of filtration system. It moves away from the circular three later carbon filters that are used in the Purifier 2S and Purifier Pro, instead using two replaceable square cartridges that are loaded into each side of the unit.
The new design now lasts for between 6-12 months depending on the levels of pollution and the environment its being used in. This is double what you get in the smaller Xiaomi Purifier units.
There's no mention about the price for the new Xiaomi cartridge system yet, but we can at least expect them to be more expensive than the traditional circular Xiaomi filters.
What we do know is that Xiaomi have simplified their filter range with the Purifier Max.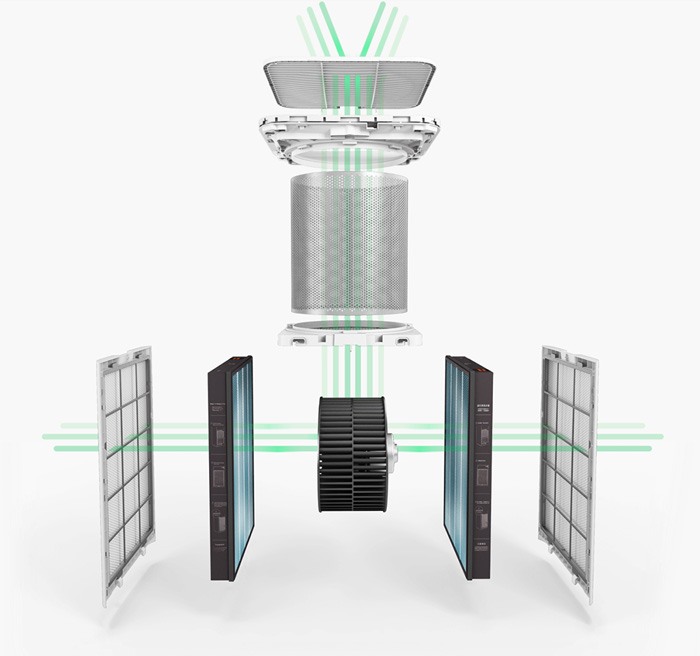 Compared to the original filters that comes in three types, the Xiaomi Air Purifier Max uses just one filter type that protects against all of the following:
Formaldehyde
PM2.5 particles
Pollen
Smoke Smells
Allergens
Animal hair
Harmful gas
Tiny particles
Bacteria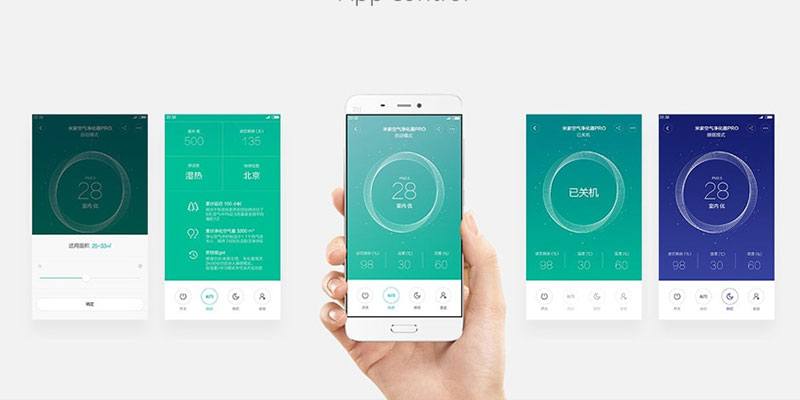 Operating the Xiaomi Home Air Purifier Max
To operate the Max, you can connect via the Xiaomi Mi Home app (available Android & iOS) and then set up your air cleaning conditions. Setup is simple, you select the room size and this will control how powerfully the fans blow to pull enough air in for sufficient filtration.
There's also an 'Auto' mode that will kick in once the air pollution in the room reaches certain levels. Or you can connect the Xiaomi Purifier Max to another pollution monitor and have it turn on, upon user set conditions.
A nice touch is that you don't have to use the Mi Home app if you don't want to. As it has a laser air quality detection unit built-it, it'll work as a standalone air purifier as well.
Unlike previous models, the circular OLED display is now touchscreen. This enables you to switch between the different modes quickly and easily.
The OLED display also has a light detection sensor built in, meaning that it will automatically dim in darker environments.
I recommend that you set up the Mi Home app though. As through the app, you can control all your other smart Xiaomi gadgets and see cool air cleaning stats like: how many days left your filter has before it needs changing, the total amount of air purified and this is also how you update the firmware for more accurate air quality readings.
The app is well designed, easy to use and contrary to a lot of reviews out there, it is available in English.
Xiaomi Home Air Purifier Max – The Early Verdict
Whether you need the advanced air cleaning capabilities of the Xiaomi Air Purifier Max, I'm not sure. Weighing in at 18KG, compared to the 4.5KG's of the Purifier 2S it's definitely not something you're going to want to move around a lot.
I like that Xiaomi haven't just scaled up the original and are using a new filtration system more suited to larger rooms and also with a much longer life span.
If you live in a built up city or an area affected by air pollution then the Xiaomi Air Purifier Max is a great option for keeping your indoor air quality within safe levels.
And finally, the best bit is that the Max looks awesome! It's an air filtration unit that you can have sitting proudly in the middle of your office, your home and pretty much anywhere.
More details on price & availability below…
Xiaomi Home Air Purifier Max – Tech Specs
 
Air Purifier
Xiaomi Home Air Purifier Max
Dimensions
386mm × 386mm × 965mm
Product Weight
about 18kg (including filter)
Particle CADR
> 800m³ / h (measured data 1000m³ / h)

(Formaldehyde CADR 100m³/ h)

Room Size
70 – 120 Square Metres
Sensors
Laser Particle Detection, Humidity, Temperature
Filter
Formaldehyde, PM 2.5, Dust, Pollen, Smoke, Allergens, Animal Hair, Harmful Gas, Tiny Particles, Bacteria
Display
Yes, Touchscreen OLED
WiFi
YES
Power
86W, Standby power≤ 2W, (50 / 60Hz), (220V)
Material
Plastic
Colours Available
White