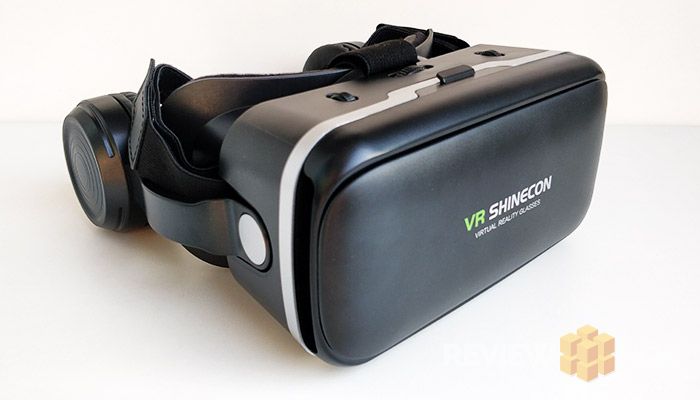 We get down and dirty with the latest Virtual Reality Headset, the VR Shinecon 6.0
It might not feel like it, but VR is booming! YouTube has thousands of interactive 360 videos, the Play Store is full of 3D games, Daydream is in full swing and I'm not even going to mention the biggest explosion that's happened in VR… pun intended.
Not everyone can splash out on a HTC Vive, PS VR or Oculus Rift and the Samsung Gear is part of an exclusive ecosystem… and well… in my humble opinion, cool but way overpriced.
So we did what we do best here at Review Hub and ordered up a few of the most popular VR Headsets taking an indepth look at the Comfort, Build quality, Setup, Lens quality and Audio quality.
In this review, we'll be looking at the super-budget VR Shinecon 6.0 All-in-one Virtual Reality Headset. You'll find out whether it's worth splashing the cash or whether it's one to avoid.
Check out the latest VR Shinecon 6.0 deals below… starting from UK : £25 | EU : €30 | US : $35
Pro's
The Price
Huge Nose Cavity
Comfortable
3-way adjustable headphones
Con's
The Packaging
Putting your phone inside is fiddly
Fake LED's that got me all excited
No volume controls
Cushioning is glued in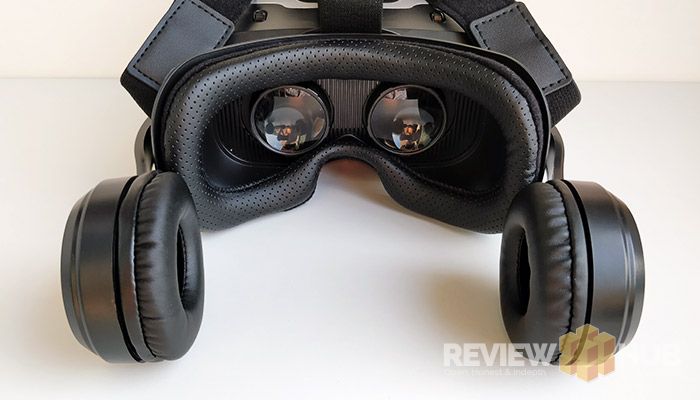 Lens Quality & Setup
While it doesn't come with a controller, it has all the functionality you need to get started built right into the headset. There are physical buttons for confirmation (a pokey screen dabber) as well as play / pause and next / previous.
These let you control 360 YouTube videos and simple VR apps without the need for a controller. If you want to play VR Gaming, you have to connect a 3rd party Bluetooth controller.
On the top of the VR Shinecon 6.0, you'll find the 3 optical adjustment controls that let you individually tailor the two lenses for your eyes. The big rotating circle controls the distance between the lens horizontally, fitting even your freaky Hey Arnold football head. While the other two dials move the glass closer and further away from your eyes.
I can't speak for anyone with a strong prescription, but I found it easy to find the focus sweet spot.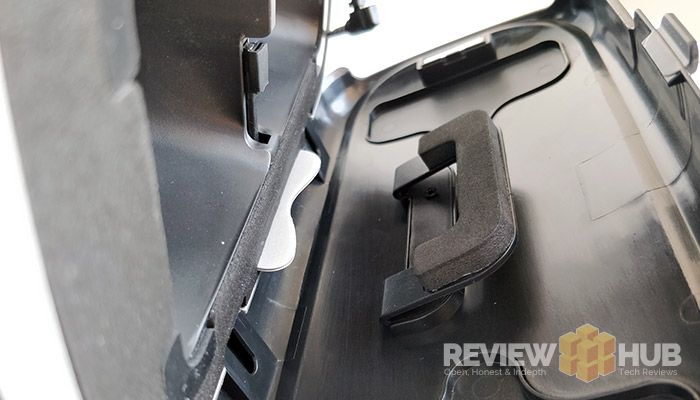 To test out the Shinecon headset I've been using a OnePlus 5T which at 6 inches across with an 18:9 aspect ration fits perfectly. The VR Shinecon 6.0 caters for smartphones roughly between 4.7 to 6 inches. (Or exactly within 58x155mm to 81x155mm).
To get your smartphone inside, the front swings out on a hinge. Inside, there's a foam grip to keep your phone in position. Next, attach the headphone cable and you're good to go. The process is a little fiddly, but once in, your phone is secure.
Comparing the lens quality between the Samsung Gear, BOBOVR Z5, Xiaomi Mi VR and this VR Shinecon has revealed a lot.
That's there's not a lot of difference at all…
It turns out that making a VR headset lens isn't very difficult and that the emphasis on quality comes more from the display itself, most importantly the display resolution.
As the OP5T is only 1080P, it meant that certain VR scenes felt kinda blurry. That's not to say it isn't fun, just don't expect the same quality you get when watching a Full HD video as you do watching a Full HD film in VR.
Overall, the VR Shinecon 6.0 isn't a headset that gets me very excited, but for budget VR it does a good job. Especially when you consider the price-point it sells at.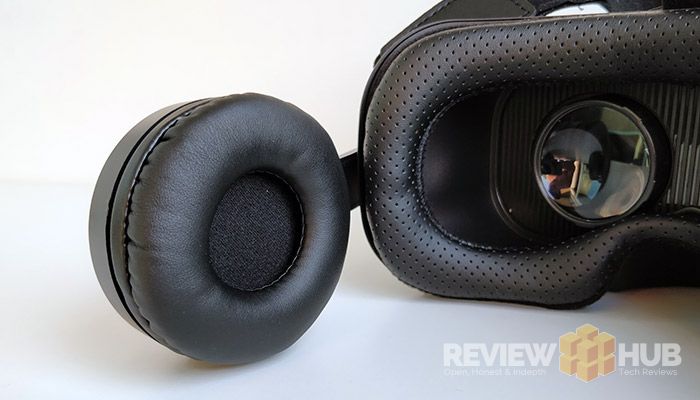 Audio Quality
The audio quality on this budget VR Headset is fantastic! It has to be one of the best features of the Shinecon 6.0. The included headphone jack plugs straight into you phone and tucks away neatly when not in use.
Bass is strong with mids and highs both being clear. Shinecon has also put a lot of effort into making the attached headphones super comfortable. They adjust for length and also move up and down to achieve a 'spot on' comfortable fit.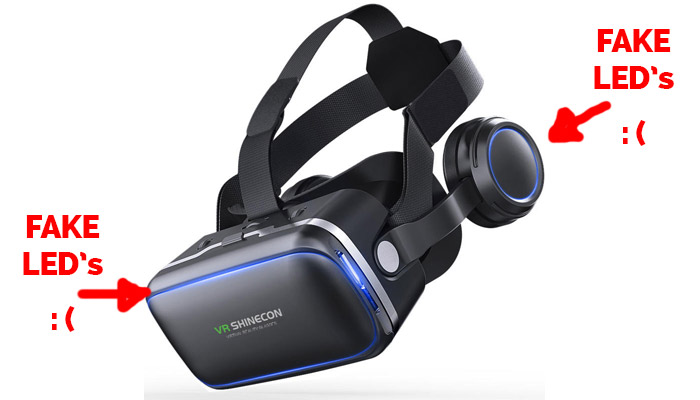 Design, Comfort & Build Quality
The VR Shinecon Headset uses the classic 3 pronged approach when it comes to keeping it firmly on your noggin. All three straps are elasticated and use Velcro to adjust to almost any size craniums.
Thankfully, VR Shinecon have made the nose cavity huge. I can fit a whole thumb in their as well as my nose, so absolutely nose issues there!
While the head support foam is comfortable, soft and covered in a perforated faux leather for breathability… its glued on rather cheaply leaving it prone wear and tear.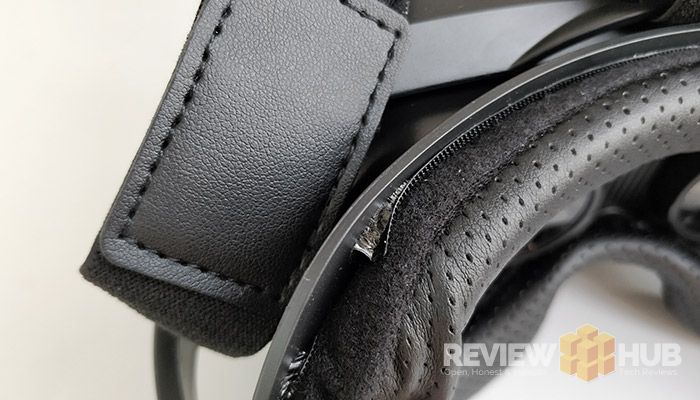 Build Quality is acceptable when we consider the price, although it doesn't match up to the Gear VR, BOBOVR Z5 or Daydream View.
A nice touch is that the front panel is removable via a couple of magnets. So, if you're phone is prone to overheat, then you can add the extra ventilation.
Finally, I was super disappointed when the VR Shinecon 6.0 didn't light up blue like in the marketing pics… : ( I've been conned!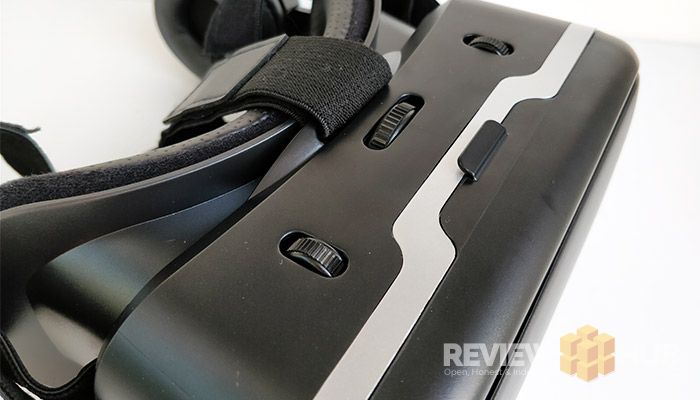 Unboxing – What's in the box?
Even for a gadget costing around £20, put bluntly, the packaging is cheap and nasty. There's no foam protection or plastic insert with the headset only being wrapped in a bubble wrap bag.
Inside, VR Shinecon has thrown in a user guide (English & Chinese) and a blue lens cleaner. Casting the disappointing packaging aside, the VR Shinecon 6.0 did make it in one piece.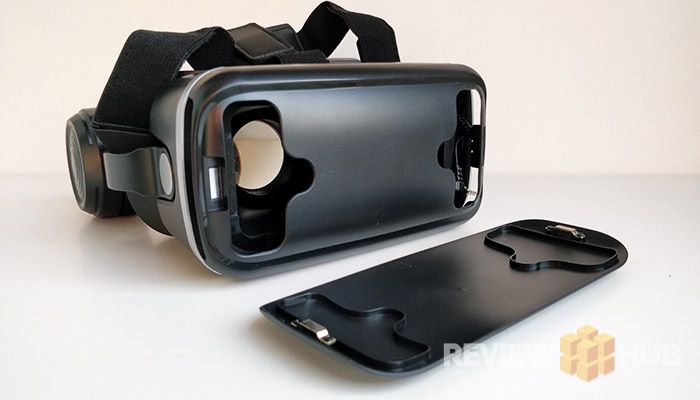 VR Shinecon 6.0 – The Verdict
Overall, the VR Shinecon 6.0 is a cheap and cheerful headset that gets the job done. While the packaging may be crap and the build materials cheap they've not scrimped where it counts, the glass and the speakers.
The Japanese optical lens used are of a high quality and the speakers sounds like they should cost a lot more. But, it's let down by weak build quality elements and cheap packaging.
Do I recommend the VR Shinecon 6.0 VR Headset? It's a really competitive market, and I think the BOBOVR Z4 still pips this headset at the post.