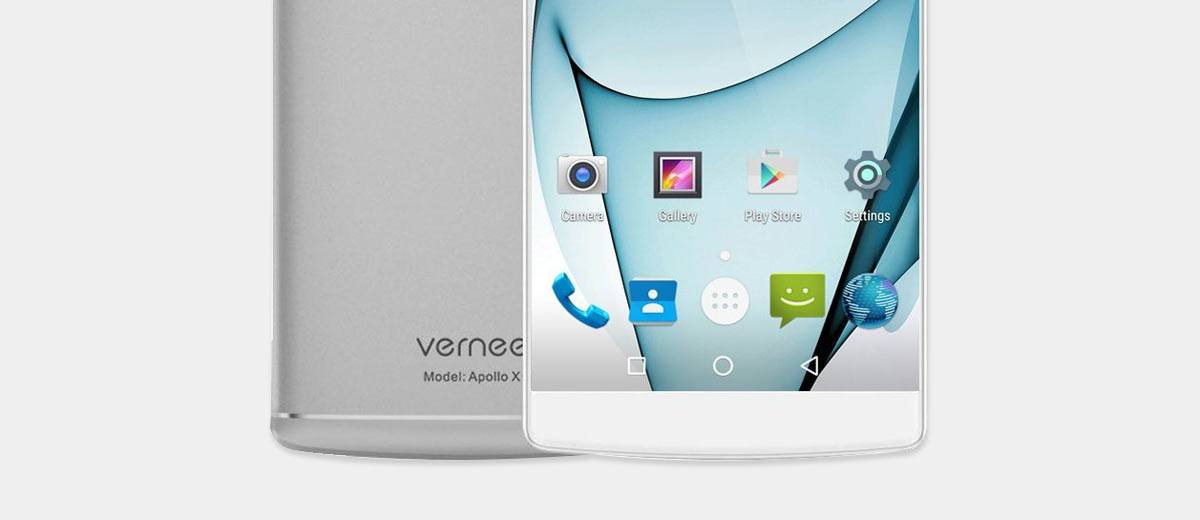 The Vernee Apollo X is a budget powerhouse but lacks finesse
The Vernee Apollo X leaves me feeling confused. On the one hand, you have a smartphone that's packing some impressive specs; Helio X20 CPU (10 cores), 4GB RAM, 64GB Storage, 4K Sony Video Recording, USB-C, Fast Charging, Gorilla Glass, Full HD Display, Big Battery & Fast Charging…
And if that list isn't enough to get your tech buds excited, then I don't know what is…
But, looking at specs alone doesn't give you the full picture. You don't know how it feels in your hand, the quality of the manufacturing or how well the camera will perform.
Personally, I get very excited about the design & the craftsmanship of smartphones, but this is two areas where the Apollo X lets itself down. I respect that you might not give two hoots about the Apollo X's material mismatches or that the joins aren't entirely smooth, but… unfortunately for Vernee, I do…
Still, there's a lot to love about the Apollo X, and no one can deny it's a great Android performer.
Pros & Cons below before the Apollo X full hands-on review covering Design & Screen Quality, Build Quality, Performance, Software, Camera, Battery Life, Call / Speaker Quality & Connectivity.

The Good

Excellent Performance
Perfect for Gaming
Bright / Vivid Screen
64GB's of Fast Storage
Notification LED
The Bad

Volume Rocker & Power Button
Vibrate Motor
Mediocre Craftsmanship
Poor Camera Quality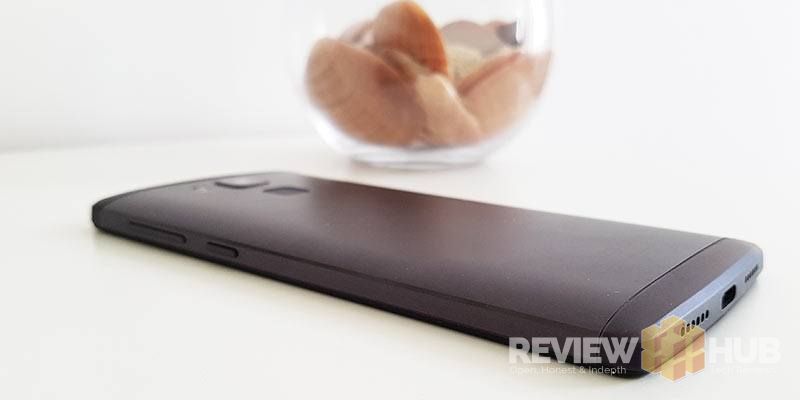 Design & Screen Quality
The design of the Vernee Apollo X is a little conflicted. From the front, the corners don't curve enough and the bezels aren't slim enough leaving the whole design feeling dated.
While I may not be the biggest fan of the front, it is inoffensively black and when the crisp 1080P Sharp display turns on the angular corners fade to memory.
From behind it's a different story, the gun metal and added curves make it less angular and more like a flagship, albeit from last year. The body is sleek, it catches light well and the very subtle purple metal tint looks premium.
Crisp, Bright & Full-HD 5.5″ Sharp Display
The display is an impressive 5.5″ Gorilla Glass 3 made by Sharp which equates to a respectable 404 PPI. The colour profile is completely adjustable thanks to an enhanced version of MiraVision and there's the added benefit a blue light filter built directly into the Android notifications pane.

The on-screen buttons can be reversed depending on your preference as well as hidden completely for full 5.5″ viewing pleasure.
Overall, the Apollo X's display is one of its best features. It's crisp, bright can be customised to any colour preference. The design is a little dated, but the metal body feels premium, is easy to grip and easily used with one hand.
Screen Tech Specs: 5.5″ SHARP IZGO IPS LED Display, 1920×1080 resolution, 404 PPI, 2.5D Curved, Gorilla Glass 3, 5-point multi-touch.

Fingerprint Reader
Fingerprint readers can be a dealbreaker. There's nothing more frustrating than when a phone keeps telling you… nope… that's not your finger…
The Vernee Apollo X fingerprint reader isn't perfect. It works 9/10 times with a slow press, but try a quick tap and the failure rate increases. If a fast and reliable fingerprint reader is high on your agenda, the new UMiDigi phones come with a fantastic reader.
Vernee have also made the unthinkable mobile-mistake-that-must-not-be-named… They've used a back facing fingerprint reader and haven't included double-tap-to-wake. I'm just going to let you mull on the consequences of this… that's right… you can't use the phone on your desk without picking it up first or awkwardly hitting the unlock button.
Build Quality
If you had shown me the Vernee Apollo X two years ago I wouldn't have thought twice about the build quality. Things have moved on and now I expect the best even from smaller manufacturers.
There are a few issues that I've spotted with the Apollo X. The first is that the side buttons aren't secure enough and can make noise when you shake the phone.
The second is the vibrate motor which makes a high-pitched buzz that feels like it belongs on a £50 phone. Finally, the plastic antenna covers don't match the metal body and the seams aren't perfectly smooth.
Are these negatives enough to put you off getting the Vernee Apollo X? Not unless you place style above raw power!
Right, let's get to the good bits!
The Apollo X feels solid and passed our squeeze & twist test with no signs of any creaking or weak areas. The rear curve of the phone lends itself well to one-handed use by adding a lot more grip than a flat design would have.
I also like the fact that the Vernee Apollo almost picks up no fingerprints during use. The metal body always looks good and easily resisted my greasy fingers during testing.
Colours Available: Gun Metal & Black / Silver & White

Hardware & Performance
In terms of RAW performance and specs, the Vernee Apollo X has everything going for it. It comes with the MediaTek Helio X20 mid-high-end processor that has a whopping 10 cores. Now you might think that sounds like overkill… but it's not and I'll explain why.
The Helio X20 comes in a three cluster (tri-cluster) setup. It has four low powered cores that work together to perform light tasks. Four mid-range cores that do the grunt of the work and then two high-performance cores that kick in when you need the extra power.
This all adds up to a very power efficient core that not only helps to save battery life but has some serious umppphhhh when you need it.
… The Helio X20 is a power efficient beast …
Combined with the Helio X20 is 4GB's of RAM and 64GB's of fast onboard storage. There's also a high-end mobile graphics chip; the Arm Mali-T880. The Vernee Apollo X is super responsive and ready for Android Power Users & Gamers.
CPU: MediaTek Helio X20 (10-Cores)
GPU: ARM Mali-T880 MP4 
RAM: 4GB
Storage: 64GB (53.82GB usable) (read speed: 171MB/s, write speed: 146MB/s)
Expandable: Yes (2nd SIM slot up to 128GB)

Gaming Benchmarks
You can see the Vernee Apollo X gaming benchmarks below. It has some impressive gaming results and it's multi-core performance it up their with flagship smartphones.
AnTuTu Benchmark 6

3D – 16608
UX – 33580
CPU – 26046
RAM – 6662
Overall Score: 82896
Geekbench Score:

Single Core Performance: 1543

Multi-Core Performance: 4692

Interested in Android Benchmarking Apps? Check out our guide to the Best Android Benchmarking App in 2017.
Software
It was disappointing to see Apollo X running on the outdated Android 6 Marshmallow with the latest security patch being from last July (2016). A quick google doesn't show any promises from Vernee about updating the Apollo X anytime soon either.
Android M (6) is still a fast and efficient operating system but when phones that cost half the price of the Apollo X are pre-loaded with Android N (7), it makes you question Vernee's dedication to supporting its devices.
Another area I found strange with the Vernee Apollo X is the video playback. It just wasn't very smooth. I'm not sure whether this is a screen or software issue, but when placed side-by-side against other phones the problem is noticeable. [/column]
… ships with outdated Android Security Patches …
Overall, it the Vernee V-OS software overlay feels like standard Android. It's a shame that there hasn't been more emphasis on updating the Apollo X onto Android Nougat 7.
Other features include: Not Rooted, MiraVision (Colour tweaker), Bluetooth Smart Lock, SIM Management, Turbo Boost, Encrypted as Standard, Option to hide on-screen buttons, Cast.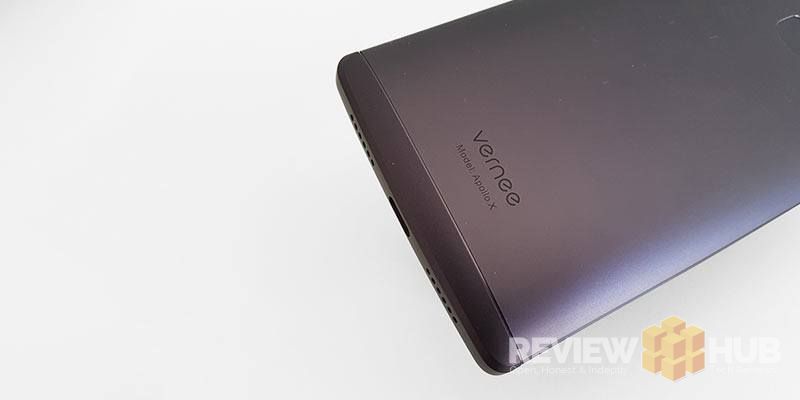 Speaker & Call Quality
Call Quality
Call quality was fine with voices being clear both in making and receiving calls.
Loudspeaker
You'll want to turn off BesAudEnh in the settings straight away. It causes the speaker to distort at high volumes and adds lots of treble. Then switch on BesSurround in Movie Mode.
After these tweaks, the speaker sounds good enough to watch a few videos and play music. The speaker won't win any awards but is a punch above the standard.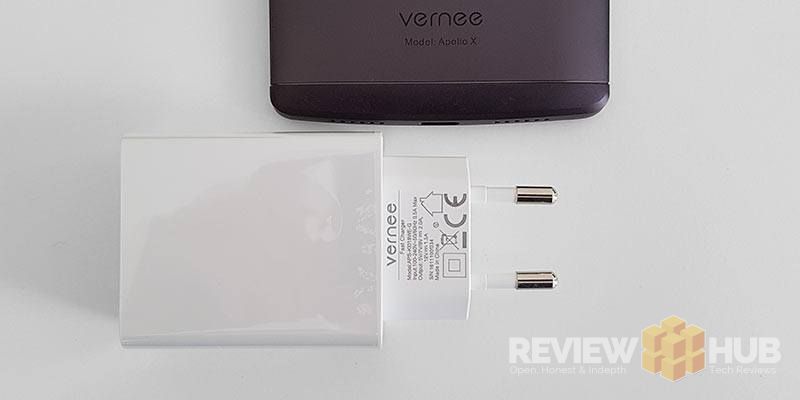 Battery Life
The Vernee Apollo X shines when it comes to battery life. The non-removable 3500 mAh battery seems to go the extra mile. During testing I was, surprisingly often, seeing 30-40% battery left after a full days use.
The Apollo X also comes with MediaTek's Pump Express Plus 3.0 via its USB Type-C port which improves charging times considerably. Overall, we see very impressive battery-life from a phone that's packing a bright 5.5″ full-HD screen.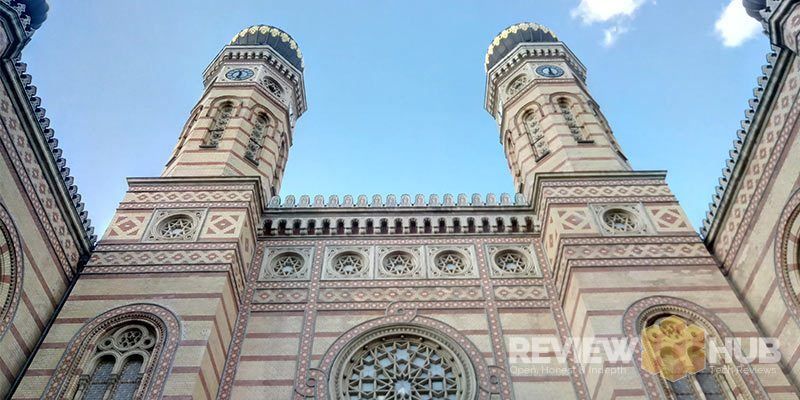 Camera
The not Vernee Apollo X Camera wasn't very impressive during my testing. The photos look washed out, weren't focussing and left me feeling disappointed. For a smartphone with a Sony Lens at this price point, I was expecting more.
I've got a feeling that there could be a software issue at fault so I'm going to take the camera back out and use some third party camera apps, then compare.

You can see for yourself in our Vernee Apollo X Test Sample Album on Flickr.
Camera Features: HDR, Beauty mode, Panorama, Face Detection, Scene detection, Gesture Snap.
Rear Camera:
13 MP
Sony IMX258
0.1 PDAF
f/2.0
Dual-tone Flash
4K Video
Front Camera (Selfie time):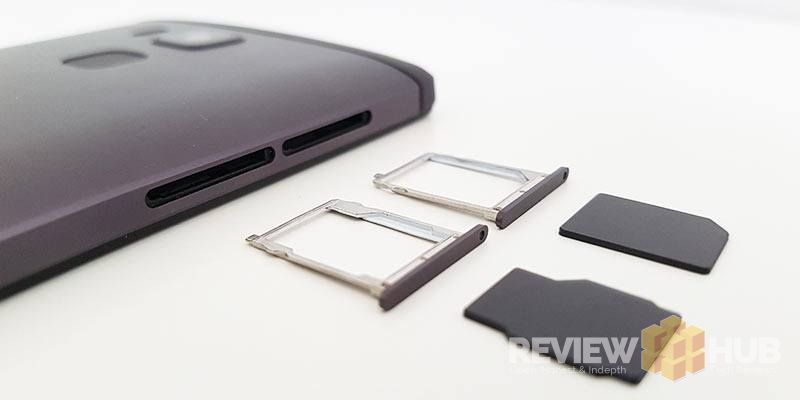 Connectivity
The Apollo X supports the all the UK Celluar Networks. It features dual-band WiFi for improved indoor reception but is missing the latest AC standard for super fast speeds.
Taking it out for a test drive showed that the GPS locked on easily and tracked a 30 minute run accurately.
It also comes with full UK bandwidth support for both 3G & 4G.
Frequencies Supported: GSM (2G) 850 / 900 / 1800 / 1900MHz, WCDMA (3G) 900 / 2100MHz, LTE (4G) 800 / 1800 / 2100 / 2600 (B20, B3, B1, B7)
3G: YES
4G: YES
Full UK Coverage: YES
Bluetooth: 4.1
GPS: GPS, A-GPS, Beidou, GLONASS
NFC: NO
Sensors: Accelerometer, Light sensor, Proximity Sensor, Magnetic Compass, Orientation, Fingerprint
USB OTG: YES
USB Type: USB Type-C
SIM support:  Dual standby (1x Micro + Nano or 1x Micro + Micro-SD)
WiFi: 802.11a, b, g, n 2.4GHz / 5GHz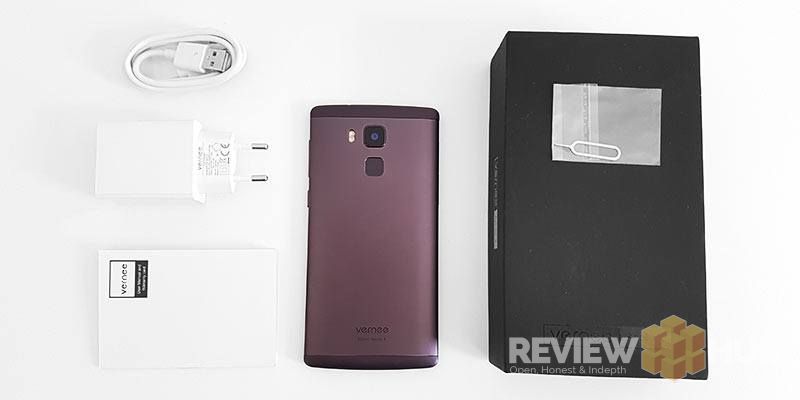 What's in the box?
The Vernee Apollo X packaging is rather bland. There is a small glossy logo that catches the light but apart from this, it's a boring plain black box…
So what's inside? We find an instruction booklet, white USB Type-C cable (mine was grubby), a big 2-pin Pump Express 3.0 fast charger and a SIM Pin. The phone comes pre-applied with a screen protector although mine was slightly wonky.
The bottom line…
Like I said at the beginning of this review… I'm finding it hard to love the Vernee Apollo X as the design is a bit dated and there are a few build quality issues… it just doesn't get me excited.
Overlooking the design, you can have yourself a 5.5″ phone with excellent battery life, a bright crisp screen and mid-high end performance.
Just make sure you get it at a good price!
Do I recommend the Vernee Apollo X? I'm on the fence