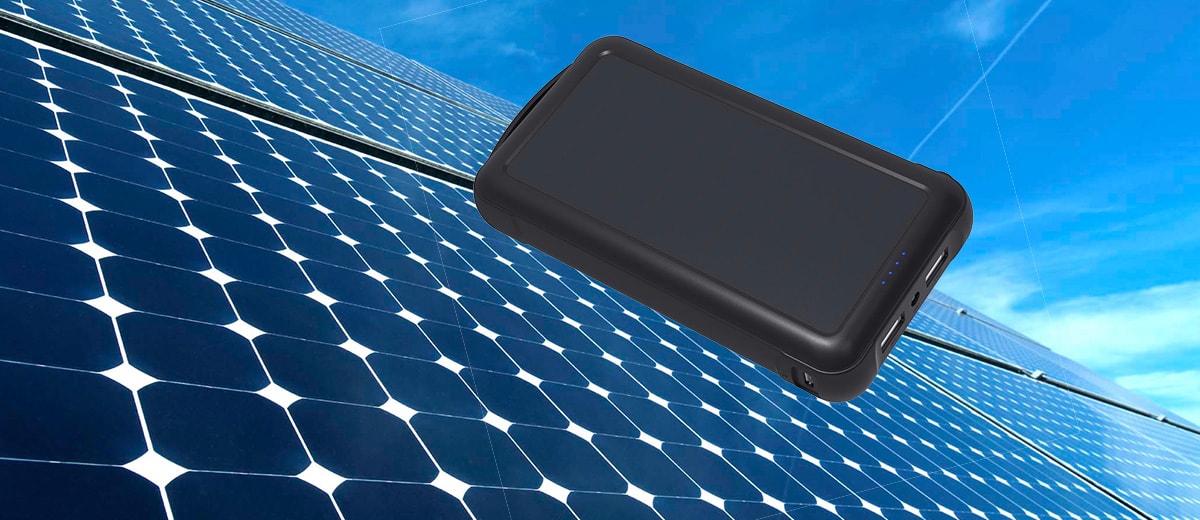 "I can't do it captain, I don't have the power!"
From the days of Scotty in Star Trek to literally every iPhone user ever there is one problem which unites us all. Even with increasing phone battery sizes, and more economical mobile chipsets, the most common complaint is that phone batteries just don't last long enough.
This has led to a boom in the market for power banks and portable battery packs that can be used to charge your tech items on the go no matter how far you've travelled from the nearest plug socket.
Aukey are known for their range of electrical accessories and have a huge number of different power bank options to choose from. The latest one we've got our hands-on also happens to be an absolute beast and comes packing a whopping 20,000 mAh of power and also includes a built-in solar panel.
Grab yourself an Aukey PB-17 Portable Charger for only… UK : £32 | EU : €37 | US : $41
What's in the box
As usual with Aukey you get their low-key, sensibly sized eco-friendly packaging. Simple fonts and a line picture are all that adorn the plain brown recycled cardboard box. I'm not one to get massively excited by the unboxing process so I'm more than happy with this. A box is a box and either way it will just end up in my own recycling bin.
Inside, you'll find a micro-USB charging cable, instruction manual and warranty card.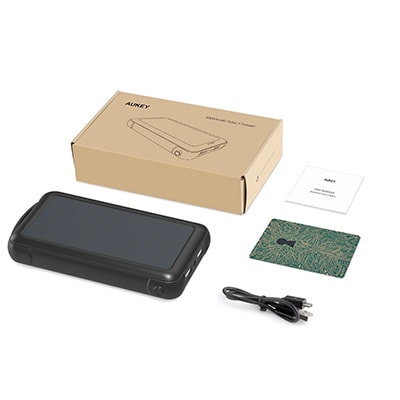 Appearance
The power bank itself looks rugged, though there are no claims made about impact protection and no IP rating to speak of. So, it would still be wise to treat the power bank with a degree of care.
Almost the whole of the front is covered with the solar panel, which has a matte finish. There are 4 small blue LEDs below the solar panel which give an indication as to the level of charge within the PB-17. At the top, there is a narrow loop which I'm presuming would be used for hanging the power bank, or perhaps attaching it to a rucksack or similar. There is no supplied velcro strap though, which would have been handy.
On the right side is the micro-USB charging port, on the left is the power button, and at the bottom are 2 USB ports and an LED light.
Clearly, this is not the most compact of power banks, it measures some 16cm in length, 8.5cm wide and 2.5cm deep and weighs a hefty 486g. Even at 486 grams, the power charger is still small and light enough to throw into a backpack for camping trips or any situation where you need some serious extra juice.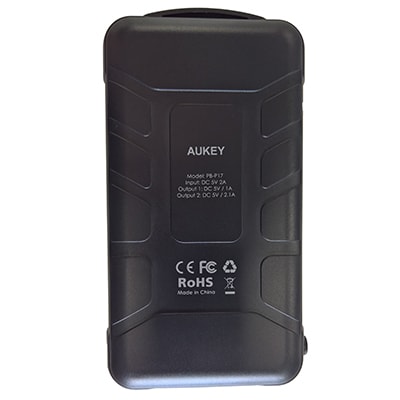 Tech Specs/Features
The most important spec of any power bank is the size of the lithium-ion cells contained inside, and this one is a monster! The advertised 20000mAh battery is enough to charge an iPhone 7 over 10 times and still have a little juice left to spare!
To put this another way, if you went camping with a fully charged Redmi 3S and the Aukey Power Bank you could expect to get 2 weeks use without needing to use a power socket. However, we must take these claims with a pinch of salt, which I'll explain later in the review.
Of course, if you were camping somewhere sunny the good news is that it will just keep on charging as the large solar panel on the Aukey has an exceptional Solar Conversion Efficiency of 23%. A quick Google confirms that this is currently better than the vast majority of commercially available roof panels, so you can be assured that the solar tech offered by the PB-17 is among the best.
There are 2 labelled USB ports for charging; one slow charge outputting 5V 1A, and a faster option which delivers 5V 2.1A. Both can be used simultaneously and I've successfully tested charging using devices running on micro-USB, USB-C and Lightning connectors.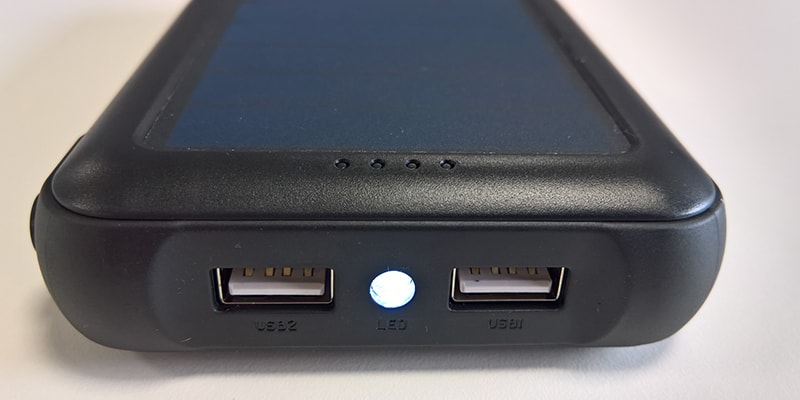 The 4 blue charge indicator LEDs report charge remaining in intervals of 100%, 75% 50% and 25%, and a solitary blinking LED means there is less than 5% of charge remaining. I've had a few power banks in the past that don't have any indication of charge level so this is definitely a welcome addition.
As a final feature of note, the single-LED flashlight, is handy to have and is relatively bright. It's a little small to be useful lighting the way but for inside a tent it works great and would probably last for weeks if I had the time to test it!
Real World Use
Here's the very relevant but slightly boring science bit! Power banks are one of those items along with portable memory cards where you don't necessarily get what you pay for.
Just like you'll never fit 128gb of data onto a 128gb USB drive, a 20000mAh power bank will not provide the whole 20000mAh worth of charging. This is generally due to power loss through heat and also conversion between the 3.7V batteries in the power bank and the 5V used by USB.
The actual capacity of a power bank can be anywhere between 25-35% lower than the stated value, and while this is definitely a little deceptive all manufacturers play the same sneaky trick. This means that the Aukey 20000mAh PB-17 is still twice the size of an identical 10000mAh unit but you won't get the full 20000 mAh into your device.
In actual use, I managed to fully charge my 3350mAh Xiaomi Mi6 (review coming soon!) 5 times from 20% before the 5% LED started flashing. Using this fairly imprecise measure I reckon I can get around 14000mAh usable charge from this power bank.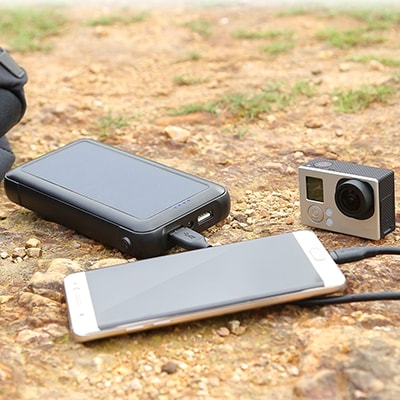 The results I was able to get from the solar panel were as good as I could have expected given the UK's rather cloudy climate. As an excuse to test this device I arranged a barbecue during a rare sunny day on a heatwave we've just had.
To begin with I had 1 blue LED lit, indicating between 5% and 25% power remaining. I plugged in the Wonderful Voice PCQ Bluetooth speaker into USB1, and my phone into USB2 and played music at a decent level for 6 hours after which the second LED was lit, indicating somewhere between 25% and 50% power. The 6 or so hours in the UK sun had clearly been enough to gain more charge through solar than was being used to play music.
This leads me to suspect that in sunnier climates you'd be able to keep devices charged almost indefinitely just using the PB-17's solar panel.
The bottom line…
While it is naturally bigger and heavier than other power banks, the high capacity and solar panel charging make the Aukey PB-17 portable solar charger very useful in a number of situations.
There is the reassurance of being able to charge your device multiple times and the flexibility of topping this up through solar conversion. Though it may be overkill for some, I can highly recommend the Aukey 20000mAh PB-17 powerbank as an extreme solution to your portable charging requirements.
Oh, and it makes an excellent addition to my Zombie Apocalypse survival kit!
The PB-17 is available for only… UK : £32 | EU : €37 | US : $41