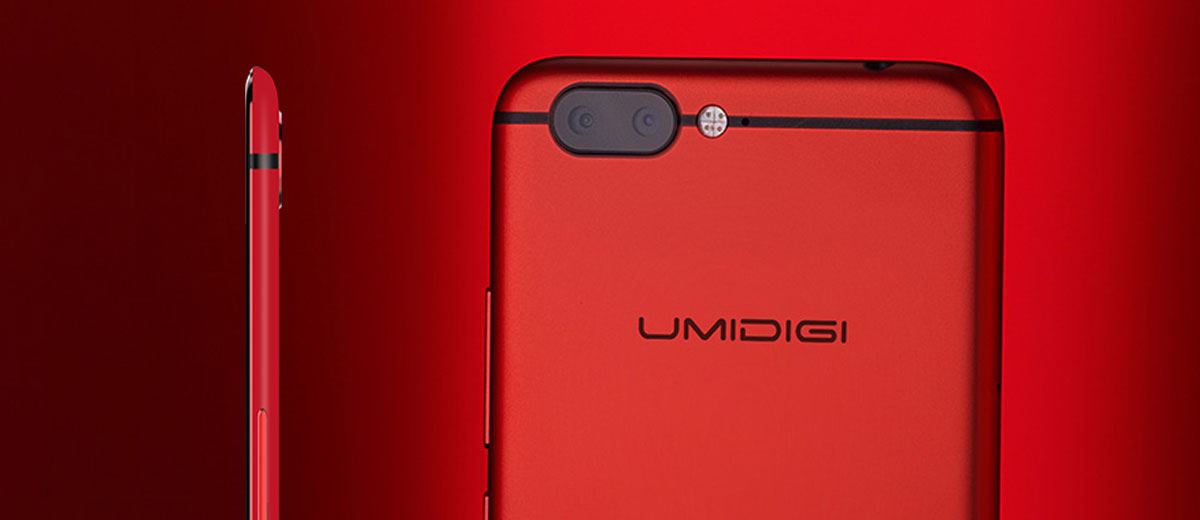 As soon as you open the box and pick up the UMiDigi Z1 Pro… You know you've made the right decision!
One big drawback that I find with mid-range smartphones is that they tend to weigh a ton. Well not literally, but 200 grams for a 5.5″ smartphone is ludicrous, lazy and becoming the normal.
So you should have seen the smile on my face as I picked up the 5.5″ Z1 Pro. I instantly knew this phone was featherweight for its size, heck, it even makes my Galaxy S7 feel chunky and brings back memories of my old  130 gram Google Nexus 5…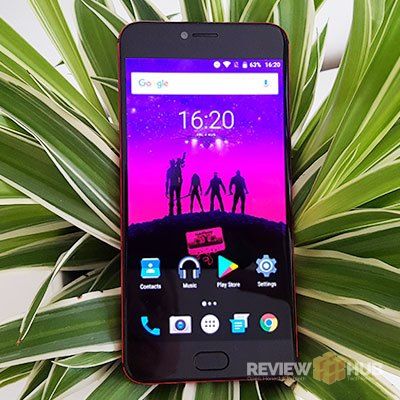 So, obviously, I headed straight to the scales to find that the Z1 Pro weighs a healthy 156 grams. A little over the 148 that UMiDigi quote on their website but still impressive… and surprisingly the exact same as my Galaxy S7. It's only when you consider that the Z1 Pro has a bigger screen, bigger battery and is 1mm slimmer than last years Samsung flagship, that you realise it's punching well above its weight.
If you can't tell already, I'm super excited to see whether the Z1 Pro can be crowned the mid-range master and to find out how it scores when it comes to performance, build quality, battery life, & dual-cameras.

Check out the latest UMiDigi Z1 Deals Below:
The Good

Super slim, super lightweight
Excellent fingerprint reader
Fantastic AMOLED screen
4000mAH fast-charge battery
6GB Samsung eMMC RAM
Full aluminium unibody
Good Performance
The Bad

Left button = options
Cameras dynamic range
Capacitive buttons aren't backlit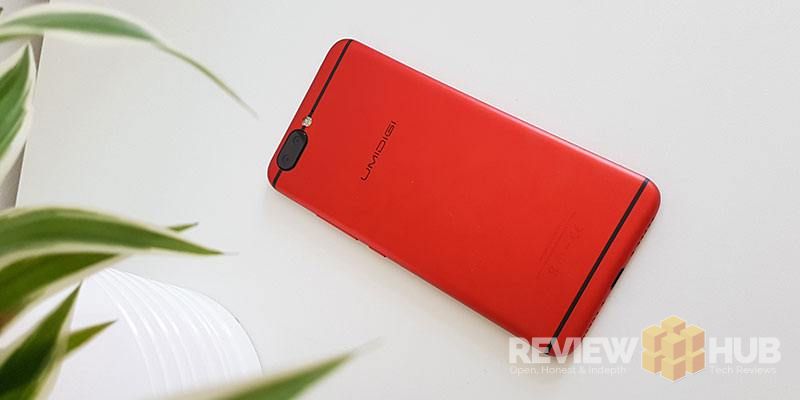 Design & Display Quality
The Z1 Pro is full of design positives. It's slim at 6.95mm, it's lightweight at 156 grams and its aluminium unibody is a pleasure to hold. It's a minimal design with the only embellishments being a polished (chamfered) edge that reflects the light. Yeah, the red model I'm reviewing is a bit in your face, but there's always the matte black version if you prefer an understated look.
The front of the phone is also very minimal with only the front camera, internal speaker and fingerprint reader interrupting the black glossy surface. The light sensor and notification LED are invisible which only helps to highlight Z1's Pros best features, the AMOLED screen.
The AMOLED display used is made by Japanese manufacturer SHARP and comes with a resolution of 1920×1080 or Full HD. Viewing angles are excellent without colour distortion, colours are vibrant and most importantly you get the fantastic deep blacks only found in OLED screens.
… full marks for the fantastic Sharp AMOLED Display …
Brightness isn't an issue either as you'll find yourself setting it lower thanks to heightened contrast OLED screens supply.
I'm not sure what display coating UMiDigi has opted for but the surface feels on the Z1 Pro is extra smooth. Normally you have the initial sticky surface phase on new phones (nothing a little finger grease doesn't solve) but not so on the Z1 Pro. Finger movements and even the lightest touches are registered easily with the display being able to handle up to 10 fingers (touch points) at once.
For a smartphone at this price-point, you're getting yourself a fantastic screen. It even holds its own sat next to my Galaxy S7.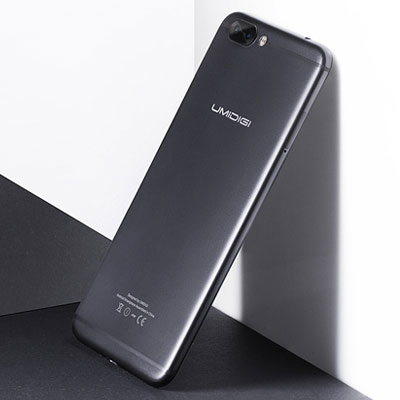 Another great aspect of the Z1 Pro's display is the customisability provided by the onboard MiraVision software. You can choose to have natural tones, switch everything to 'Vivid' so it really pops or settle for somewhere in between. There's also adjustable colour temperature and a blue light filter, which together, will let you tweak the screen any which way you want.
It's worth noting that UMiDigi has missed a trick when it comes to pre-installed wallpapers, so your best bet is to head over to google images and search for some HD OLED Wallpapers. If you're a fan of Guardians of the Galaxy, this wallpaper works wonders on an OLED screen. Top Tip: Bright images surrounded by black will work the best.
Overall, the Z1 Pro offers a fantastic screen coupled with a design that wouldn't look amiss next to a flagship device twice the price. While the red might not be for everyone, the matte black version offers a much more understated look. Top marks and well done to UMiDigi for the design and to Sharp for the screen!
Screen Tech Specs: 5.5″ SHARP AMOLED Display, Gorilla Glass 4, 1920×1080 resolution, 404 PPI, 2.5D Curved, 10-point multi-touch
Colours Available: Passion Red / Matte Black

Build Quality
I'm happy to say that the build quality of UMiDigi devices has improved massively since the release of the UMi Super. The Z1 Pro follows the trend and also comes with a top notch premium build.
Trying to twist, bend and squeeze the phone doesn't reveal any weak areas. The aluminium alloy unibody is strong and the seams where it meets the display are neat. If I'm being picky, the chamfered edge could be a little bit smoother as when you run your finger against it firmly you can feel a slight edge but, like I say, this is being very picky.
On the rear of the phone, the dual camera setup protrudes a couple of millimetres disturbing the otherwise smooth body. This does mean that the phone doesn't lie completely flat. The only small negative that I found is that the side buttons aren't as firmly seated as they could be which creates a small noise when you shake the phone.
Overall, the Z1 Pro performs when it comes to build quality. The attention to detail shows that UMiDigi has upped its game since last year!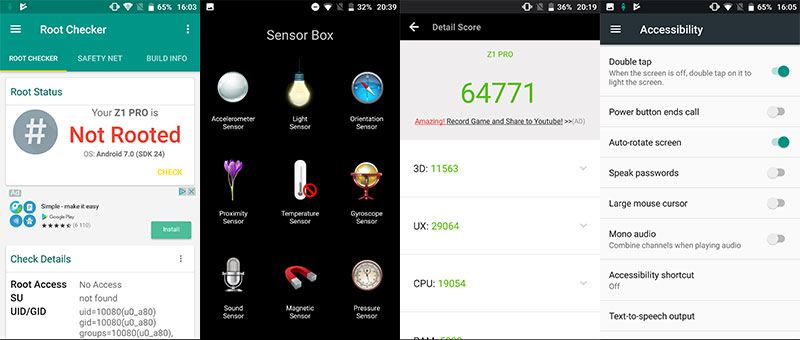 Performance,  Software & Fingerprint Reader
To test out the performance and software, I've been using the Z1 Pro as my daily driver for the last week. First off, it's worth mentioning that the UMiDigi fingerprint reader is one of the best I've ever used and works 99% of the time first try. They've even rolled out this fingerprint reader across their whole range of phones from the budget UMiDigi G to the Z1 Pro.
In terms of responsiveness and speed, I had no issues with the Z1 Pro during testing. Having 6GB's of RAM onboard seems to have helped eliminate any slowdowns when switching between apps. Although in fairness, Android is built to be very efficient with RAM meaning we would have got the same effect from 4GB. 6GB sounds cooler though, right…
The 64GB's of onboard storage is made by Samsung and scored very fast read & write speeds during our tests. Powering the phone, we find the MediaTek Helio P20 combined with the MP2 version of Arm's Mali-T880 graphic unit. While the P20 isn't from MediaTek's high-end 'X' range, it's competent enough to handle all the tasks that Android can throw at.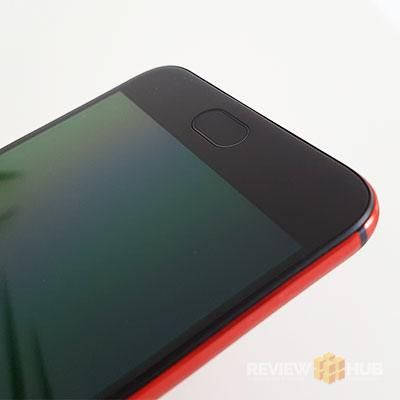 Looking at the software, the Z1 & Z1 Pro both come pre-installed with Android 7.0 and the June 2017 Android security patch. UMiDigi have kept the phone bloatware free and using it feels like a true Android experience.
One hardware/software issue I do have is that the left capacitive button is hard-coded to be the Android options button. Maybe this is popular in other parts of the world but having to long press the home button to see the recent apps list is annoyingly slow. If you're listening UMiDigi, I'd like to see the capacitive buttons customisable via the options in a future OTA update.
It's not a deal-breaker though as you can enable on-screen buttons via the settings. Since the capacitive buttons aren't backlit, I'd recommend using the on-screen buttons anyway. The positions of the on-screen buttons are customisable and you can even hide them when not in use giving you access to the whole screen.
… Excellent performance & a clean Android 7 …
Overall, Performance is excellent thanks to some well-chosen pieces of hardware combined with a clean version of Android 7. The real highlight is the fast fingerprint reader and the speedy performance. There's some more performance tech specs below.
CPU: MediaTek Helio P20 (10-Cores)
GPU: ARM Mali-T880 MP2 900MHz
RAM: 6GB LPDDR4
Storage: 64GB Samsung eMMC (53.10GB usable) (read speed: 189MB/s, write speed: 213MB/s)
Expandable: Yes (2nd SIM slot up to 256GB)
Software features include: Not Rooted, Double-tap-to-wake, MiraVision (enhanced), 5 Fingerprint recognition, Smart Lock, SIM Management, DuraBoost, On-screen buttons, Cast, View Cover Options.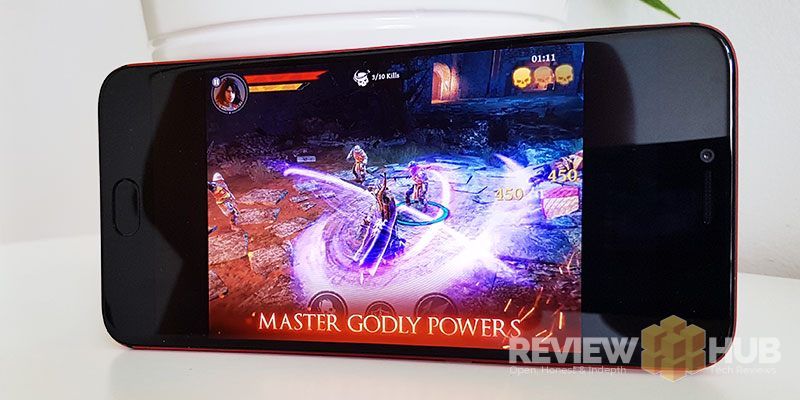 Gaming & Benchmarks
The UMiDigi Z1 & Z1 Pro both come with the Arm Mali-T880 MP2 mobile graphics chip. The MP2 means that it's the 2 cluster version running at 900MHz. It would have been nice to see the MP4 version that UMiDigi used for the original Z Pro but for most games the MP2 is good enough.
In terms of multicore performance the Z1 Pro Helio P20 setup scored similar results to the Snapdragon version of the Galaxy S7, but, the Z1 Pro drops behind when it comes to single-core performance.
So how does the Z1 / Z1 Pro perform when it comes to gaming?
Games loaded fast, there weren't any noticeable slowdowns or frame-rate drops and the phone didn't heat up uncomfortably. The lightweight design, awesome display and big 4000mAh battery of the Z1 Pro lends itself well for a gaming Android device.
The only downside to the Z1 Pro as an Android gaming option is the mediocre speaker setup but if you've got headphones, this ain't a problem.
AnTuTu Benchmark 6

3D – 11563
UX – 29064
CPU – 19054
RAM – 5090
Overall Score: 64771
Geekbench Score:
Single Core Performance: 814

Multi-Core Performance: 3885

Interested in Android Benchmarking Apps? Check out our guide to the Best Android Benchmarking App in 2017.

Camera
I'll quickly list the UMiDigi Z1 Camera Specifications below but you can check out the UMiDigi Z1 Pro camera review using the link below which covers the camera performance in full.
UMiDigi Z1 Pro Full Camera Review
Rear Camera:
13 MP + 5MP
Quad LED Flash
4K Video Recording
Front Camera (Selfie time):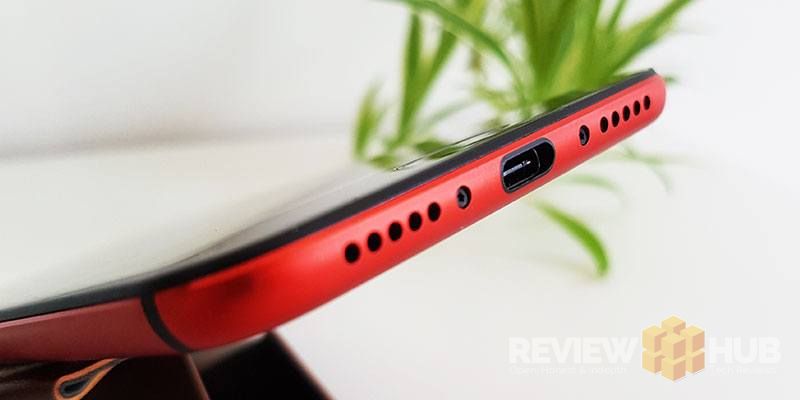 Speaker & Call Quality
The call quality on the Z1 is loud and clear. To test the external speaker on the Z1 Pro I watched a couple of episodes of Killjoys (6/10) on Netflix then watched all the latest movie trailers on YouTube.

I found the max volume on the Z1 Pro is far too high. The sound distorts badly at volumes over 80% even making the phone vibrate. 70% volume is more than loud enough and is the best compromise in terms of volume & sound quality. There is some bass and a large amount of treble.
Overall, it's good enough to watch the occasional video but you're better off connecting headphones for any prolonged listening.
The sound comes out of the bottom right speaker grill only so can be muffled by your hand when watching videos / gaming. Although, it's easy enough to rotate the phone 180 degrees. Another benefit is that the lightweight design makes the phone much easier to hold while watching Netflix without getting hand ache.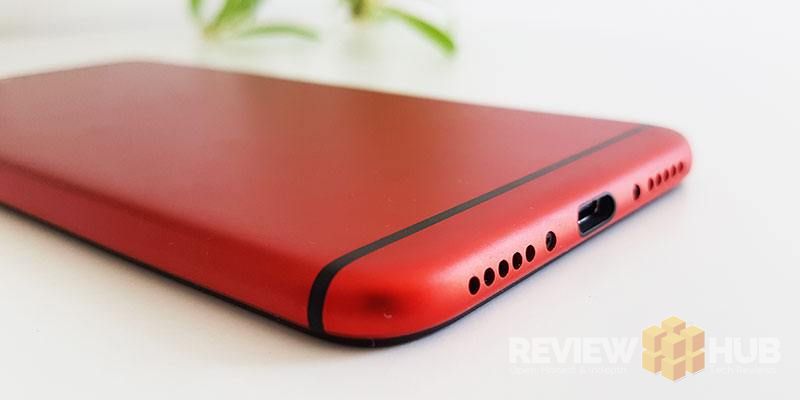 Battery Life
Fitting a 4000mAh battery into a phone this light and slim is nothing short of a miracle. The Z1 Pro removes the old notion that a bigger smartphone battery means a big and chunky smartphone.
The Z1 & Z1 Pro both come with USB Type-C quick charge batteries and chargers giving you a full charge in around an hour and a half. You'll also see some battery saving from the AMOLED screen if you choose a dark wallpaper.
During testing, it easily lasted a full days use of social media, GPS run tracking, Netflix and some light gaming.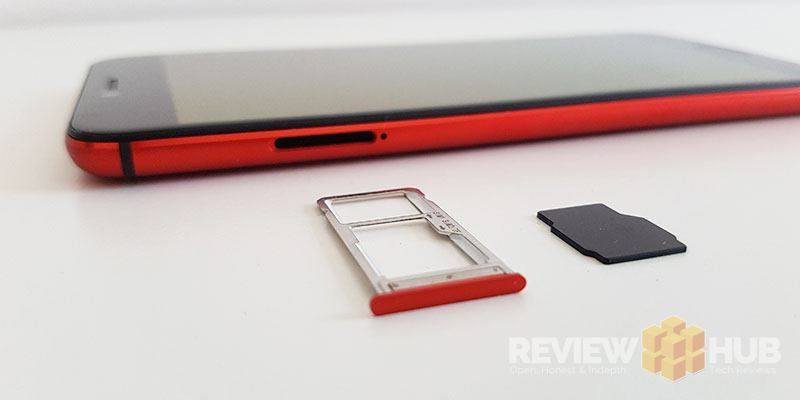 Connectivity
The Z1 & Z1 Pro both come with full UK cellular support for 4G on any network. The phones use a USB Type C connection and come with both a fast charger and USB Type-C cable in the box.
We also find dual-band WiFi and WiFi Direct. During WiFi speed tests I hit downloads of 88MB/s and upload of 12MB/s from the adjacent room to the router.
Missing from the Z1 Pro is NFC and wireless Qi charging as well as the latest AC WiFi standard.
It also comes with full UK bandwidth support for both 3G & 4G.
Frequencies Supported: GSM (2G) 850 / 900 / 1800 / 1900MHz, WCDMA (3G) 900 / 2100MHz, LTE (4G) 800 / 1800 / 2100 / 2600 (B20, B3, B1, B7)
3G: YES
4G: YES
Full UK Coverage: YES
Bluetooth: 4.1
GPS: GPS, A-GPS, GLONASS
NFC: NO
Sensors: Accelerometer, Light sensor, Orientation, Proximity Sensor, Compass, Gyroscope, Fingerprint
USB OTG: YES
USB Type: USB Type-C
SIM support: Dual standby (2x Nano SIM or 1x Nano + Micro-SD)
WiFi: 802.11a, b, g, n 2.4GHz / 5GHz (Dual-band)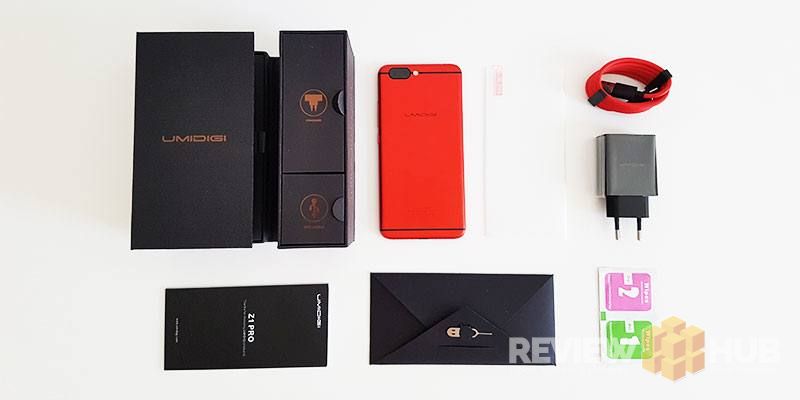 What's in the box?
To my delight, UMiDigi has gone all out with the packaging for the Z1 Pro. It features a magnetic box that rolls out into 3 compartments all hidden behind an extra slide. Each compartment is opened separately and reveals the following.
Inside we find: Red USB Type-C Cable, Screen protector kit, SIM Pin, Instructions, Fast charge charger and a clear silicone case.
UMiDigi Z1 Pro – the bottom line…
The first question you'll want to know, is whether the Z1 Pro is worth shelling out for over the Z1. Yes, yes it is. The slimmer design and Sharp AMOLED screen are 2 of the Z1 Pro's best features and well worth the small price difference.
The next question you'll want to know is if the Z1 Pro is worth its mid-range price-tag. There are smartphones out there with similar specs that sell for less than the Z1 Pro and the 6GBs of RAM doesn't have much benefit over a 4GB setup.
It's a difficult question and comes down to how much emphasis you put on the design. What justifies the Z1 Pro's price-tag is the ultra slim design and fantastic AMOLED screen.
And finally, the big elephant in the room is the camera performance or lack of. The dual-lens setup results are disappointing. But, if you can set aside this weak point, you're left with what is a fantastic smartphone from UMiDigi.
So, if you're looking for a 5.5″ smartphone with a fantastic screen, that's slim, that's lightweight and comes with good performance? The Z1 Pro is a good fit and I highly recommend it. If you're a shutterbug, you'll want to carry on your search.
Has the Z1 Pro tickled your tech buds? Check out the latest deals below.