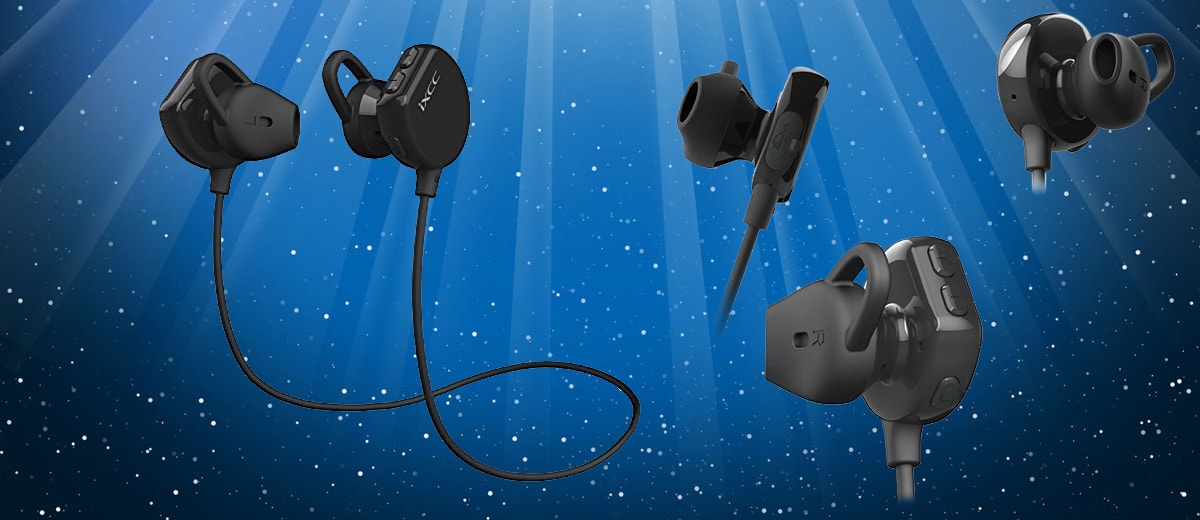 Spoiled for choice?
IXCC are the latest in a long line of Chinese manufacturers offering a variety of tech items at reasonable prices. They have a number of different Bluetooth headphone options, and I've got the iX-BT1 model in for review. My Xiaomi Mi6 has no 3.5mm connector so getting the right set of Bluetooth headphones is now vital for me. I've already reviewed the fairly unique Aminy UFO and SoundPEATS Q29s, but the iX-BT1s take a more conventional form. There are so many similar-looking options within this price range that I want to find something unique about them.
Check out the IXCC iX-BT1 for… UK : £16.99 | EU : €18.99 | US : $21.99
Thumbs up!

Comfortable fit in ear
Reasonable battery life for size
Thumbs down!

Carry case/magnetic clips would be nice
The wire can get snagged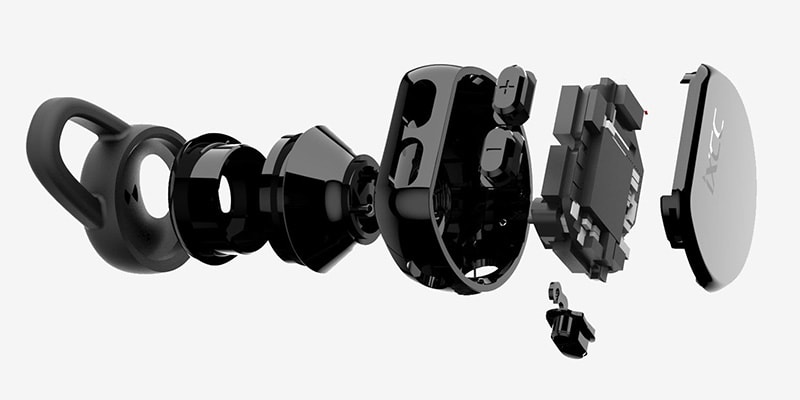 Unboxing/Design
The IXCC iX-BT1s come in a plain box, similar to the packaging used by a lot of other Chinese manufacturers. Inside you'll find the earphones, 2 sets of ear fittings, a charging cable and instructions. A drawstring bag or case would have been a good inclusion but is sadly absent. The larger ear fittings are installed as standard but these are easy enough to swap if required.
I classify Bluetooth headsets as follows. Headphones fit over or on your ears and have a rigid band which goes over the top of your head. Earphones sit just inside the ear, and earbuds plug inside your ear canal. The iX-BT1s differ from most other budget offerings as they are almost a hybrid of earphones and earbuds. While they sit inside the ear they have a port that directs the sound straight at the ear canal. They remind me of the old Sony Fontopia earphones I loved back in the 90s, when wires were the in-thing!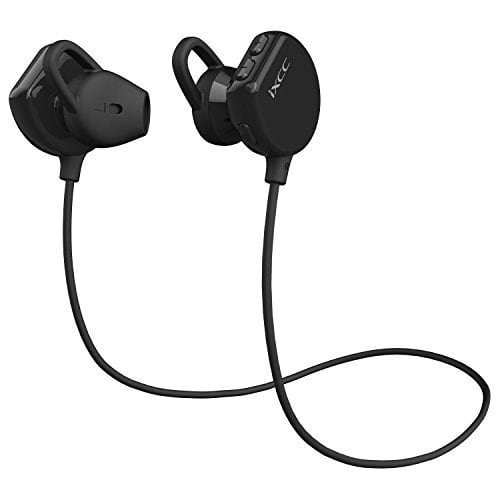 The right earpiece is the master, with three control buttons and the mic. There is also an indicator LED to show charging status, power and pairing mode. The left earpiece has the micro-USB charging port, kept safe behind a rubber flap.
The earphones are finished in a shiny piano black plastic. Their construction is solid, buttons press with a reassuring click and there are no rattles. The iX-BT1s are very light too, weighing in at only 16g.
Overall these earphones are well put together and very light, but feel robust enough to survive daily use. If I was being picky, the only other thing I'd complain about would be the lack of a magnetic clasping system to secure them around your neck. This is a common feature at this price point and would have been handy, but isn't a deal breaker.
Tech Specs
Bluetooth Version: 4.1 (EDR)
Transmission Range: 10 Metres
Noise Cancellation: CVC6.0
Waterproofing: IPX4
Working Time: 5-6 hours
Battery Capacity: 80mAh
Net Weight: 16g
Connectivity
As per usual you put the iX-BT1s into pairing mode by holding the power button in. At this point, I was pleasantly surprised to get an announcer with a plummy English accent. Not that it makes any real difference it was a nice change from the usual American voice.
The earphones were simple to pair, and have been quick to connect when I've used them since. I've paired with a Windows laptop and phone, 2 Android phones, an Amazon Fire tablet, iPhone and TV and had no issues.
Another feature is the ability to connect to 2 devices at once. This means you could watch a movie on your laptop and still answer your phone when it rings. Maybe not something that a lot of people would use but it's nice to have.
Sound Quality
I was relatively impressed with the sound quality of the iX-BT1s. Due to the sound port design there is definitely a richer sound than in standard earphones, though it's not as immersive as you'd get with true earbuds.
I tested the performance in a wide range of music styles, and on the whole it was fine. Bass was definitely enhanced over other earphones and I didn't notice any imbalance in volume between the left and right channels. Overall the sound did feel a little compressed but at this price point it was nothing to complain about.
Talk radio performance was good, but when I was watching a movie using they struggled at times when a lot was happening, i.e. explosions/music/dialogue etc at the same time. This is definitely only an occasional use for me though, and as long as music sounds OK I'm happy.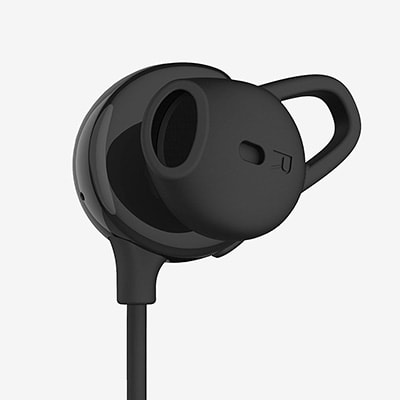 Of all the headsets I've reviewed recently the iX-BT1s performed the best for calls. The other party was able to hear me clearly even in situations with a lot of background noise. The CVC6.0 noise cancellation definitely works well on these earphones!
Usability
The three buttons control a multitude of features. The power button also pairs, answers/hangs up calls, redials, and plays/pauses music.  Volume up can skip tracks and switch the call between the phone and headset. Volume down also rewinds, mutes the mic and rejects calls. If you can easily remember all of these features you're a bigger geek than I am!
Unlike others headsets I've tested there is a lot of adjustability in the volume controls on the iX-BT1s. There are in fact 18 steps between silent and maximum meaning you'll easily be able to set it to the perfect volume.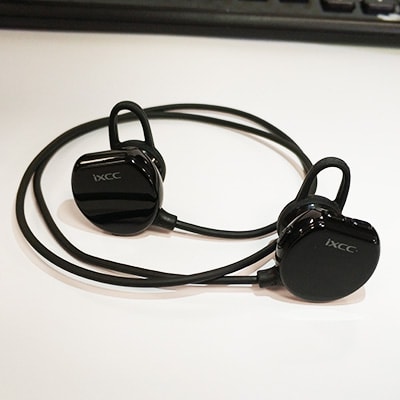 The earphones fit securely into the ear. I've used these while jogging and they've not fallen out. The wire that goes between each earpiece was a bit annoying though. It can get snagged on the back of your neck or on clothing and this does occasionally feel like it will pull an earpiece out – though this hasn't happened yet. The iX-BT1s are also IPX4 rated, meaning they are splashproof. Not the greatest degree of protection admittedly, but a reassurance that they are gym-proof at least.
Finally, in terms of battery life I managed to exceed the stated 5-6 hours. At best I got a shade under 7 hours use between charges, spread over 3 days. This was at a little over 50% volume though, so this helped, and as ever your mileage may vary :-)
iX-BT1 Conclusion
In a very 'samey' market segment the iX-BT1s stand out mainly because of their ear fitting method. This is a matter of personal choice but I prefer them to the more intrusive earbud style that's so prevalent. While the sound quality isn't perfect, it's fine for casual use and more than acceptable at this price. Of the three headsets I've reviewed recently the IXCC iX-BT1s are definitely the pair that I'll be sticking with for day to day use.
Check out the IXCC iX-BT1 for… UK : £16.99 | EU : €18.99 | US : $21.99
What do you think about the IXCC iX-BT1s? Please add any comments below!