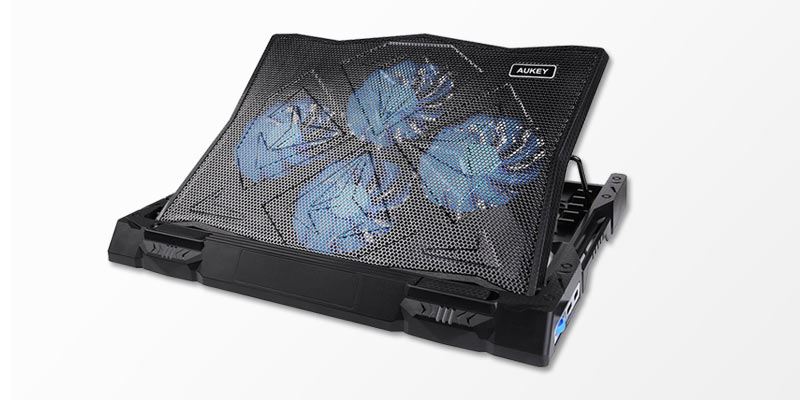 Aukey comes to the rescue when your laptop is just too hot to handle!
I'm currently living in sunny Budapest where the temps regular hit 35 degrees and air con is a luxury that my landlord didn't provide me with. I'm already a big advocate for ergonomic works stations and love travelling with this little dodocool gizmo to raise my laptop up, but, its cooling capacity is minimal.
So I contacted Aukey and asked them to send me their Laptop Cooling Beast that has a whopping four 11omm fans built in giving a total power output of 12000RPM. What does this equate to? Some serious cooling which will hopefully cool down my seriously hot laptop.
Other Aukey Products we've reviewed: 10000mAh Solar Power Bank, Aukey 2-in-1 Lens Kit.
Whilst it's certainly no good for travelling, it's pretty adept as a cooling / ergonomic upgrade to your current workstation as it also comes with USB ports and 5 tilt positions.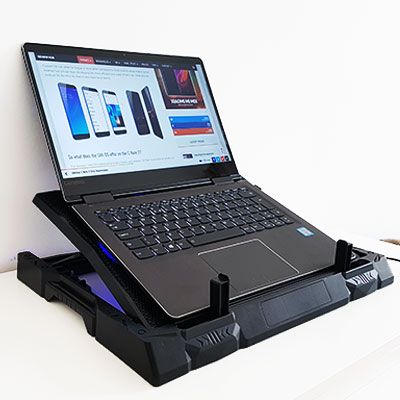 Check out the latest Amazon price below before I dive in-depth taking a look at the Pros & Cons.
Pros

Loud/Clear Sound
Long Battery life
Long Range signal – 33 metres
Extra features via app
Can be connected to up to 49+ other UE Boom speakers
Range of colours available
Easy to use
Light Weight – 1.2lbs
Cons

Needs more USB ports
You'll probably need an external keyboard
No rubber grips on leg extenders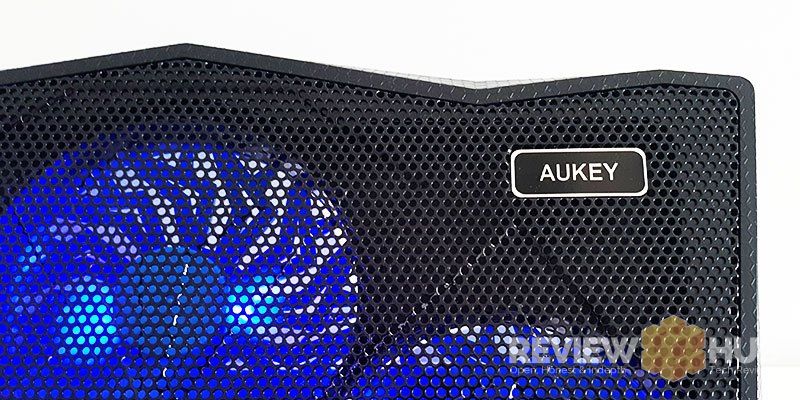 Design & Build Quality
The Aukey 4 fan laptop coolers design is certainly tailored to the bold angular, somewhat gamer aesthetic. Whilst it isn't my top priority to make my workstation look like a sci-fi scene I can see the appeal and there's definitely some satisfaction to be had when those blue LEDs kick in after dark.
The first design feature that struck me was the height of the base unit which is 3.5cm. For me, this is a little high to be raising my arms up and typing with. Aukey already knows this and provide much slimmer Aukey Laptop Coolers on Amazon.
Where this laptop cooler really comes into play is in its ability to work as a laptop stand. It has 5 different tilt modes which range from a slight incline to around 45 degrees. You can then flip out the feet at the back to really get yourself an ergonomic viewing angle.
You might be thinking… well won't my laptop slide off? Aukey have thought of this and included two arms are the front that flick up when needed.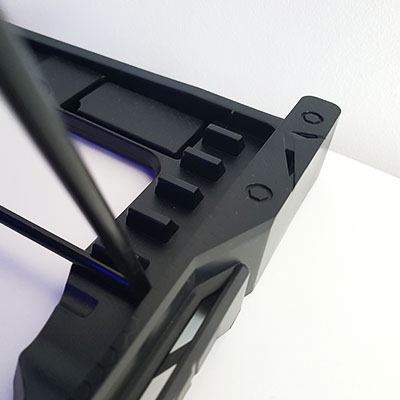 [/column]
I'm a big fan of this high angle as it lets me raise my laptop screen up to a healthy ergonomic angle for my neck. The only small downside is that you'll need to add an external keyboard to this setup. A small price to pay in the quest for better posture.
I was pleased when inspecting the laptop coolers build quality. The metal mesh covering the fans is sturdy and whilst the rest of the build is a plastic affair it still feels solid without any rough edges left from the moulding process.
I would have liked to have seen a better choice of colour for the power wheel as it feels a little out of place. It's not a biggie though it's almost out of sight when working head on.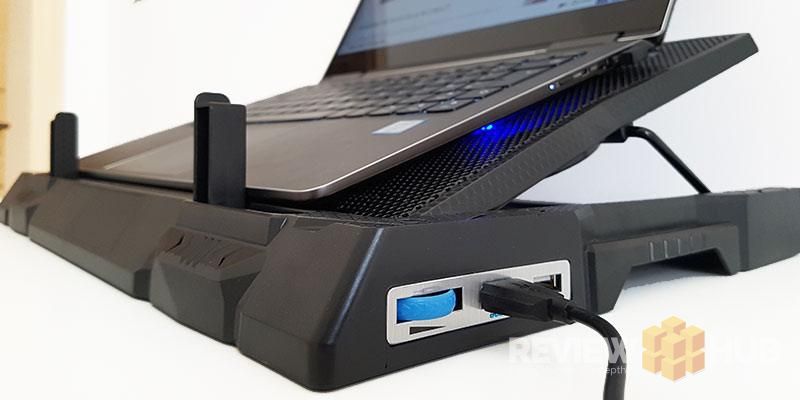 Cooling Power & Functionality
The laptop comes with 4 very quiet blue LED fans that run at 12000RPM. When first turning the fans on the airflow coming out didn't seem very impressive but after using for around 2 hours I noticed on average a 10-15 degrees temperature drop.
You can control the fan speed using the blue scroll wheel on the side of the Aukey laptop cooler. Next to this wheel are two USB ports although one of these is used up to power the cooler. This leaves you with the exact same amount of USB ports that you started with. For someone like me, with a 2-in-1 that has only 2 USB ports to begin, I feel a little disappointed. I would have like to have seen at least three ports.
The bottom line…
If you're looking for a stand-alone laptop cooler and don't need the tilt functionality there are better choices available. If you're looking to setup a workstation or want to improve your workspace ergonomics and also need some laptop cooling then the Aukey 4-Fan Laptop Cooler is a good choice!
It's a little on the sci-fi side of life in terms of design but once your laptop is on top, most of it disappears and you're left with a subtle blue glow coming out the side of your laptop.
Do I recommend the Aukey 4-fan Laptop Cooler? Yes, if you need the tilt functionality and are happen to use an external keyboard.