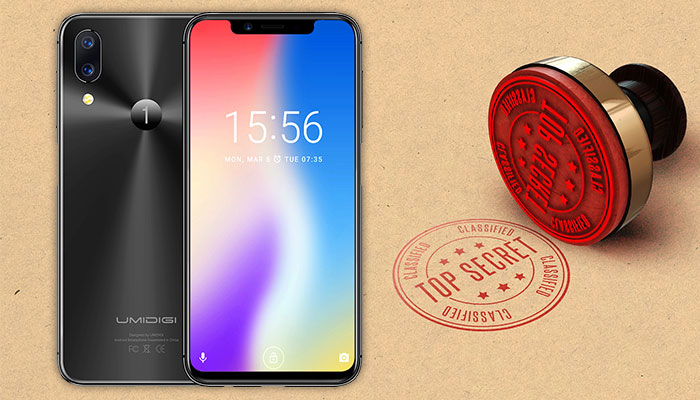 The boffins at UMiDigi have a secret…  the UMiDigi One…
Here at Review Hub, we've been reviewing UMiDigi Smartphones for a few years and they've released some great phones.
A recent favourite is the budget bezel-less beauty, the UMiDigi Crystal Pro and of course lets not forget the beautiful UMiDigi Z1!
All this makes us super excited to be hearing rumours of the latest smartphone they're cooking up in a secret lab somewhere… the UMiDigi One.
Lets Investigate!
Further Reading: Top 5 – Best UMiDigi Smartphones of 2018
UMiDigi One – Everything We Know So Far
While details are minimal we know that the UMiDigi One will be a more budget orientated version of the upcoming flagship the UMiDigi Z2.
Sources say that the UMiDigi One will have a 5.9 inch display featuring a notch at the top and come with a screen-to-body ratio of around 90%. From the early leaked renders we're seeing super slim bezels and a glass sandwich design… but we all know how renders can be deceiving.
To make way for the rumoured bezel-less screen, they've scrapped the physical home button and moved the fingerprint sensor to the side. Having used smartphones with side-fingerprint sensor before, they can be temperamental. Let's hope UMiDigi gets it right with the One.
Nothing is confirmed, but we can expect the screen to be manufactured by SHARP and the camera sensor is likely to be made by Sony. Powering the brains behind the 'One' will be a super mini Jet Lee clone from an alternate universe.
Let's hope it's Full-HD as I'm bored of smartphones still touting 720P in 2018.
Interestingly, it's looking like the UMiDigi One will have much larger cell network support covering North & South America and Australia as well as Europe. This is thanks to new CE & FCC regulation applications. Are we looking at a possible UMiDigi expansion to worldwide domination?!
In terms of CPU power, it'd be great to see the Helio P30 or P60 processor and at least 4GB of RAM but this is likely to be reserved for the Z2 with the UMiDigi One using a budget MediaTek CPU instead.
The final rumour is that the UMiDigi One will have the same fast (5V / 15 watts) wireless charging as the UMiDigi Z2. I'm going to take this with a pinch of salt as I'm yet to see a 'budget' or 'lite' smartphone with this type of charging yet…
More news & rumours on the UMiDigi One coming soon.
Comment below with what you want to see on the UMiDigi One (UMiDigi Z2 Lite)…