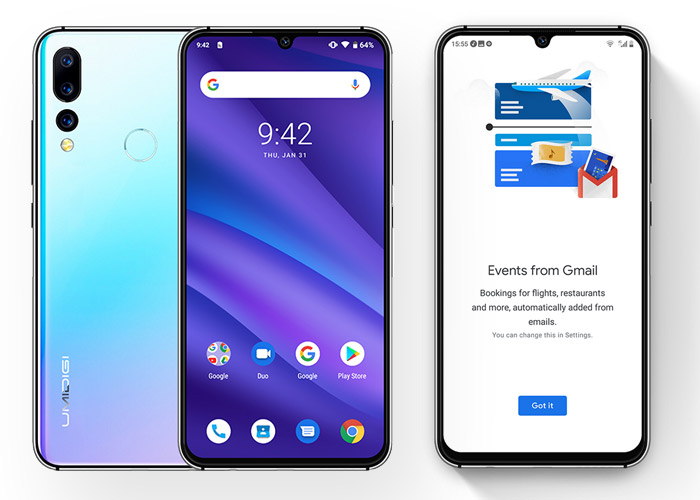 Super Budget, Super Camera, Super Good Looking! The UMiDigi A5 Pro is here!
Yes that's right, UMiDigi have squeezed in 3 rear cameras into the A5 Pro, with the 2nd being a 120-degree 8MP wide-angle snapper. And it's not just the cameras that are pushing boundaries, as this is one brilliant all-round budget phone.
With a vivid full HD display, excellent screen-to-body-ratio, 4GBs of RAM and a sleek glass sandwich design, you'd expect the UMiDigi A5 Pro to cost twice as much.
Which is why I'm super excited to get hands-on in this full A5 Pro review. And also why the competition should be shaking in their boots.
Related: What's the Best UMiDigi Smartphone in 2020?
So what's the catch? Let's find out as we explore the Pros & Cons of this sub £90 | $99 smartphone.
Grab the UMiDigi A5 Pro early bird price now

The Good
Sony 16MP IMX398 Main Camera
120-degree 8MP Wide Angle Camera
Excellent Performance
Premium Glass Design
Great Battery Life
Bright Full HD Display
The Could Be Better
No USB Type-C
Missing Faster AC WiFi Standard
At little Heavy at 203g
Missing NFC Sensor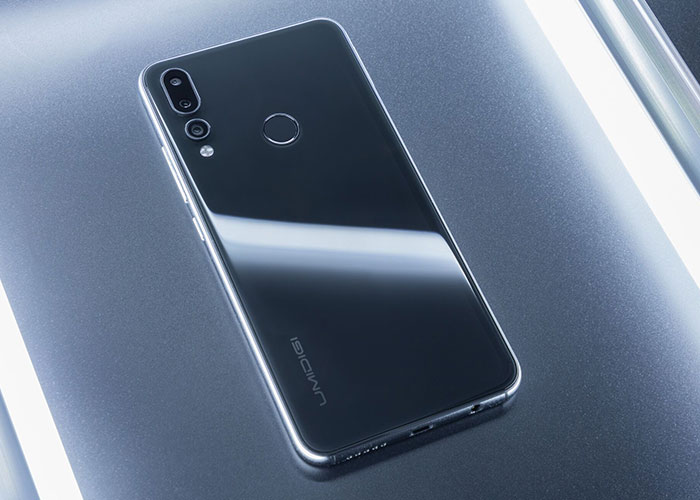 Display, Design & Performance
If there was one reason to go grab yourself the A5 Pro right now, it's the crisp, bright & vivid full HD display. With an impressive 92% screen-to-body-ratio and a tiny waterdrop notch, the A5 Pro has the wow factor.
Viewing angles are good, the white balance is a little warm and the black levels are excellent. With the brightness set to 75%, the black bezels easily blend into the display borders giving the A5 Pro a very premium look.
Related: What's The Best UMiDigi Smartphone?
The 19:9 aspect ratio makes it easier to hold one-handed, but the real plus is the slim 8.2mm chassis. While it is heavy at 203g the slim & solid feeling body helps to combats this.
I've always loved the premium feel of dual glass phones since my iPhone 4, so for me anyway, the A5 Pro feels great. But if prone to dropping your phone, this could be a negative.
The frame is made of aluminium and curves around the phone for a very comfortable grip. Although there is a camera notch on the back, it's tiny compared something like the Xiaomi's Mi 9 camera hump.
Performance-wise, we see the ever-popular Helio P23 from MediaTek. In day-to-day usage, the 8-core chip performed well with the Android 9 OS not suffering from any slowdowns or long app load times.
While not the fastest processor, UMiDigi has paired it up with 4GB's of RAM which is pretty unheard of in this budget section of the Android market. If you're a gamer, you might want to opt for a top-tier MediaTek chip or go for a Snapdragon chip as these have a higher performance for 3D games like PUBG.
Summing up, you can't do any better in this price-range for these specs and this level of display quality.
Screen Tech Specs: 6.3″, 2280 x 1080 resolution, 400 PPI, 19:9 Teardrop Display, 92.7% Screen Coverage.
Performance Specs CPU: MediaTek Helio P23 (8 Cores @ 2.5GHz)
RAM: 4GB
Storage: 32GB (expandable up to 256GB via Micro-SD)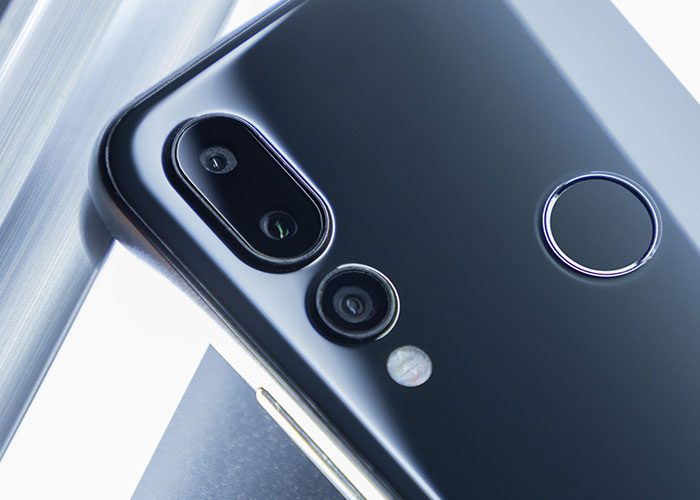 UMiDigi A5 Pro – Camera Review

It still amazes me that flagship features can trickle down into the budget market so quickly. And that's exactly what see with the UMiDigi A5 Pro's 8MP 120-degree Wide Angle Camera (Amazon).
While it's not competing against flagship phones in terms of low-light performance and quality. In bright sunny conditions, you can now get super-wide shots without having to mess about in panorama mode.
The main camera isn't to be sniffed at either with a 16MP Sony IMX398 lens that captures plenty of detail with a natural colour profile. You can always bump the saturation up post-editing if you prefer the vivid HDR look.
And finally, we have the third lens which is a 5MP depth-sensing lens which creates the bokeh effect. In practice, this does work, but, it leaves photos looking a little artificial.
Video
The video quality isn't bad, but video stabilisation is lacking. This makes the lens wobble which creates jerky footage if you are doing anything more than a smooth walk.
Rear Camera:
16MP Sony IMX398 (f/1.8)
8MP Wide Angle Lens (120°)
5MP Depth Lens
Dual LED Flash
HDR, Portrait
Front Camera (Selfie time):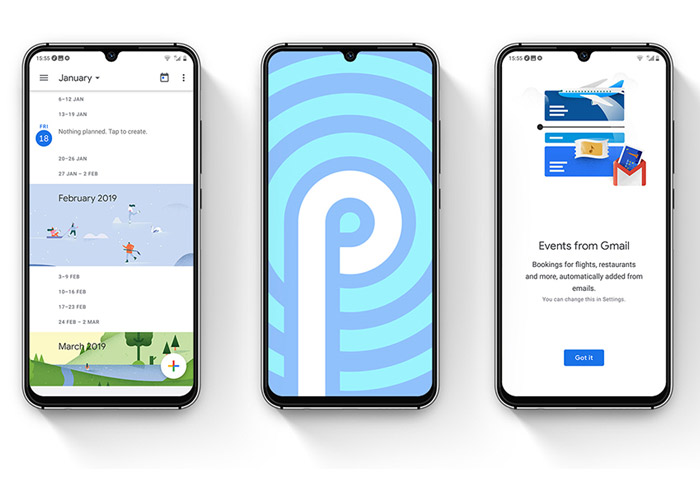 Battery Life
While the 4150mAh battery sounds impressive, it's actually one of the smallest from UMiDigi's 2019 smartphone lineup.
During testing, the UMiDigi lasted a full days use with web browsing, light gaming, YouTube and social media. During gaming, the battery drained fastest, but still lasted a full day. If you're a light user, you can easily expect to get 1.5 to 2 days of use in-between charges.
Related: Phones With Epic Battery Life – 2019
Included in the box is a 10w fast charger. Although, this is a step down from the 15w fast charge offered by other UMiDigi phones, but again, it does help to keep the cost down.
Battery Specs: 4150mAh (10w fast charging)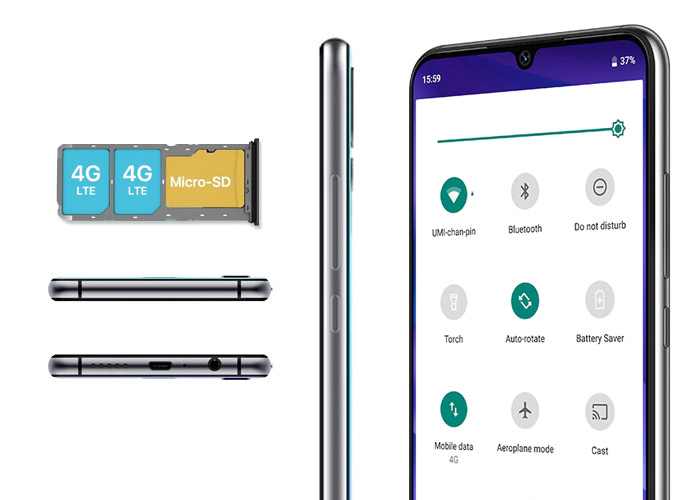 Connectivity

Connectivity is good, but not excellent.
The A5 Pro is a true dual SIM smartphone which means that you can have 2 SIM cards and an SD Card all inside the phone at once. Something you'll appreciate as the A5 Pro has only 32GB's onboard storage.
As a cost saving measure, we don't see the faster AC WiFi standard or NFC. I can forgive these, price considered, but the lack of USB Type-C is disappointing.
On the plus side, there's a Gyroscope sensor included for games like Pokemon Go and Harry Potter Wizards Unite. This is a feature that's mostly forgotten with other budget Android devices.
Face ID Unlock & Fingerprint Unlock
Neither the Face Unlock nor the rear fingerprint reader is very fast, but, they are both reliable. There is a noticeable delay before the screen turns on and unlocks.
Loudspeaker

Now the loudspeaker is an area that UMiDigi has struggled with in the past.
The good news is that they've taken on board previous feedback, as this time the single-speaker is loud! Quality-wise, there's plenty of treble but little bass. you'll want to add a pair of headphones for anything but the occasional video call and YouTube video.
Call Quality
Making a few tests calls on the A5 Pro revealed no issues. Voices could be heard clearly on both ends of the call. Testing with an S9, there was noticeably more depth of voice through the Samsung device, but in terms of clarity, both phones are equal.
UK Network Support: Full (4G, 3G + VoLTE)
US Network Support: Partial (Full 3G | Full 4G Verizon)
WiFi: 2.4 + 5Ghz (a,b,g,n) (WiFi Direct + WiFi Display)
Headphone: 3.5mm Input
SIM Support: Nano + Nano + SD
GPS Module: GPS + GLONASS + BeiDu
Bluetooth: v4.2 + HID
USB: Micro-USB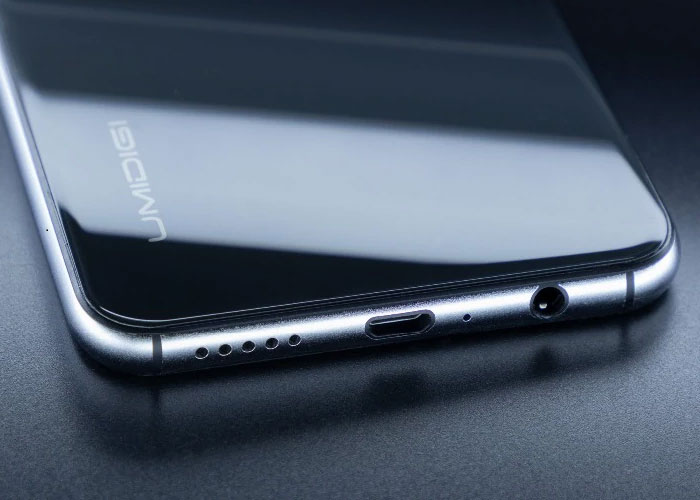 UMiDigi A5 Pro – The Verdict
If you're planning on grabbing the A5 Pro, then do so quickly as the price will be going up soon. UMiDigi often releases their phones at a discount, after which the prices rise.
While there are some cons to consider, the pros far outweigh these. Having a Full HD display, premium build materials, decent performance, awesome battery life and a triple camera setup… has certainly set the bar high.
Do we recommend the UMiDigi A5 Pro? Absolutely, it's currently the best value Android phone available for under £90 | $99

UMiDigi A5 Pro – Available Now

Read on for the full UMiDigi A5 Pro tech specs, What's in the box and also to ask any of your questions in the comments.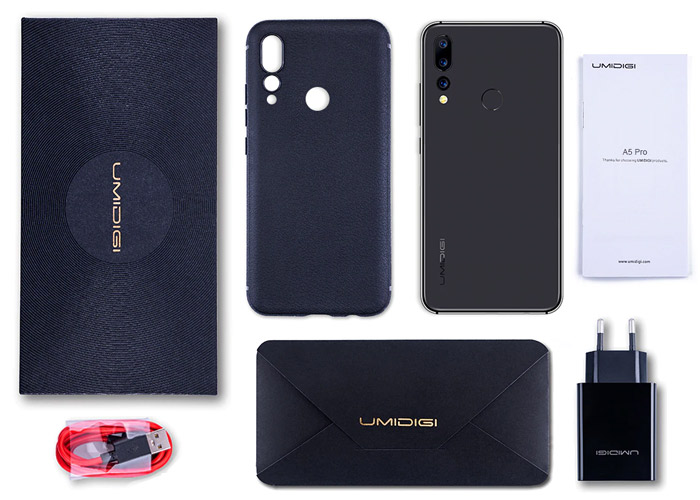 What's in the box?
I'm a fan of how UMiDigi package their phones. You always get a case, this time one of their textured versions, and a screen protector pre-applied. You also get a 2-pin charger, quick guide, red USB cable and a SIM pin.
Often sellers from Amazon will also include a regional adapter for your location in the box.
UMiDigi A5 Pro – Full Tech Specs
Smartphone
UMiDigi A5 Pro
Screen Size
6.3″
Pixel Density
400 PPI
Screen Resolution
2280 x 1080
Screen To Body Ratio
92.7%
Screen technology
19:9 aspect ratio, Waterdrop Notch, LTPS
Thickness
8.2mm
Weight
203g
Material
Dual Glass Design
Colours Available
Space Grey & Breathing Crystal
Storage
32GB
Processor (CPU)
MediaTek Helio P23 (2.5GHz Octa-Core)
Graphics (GPU)
Arm Mali-G71 MP2
RAM
4GB
Android Version
9 Pie
IP Rating (Water, dust)
NO
Micro-SD Card Tray
YES (max 256GB)
Notification LED
YES
Finger Print Sensor
YES – Rear Facing
Infrared
NO
USB Type
Micro-USB
4G Bands
TDD-LTE 38 /40 /41
FDD-LTE 1 /2 /3 /4 /5 /7 /8 /12 /13 /17 /18 /19 /20 /26 /28A /28B /66
3G Bands
Bands 1 /2 /4 /5 /6 /8 /19
2G Bands
Bands 2 /3 /5 /8
SIM Support
Dual Nano SIM
WiFi
2.4GHz + 5GHz (a, b, g, n)
GPS Tech
GPS, GLONASS, Baidu
Bluetooth Version
4.2
NFC
NO
Sensors
Ambient light, Proximity, Accelerometer, Gyroscope, e-Compass, Fingerprint
Battery Size
4150 mAh
Fast Charging
YES (10w)