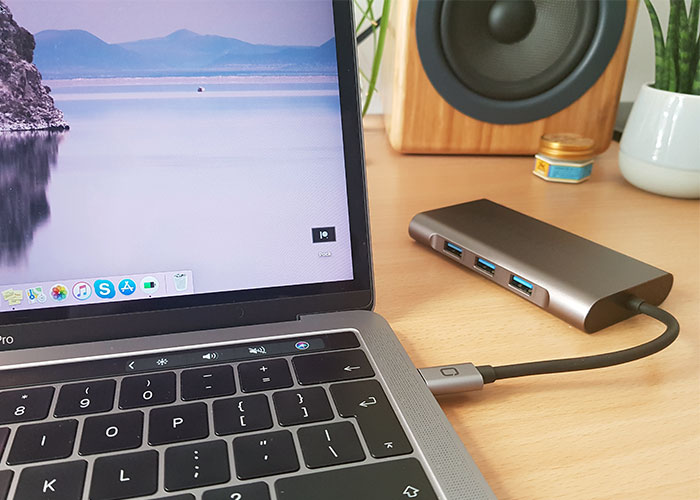 It's sleek, it's aluminium, it's got 10 ports and it's cheap… what's not to love about the new Omars Type-C Hub
If you hadn't noticed, the connections and ports on our gadgets are facing a mass extinction event. From headphone jacks to your laptops USB ports, they're disappearing and disappearing fast.
You'd think that with over 3000 Amazon search results for 'Type-C Hub, manufacturers would get the hint. But they haven't, and that's why if you want a modern stylish laptop in 2019 you're going to have to invest in a Type-C Hub.
But don't settle for a clunky plastic thing, the Omars 10-in-1 Type-C Hub offers ultimate functionality in an Apple-like form.
So let's get to it. Here is our Omars 10-in-1 Type-C Hub Review.
This week's best Omars Type-C Hub Deals + Exclusive RH Discount Codes…
(Amazon US Discount: 8HX5MDRX  |  Amazon UK Discount: JGZNAAYB)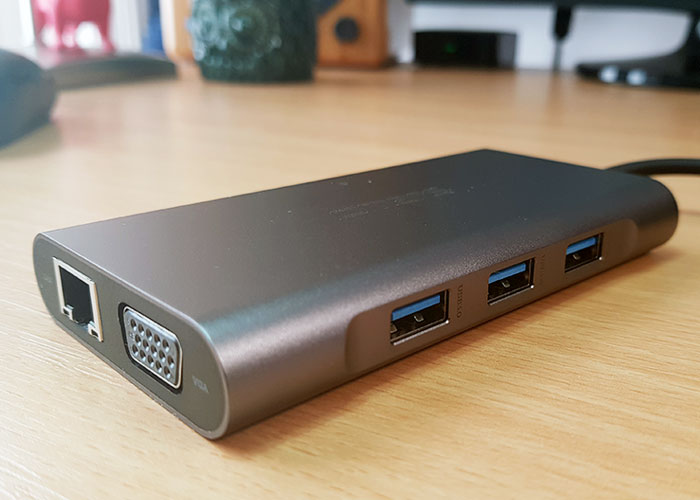 Design & Build Quality
The Omars Type-C Hub uses modern and contemporary design language making it the perfect buddy for your MacBook or Ultrabook. The curved single piece of aluminium weighs less than 100g, is cold to the touch and oozes quality.
The 'space grey' colourway coupled with the silver highlight on the Type-C connector looks great. The cable is sturdy and reinforced on both ends. My only criticism is that tapping the shell does give off a slightly hollow sound which wouldn't impress Johnny, but he's left anyway so who cares.
Taking a fine finger across the edges of the hub didn't reveal any rough parts or build quality defects. The ports themselves are cut directly into the single aluminium piece, and are nicely spaced leaving enough room for multi-port use. It's worth noting that the sides of the hub are made using plastic, due to the slide-in design.
Applying firm pressure to the Omars hub didn't reveal any weaknesses, creaks or flex.
Overall, I'm impressed with the 10-in-1 Hub from Omars, my only small criticism is the hollow-sounding shell.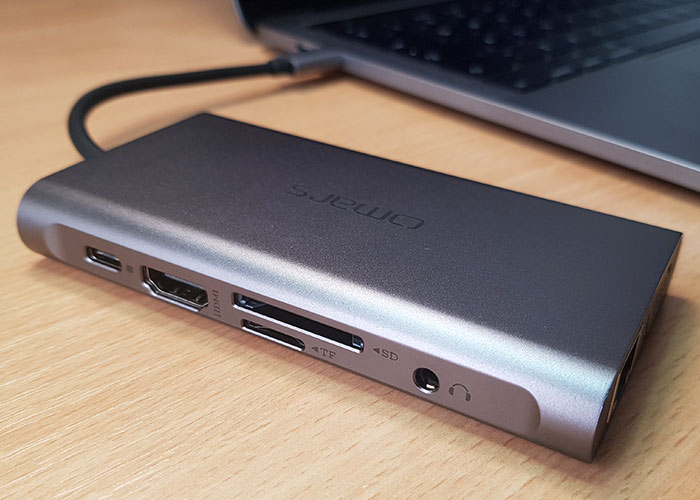 Features
You guessed it… there are 10 ports on this device. Well, actually no. There's only 9 as Omars has counted the Type-C input as the 10th port which is cheating.
It covers all the basics such as USB Type-C PD power passthrough, 3x USB 3.0 ports and an SD card reader. The passthrough is rated at 60w letting you also charge other devices via the 3x USB ports as well as your laptop.
In terms of video output, we get a full sized HDMI input (4K @ 30Hz) female connector as well as a 1080P VGA connector. The VGA will be the selling point for a lot of users, as it's a lot rarer to see on modern hubs.
Finally, we a Gigabit RJ45 Ethernet port and a 3.5mm headphone jack audio input.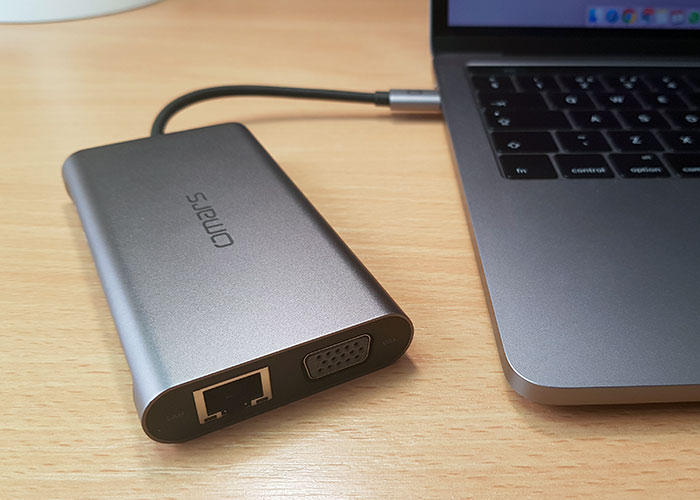 My only criticism is that the 4K HDMI module only supports 30fps. This is pretty standard among cheaper hubs though, and it's a rare treat when we do get 60Hz @ 4K.
All ports that I tested are fully functional. I didn't manage to test the gigabit ethernet as my router doesn't support this feature. Let me know in the comments if you've tested the gigabit functionality.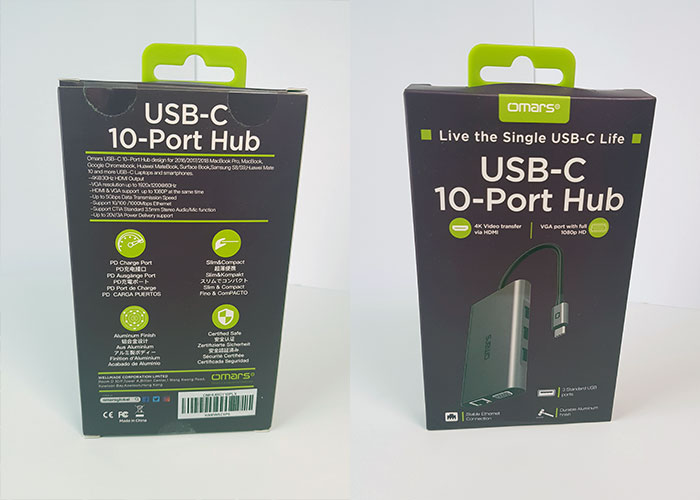 What's in the box?
It's a barebones affair with only the Omars USB Type-C Hub and an instruction quick guide. The packaging is nice though if you're thinking of sending the hub as a gift.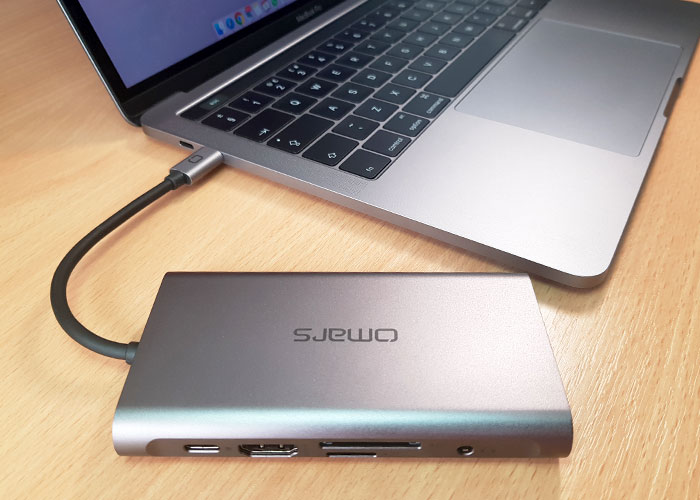 Omars 10-in-1 Type-C Hub – The Verdict
There are two options when choosing a USB Type-C Hub. A minimal and sleek hub like this Amazon option, or super-functional one like the Omars 10-in-1 (Amazon).
While the Omars is larger than some of the competition, the extra port spacing it offers between ports is well worth it.
The biggest pro for me has to be the design and build quality. It's a premium Type-C Hub that not only looks the part, but has a sturdy cable and buckets of functionality.
Could it be better? Sure, throw in a nice carry case Omars : )
Check out the latest prices below.
(Amazon US Discount: 8HX5MDRX | Amazon UK Discount: JGZNAAYB)