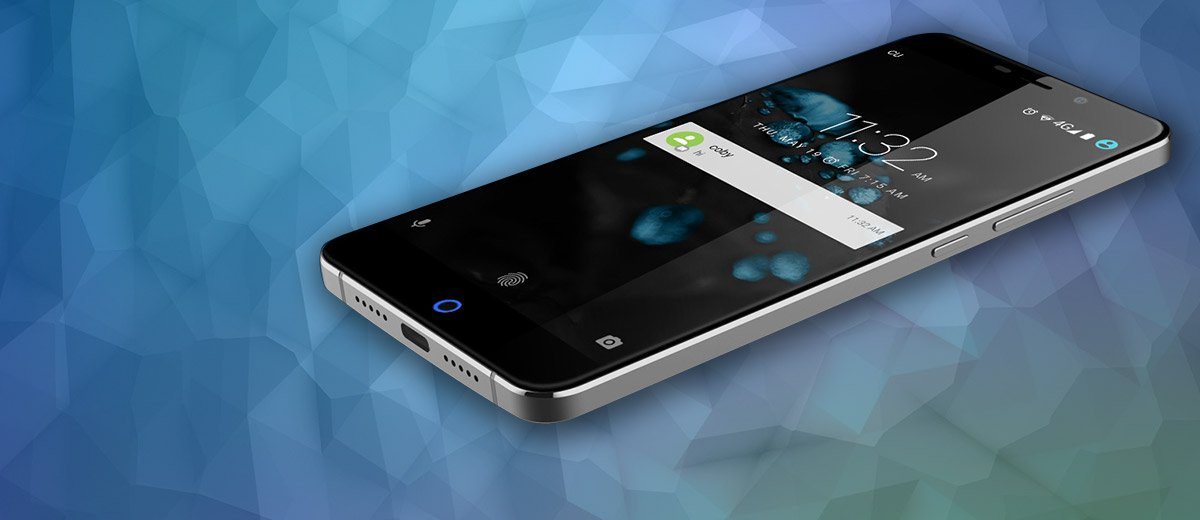 The 'UMi Super' Takes the Crown as King of the Mid-range Phones.
Update: Looking for the latest UMiDigi Devices? Check out the Full UMiDigi Z1 Pro Review or our Top 5 UMiDigi Smartphones 2017
No longer do you have to pay the big bucks for a phone that includes great hardware, great design & decent camera performance. The UMi Super storms onto the stage, fixing the mistakes of the UMi Touch, whilst offering nearly all of the features most people look for in a modern smartphone.
[column size=one_half position=first]
Inside the UMi Super you'll find one of the latest MediaTek Octa-Core Mobile Processors, 4GBs of RAM, 32GBs of Samsung eMMC storage, an ARM Mali-860 Dual-Core GPU, Full HD Screen and to top it all off it even includes a fingerprint sensor. If this isn't enough to get your tech buds tingling, then add to this, that the UMi Super will be launching for around £160 ($220 / €199) and we've got ourselves some real value for money.
[/column]
[column size=one_half position=last ]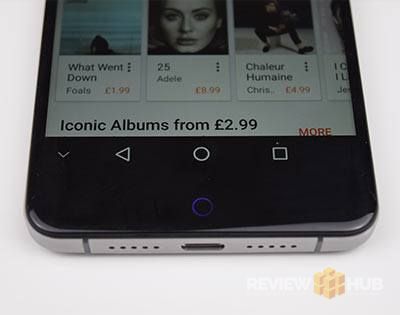 [/column]
Although I have a lot of praise and compliments for the UMi Super there were a few niggles and software hiccups that popped up during testing. I'll dive into in more details of those niggles below, but first, let's take a look at the UMi Super Pros & Con's.
Own a flagship for only… UK : £160 | EU : €199 | US : $219
[column size=one_half position=first ]
What we love

Halo Notification LED
Craftmanship & Build-quality
Sensor packed (Hurray!)
Screen Quality (Natural)
4GB RAM
Helio P10 CPU (Octo-Core)
Great gaming performance
32GB Fast Samsung storage
[/column]
[column size=one_half position=last ]
Could be better

It's Heavy (Big battery included)
Camera isn't a camera button
Max volume is low
Fingerprint sensor is temperamental
Camera not as good as UMi Touch's
[/column]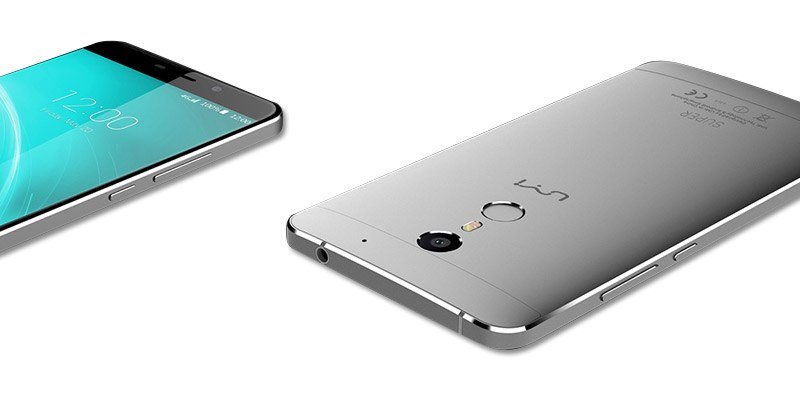 Screen
The 5.5″ Full HD screen is a real pleasure to behold with its excellent viewing angles and natural colour tone. Images & video are crisp thanks to the 1920x1080p resolution that gives the phone a respectable PPI of 401 which is plenty for a 5.5″ phone. Also included is MediaTek's MiraVision software which allows you to tweak the screen settings to your desired look (natural, vivid or custom).
[column size=one_half position=first ]
I found the UMi Super's, Sharp manufactured, screen to be an improvement over the UMi Touch's screen, although, I'm sure some will disagree. When I place the two phones side-by-side, for me, the Super feels much easier on the eyes. The reason for this is that UMi Super has more natural colour tones (favouring a very slight yellow tint to the whites) compared to the slightly blue-ish tint we see on the Touch and a lot of other Chinese smartphones.
[/column]
[column size=one_half position=last ]
Choose between on-screen or physical buttons
[/column]
During testing, I also found that the screen's colour reproduction performs best at around 50% brightness which is ideal for battery life. Any brighter than this and some detail starts to be lost whilst lowering the brightness below 50% starts to give the whites a greyish tinge.
[column size=one_half position=first ]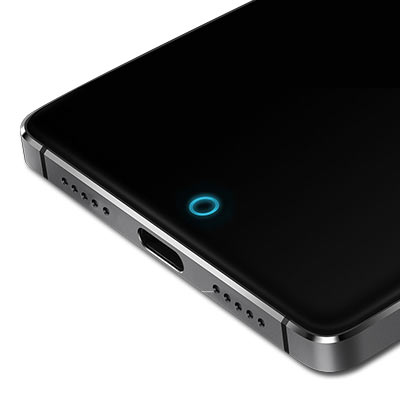 [/column]
[column size=one_half position=last ]
It's pleasing to see that with the Super, UMi have given us a choice between using on-screen buttons or physical buttons. Although not obvious at first, as they are not backlit, there are buttons either side of the halo notification LED. When using the on-screen buttons you can easily flick these off-screen and experience that 5.5″ screen in all its glory.
[/column]
Screen Tech Specs: SHARP 5.5″ LTPS Screen, Natural Colours, 1080×1920, 401 PPI, 2.5D, Gorilla Glass 3
Design & Build-quality
As soon as you pick the UMi Super up, it oozes monolithic slab sturdiness. This phone isn't light at 185 grams, but the trade-off is that you get the extra battery life and a phone that feels like it could survive the apocalypse.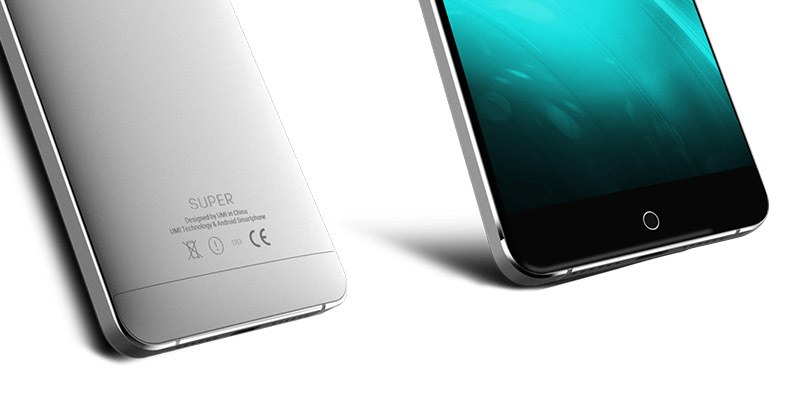 Throughout the phone there is a sense of symmetry, the front sensors (except the camera) are hidden, and the rear of the lines up neatly along the vertical axis. This lends itself well to the design, with the only focal point drawing our attention, being the breathing LED halo.
[column size=one_half position=first ]
Adding to this, feeling on symmetry, is the reduced screen-to-phone ratio when compared to the UMi Touch. The top of bottom of the phone are noticeably smaller than it's older brother and it's reigned in those curved edges a little as well.
[/column]
[column size=one_half position=last ]
…oozes monolithic slab sturdiness…
[/column]
The whole phone, simply put, feels well made in a much more understated way than UMi have done previously. The CNC polish, on the chamfered edges of the metal unibody, has been toned down giving a matt textured shine that looks premium without shouting 'look at me'.
The final cherry on the UMi cake is the dedicated camera button quick app button. Why won't this take selfies? I don't know, but everything from the click to the circular fingerprint ridges on this button, feels right. Oh and bonus points for it matching the packaging design!
Colours Available: Grey, Gold & Silver


Hardware & Responsiveness
Here's the bit we all want to know, how does the UMi Super hold up when we put it through it's Android paces. I wasn't expecting anything less than fast, knowing that the Super has a 2GHz Octo-Core (Helio P10) mobile processor inside and you'll be pleased to know all my expectations were met. It's quick, noticeably quicker than previous generations of MediaTek processors like the MT6753 and the MTK6735.
Web pages load faster, apps open quicker, the whole experience feels fast and responsive.
[column size=one_half position=first ]
Helio P10 is 30% more power efficient than previous generation MediaTek CPU's
[/column]
[column size=one_half position=last ]
UMi haven't been frugal on the rest of the hardware either. Inside we find 32GB of fast Samsung eMMC memory which we clocked at 216MBs read and 145MBs write speeds. Add to this 4GB of RAM of we have some pretty impressive specifications to go into our gaming tests with.
Sensors? Really? Yes really! The UMi Super has all the basic sensors and more. Previously Chinese manufacturers have always left us feeling a little empty in the sensor department which is why it's exciting to see a whole host of data collecting thingies inside the Super.
[/column]
This is in part thanks to the new range of MediaTek processors, which include more sensors built directly onto the chip. You can see all the sensors & connectivity of the UMi Super under the Connectivity section of this review.
CPU: Octa-Core 2GHz
GPU: Mali-T860 700MHz Dual-Core
RAM: 4GB
Storage: 32GB Samsung (Fast!) (read speed: 216MB/s , write speed: 145MB/s)
Expandable: 264GB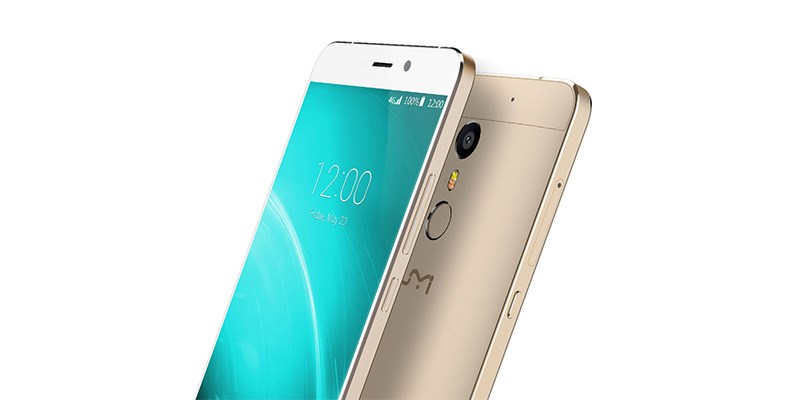 Software
UMi have done a good job keeping the Super's OS clean and clutter free. The phone is pre-installed with the latest Android OS, (6 – Marshmallow) and comes bundled with only essential apps, all-in-all not straying far from a pure Android experience.
Where the experience differs from a true stock Android device, the changes are for the better. One of these features is an inbuilt background task clearing function which you access through a long press of the Android square. You can then further customise this in the settings, choosing which apps should or shouldn't be closed down.
[column size=one_half position=first ]
Another nice OS addition is the option to slide away the onscreen touch buttons, which allows you to use the phone in true full-screen mode. The on-screen buttons now give you access to the open tabs button, a feature sorely missing on a lot of Chinese phones. It's unfortunate that when switching to physical buttons the Super switches back to using the options button, which is pretty useless in most situations.
[/column]
[column size=one_half position=last ]
The UMi Super doesn't stray far from the stock Android experience
[/column]
Upon turning the Super on for the first time I was alerted that UMi already have their first set of patches (OTA) ready to download. Updating the phone was quick and easy and I hope that UMi continue to support their flagship phone.
[column size=one_half position=first ]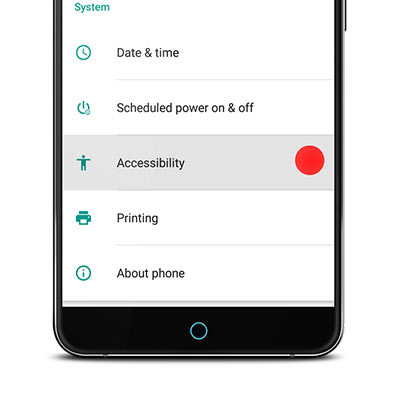 [/column]
[column size=one_half position=last ]
As we are on Android 6, the latest version on Android, a lot of security bugs have already been fixed. But, it's always good to run a security scan when you get a new phone. We've performed some popular anti-virus scans, will well-known Android apps, which all came back with no threats detected.
[/column]
Full Virus Scan: AVG (Clean) / Avast (Clean) / ESET Deep Scan (Clean) /  CM Security (Clean) / Malware Bytes (Clean)
Other features include: Not Rooted, Fingerprint management, Bluetooth Smart Lock, Face unlock, LED Management, MiraVision, Sensor Calibration, Screen Cast, Sound Enhancement, Turbo download (4G + WiFi), SIM Management.

Gaming
The UMi Super bucks the trends when it comes to Chinese smartphones and has opted for the much more capable ARM Mali-T860 which runs at 700MHz and is dual-core. I would have liked to have seen the Mali-T880 that we find in the Helio P20 that runs at a higher 900MHz, but the T860 is still a very capable chip.
I ran some popular Android benchmarks below and also tested with some 3D intensive games. What was impressive was the UMi Super played through the first two levels of N.O.V.A no problem without any stuttering or lagging whatsoever…  something I've not encountered on the older range of Mali GPU's.
[column size=one_half position=first ]
AnTuTu Benchmark V

The UMi Super scored well with: 46655
3D – 7680
UX – 18307
CPU – 15908
RAM – 4760
[/column]
[column size=one_half position=last ]
Geekbench Score:
Single Core Performance: 834
Multi-Core Performance: 3288
[/column]
Real World Gaming
Benchmarks are great for getting some numbers on the table, but I wanted to know how the UMi Super would perform with some of Androids 3D intensive gaming titles.
[column size=one_half position=first ]
N.O.V.A 3 – Played through seamlessly without any visible drop in framerate. This is a game that previous phones have failed to play, so I'm quite impressed with the Mali- T860.
[/column]
[column size=one_half position=last ]
Asphalt 8 – High Settings – Smooth gameplay with the gyroscope feeling responsive.
[/column]
If you've got a game in mind that you want us to test then let me know in the comments below.
Storage
The UMi Super has just the right amount of storage that you would expect for the selling price. 32GBs of fast Samsung eMMC storage, leaving you with 24.69GB of usable space. What's great is that you can expand this by up to a 256GB with aMicro-SD card, giving you a max of 280GB if you need it.
Read speed: 216MB/s
Write speed: 145MB/s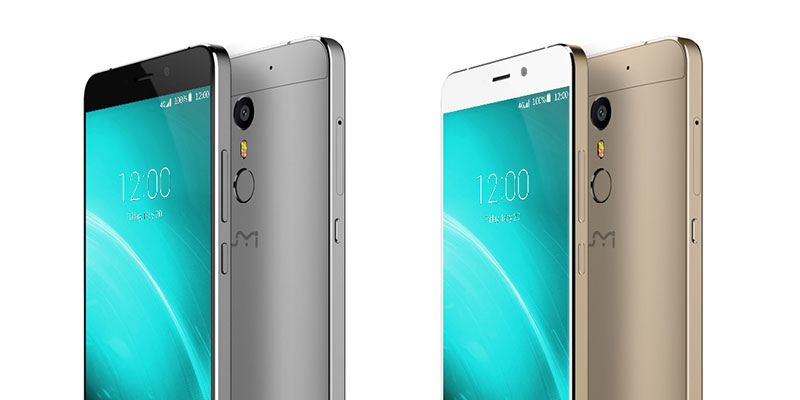 Touch ID (Fingerprint Sensor)
When the fingerprint sensor on the UMi Super works, it's fast, the pivotal word being 'when'. I found the rear fingerprint sensor to be a bit temperamental, probably only working around 7/10 times. Often the phone would say that I'd tried to many times and lock me out for 30 seconds. I'll put this down to early software bugs, but if UMi don't get a fix out soon I can see this being a deal breaker.
Speaker Quality
I couldn't tell you where the external speaker in the UMi Super is. You can cover up both speaker grills and the USB port and still hear all the sounds clearly. A plus to this is that you can't muffle the speakers when holding the phone.
There is a good amount of bass, with clear treble and voices. It lacks the depth and quality that you get on today's flagship phones but for a mid-range phone, it performs okay. I found the max volume to be too low, even with tweaking the onboard sound settings.
Making Calls (internal ear & mic quality)
The internal speaker and microphone both sound a little flat compared to my nexus device. They leave the voice sounding a little lifeless.

Battery
Inside the UMi Super, you'll find a hefty 4000mAh Sony battery that scored one of the best Geekbench battery scores we've seen in a while. UMi have coupled this large capacity battery with PE+ Quick Charge Technology that they claim can charge the phone up to 75% in just 30 minutes.
We put this claim to the test below, although, I should point out that as the Super uses a 2-pin charger we did use an adapter, between the charger and the plug socket, during our tests.
As you can see below our results aren't quite as optimistic as the UMi claims (still decent for a 4000mAh battery):
50% – 1 hour
75% – 1 hour 28 minutes
100% – 2 hours 10 minutes

Camera
The first thing you'll notice about the Panasonic camera lens is its fast, you can keep taking photos without pausing. Focussing feels much snappier than when using a Sony IMX lens although this may be in part due to the Helio P10. Face detection works well and tracked targets accurately.
Another nice feature is the inbuilt Instagram-like filters that UMi have built into their camera app. These work for both the selfie and rear camera.
[column size=one_half position=first ]
The fact that the dedicated button on the side doesn't work as a shutter button is frustrating. Also, I would have expected this to open up the camera app when the phone is locked, in reality, it actually does nothing unless the phone is unlocked.
I took both the UMi Touch and UMi Super out together, taking the same shots, so I could compare the Sony camera against the Panasonic. Overall I found the Sony lens achieved better photos with a higher level of detail and clarity. The colours also looked more realistic with the Sony IMX lens.
[/column]
[column size=one_half position=last ]
[/column]
Overall the Panasonic is a decent, fast and capable camera but lacks sharpness and colour reproduction of the Sony IMX series. You can see the full album of UMi Super test photos taken below here.
Camera Features: HDR, Time lapse, EIS, ZSD, Anti-shake, Face detection, White Balance, Scene mode, Picture in picture mode, Beauty Mode, Gesture snap, Smile snap, Panorama, Live filters (9 modes)
[column size=one_half position=first ]
Back Camera:
Panasonic Lens (MN34172)
13MP
Bright Dual LED Flash
1080P video recording
[/column]
[column size=one_half position=last ]
Front Camera:
5MP
GalaxyCore® GC5005
Beauty Mode
Inbuilt Filters
[/column]

Connectivity
The UMi Super has full support for all network bandwidths here in the UK. It also sports the latest USB-Type C connector, Bluetooth 4.1 as well as dual-band WiFi. I'm impressed with the amount of forward thinking connectivity and sensors that UMi have managed to cram into a phone at this price range.
If you have an older laptop or computer then be warned the USB Type-C cable that comes with the Super doesn't like USB2 ports.
Quick tip: When you first put your SIM inside the Super, the cellular data option is off by default, so make sure to turn this on in the settings to enable your 4G data connection.
4G Data Speeds using Ookla.
Download: 31.92Mbps
Upload: 29.92Mbps
Frequencies Supported: GSM (2G) 850 / 900 / 1800 / 1900MHz, WCDMA (3G) 850 / 900 / 1900 / 2100MHz, LTE FTE (4G) 800(B20) / 1800(B3) / 2100(B1) / 2600MHz(B7)
3G: YES
4G: YES
Full UK Coverage: YES
Bluetooth: 4.1
GPS: GPS, A-GPS, GLONASS
Sensors: Accelerometer, Light sensor, Proximity Sensor, Fingerprint, Orientation, Gyroscope, Compass, Magnetic (Hall)
USB OTG: YES
USB Type: USB Type-C
SIM support:  Dual standby
WiFi: 802.11a, b, g, n 2.4GHz + 5GHz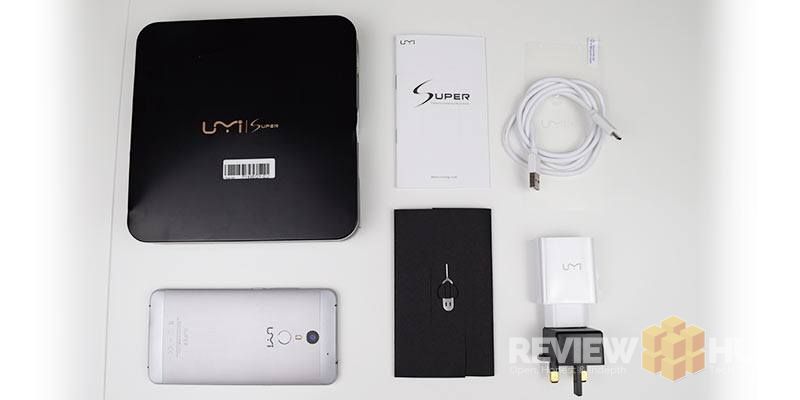 What's in the biscuit tin Box?
The latest UMi Flagship, the Super, comes in what looks like a square biscuit tin… it certainly is novel but I'm not convinced is oozes quality flagship phone. It will certainly look great if someone finds an UMi Super in the attic 30 years from now… the perfect surface to blow dust off, Indiana Jones style!
Inside you get the an: Instruction Manual (very basic), SIM Pin, USB Type-C cable & a 2-pin fast charge wall charger.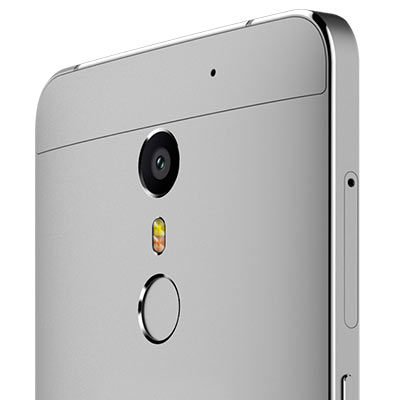 Final thoughts on the UMi Super
If you should be able to tell by now that I'm impressed with the UMi Super. Once you overlook that it's a hefty stone smartphone, that's good for skimming, you start appreciate the effort that UMi has made. All the craftmanship problems that we found in the Touch have been resolved and we are left with a feature packed phone that looks and feels great.
The big drawback for me, currently, is the temperamental fingerprint sensor, which I'm sure UMi are working hard to resolve with a software update, I'll update this article once I hear back from UMi.
Do I recommend the UMi Super?? Yes, absolutely!
Own a flagship for only… UK : £160 | EU : €199 | US : $219
Scroll down to see the comments, ask your questions and join in the UMi Super discussion.